Will C.J. Uzomah Remain Fantasy Relevant in New York?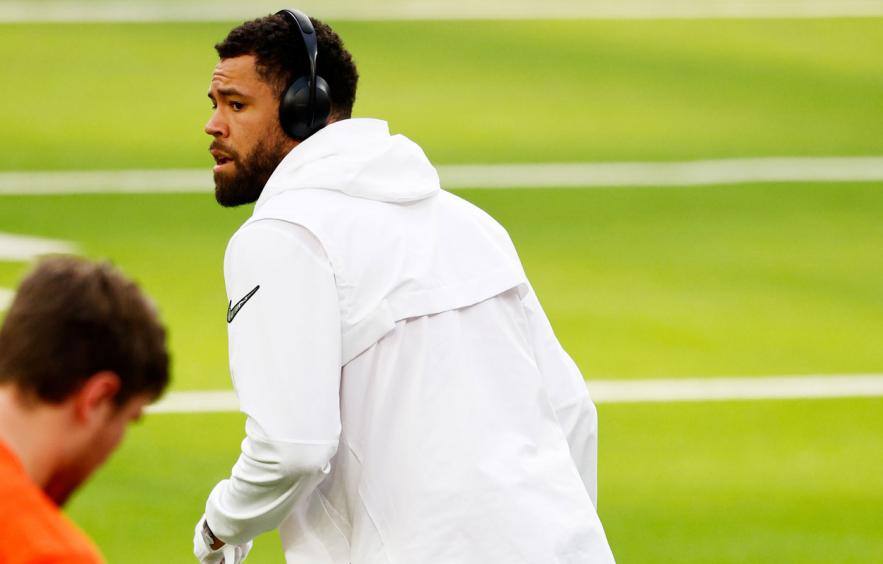 Ronald Martinez/Getty Images
On March 14, the Jets locked in former Bengals' tight end C.J. Uzomah with a three-year, $24 million deal to further shore up their TE room. A former fifth-round pick in the 2015 NFL Draft, Uzomah set career-highs across the board in 2021 with his 49-493-5 stat line after missing most of the 2020 season with a torn Achilles.
---
Click here for more 2022 Player Profiles!
---
Below we will touch on his departure from Cincinnati and focus on how his arrival in New York will influence the 2022 fantasy football season.
A Rare Seventh-Year Breakout
In a painfully barren tight-end landscape, managers without the quintessential "Big Three" are left fighting for scraps. This leaves players like C.J. Uzomah —who finished the season as the overall TE19— on the radar throughout the year, even if they happen to be far down their team's target share pecking order.
After a goose egg performance in Week 3, Uzomah had a four-week explosion to benefit any fantasy manager lucky —or desperate— enough to play him. Between Weeks 4-7, his 58.2 half-PPR points made him the TE2 in that span, with all five of his 2021 touchdowns coming between September 30 and October 24. His production would peter out for the rest of the season, as he would only top 50 receiving yards on one occasion between Week 8 and the conclusion of the regular season. As you will see below, the fantasy explosion accounted for a majority of his season-long points on the backs of a couple of long touchdowns.
C.J. Uzomah

Throughout the 2021 Season

| Time Frame | Target Share | Cumulative Stat Line | Half-PPR Points | Air Yards per Game |
| --- | --- | --- | --- | --- |
| Weeks 1-3 | 6% | 4-39-0 | 5.9 | 6 |
| Weeks 4-7 | 10% | 13-217-5 | 58.2 | 26 |
| Weeks 8-17 | 12.8% | 32-237-0 | 39.7 | 15 |
Still, the damage had been done. On a team that targeted the tight end position at the fifth-lowest clip last season (15.3% target share), Uzomah was able to make a mark in the fantasy landscape during the regular season and added a 13-135-1 receiving line through the first two weeks of the NFL playoffs before being limited thereafter with a knee injury sustained in the AFC Championship game.
New Team, New Role?
The New York Jets signed not only Uzomah but also former Minnesota Viking Tyler Conklin, injecting talent into a position that has been historically lacking for the team. In the two years prior to the Robert Saleh regime, the Jets' leading tight end had finished as the half-PPR overall TE22 (Ryan Griffin) and the overall TE35 (Chris Herndon) in 2019 and 2020, respectively. Things didn't switch gears in Saleh's first year as head coach, as Griffin was again the team's leading tight end but finished as fantasy's TE34 in half-PPR scoring, receiving a paltry 3.0 targets per game despite a battery of injuries to other receiving options.
Front offices and coaching staffs don't always speak their intentions to the media —for good reason— but they can't help but talk with the money they spend, and the draft picks they make. By spending a combined $45 million on the tight end position in free agency, it is clear that Saleh and particularly offensive coordinator Mike LaFleur are planning on incorporating the position into the offense more consistently in the 2022 season. Though it is not a one-to-one athletic comparison to C.J. Uzomah, it is essential to mention that LaFleur was the passing game coordinator for the San Francisco 49ers from 2017-to-2020. During this time, George Kittle was the beneficiary of 368 targets.
San Francisco

49ers

TE Target Share, 17-'20

| Stat | 2017 | 2018 | 2019 | 2020 |
| --- | --- | --- | --- | --- |
| Tight End Target Share | 16.9% | 29.0% | 27.8% | 24.5% |
| League-Wide Rank | 25th | 3rd | 5th | 10th |
Is it possible LaFleur and former co-worker Kyle Shanahan were targeting the tight end more often because George Kittle is a phenomenal tight end? Yes, and rightfully so. But I also believe that LaFleur doesn't want to run an offense that targets the position at the league's lowest rate, and the signing of both Uzomah and Tyler Conklin proves that.
As we've touched on above, the Jets —and Zach Wilson— didn't utilize tight ends much in the quarterback's rookie season, but that doesn't mean he doesn't have a history with the position. In his final year at BYU, Wilson's offense targeted tight ends 66 times in 12 games, which is nothing to mock at the college level. More impressive is his history with Matt Bushman, a tight end who produced a 47-688-4 stat line with Wilson at the helm in 2019. Bushman was on the John Mackey Award watch list before the 2020 season but regrettably tore his Achilles before hitting the field.
Zach Wilson didn't have an incredible rookie season, and his 6.1 yards per attempt (37th/42 qualifying quarterbacks) will attest to that. What the new tight end pairing brings to the table is a safety valve to keep drives alive for the young quarterback. Uzomah and Conklin provided an underneath option in the middle of the field for Joe Burrow and Kirk Cousins, respectively, and have the athleticism to move the ball past the sticks and through defenders.
Uzomah and Conklin Middle of the Field and ≤10 Air Yards

| | Receptions | TE Rank | Yards After Catch | TE Rank | Yards After Contact | TE Rank |
| --- | --- | --- | --- | --- | --- | --- |
| Tyler Conklin | 38 | 6th | 212 | 5th | 55 | 14th |
| C.J. Uzomah* | 24 | 18th | 127 | 18th | 56 | 13th |
*Only played 12 games
The Jets knew exactly what they wanted to find in free agency as a piece to further the growth of Zach Wilson, and they not only pulled the trigger, they doubled down.

Bottom Line
Though we are forever looking for answers as fantasy managers when it comes to the tight end position, C.J. Uzomah will not be a set-it-and-forget-it option in the 2022 season.
Uzomah is likely to be the TE1 in terms of usage for the Jets, but the Tyler Conklin signing blurs that line.
After his four-week explosion in 2021, Uzomah proved that he could be a worthwhile fantasy asset for those in desperate need. His current 4for4 ranking is TE24, but his Underdog ADP is TE19, making him a stay away at his current cost.
The addition of two very viable receiving options should help to raise the floor for Zach Wilson after a rookie season that saw him score ten fantasy points or less in six-of-thirteen contests.