TJ's #Taek: Week 5 NFL DFS GPP Recap
Hannah Foslien/Getty Images
Week 5's winning lineups from the biggest contests on FanDuel and DraftKings can be used to tease out lineup-building strategies and offer clues on how you could have landed on a similar team. Reviewing your hits and misses each week is imperative if you want to be a profitable DFS player but examining winning lineups is also a useful exercise in cultivating a winning approach.
---
More GPP Strategy: QB | RB | WR | TE | DEF
---
DraftKings Week 5 Millionaire Winning Lineup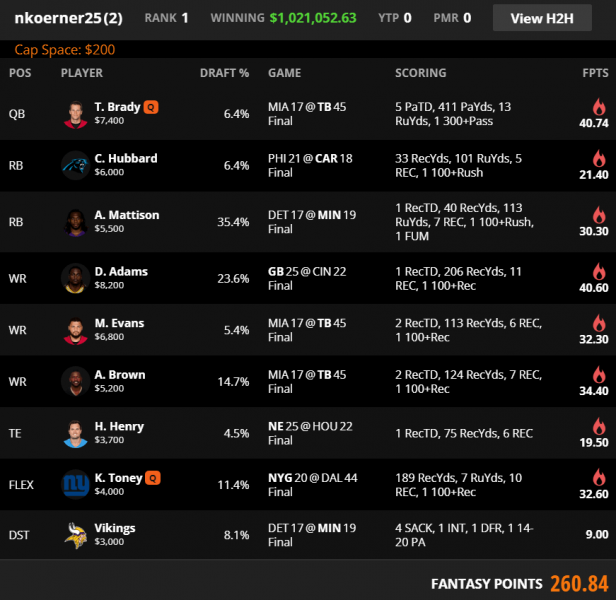 Most Rostered Players
For the first time this year, we saw some heavy chalk, with two of the most popular players of the week making it in the winning lineup. That combined with a somewhat popular team stack and the most-used RB/DEF stack of the week resulted in average ownership of nearly 13%, the highest of any winner this season.
With a QB/WR/WR primary stack, this is the fifth time in as many weeks that the Millionaire winner used at least three players from the game that included their quarterback and the fourth time that the winner used at least one more mini-correlation in the lineup.
Despite Derrick Henry scoring three touchdowns, the trend of saving at running back continues to be a profitable strategy—only one running back priced above $6,700 has been used in a winning Millionaire lineup this season. While that goes against recent history, we continue to see winning lineups avoid a punt-play at defense, with just winner using a defense priced below $2,900.
The contrarian plays that stand out are Hunter Henry and Chuba Hubbard. 4for4 ranked Henry as a top-five value at his position against a Texans defense ranked last in schedule-adjusted fantasy points allowed to tight ends but he still projected for sub-5% ownership. Hubbard served as a salary pivot off of James Robinson ($6,000) and Damien Williams ($5,600), who both projected for 15-20% ownership. All three of those running backs performed well, but the idea to use Hubbard to be unique in an otherwise chalky lineup was good process.
FanDuel Week 5 Sunday Million Winning Lineup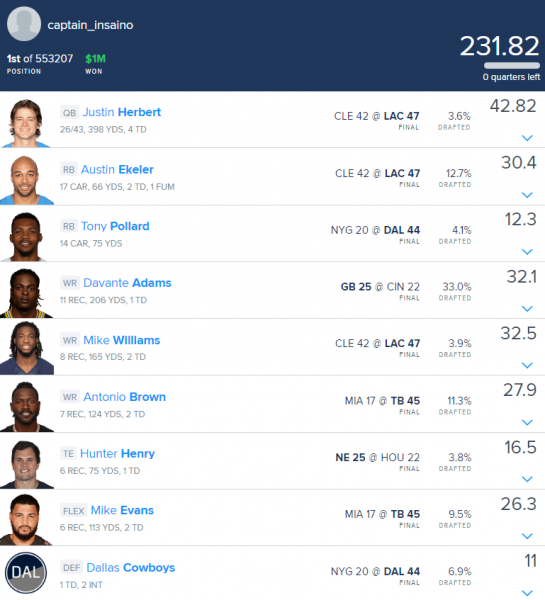 The Week 5 Sunday Million winner used contrarian strategies in both player selection and roster construction. In addition to primarily stacking around an unpopular game, captain_insaino faded the four most popular running backs—one priced above $10,000 and the other three priced between $5,800 and $6,500—pairing a $7,700 back in a unique salary tier back with one that was a near-perfect price pivot off of Damien Williams.
Both running backs added correlation to the lineup, one as part of the primary team stack and the other paired with the defense. In addition to being a salary pivot and correlation play, Tony Pollard provided unique exposure to one of the most popular games of the week.
FanDuel's scoring system has traditionally favored running backs over wide receivers but this year's trend of winners has leaned heavily towards the passing game. On average, Sunday Million winners are spending more on their quarterback and most expensive wide receiver than they are on their most expensive running back and spending nearly as much on their WR2 as their RB1. Additionally, four of five winners this season have opted for a wide receiver in the flex.
This week was an extreme case of spending on pass-catchers. It was just the third time since the beginning of 2019 that a Sunday Million winner spent at least $7,000 on three wide receivers and the first time in that span that a winner spent at least $6,500 on four receivers.

TJs Final #Taek
Last week, a user in the 4for4 DFS Discord posed this question:
I've been playing a ton of cash successfully. I can't seem to figure out GPPs (I mostly play low-stakes single and 3 entry tournaments). My cash lineup for the first three weeks has been my best lineup of each week...Is this just a string of bad luck or a faulty GPP process?
For anyone that plays both cash games and tournaments, this experience is—and should be—a fairly common one. Cash lineups should be made up of the highest-value plays in the best situations—over a large sample, these lineups should have higher average scores than tournament lineups.
In tournaments, however, we're not trying to raise our average score. We're building high-variance lineups that are heavily correlated that include multiple players in marginal spots—remember, all the obvious good spots are already popular. The goal of tournaments isn't to cash as many lineups as possible, but rather maximize our returns when we do cash—we're shooting for first. In GPPs, we are expanding our range of outcomes—this means a lower floor and the potential for long losing streaks but a ceiling with rewards that can make a season with one hit.
I'm always reminded of an excerpt from How to Win at Daily Fantasy Sports by Jonathan Bales, who used to be in charge of this very DFS product:
If you have a normal distribution of tournament finishes and a 20% long-term ROI, you still have somewhere around a 16% chance of being down after a sample of 1,000 GPPs. You read that correctly. If you are a big long-term winner and play one tournament lineup per week, you have somewhere around a one-in-six chance of still being down after 62.5 seasons of NFL action."
These might be the most important paragraph for any DFS player to read to truly understand how vicious variance can be in a game with such thin margins.
This isn't to say that players shouldn't always be trying to improve or ever be content with losing streaks—the user that posted this question may have some serious leaks in their game. However, multiple losing weeks in a row is very much in the range of normal outcomes. Anyone playing exclusively single-entry or 3-max as this user does might have months where not a single tournament lineup cashes, assuming they are only playing one slate on one site (hint: play multiple slates.)
In last week's DFSMVP, Matt Savoca and I discussed how to effectively assess your own DFS strengths and weaknesses by properly reviewing your game and your process. It runs contrary to how almost everyone thinks, but in DFS tournaments, it's ok to have a losing record—that might actually mean you're doing something right.