Running Back Market Shares: Week 14 Report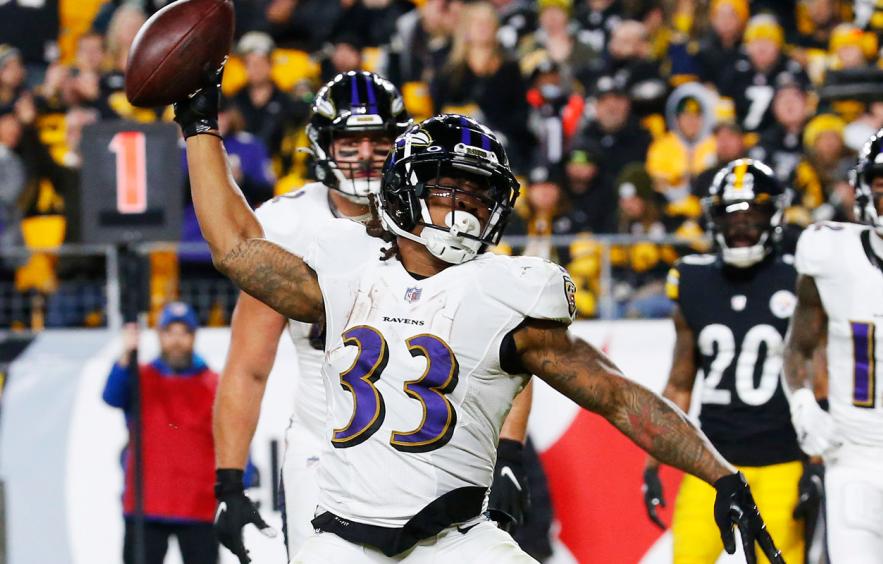 Justin K. Aller/Getty Images
In the modern NFL, the running back is no longer the focal point of an offense. Gone are the days where a 400-touch rusher is the norm, and now is the age of the running back-by-committee. With carries and targets being diluted between backs more than ever, it's important for fantasy managers to know which backs are seeing usage and how they're being utilized.
This column will explore the landscape of running back rushing and receiving through team market shares – the percent of a team's running back rushes or the team's passing targets. By looking at these rates of usage rather than raw totals, we help to strip away some of the noise of game script and pare our data down to the truer representation of how each offense thinks about its backfield.
Without any further ado, let's ring the bell and open the markets: which running backs had a significant change in usage in Week 13?
Carries
Sony Michel

, Los Angeles

Rams

, +76.5% running back rushing share

The whopping increase in Los Angeles Rams running back Sony Michel's workload in Week 13 was precipitated by Darrell Henderson's injury keeping him out of the game. These are situations I often don't like to profile in this column – I think they muddy our perceptions of a backfield with an often-fluky event – but there is something more compelling behind this shift. Rams head coach Sean McVay stated that he considers Michel a "rhythm runner", meaning he needs more touches to pick up steam, but McVay declined to call him the team's lead back moving forward. This seems to indicate that, regardless of Henderson's health status, Michel will be involved in the offense in at worst a 40/60 split of the work. That lines up with Michel's usage prior to his Week 13 outburst as the sole top dog in the offense.
Rashaad Penny

, +41.7%

Most fantasy people will (rightly) talk about Adrian Peterson's surprise workload share in a quick turnaround from signing with the Seattle Seahawks earlier this week, but I find Rashaad Penny's much more intriguing from a fantasy standpoint. Penny ceded goal-line work to the veteran Peterson, and receiving opportunities to Travis Homer with Alex Collins out of Week 13. Penny didn't absorb every early-down rush, however; those were split 10 to 11 with Peterson gaining the lion's share. Neither rushing back was particularly efficient, but it will be hard to find a fantasy value in this backfield outside of the deepest leagues due to the fairly delineated roles.
Tevin Coleman

, New York

Jets

, +33.0%

Running back Tevin Coleman has steadily increased his hold on the New York Jets' backfield since Michael Carter went down with injury a few weeks ago. Coleman in Week 13 carried the ball on 85% of New York's running back rushes and saw 11% of their team targets. Satellite back Ty Johnson matched him in receiving this week, but Coleman is the player to roster if you must roster one of Gang Green's running backs.
Matt Breida

, Buffalo

Bills

, -32.2%

Coming into Week 13 as the lead member of a three-man running back committee, Matt Breida fumbled his opportunities away (literally) early on in the Buffalo Bills' Monday Night Football gale-force wind-prompted rush bonanza. He promptly hit the bench and was not heard from again in the game. Perhaps it will just take a one-game doghouse stint for Breida to get back in the Bills' coaching staff's good graces, but the Breida late-season fantasy charge may have hit a stunning end.
Targets
Zack Moss

, Buffalo

Bills

, +10.3% team target share

As mentioned before, Breida's fumble opened up more opportunities once again for Buffalo runners Zack Moss and Devin Singletary. It was Moss whose workload truly swelled, however, from a healthy scratch in Week 12 to 40% of the running back carries and 10% of the team's targets. Admittedly, Moss accrued just 4.8 half-PPR fantasy points on his 11 chances in the windstorm conditions in Buffalo, but that is a pretty savage indictment of Breida's future chances if Moss's mediocrity was more desirable than Breida's ball security issues.
Kenneth Gainwell

, Philadelphia

Eagles

, +8.9%

2021 rookie Kenneth Gainwell found himself at the end of Week 13's Philadelphia Eagles game the owner of a 33.0% running back rush share and a 24% team target share, with Boston Scott sick and in "break glass in case of emergency" mode and Miles Sanders re-aggravating his ankle injury in the second half. Gainwell had been slipping downward for a while but now finds himself just one Sanders inactivation away from top billing in the Philly backfield. He has significant fantasy upside due to his varied usage and the Eagles' commitment to establishing the heck out of the run.
Kene Nwangwu

, Minnesota

Vikings

, +7.3%

Formerly just the Minnesota Vikings' kick returner, rookie Kene Nwangwu has started to draw some attention on the offensive side of the ball. The electrically fast and agile Nwangwu saw his first usage as a receiver in Week 13, earning three targets. He caught two for just four yards while seeing two rushes for no net yards. Nwangwu is unbelievably raw but his elite athleticism means there is some sneaky upside for him in deeper leagues as an injury insurance policy for Alexander Mattison.
Joe Mixon

, Cincinnati

Bengals

, -14.8%

The Cincinnati Bengals have allotted lead runner Joe Mixon a steady diet of carries but keep wavering week-to-week on how much they use their backfield star in the passing game. This is just your friendly reminder that Mixon's upside is high due to elite rushing usage, but his production will vary due to inconsistent (and far too frequently non-existent) receiving workloads coming his way.

Goal-Line Work
Adrian Peterson

, Seattle

Seahawks

, +57.1% running back goal-line share

Okay, so we didn't escape this column fully without addressing the Adrian Peterson in the Seahawks' room. Yet another running back committee has been blown wide open by the arrival of free agent veteran AP, and he looks no fresher as the short-yardage back in Seattle than he did in Tennessee. He plunged, uncontested, into the end zone from one yard out, which he will have chances to do thanks to the value of the Seattle offense. Still, his floor is so incredibly low for fantasy, as demonstrated by his first rush in his new uniform: it went for -5 yards, and he ultimately ended up with less than 1.5 yards per carry.
Devonta Freeman

, Baltimore

Ravens

, +50.0%

A similarly fraught backfield but with more old-man options, the Baltimore Ravens have finally settled in a bit as the season has gone on. Devonta Freeman is seeing 60% to 80% of the Ravens running back rushes, captured a 20% team target share this week, and is dominating goal-line usage as well. Lamar Jackson is still the only runner of real note in Baltimore, but Freeman is a three-down option now and that counts for something in fantasy leagues.