TJ's #Taek: Week 12 NFL DFS GPP Recap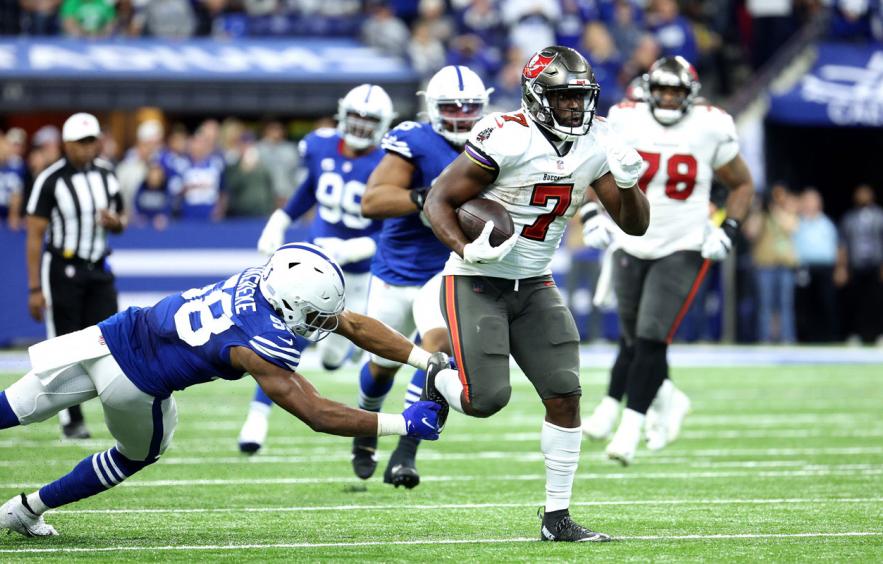 Andy Lyons/Getty Images
Week 12's winning lineups from the biggest contests on FanDuel and DraftKings can be used to tease out lineup-building strategies and offer clues on how you could have landed on a similar team. Reviewing your hits and misses each week is imperative if you want to be a profitable DFS player but examining winning lineups is also a useful exercise in cultivating a winning approach.
---
More GPP Strategy: QB | RB | WR | TE | DEF
---
DraftKings Week 12 Millionaire Winning Lineup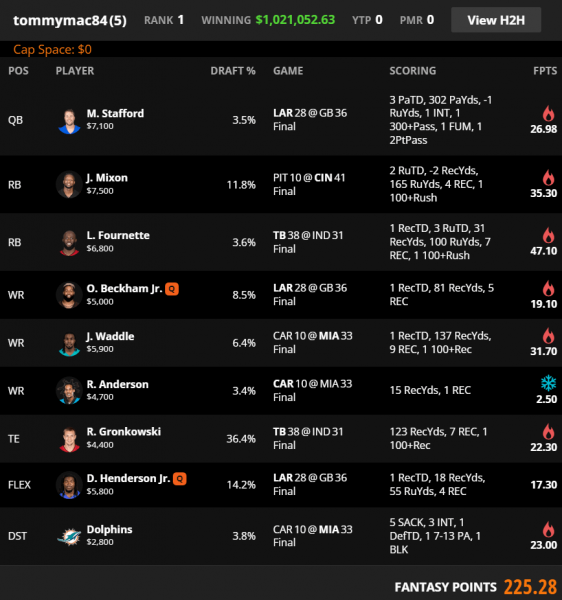 After one of the more contrarian winners we've seen in Millionaire history in Week 11, Week 12's winner was more the typical balance of chalk and low-owned plays, carrying an average ownership of 10.2%—the average across all 12 winners this season is 10.1%.
The biggest leverage play of the week was Leonard Fournette, who tommymac84 used to offset Rob Gronkowski's high ownership but more importantly captured all of the touchdowns for a passing game that had the highest projected cumulative ownership on the slate. While Matthew Stafford was only in 3.5% of lineups, his teammates weren't terribly low-owned.
Another correlation that stands out is the combination of two wide receivers in the Dolphins game to go along with the Miami defense. Pairing a defense with a player from the opposing offense isn't a typical strategy used in tournament lineups but Robby Anderson was more of a salary-saver than a point-accumulator, finishing with just 2.5 DK points. Targeting Jaylen Waddle along with the Dolphins defense strategically played against Cam Newton and Christian McCaffrey, the most popular quarterback and second-most rostered running back on the slate.
In a week where there were only 10 games on the slate and scoring was expected to be quite low, it made sense to lean into correlation even more than usual since those conditions would theoretically make it easier to lap the field by pinpointing favorable game conditions. That line of thinking proved to be beneficial, with the Millionaire winner including some kind of correlation for eight players on the roster, the most of any winner this season.
After only one winner used a running back in the flex over the first eight weeks, the last four Millionaire winners have flexed a running back; six winners have used four wide receivers and one winner has flexed a tight end.
FanDuel Week 12 Sunday Million Winning Lineup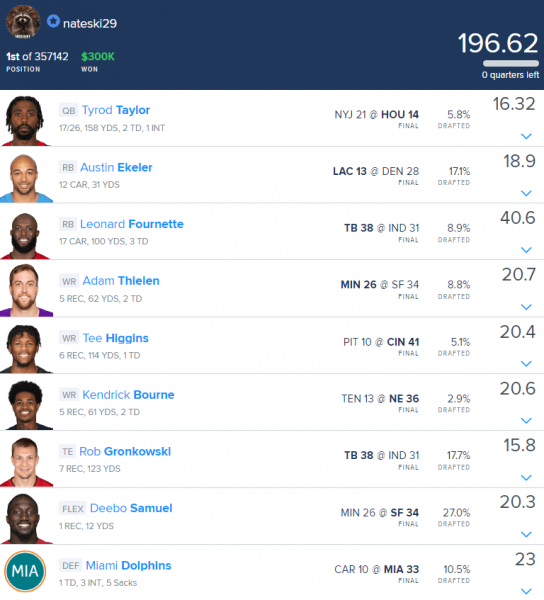 Only one quarterback on the main slate surpassed 25 FanDuel points so maybe it shouldn't be a surprise that this week's Sunday Million winner was just the second this season to not pair their quarterback with a teammate. In addition to offsetting Gronkowski's high ownership, Fournette also balanced the ownership of a relatively popular Austin Ekeler.
The other notable pairing in this lineup was Adam Thielen and Deebo Samuel, a duo that combined for four touchdowns in a game that was a primary target in the Week 12 GPP Last Look Show on the 4for4 Discord.
This lineup reflected what we have typically seen from Sunday Million Winners in terms of ownership with an average of 11.5%—the overall average this season is 11.2%.
After an early-season trend toward mid-tier and low-tier salary running backs, each of the last four Sunday Million winners have spent at least $7,100 on two running backs and the last three winners have all rostered a running back with a salary of at least $8,400.

TJs Final #Taek
Early in the season, we discussed the concept of using contrarian players that offer the most leverage opportunities in one. This came about because weeks with relatively low ownership across the board presented very few obvious leverage opportunities. In the last couple of weeks, huge leverage opportunities presented themselves and have paid off.
In Week 12, Leonard Fournette cornered the Buccaneers' touchdowns while most DFS players targeted their passing games; in Week 11, A.J. Dillon was the mega-chalk but both passing games in that contest went off.
It isn't every week that a popular passing game will have a clear running game pivot or vice versa but when those opportunities present themselves and the pivot hits, they are gold mines. The popular side is popular because it is the most likely scenario to happen but DFS players that are willing to bet on an alternate outcome are paid off exponentially. This concept is elementary in DFS theory but in practice, most players don't have the fortitude to pull it off—the evidence is in a 3% Fournette.
MME players can methodically target these spots by simply being overweight on a contrarian leverage play—a great MME portfolio might have only had Fournette in 10-15% of lineups this week. Small-field players might not get the 1000x pay-off days but they can easily lap the field with a single leverage play like this—in the DraftKings $300 Spin Move (185 players), only six rosters had Fournette. It's easy to see how a team can be very successful in that field with a far-from-perfect lineup otherwise.
Consider these huge leverage spots each week with a tool such as 4for4's cumulative ownership projections and look for spots to gain an advantage when the most popular offenses don't play out as expected.