Underdog Battle Royale Picks: Week 11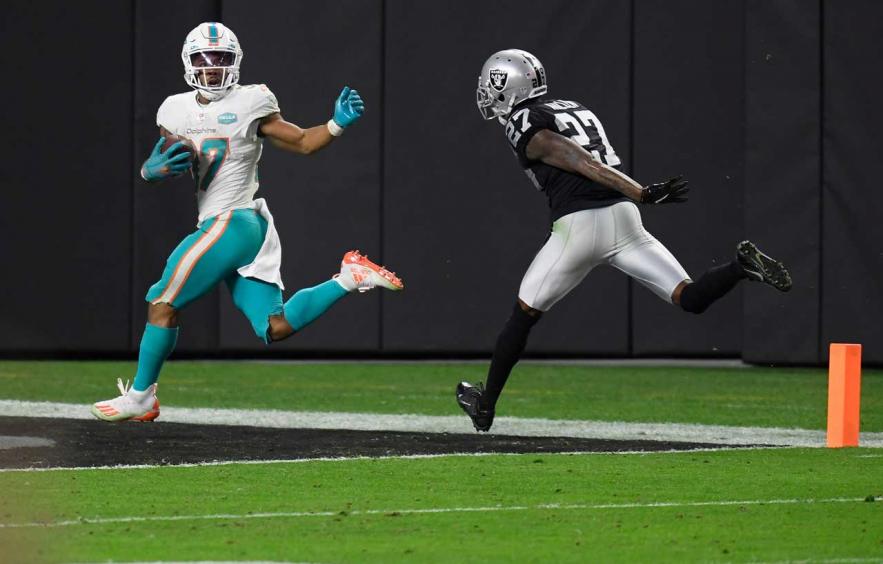 Harry How/Getty Images
Week 10 brought big weeks for several star receivers and backup running backs. Deebo Samuel finished the week as the overall WR1 with 27.8 fantasy points, while running backs A.J. Dillon, Rhamondre Stevenson and Darrel Williams finished as the top-3 backs on the week ahead of players like Jonathan Taylor and Christian McCaffrey.
If that's not crazy enough for you, we also saw Cam Newton return to action for the Carolina Panthers this weekend. And while he didn't do much in his first game back, Newton did manage two touchdowns in limited opportunities and finished the week as the overall QB17 with 11.7 fantasy points in a week that was particularly brutal for some of the top quarterbacks in the league.
Now that we are officially on the back half of the 2021 NFL calendar, we have just eight weeks left to hit it big in the Underdog Fantasy Battle Royale tournament. Here are a few players I like on this weekend's slate, who could help us walk away as the top-dog in Week 11.
Week 11 Spread and Over/Under
Kansas City (-2.5) vs. Dallas - O/U 56
Buffalo (-7) vs. Indianapolis - O/U 50
Las Vegas (+1) vs. Cincinnati - O/U 50
Minnesota (+2.5) vs. Green Bay - O/U 49.5
Seattle (+2.5) vs. Arizona - O/U 49.5
Pittsburgh (+6) vs. Los Angeles Chargers - O/U 47
Chicago (+6) vs. Baltimore - O/U 45.5
Jacksonville (+6.5) vs. San Francisco - O/U 45.5
New York Jets (+3) vs. Miami - O/U 45
Cleveland (-10) vs. Detroit - O/U 45
Quarterback
Justin Fields

, Chicago

Bears

Over the last two weeks, Bears rookie quarterback Justin Fields appears to have figured something out.

In his last two games, Fields is averaging 21.7 points per game and has thrown for 466 yards, two touchdowns and two interceptions. He has also put his rushing ability on display, which was something that was lacking early on.

Through the first seven weeks, Fields was averaging 4.4 rush attempts per game and 20 rushing yards per game. Now, over the last two weeks, Fields' rush attempts per game have jumped to 9.0 while his rushing yards per game over that span sit at 74.0. Certainly, this is boosted by Fields' game against the 49ers, where he rushed a season-high 10 times for 103 yards and one touchdown, but his 8/45/0 rushing line against Pittsburgh in Week 9 was still encouraging, and in that game against the Steelers Fields threw for a career-high 291 yards.

The Ravens on the year have allowed the 11th most fantasy points to opposing quarterbacks and allowed Carson Wentz and Joe Burrow to each throw for over 400-yards against them.

Our rankings project Fields as the overall QB19 on the week with 16.8 fantasy points, and suggest him having the 12th easiest matchup on the week. While he would likely need more points than what we are projecting him for to make a serious impact in your lineup, I think Fields could get there against the Ravens.

Underdog fantasy projects him as the QB15 in their rankings, which means you should be able to get Fields in the final round of your drafts while stockpiling talent in the early rounds.
Russell Wilson

, Seattle

Seahawks

It's always a good feeling buying low on top talent. In this weekend's game between the Seahawks and the Cardinals, you may be able to do just that with Russell Wilson.

Wilson returned from finger surgery in Week 10 against the Packers and flat-out stunk. He totaled just 7.64 fantasy points, and threw for only 161 yards on 40 pass attempts. To add to the misery, Wilson also threw two interceptions, as he and the Seahawks failed to get on the board, being shutout 17-0.

Now, Wilson and the Seahawks get a home matchup against the Cardinals, a matchup in which Wilson has averaged 18.82 fantasy points per game in over the last two years. His best games over that span came in 2020, when he totaled 29.9 and 20.1 fantasy points, respectively.

In those games, Wilson combined to throw for 585 yards, five touchdowns and three interceptions, but the two teams totaled 71 and 49 points in their respective matchups.

Despite a much-improved Arizona defense, this game is projected as the third-highest total on the weekend. Pete Carroll recently said he wants to run the ball more following last week's loss to Green Bay, but that may not come to fruition if Kyler Murray is lighting up a Seahawks defense that's allowing the fourth-most passing yards per game (275.3) and Seattle is forced to play catch-up.

Wilson still has elite talents DK Metcalf and Tyler Lockett at his disposal, which is never a bad thing in potentially high-scoring affairs. Our rankings project Wilson as the overall QB9 on the week with 18.9 fantasy points. Underdog fantasy ranks him as the QB9 as well. Wilson is a quarterback the public will be low on, who has the chance to turn in a top-3 performance on the slate.
Running Back
A.J. Dillion, Green Bay
Packers
If you knew that you could take Derrick Henry in the second round of a Battle Royale draft, chances are you would do it 10 out of 10 times. Chances are, that's exactly what you will be able to do in your drafts this weekend with Packers running back AJ Dillon, who is set for a career-high in opportunities in Week 11 against the Vikings due to the injury Aaron Jones suffered (sprained MCL) in Week 10's win over Seattle.
There was a time during the offseason when fantasy drafters were scooping up Dillon in the third or fourth round of best ball drafts in anticipation of Jones leaving Green Bay in free agency. Instead, Jones stayed in Green Bay, and those early Dillon picks have felt largely wasted.
Despite those picks feeling wasted, we now get a sneak peek at what could have materialized from those picks had Jones left.
Dillon has been solid for the Packers in 2021 when given the opportunity. He's averaging 4.3 yards per carry and 61.7 yards from scrimmage, thanks in part to the unexpected volume he has seen in the receiving game. Dillon is averaging 1.8 targets per game on the year and has twice seen four targets in a game.
Despite being stereotyped as a running back with concrete hands, there's a very real chance that Dillon could see the majority of running back targets in Week 11 against the Vikings. On the season, Jones has averaged 4.7 targets per game and 3.7 receptions per game, which could create a nice fantasy floor for Dillon.
The Vikings are allowing the fifth-most rushing yards per game on the season (130.6) and just under one rushing touchdown per game (0.89). Our rankings project Dillon for 18.5 fantasy points, and as the overall RB6 on the week. He was the overall RB1 in half-PPR scoring in Week 10 with 25.8 fantasy points. It wouldn't be improbable to see him steal the show again in Week 11.
Myles Gaskin

, Miami

Dolphins

On any given week, Myles Gaskin can give you a top-12 week, or a bottom of the barrel week. This has been the experience, as he has three games this season as an RB1 in half-PPR scoring, but seven games as an RB3 or worse.

With that being said, this week's game against the Jets looks like one where we can expect good Myles Gaskin instead of bad Myles Gaskin.

Gaskin has a stranglehold on backfield opportunities in Miami, sitting at a 25% opportunity share while Salvon Ahmed is second on the team at 10%. Gaskin is averaging 10 rush attempts per game and 4.8 targets per game, but is averaging just 54.6 yards from scrimmage. He has found the end zone four times on the year, but only once on the ground.

Now, Gaskin gets a matchup against a New York Jets defense that is not only allowing the most fantasy points to opposing running backs, but also the most rushing touchdowns per game at 2.11. For comparison, the Texans are allowing the second-most rushing touchdowns per game at 1.67.

Gaskin is projected as the overall RB24 in our rankings and is projected for 11.8 fantasy points, but his ceiling in this one could be enough to put your team in the money this weekend.
Wide Receiver
CeeDee Lamb

, Dallas

Cowboys

Dallas wide receiver CeeDee Lamb was one of my favorite plays on last weekend's slate against the Atlanta Falcons, and he delivered with a 25.6 point performance (WR3).

At the risk of being repetitive, I'm running right back to the Lamb points well again against the Chiefs.

Sunday's game between the Chiefs and the Cowboys is the highest projected game on the weekend at 56 points, and Lamb has been one of the best receivers in the league with a receiving line of 47/726/6 on 73 targets.

Now, in a game that has the makings of an absolute shootout, Lamb could return another high-end fantasy week. The Chiefs are allowing the 10th most passing yards per game at 258.6, and are surrendering 1.8 passing touchdowns per game. Both the Chiefs and Dallas are leading elite passing attacks, with the Chiefs averaging 295.1 passing yards per game, and the Cowboys trailing right behind them at 294.3 passing yards per game.

I would be looking to stack this game in multiple ways when possible, but Lamb is my priority add in this one.
DeAndre Hopkins

, Arizona

Cardinals

If you want to talk about buying low, why stop at Russell Wilson? DeAndre Hopkins has missed Arizona's last two games with a hamstring injury, but there's a good chance he returns this weekend against the Seahawks.

So, what does buying low look like on Hopkins? Well, as it stands right now, he isn't even mentioned in our Week 11 rankings, and Underdog fantasy has Hopkins ranked as the overall WR23 against a Seahawks defense that is allowing the fourth-most passing yards per game on the season (275.3).

Hopkins is averaging 13.5 fantasy points per game this season, and has three top-12 performances on the week. He's had no trouble getting into the end zone this season, totaling seven touchdowns in eight games while averaging 60.8 receiving yards per game.

Of course, the gamble with this play is Hopkins missing his third-straight game with an injury, but he can be a very high-end WR3 in Battle Royale lineups this weekend if you have the guts to take him.

Tight End
Dawson Knox

, Buffalo

Bills

Last weekend my Dan Arnold pick nearly fell flat on its face, thanks in part to the atrocious play of Trevor Lawrence through the first half of Sunday's game against the Colts.

Luckily, Arnold turned things around and hauled in 5-of-7 targets for 67 yards on the day, and finished the week with 11.2 fantasy points (TE6).

The Colts have been one of the worst defenses in the league against tight ends, allowing the sixth-most fantasy points to opposing tight ends on the season, and the fourth most targets per game at 8.4. Now, they get a matchup against the Bills and tight end Dawson Knox, who is slowly making his return from a hand injury that had sidelined him since Week 6.

Through the first six weeks of the season, Knox was looking like one of the best fantasy tight ends in the league. He was the overall TE4 in fantasy points per game at 11.9, and had found the end zone in four of those six games while averaging 4.5 targets per game and 47.7 receiving yards per game.

Knox did suit up last weekend against the Jets, and hauled in his only target on the day for 17 yards, but played 49-of-58 snaps. In what was a blowout win for the Bills, quarterback Josh Allen didn't need to look toward his full arsenal of weapons to come away with the win, as he only threw 28 times last weekend, his second-fewest pass attempts in any game this season.

Sunday's Bills vs. Colts game is projected for 50 points on the weekend, the second-most of any game on the slate. In a game that could force Allen to consider all of his receiving options, Knox could be in for a big day against one of the best defenses to stream tight ends against.
Hunter Henry

, New England

Patriots

If there's one thing Hunter Henry does, it's score touchdowns. One of the newest members of the New England Patriots has scored seven touchdowns in his first 10 games, and has seven touchdowns in his last seven games.

Henry and the Patriots get a matchup with the Falcons this weekend, who are allowing seven targets per game to opposing tight ends and 50.6 receiving yards per game.

Henry is third on the team in target share at 13% and has a receiving line of 31/353/7 on 41 targets.

If you're avoiding the upper tier of tight ends this week in your drafts, Henry should be viewed as a top alternative, who has officially emerged as Mac Jones' favorite red-zone target.