Fantasy Football Depth Chart Battle: Cowboys Wide Receivers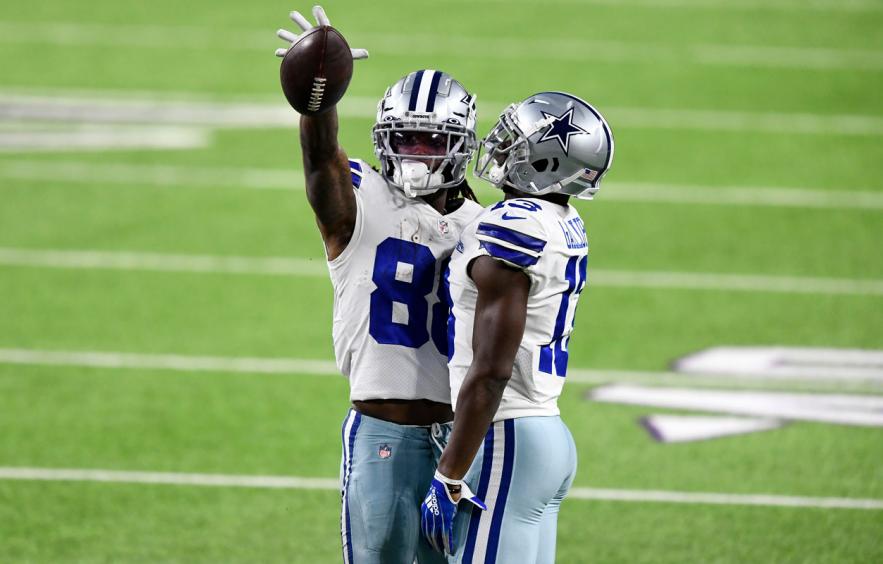 Hannah Foslien/Getty Images
It has been agreed upon in the fantasy football community that the Cowboys will be a productive offense for fantasy purposes this season. This is reflected in ADP, as along with having three wide receivers being drafted in the top-36, the Cowboys have both a quarterback and running back going top-5 at their respective positions (Dak Prescott and Ezekiel Elliott). If you recall, before Dak went down with a season-ending injury in Week 5 of last year, the Cowboys were on pace to put up historic offensive numbers. Before getting hurt, Prescott had 1,856 passing yards, putting him on pace to throw for nearly 6,000 yards on the season. While that number is obviously unrealistic and Prescott certainly would have regressed to the mean, the point remains clear: The Cowboys have an opportunity to be an excellent offense for fantasy this year. This means it is very important to figure out who on the team will be relevant for fantasy, which I'll do in this article.
---
More Depth Chart Battles: Colts WRs | Dolphins WRs | Leonard Fournette vs Ronald Jones | Brandin Aiyuk vs Deebo Samuel | Bengals WRs | Steelers WRs | Zach Moss or Devin Singletary | Patriots RBs |
---
CeeDee Lamb

(Underdog ADP: 25.1, WR9)

CeeDee Lamb has skyrocketed up the ADP charts this off-season and is currently being drafted as the WR9 in half-PPR formats. While this might seem like it is much too high, there's reason to believe that Lamb will have a second-year breakout season and cement himself among the most elite NFL wide receiver talent.

Last year, when playing with Prescott, Lamb was actually on pace for 1,236 yards and 8 touchdowns, which would have made him an elite fantasy option. Heading into this season, Lamb has been the star of Cowboys' training camp, and with Amari Cooper battling an injury, Lamb has shown he can comfortably handle the duties of a number one receiver. Additionally, since he's likely to line up in the slot most of the time (2nd most slot targets in the NFL last year, per SiS), Lamb should be locked into a huge number of targets for this season.

There's also some historical precedent as to why Lamb could be primed for a breakout season. Here's a look at a graph of the rookie and sophomore year receiving yardage totals for the 57 wide receivers drafted from 2017-2019.
As you can see, the trend is clear. Almost every receiver shown improved their yardage output from their first to second year in the league. Applying this to our context, it's easy to imagine a situation where Lamb goes well over 1,000 yards in 2021 (he had 935 in his rookie season). Given the targets he's locked into, his talent, and the historical trends surrounding his situation, Lamb has the makings of being a fantastic fantasy option this year.
Amari Cooper

(Underdog ADP: 31.7, WR13)

Cooper is the longest-tenured of the Dallas receivers, and the second-highest drafted at WR13. He had a solid season in 2020, finishing as the overall WR16. He set a career-high in receptions (92) and posted above 1,000 yards for the fifth time in his six-year career, all while dealing with an ankle injury that he had surgery on in January. He's on pace to recover from this ailment and should be good to go for the start of the season.

Cooper has proven that he can produce no matter who is under center and should continue to put up great fantasy production in 2021. One area where Cooper will likely improve this season is in the touchdown department. Perhaps due to the lackluster play at quarterback, Cooper caught just five touchdowns last year, which was well below his expectations. Cooper should remain the X-Receiver in the Dallas offense and will be a strong fantasy option week in and week out.
Michael Gallup

(Underdog ADP: 75.0, WR36)

Gallup is being drafted way below the other two Dallas receivers, going about four rounds after Cooper at pick 75. He had the worst fantasy finish out of the three last year (WR38) but was still solid for the Cowboys. Gallup saw over 100 targets and led the team in average target depth. He was prolific in catching 50/50 balls, hauling in 78.6% of his contested targets per ReceptionPerception. While Gallup is likely to be third in targets on the team, he still should be fantasy relevant. He might not have WR1 potential like his teammates, but will certainly be a value if he's the fourth or fifth receiver that your team takes. If either Lamb or Cooper goes down with an injury, Gallup would vault up the fantasy rankings and be a top-24 option–in 2019, before the Cowboys drafted CeeDee, Gallup was the WR16 in fantasy points per game.

Who Should You Draft?
The way this wide receiver room shakes out will be very interesting to watch, as it could have dramatic implications for the fantasy season. It is certainly possible that all three of the receivers play well enough to justify their draft positions, but given that running back Ezekiel Elliott is also bound to get lots of volume out of the backfield, it's important to figure out the pecking order.
As you might have guessed, Lamb is my favorite of these three receivers. While he is getting tons of hype and attention, I think that he'll deliver for fantasy managers. He's in a great situation to produce and has the talent to do so. Lamb will offer a lethal floor/ceiling combination for your team, and it wouldn't be a shock if he finishes top-5 at the position at the end of the season. If you start off your draft RB-heavy or take a tight end early, I'd be more than comfortable slotting Lamb in at the WR1 position.
Cooper is next up. He's the most proven of the three receivers and should have another excellent season. He doesn't have quite as high a ceiling as Lamb but still should see enough volume to be a dependable option for your team. I'd be targeting Cooper in the fourth round of drafts to be a starting WR2 for your team.
I honestly like Gallup as well, and he's a great target in the later rounds of drafts. He might not be as flashy or popular as Cooper or Lamb, but will likely still be solid for fantasy this season. He'd be a great first or second receiver off the bench for your team.