Depth Chart Battle: Bengals Wide Receivers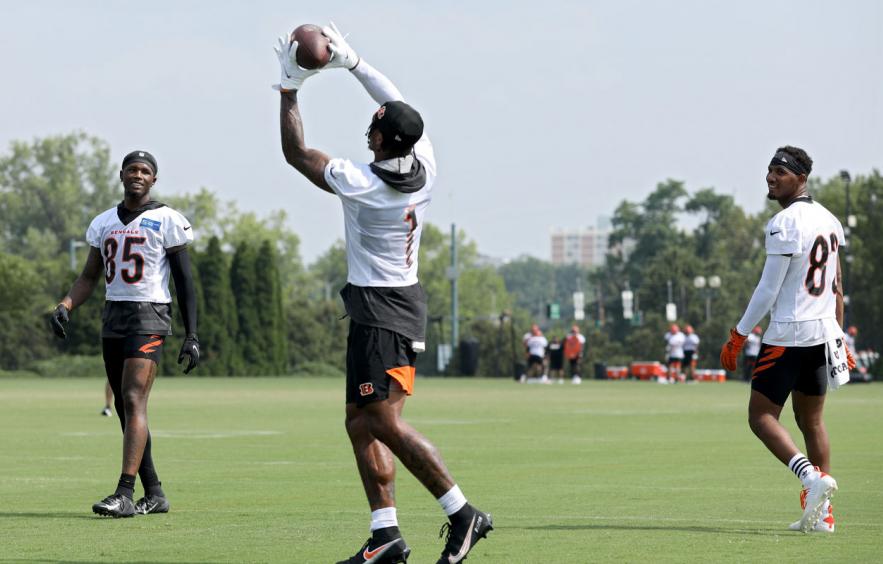 Dylan Buell/Getty Images
When the Bengals drafted Ja'Marr Chase in the first round of the NFL Draft, fantasy managers immediately began to question just how the wide receiver totem pole was going to look. After all, Tee Higgins just finished up his rookie campaign with 67 catches, 908 yards and 6 touchdowns despite not receiving a single target in Week 1 and playing with a backup quarterback for six games. That would've been a really good stat line in his rookie season in the best of circumstances. When you consider all the issues he had to deal with, it's undeniably impressive. None of that matters now because Chase is now a Bengal and the fight for Joe Burrow's attention is officially on. So who winds up on top?
---
Other Profiles & Debates: Player Profiles | Player ADP Debates | Patriots TEs | Jaguars WRs | Patriots RBs | Broncos RBs | Bills RBs |
---
A Look at the
Bengals

' Passing Offense

Despite the addition of Chase, everything is not doom and gloom for the Bengals' receivers as it relates to fantasy scoring. There is unquestionably such a thing as too many mouths to feed, but that shouldn't be an issue in Cincinnati. Last season, Burrow was on pace to throw the ball 646 times through 10 games, a number high enough to keep all three receivers adequately involved on a weekly basis.
Prior to Joe Burrow's Week 11 ACL injury, no QB dropped back to pass more in the NFL



Weeks 1-10, CIN ranked:

*1st in plays per game

*1st in pass rate

*8th fatest neutral situation pace



With ACL injury, have to think Burrow runs less & throws even more, if possible pic.twitter.com/PeDHL8Zruu

— Matthew Betz (@TheFantasyPT) July 27, 2021
Chase's arrival does not have to mean a fade to fantasy irrelevance for one of these receivers. With the loss of A.J. Green and others, the Bengals have nine unaccounted targets per game from last season.
One of the factors working in the receivers' favor is the lack of a quality tight end. Last season, the Bengals' tight ends only received 64 targets. This means the vast majority of Burrow's targets will be heading to the receivers. Even Joe Mixon has never been overly involved in the passing game. That certainly has the possibility of changing this season with the release of Giovani Bernard, but the point is, the three receivers are going to be doing the heavy lifting in the passing game.
In 2020, the Bengals' defense gave up the seventh-most yards and the 11th-most points in the NFL. Cincinnati is once again expected to trot out a below-average defense on Sundays, which is exactly what fantasy managers want. It means Burrow and his three studly receivers will be busy as they'll be forced trying to win high-scoring affairs. The situation is ripe for fantasy results and there's a lot to be excited about in terms of the Bengals' offensive fantasy prospects.
Tyler Boyd

(Underdog ADP: 74.4, WR32)

Tyler Boyd is currently being drafted on Underdog as the NWR37. If there was an "odd man out" in Cincinnati, fantasy managers have pegged Boyd as that man. I wouldn't be so sure. Boyd has an extremely safe role in the Bengals' offense, operating almost exclusively as their slot receiver. Last season, the Bengals ran the most snaps in the NFL in their 11-personnel with 76% of their total snaps. Even if Boyd is the No. 3 receiver in Cincinnati, he is still going to play a lot of snaps and be a productive player.

Prior to Joe Burrow getting hurt in Week 11, Boyd was actually the best fantasy wide receiver for the Bengals. Fantasy managers shouldn't expect Boyd to lose all fantasy relevance with Chase's arrival, although admittedly his upside is now very much capped.
As already mentioned, the Bengals lack a quality tight end, which means Boyd is likely to continue operating as the chain-mover and Burrow's primary security blanket. Boyd's player profile breaks down what fantasy managers can expect from him this season.
Boyd, because of his role as the Bengals' slot receiver, should provide fantasy managers with a safe, weekly floor. However, as far as upside and the possibility of being the No. 1 receiver for the Bengals, it's just not in the cards for him. Due to his low yard per reception average, he does not profile as a down the field option. He also has not displayed the ability to be a factor in the red zone and has struggled to score. For these reasons, Boyd is the easiest receiver to eliminate from the alpha-receiver role that is currently up for grabs in Cincinnati.
Tee Higgins

(Underdog ADP: 47.1, WR24)

Tee Higgins had a phenomenal rookie season despite having no real training camp due to COVID-19 and still had to deal with A.J. Green's ghost and Burrow's injury. Yet, despite Higgins overcoming all of those hurdles he is only being drafted as the WR24 on Underdog's ADP. His player profile here will give fantasy managers a better idea of what they can expect from Higgins in 2021.

Once Higgins broke into the regular rotation he immediately took advantage. He didn't see a single target in Week 1 but from Weeks 2–10, he was the WR15 with 13.1 half-PPR points per game (PPG)—Boyd was the WR16 (13.7 PPG).

Another area where Higgins shined once he received the opportunity was in weekly air yards. The chart below was generated using 4for4's air yards app and is sorted by air yards per game during Weeks 2–10. Higgins was 13th in the NFL during that time. Air yards typically have a positive correlation with fantasy production and it showcases some of the strengths he displayed in his rookie season. His average depth of target was 20th during the allotted timeframe too, another positive.
While the chart above is most certainly a positive for Higgins's fantasy prospects and shows he can be used as a deep threat, the problem with that is this is also where Ja'Marr Chase excels. He is believed to be one of the best wide receiver prospects in recent memory.
Matt Harmon's Reception Perception had this to say about Tee Higgins:
"An easy comparison for Tee Higgins' career path is that of former Bengals receiver, Marvin Jones. Always steady, but underrated while working in the shadows of a No. 1 wideout."

Ja'Marr Chase

(Underdog ADP: 43, WR20)

This brings us to who, at the end of the season, will be the Bengals' No. 1 wide receiver, Ja'Marr Chase. I'm not going to bang the drum on the LSU connection because Burrow and Chase haven't played together in two years. Chase hasn't even played in a football game in almost two years. None of that truly matters because Chase is immensely talented.

It's possible Chase starts off slow and fantasy managers should be expecting that. It's hard enough going as long as Chase has without playing in a real game, much less having your first one back against NFL competition. Chase is talented enough to handle it though.

Despite only being a sophomore and playing in the best conference in football, Chase absolutely lit the college football world on fire. He racked up 84 catches for 1,780 yards and 20 touchdowns. He left LSU with an insane 19.56 yard per reception average. Chase is currently being drafted as the WR21 on Underdog, which makes him the most expensive of all three Bengals' receivers.

With nine targets per game currently up for grabs in this offense, fantasy managers should expect Chase to at least gobble up a good portion of those. He could easily approach eight targets per game—since 2000, wide receivers drafted inside the top-10 who have played at least 12 games have averaged 120.3 targets and 210 points (PPR) per season.

4for4's John Paulsen projects Chase to have 79 catches, 1,046 yards and 6.7 touchdowns in 2021. This approximately comes out to 184 points and a finish as the No. 20 overall wide receiver. Higgins is projected to finish at No. 24 with 167 points.

Chase profiles as a receiver who can beat the defense in so many different ways. Matt Harmon of Reception Perception had this to say about Chase:
"He's excellent in tight coverage situations with a sterling 82.4% contested catch rate. Somehow it always sneaks up on you how good he is after the catch too. Chase went down on first contact on just 37.9% of his "in space" attempts."
Looking at the success rate on different routes from his last year at LSU, fantasy managers can see just how much success Chase had at just about everything he did. He has the ability to win at every level and while fantasy managers would be wise to expect some sort of learning curve early, his exceptional talent is going to shine through sooner than later.
The presence of Higgins and Boyd is only going to help Chase in this regard. With his high draft pedigree, Chase likely would've been looking at regular double teams in almost any other situation, but in Cincinnati with the other weapons they already have in place, Chase could see more one-on-one coverages. It won't be long until he's eating them up, just like he did in the SEC.
Who Should You Draft?
There's no wrong answer here. The Cincinnati offense is going to be explosive this season with Joe Burrow back under center and with the defense once again set to be below-average, they'll be forced to have to put up points on a weekly basis.
Tyler Boyd is a safe WR3 who is a much better asset in any PPR scoring formats. He will provide a stable, weekly floor fantasy managers can feel comfortable with. He's lacking week-winning or league-winning upside, which is his primary downfall and why he is the cheapest of the three.
Tee Higgins is that perfect compromise between Chase's extreme upside and Boyd's cheaper price point. He is being drafted in the middle of both receivers but comes with more upside than Boyd does. He proved to be a capable downfield threat last season and his overall size gives him ample scoring upside.
However, what fantasy managers are always looking for is upside and that is where Chase undoubtedly takes the cake. He is who fantasy managers should be targeting if they are looking to get a piece of the Bengals' passing game. He can win at every level and should become the alpha-receiver sooner than later. After using the fifth overall pick on him in the draft, the Bengals will be focused on getting him the ball and maximizing the return on their investment. His physical gifts are off the charts and he is widely accepted as one of the best receiver talents in years.