Is Tyler Boyd in Freefall Mode for Fantasy Football?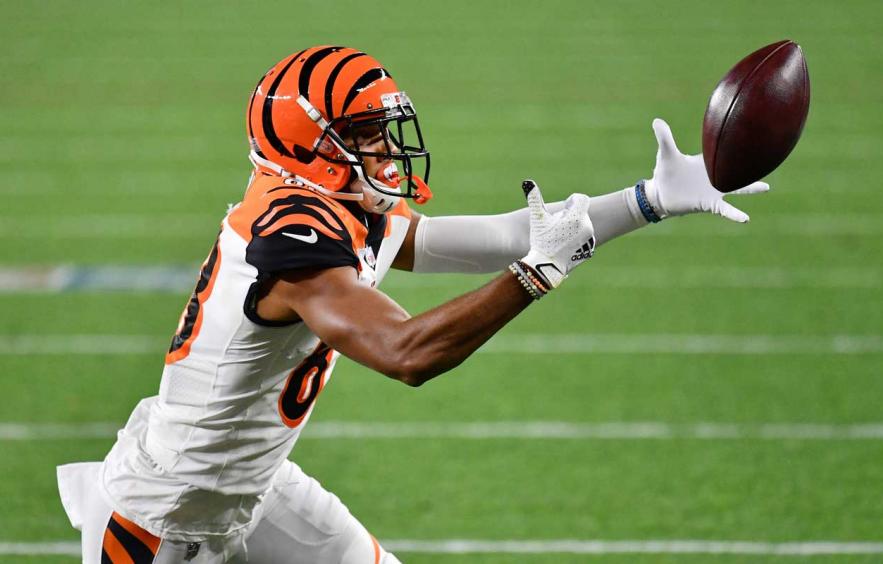 Jamie Sabau/Getty Images
With the fifth pick of the NFL Draft, the Cincinnati Bengals select Ja'Marr Chase from Louisana State University. With that selection, Tyler Boyd's fantasy value began crashing down in the eyes of fantasy managers everywhere. After all, Chase is viewed as a generational talent who scored 20 touchdowns in 2019 with Heisman-winning quarterback and now starting Bengal quarterback, Joe Burrow. As if Chase wasn't enough, Boyd was already set to do battle for Burrow's attention with Tee Higgins, who had an exceptional rookie season considering the circumstances.
By all accounts, Tyler Boyd is set to be the odd man out. Currently, being drafted as the WR38, fantasy managers shouldn't be adding the fifth-year pro to their "do not draft" list quite yet.
---
Editor's Note: Read more player profiles from the 4for4 staff!
---
Tyler Boyd

's Role is Secure

Despite the addition of Chase, Boyd's role in the Cincinnati offense is unlikely to change. That's because he was the primary slot receiver for the Bengals. According to PlayerProfiler, Boyd played 546 snaps in the slot, which was the fourth-most in the NFL. Tee Higgins by comparison, had only 172 snaps and A.J. Green had even less at 121. Why does this matter?

Slot receivers by comparison to those playing on the outside, average fewer yards per catch, which in turn leads to a higher catch rate. Fantasy managers are able to directly see these differences in Boyd's and Tee Higgins's stat line.

Boyd's average target distance was 8.9 yards, while Higgins was at 11.8 yards. That's not the only place where fantasy managers are able to see the difference in how these two receivers were deployed. Boyd averaged 10.6 yards per reception (YPR) compared to Higgins's 13.6 YPR. Due to these differences in their target depth, their catch percentages were impacted. Boyd caught 71.8% of his targets, while Higgins was at 62.6%.

Their passing offense is going to continue to be funneled through their new big trio of receivers. In that sense, Boyd will continue to function as Burrow's primary underneath target. The Bengals not having an elite or even above-average tight end only reinforces this notion. Despite Chase's possible elite wide receiver status and Higgins's potential emergence, Boyd will continue to receive his fair share of targets from Burrow.

This may be even more likely due to the below-average offensive line in Cincinnati. When also factoring in Burrow's return from a torn ACL last season, he may be more inclined to get rid of the ball quickly. Due to the depth of Boyd's targets vs. Higgins and Chase, Boyd could be the beneficiary when Burrow is pressured.

Last season, Burrow had 404 attempts in just 10 games. Over a 16-game schedule, he was pacing at 646 targets. That kind of team passing volume will allow all three receivers to have an ample piece of the pie. It shouldn't be surprising if all three receivers garner seven or more targets per game in 2021 with Burrow under center. The Bengals' defense in 2021 is once again looking like a unit that is going to give up some points, which will keep Burrow and the rest of the offense having to score to keep up.
Being Aware of the Red Flags
While fantasy managers can gleam some positives as it relates to Boyd's fantasy football prospects, it's important to be cognizant of some of the concerns as well. While the addition of Chase doesn't doom Boyd's fantasy value, it certainly caps his ceiling. The 148 targets he received in 2019 has virtually no chance of repeating as long Higgins and Chase are both healthy for the majority of the season.
His low depth of target forces him to need a higher number of targets to have a big week. He only had 11 deep targets (58th out of qualifying receivers) and 474 unrealized air yards (42nd) according to PlayerProfile, exhibiting his lack of big-play potential. Higgins and Chase profile far better as threats down the field.
Which Bengals WR are you drafting this year?



2020 Efficiency Metrics…

Yards/Route:

Tee Higgins 1.86

Tyler Boyd 1.68



Contested Catch Rate:

Higgins 10/28 35.7%

Boyd 4/13 30.8%



True Catch Rate:

Higgins 74.4%

Boyd 88.8%#FantasyData #FantasyFootball #Bengals

— FantasyData (@FantasyDataNFL) July 5, 2021
To make matters worse, Boyd also struggles in the red zone. While he did receive 16 red zone targets last year, he was only able to secure four of them. Things were no better in 2019 either. Despite receiving 148 targets in the previous season, he was only able to reel in five scores. Since becoming a full-time starter, he has averaged just over five touchdowns per season. Better quarterback play will certainly help, but it would appear as if Higgins and Chase are more likely to be the ones capping off drives.

What to Expect in 2021
Higgins did not receive a single target in the first week of the season and Joe Burrow ended up tearing his ACL in week 11. During Weeks 2–10, Boyd was ranked as the WR14 overall and Higgins wasWR15. In that time span, A.J. Green racked up 7.4 targets a game while Boyd was at 8.9 and Higgins was at 7.6. These numbers certainly showcase Boyd being a very good value at his current ADP, but those numbers are somewhat deceiving.
Despite Green receiving 59 targets during that stretch, he was only able to secure 26 of them for 265 yards and 0 touchdowns. Fantasy managers should not expect Chase to be so woefully inefficient. Green's ineffectiveness actually helped Higgins and Boyd because every target he didn't catch were yards and touchdowns that could go to them.
Assuming Joe Mixon is healthy in 2021, the Bengals are likely to be a slightly more balanced unit. Fantasy managers should expect the Bengals to still operate as one of the more pass-heavy offenses, but it's possible that Mixon's return allows Cincinnati to focus more on the running game.
The Bengals had 581 pass attempts last year, but it's possible that number could increase in 2021. With the return of Burrow, the offense should be more successful than while he was on IR. If the Bengals have around 600 attempts this season, it's possible all three receivers could have 120 or more targets, which would leave enough room for Mixon and the running backs to have around 80 targets, the tight ends to have around 80 targets and another 80 targets for back-ups and various other players—or for the wide receivers to get even more involved.
Using Boyd's efficiency stats from his weeks with Burrow, if he were to receive between 115–125 targets in 2021, fantasy managers should expect roughly 80–90 catches for around 880–990 yards. Using his career touchdown rate from the last three seasons where he was a starter, he can be expected to score around four times.
Using the medians of those expectations, he would finish with roughly 85 catches, 935 yards and 4 touchdowns. This stat line equals 160 fantasy points and lines up with John Paulsen's projections. Looking at the averages of wide receiver scoring over the past four seasons, 160 points would have resulted in a No. 26 overall wide receiver finish—he projects as the WR31 on 4for4 in a 17-game season.
The Bottom Line
Ja'Marr Chase and Tee Higgins do lower Boyd's overall upside. A backend WR2 finish is likely the ceiling for Boyd without an injury.
Boyd has a consistent role as the slot receiver, which will provide fantasy managers with a nice weekly floor, albeit at the expense of that upper-tier ceiling.
Boyd lacks scoring potential but should make up for it with volume inside a pass-heavy offense.
Despite some of the concerns, Boyd still presents as a really good value at his current price for fantasy football managers looking for a safe WR3 with some upside.