2021 NFL Draft Prop Bets Round Table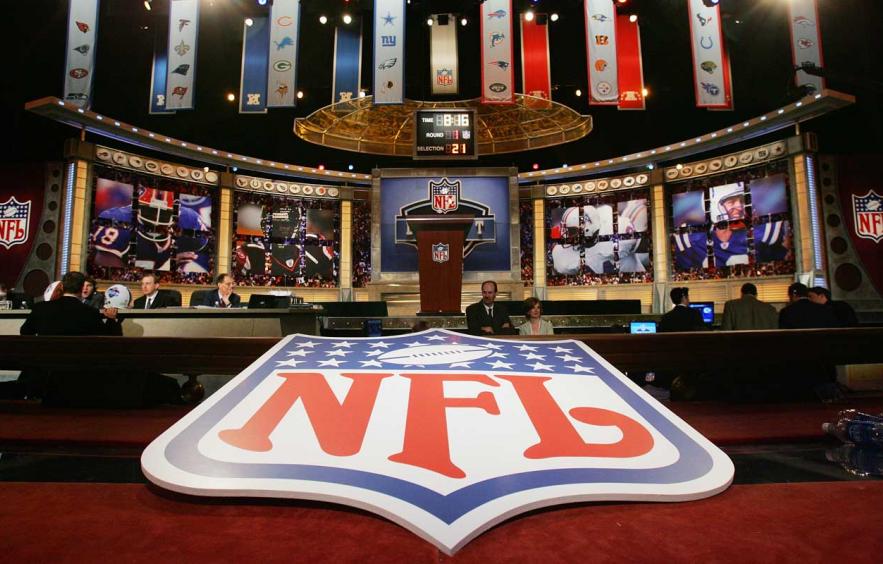 Photo by Chris Trotman/Getty Images
One thing we like doing more than making NFL Draft predictions is finding a way to make money off of those predictions. Mock drafts are basically an exercise in information-parsing, trying to read in between the lines of what clued-in media insiders share in regards to what may or may not happen come Draft Day. That same type of sleuthing has overtaken the NFL Betting industry in recent years, with an explosion in popularity when it comes to the prop betting market. With that in mind, we got the 4for4 NFL Draft Betting team, plus very special guest Anthony Amico of Footballguys and the In the Aggregate newsletter, together for a round table to discuss how they're betting the 2021 NFL Draft...
---
2021 NFL Draft Resources: Mock Draft | Top 150 Big Board | Draft Captial & Team Needs
2021 Betting Strategy & Picks→
---
2021 NFL Draft Prop Bets Round Table
There has been a lot of smoke blown towards the San Francisco
49ers

drafting Alabama quarterback

Mac Jones

with the third overall pick. Even our own Anthony Staggs gave in, mocking Jones to the

49ers

. The current odds on Jones going to the

49ers

on DraftKings Sportsbook is +175. How do you feel about those odds? If you're not betting Jones to the

49ers

at three, who would you bet on the

49ers

to take?

Connor Allen: The Mac Jones steam wasn't surprising considering two of the most reliable sources in the industry, Adam Schefter and Daniel Jeremiah, said the 49ers were probably going to pick Jones. Jones was as high as -300 (75% probability) to be the third overall pick last week. After Justin Fields's Pro Day, he is now the favorite at -121. The reality is I don't think anyone knows who the 49ers are going to pick. Sportsbooks are just trying to balance action and are adjusting lines accordingly. I don't think someone knows that the pick is going to be Fields like many people are suggesting based on the line movement. Looking at the current odds, I think there is a bit of value in Trey Lance (+210 at FanDuel). His second Pro Day is on Monday, where the 49ers will be in attendance. As we saw after Fields's Pro Day, a couple of reports can really change the odds. If you are looking to bet on this now and almost certainly get value, embrace the unknown and bet Trey Lance at +210 on FanDuel.

Matt Gajewski: Nobody knows the 49ers' pick at three, despite what "insiders" leak. The best "insider" predicted 13 picks correctly last year, most fell below 10 correct picks. If you're betting this prop, take the longest odds. Analytically speaking, Justin Fields possesses the highest chance for NFL success with accuracy comparable to Mac Jones and similar athleticism to Trey Lance. However, the whimsical nature of NFL decision-makers makes this pick a tough one to predict.

Jack Miller: I don't have a good read on the situation right now, so I'm just waiting for more news at the moment. If I had to, I'd probably bet on Mac Jones at +175 because I've seen the most buzz connecting him to San Francisco. As Connor mentioned, Adam Schefter and Daniel Jeremiah have both indicated the 49ers are leaning toward Jones (but they also noted it's a fluid situation). There are smokescreens galore at this point in draft season, but those are two of the most well-connected insiders in the business.

Anthony Amico: Benjamin Allbright contends there has been plenty of buzz surrounding Fields as the third pick, but there are still plenty of insiders and executives who believe the pick will be Jones. Odds of +150 imply a 40% chance Jones will be a Niner come draft night, and that feels about right. I wouldn't want to add on given the current landscape. Trey Lance is also due to have his Pro Day, which will occur prior to the publication of this piece. There is a decent chance that by the time you are reading this, Jones's odds are even higher. If he is on the board at +200 or longer, I like taking him without any additional news. Otherwise, I'm staying away.
It's nearly a guarantee the first three picks will be quarterbacks. The fourth pick belongs to the Atlanta
Falcons

, who could go in a number of different directions. DraftKings Sportsbooks lists Quarterback at +140, Tight End at +150, Offensive Lineman at +1000, and Wide Receiver at +1000 as possibilities for the

Falcons

at four. Which position do you think the

Falcons

will draft with the fourth overall pick?

Connor Allen: The Falcons are in a great position to select a difference-maker or trade down. If they stay put, they will very likely select a quarterback or tight end Kyle Pitts. If they don't trade down, the handicap really comes down to whether or not you think the Falcons want to stick with Matt Ryan for at least one more year. If you do, Pitts is an easy bet. On the other hand, there is a very legitimate chance that they trade down. The Falcons have holes all over, especially on the defensive side. They would benefit greatly from trading down and then drafting a defensive player while adding (multiple?) first-round picks. This is where this bet could get interesting. If the Falcons trade down, they could very well select a defensive player and I would put the odds at close to 50-50. Right now the odds on the Falcons selecting a defensive player is listed at DraftKings at +475! That's obviously because they are really only in a position to pick an offensive player right now with no defensive player coming close to the caliber of the other players in that range. I'm not playing it just yet but if rumors start to heat up about the Falcons trading down, I'll place a speculative bet on them to take a defensive player at +475.

Matt Gajewski: I think they select Kyle Pitts instead of reaching on a quarterback. At +150 to select a tight end with the fourth overall pick, this bet makes sense to me. Wide receiver at +1000 also looks worthwhile. Top-10 tight ends do not have strong records of NFL success, but wide receivers do. Despite having Calvin Ridley, Julio Jones continues to age and Russell Gage plays slightly above replacement level. After trading a second-round pick for Hayden Hurst last year, Atlanta may decide to select one of the elite wide receivers over Pitts. At +1000, I'm willing to sprinkle some change here.

Jack Miller: It all depends on whether they trade down or not. If they keep their pick, it's probably going to be Kyle Pitts or a quarterback. Matt Ryan turns 36 next month and it's no guarantee the Falcons will pick this early in the near future, so they could choose to kickstart the new era by taking a quarterback from this strong class. Otherwise, most mocks have them going with Pitts, who would complete a dynamic pass-catching trio alongside Julio Jones and Calvin Ridley. However, the most interesting situation occurs if Atlanta trades down. There have been reports as recently as Sunday saying the Broncos have been in touch about moving up, and you've got to assume other quarterback-needy teams might also be interested in moving up. As the others have said, Atlanta is +475 to take a defensive player, and that becomes interesting if big-name insiders report trade talks are getting serious. I haven't pulled the trigger on that one yet, but it's a prime example of why you need to stay on top of the news.

Anthony Amico: I think that there are three outcomes covering most of what can happen with Atlanta: select a quarterback, take Kyle Pitts, or trade back. Should the Falcons move back, it would likely put them in range to select a defensive player. Likely trade-up candidates include Denver (9), New England (15), Washington (19) and Chicago (20). That range of the board is littered with defensive players, which also happens to be an area of need. Currently, I think the most likely outcome is that the Falcons will take Pitts, but a lot of that is already priced in at +150. Atlanta taking a defensive player is +475, and I think that offers the best expected value at this time. If pressed to select a particular position, I would go with linebacker at +2000. Micah Parsons and Jeremiah Owusu-Koramoah would be Day 1 starters for the Falcons.
---
NFL Draft Sportsbook Promos
DraftKings: Bet $1, Win $100 in Free Bets if a QB is Drafted First Overall

FanDuel: Bet $5, Win $100 Cash if Trevor Lawrence is Picked First Overall
---
Who are you betting on to be the first running back drafted and the first wide receiver drafted?
Connor Allen: I'm eating the chalk with wide receivers. Ja'Marr Chase is -625 at DraftKings to be the first wide receiver off the board and I'm very confident that'll be the case. Running back is a little trickier but Najee Harris has been getting a lot of love in recent mock drafts from sharp individuals. He is being mocked ahead of Etienne in almost every mock draft, so I'll lean towards Harris at -140 at BetMGM.
Matt Gajewski: If Atlanta selects Pitts and Cincinnati selects an offensive lineman (both possible), Miami sits pretty with the number six pick. Ja'Marr Chase is the betting favorite to come off the board first, but Jaylen Waddle and DeVonta Smith both played college with Tua Tagovailoa. Again, last year's top "insider" selected 13 picks correctly. Both Smith (+750) and Waddle (+1000) make sense on FanDuel. For running back, take the longer odds between Najee Harris and Travis Etienne. Harris remains at -170, while Etienne sits at +150. Etienne is the pick.
Jack Miller: I'm also eating the chalk with Ja'Marr Chase at wide receiver. I haven't seen a single sharp mock pick anyone except Chase to be the first receiver drafted in months, and a Bengals insider recently stated he believes they'll pick the LSU product with the fifth overall pick. Even if Cincinnati goes in another direction, it's tough to see Chase slipping past another receiver-needy team in the Dolphins. Chase is arguably the best wide receiver prospect since Amari Cooper, and I'm confident he will rightfully be the first wideout off the board. Running back isn't as simple. A recent report indicated most teams are split between Najee Harris and Travis Etienne, so the latter is probably the best value play at +150. The only hold-up is how much Pittsburgh gets connected to Harris. To me, this one looks like a coin flip, and I'll flip coins at +150 all day long.
Anthony Amico: Ja'Marr Chase is the most likely outcome, but laying -625 on DraftKings is too much for me to actually attack it. Jaylen Waddle would be my preferred option, as there is a chance the Dolphins would take him even with Chase on the board at six. His odds are only +600 on DraftKings, but +1000 on FanDuel. I think a 9% implied probability is worth a sprinkle.
At running back, it is feeling more and more likely by the day that we will not see any selected on Day 1. Once we get into Day 2 of the draft, even more variance is added to the potential outcomes. Najee Harris, Travis Etienne and Javonte Williams are all relatively close in mock drafts. The best odds on any of them is Williams +500 at both FanDuel and PointsBet.
Let's say you believe
Mac Jones

is the locked-in pick for the

49ers

at three overall. What team would you bet on to draft

Justin Fields

?

Connor Allen: If Fields is not selected by the 49ers he could experience a bit of a fall to either seven, eight or nine. I wouldn't rule out any of the Lions, Panthers or Broncos trading down for an overpaying suitor like the Bears, Football Team or Patriots. If we are looking for the best value, I'd say that's the Football Team at 10/1, and I'd bet on them (+1000 on DraftKings).

Matt Gajewski: Atlanta could select Fields at four overall, but the +400 odds leave room for more value. Detroit at seven sits at +1100, while Denver at nine sits at +1000. Denver would need to trade ahead of Detroit to secure the pick. Denver possesses a more pressing need at the position, but Detroit's signal-caller (Jared Goff) could also be upgraded. Sprinkling a wager on either makes sense.

Jack Miller: I think someone would move up for Fields if he starts slipping. The Broncos have the ninth pick and there were reports over the weekend about them looking to move up to the Falcons' pick. Fields to Denver is +800 on DraftKings, and that would be worth firing on if we either get news of San Francisco taking Jones or Lance, or the Denver trade reports start heating up.

Anthony Amico: The Patriots spent a ton of money in free agency, and are entering the draft with very few holes to fill. One of those holes is a long-term answer at quarterback. Picking 15th, and armed with six picks inside of the top 140, New England is extremely live to make a move up the board and snag a falling Fields. You can get Fields to the Patriots at +750 on FoxBet.
What's your favorite longshot bet?
Connor Allen: I broke down the path to the Falcons picking a defensive player with a potential trade down at +475 on DraftKings. If we take that a step further, they need help in the secondary, bad. There are also a couple of cornerbacks projected to be selected in the early teens. If we hear those trade rumors heat up, I'll be placing a speculative cornerback to Atlanta bet on DraftKings at +1200.
Matt Gajewski: Jaylen Waddle first receiver +1000 on FanDuel.
Jack Miller: I'm going to be lame and say the only longshots I've bet have already moved, and I don't see much I like right now.
Anthony Amico: I truthfully have not bet a ton of longshots at this stage of the draft, so I'll go right back to what I was saying earlier: Falcons to draft a linebacker first +2000.
Let's end this with some quick-hitting over/unders. I'll give you a bet and the line, you tell me if you'd bet the under or the over...
Trey Lance Draft Position: O/U 6.5
DeVonta Smith Draft Position: O/U 11.5
Kyle Pitts Draft Position: O/U 5.5
Total Alabama Players Drafted in Round 1: O/U 5.5
Total WRs Drafted in Round 1: O/U 4.5
Total Offensive Players Drafted in Round 1: O/U 18.5
Connor Allen:
Trey Lance Draft Position: Under 6.5
Kyle Pitts Draft Position: Under 5.5
DeVonta Smith Draft Position: Over 11.5
Total Alabama Players Drafted in Round 1: Over 5.5
Total WRs Drafted in Round 1: Over 4.5
Total Offensive Players Drafted in Round 1: Under 18.5
Matt Gajewski:
Trey Lance Draft Position: Over 6.5
Kyle Pitts Draft Position: Under 5.5
DeVonta Smith Draft Position: Under 11.5
Total Alabama Players Drafted in Round 1: Over 5.5
Total WRs Drafted in Round 1: Over 4.5
Total Offensive Players Drafted in Round 1: Under 18.5
Jack Miller:
Trey Lance Draft Position: Over 6.5
Kyle Pitts Draft Position: Under 5.5
DeVonta Smith Draft Position: Under 11.5
Total Alabama Players Drafted in Round 1: Over 5.5
Total WRs Drafted in Round 1: Over 4.5
Total Offensive Players Drafted in Round 1: Under 18.5
Anthony Amico:
Trey Lance Draft Position: Over 6.5
Kyle Pitts Draft Position: Under 5.5
DeVonta Smith Draft Position: Over 11.5
Total Alabama Players Drafted in Round 1: Over 5.5
Total WRs Drafted in Round 1: Over 4.5
Total Offensive Players Drafted in Round 1: Under 18.5
*All lines accurate at the time of publication.
---
Related NFL Draft Prop Bet Articles