Top DFS Stacks on FanDuel and DraftKings: Week 12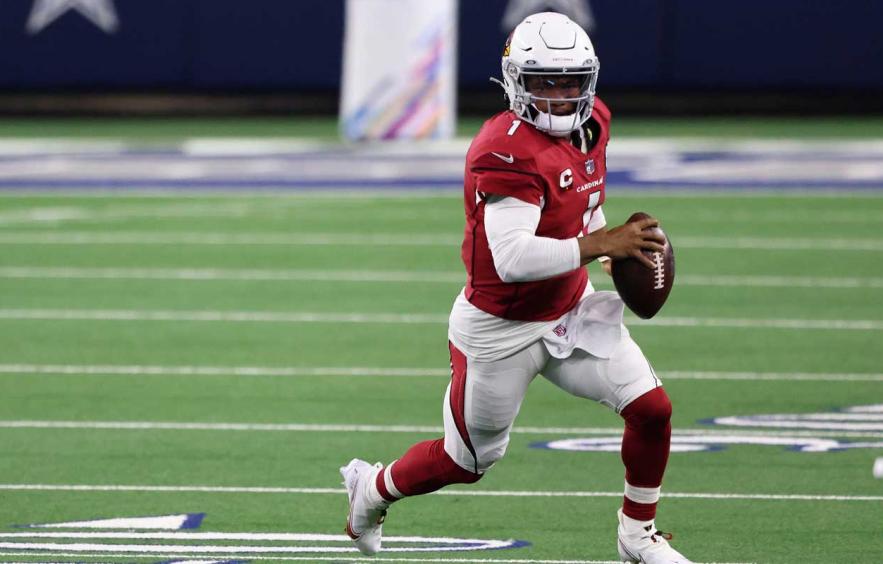 Ronald Martinez/Getty Images
Stacking players is a stairway to the top of daily fantasy tournaments, maximizing upside by creating the sort of volatility that can help your roster post a crooked score—one way or another.
Below are some of the most intriguing stacking plays I found while sifting through the week's matchups. Most of these options will leave room for high-ceiling studs. The goal, naturally, is to get a lot for a little. So let's get into it.
For up-to-the-minute and Sunday morning updates, be sure to join the 4for4 DFS subscription-only Discord channel.
Arizona
Cardinals

(-2.5) @ New England

Patriots

; O/U 50
QB
Kyler Murray

,

Cardinals

($9,100 FD/$8,200 DK)

WR

DeAndre Hopkins

,

Cardinals

($8,500 FD/$8,100 DK)

WR

Christian Kirk

,

Cardinals

($6,100 FD/$5,800 DK)

WR

Jakobi Meyers

,

Patriots

($5,800 FD/$5,300 DK)

Update: Larry Fitzgerald (COVID-19) will miss this game. Andy Isabella, expected to take over as the Cardinals' primary slot receiver, is a fantastic stacking option alongside Murray. I'd prefer stacking Hopkins and Isabella with Murray if only because Isabella provides tremendous salary relief and probably has a ceiling just as high as Kirk's.

This stack—with the third-highest projected QB/WR1/WR2/opposing WR1 ceiling of Week 12—would naturally be nixed if Kyler Murray has a setback with his shoulder injury and can't suit up. He looks likely to play though, so let's do this.

This game's over/under has climbed by two points since Monday, from 48 to 50 points. That's good news for those of us (yours truly) hoping for a shootout, or at least a bunch of negative script for the Patriots. We'll start with the New England portion of this stack: Jakobi Meyers has enjoyed a dominant target share since Julian Edelman went down to injury. Meyers since Week 8 has commanded 30% of the team's targets and 329 air yards. The next closest Patriots pass-catcher, Damiere Byrd, has 272 air yards over the span. If this game is a back and forth affair or one in which New England chases points for two or three quarters, Meyers is going to be peppered with targets from Cam Newton. A big Patriots lead is the only thing that could snuff out Meyers' Week 12 upside against a vulnerable Arizona secondary. Meyers' Week 12 price is egregiously low on FanDuel. Take advantage.

Kyler Murray and the Arizona passing attack have a fairly narrow target tree: DeAndre Hopkins and Christian Kirk have seen 46% of the team's targets this season. Larry Fitzgerald has somehow matched Kirk with a 17% target share, though Kirk missed a game this season. Kirk has nearly double the air yards as the plodding Fitzgerald, making Kirk a far more desirable upside tournament option in the Cardinals' offense. It's more than reasonable to project solid outings for Hopkins and Kirk in a game in which the Cards have a 26.75 point implied total. A whopping 78.7% of yards gained against New England over the past three weeks have come through the air as the team's secondary wilts. Stephon Gilmore's return from injury won't change the composition of this game—or how the Cards might attack the Patriots—too terribly much.

Lucky for us, the Patriots defense has struggled against mobile QBs in 2020. Lamar Jackson rushed 11 times for 55 yards against New England; Russell Wilson ran five times for 40 yards against the Pats way back in Week 2; Josh Allen rushed 10 times for 23 yards and a score against the Patriots; and Deshaun Watson posted 36 rushing yards and a touchdown just last week. Murray, shredding defenses with his choppy little steps and preternatural ability to read defenders, could run wild against a slow New England front seven. He's rushed at least eight times in seven of 10 games this season.
LA
Chargers

@ Buffalo

Bills

(-5.5); O/U 53.5
QB
Josh Allen

,

Bills

($8,600 FD/$7,600 DK)

WR

Stefon Diggs

,

Bills

($7,900 FD/$7,600 DK)

WR

Keenan Allen

,

Chargers

($8,200 FD/$8,000 DK)

The over-under in this game has risen by two points since the start of the week. It now has the week's third-highest total, which makes sense with two high octane offenses facing off. No QB-WR1-opposing WR1 stack has a higher Week 12 ceiling than this one, per 4for4's projections.

Justin Herbert, of course, is an acceptable stacking option alongside a Chargers pass-catcher or two and a Bills receiver (preferably Diggs). But I'm going with Allen here because only five defenses allow more schedule-adjusted points to quarterbacks than the Bolts, who just gave up a cool 18.5 points to Joe Flacco. I don't hate Allen's chances of exploiting the same secondary Flacco burned.

This game should feature a hell of a lot of plays. The Chargers average 72 offensive snaps per game, the second-highest behind only Dallas. The Bills average 63.7 (20th) but allow the 14th most offensive snaps against them. The chances for this game to bust out into an all-out passing frenzy are, well, not bad. Allen in that sort of game environment brings massive upside, both as a passer and a rusher. He accounts for nearly 30% of the Bills' rushing attempts in 2020 and has the second-most rushing yards on the team (238)—another reason I'm going Allen over the pocket passing Herbert.

A big day for Allen almost guarantees a big output from Diggs, who's accounted for 34% of Buffalo's air yards on 28% of the team's targets this season. If John Brown—responsible for 25% of the team's air yards—is inactive for this game, Diggs' upside gets a bump.

Mike Williams makes for a reasonable if volatile run-back candidate alongside a Bills stack. It's Keenan Allen who—like Diggs—dominates targets for LA. Allen has a 31% targets share since Herbert took over at QB for the Chargers back in Week 2—that works out to 11.55 targets per contest. A track meet between the Bolts and Bills would necessarily give Allen a monster target ceiling. A runaway LA victory is the one scenario in which Allen's upside would be capped. I, for one, don't like those odds.
Cleveland
Browns

(-6.5) @ Jacksonville

Jaguars

; O/U 49
RB
Nick Chubb

,

Browns

($8,400 FD/$7,100 DK)

DEF

Browns

($4,900 FD/$3,100 DK)

This game is gross. There's no way around it. We have a team starting Mike Glennon and a team that would run the ball 69 times a game if they could. Yet, I'm highlighting a stack in said game. Curious!

Jacksonville opponents can exploit the Jags in any number of ways: they allow the second-highest completion rate to opposing passers, they have the lowest sack rate in the league, and they're one of five teams that allow more than 400 total yards per contest. A team like Cleveland doesn't care about how they might rip the Jags' secondary though. A team like Cleveland wants to establish the run so hard they erase the existence of the forward pass. So we'll play along.

No team has a higher rush rate than the Browns (52.12% of their offensive snaps are runs) and only the Patriots and Ravens have a lower neutral pass rate than the Browns. If things are going swell for Cleveland's offense, they're going to grind away on the ground. Obviously, that puts Nick Chubb and Kareem Hunt in play as potential volume monsters in this matchup. Hunt, who saw all four Cleveland running backs touches inside the 10-yard line last week against the Eagles, is far more viable on full PPR DraftKings. But I think Chubb is the odds-on favorite to carry the load in a run-heavy script in Week 12.

Since returning from his MCL injury in Week 10, Chubb has 39 carries for 240 yards and a touchdown (Hunt, meanwhile, has 37 rushing attempts since Week 10). That he's seeing no pass game action doesn't concern me too much in this game. Weirdly, Chubb has run more routes since returning from injury. Rushing attempts are our focus though, and Chubb—who sports the third-highest running back ceiling of Week 12—could see plenty of it on Sunday. Nearly 46% of plays against Jacksonville's defenses this season have come on the ground, the fifth-highest rate through Week 11.

If the Browns are in position to decimate the Jags on the ground, their defense will probably be in an excellent spot to get after new starting QB Mike Glennon. The long-necked one could face an entire game of negative game script against the aggressive Cleveland front seven (even without destroyer of worlds Myles Garrett). It's the same Glennon who's thrown 20 picks in 21 starts and completed 60% of his passes over his career as a spot starter. He very well could be under tremendous pressure against a Browns defense with the tenth highest sack rate (6.72%). They've been even more ferocious of late, sacking the passer on 9.18% of their plays over the past three games.