Running Backs Drafted in the First Round and a D'Andre Swift Special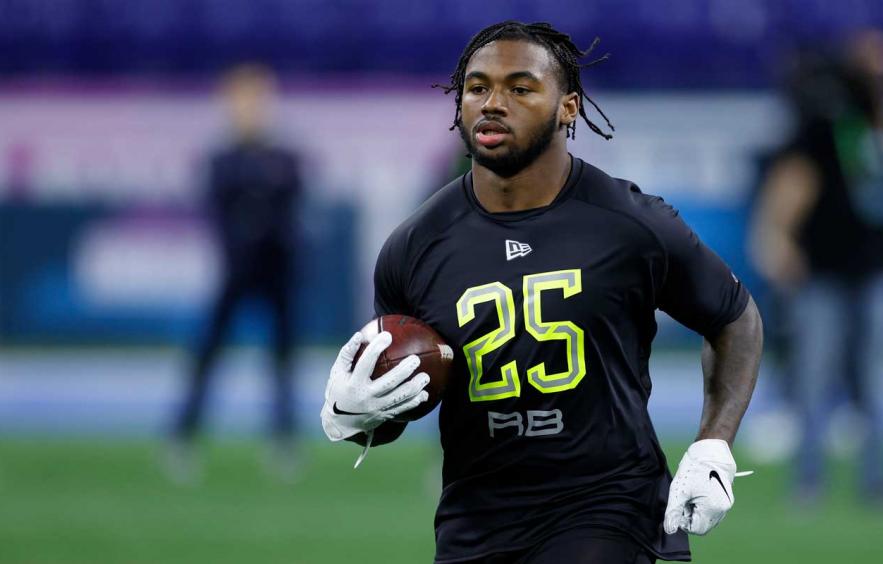 Joe Robbins/Getty Images
Draftkings Sportsbook is offering a bunch of props on running backs but most notably is lining the number of running backs who will be selected in the first round at 0.5. Right now, the over is heavily favored at -305 with the under at +235. The following will explain how to navigate early-round running back props.
---
---
Total Running Backs Drafted in the First Round
It's understandable that betting the under on running backs drafted in the first round isn't considered "fun," but at +215 it's worth looking into. Everyone wants to see teams devote draft capital and commitment towards a player that could be their workhorse running back of the future. People want to see that because it's good for their fantasy teams and is fun to speculate on the potential. The issue is, I don't think that's very likely in this draft class and DraftKings isn't lining this prop accordingly.
Right now, DraftKings Sportsbook only has two running backs even lined with over/unders:
Taylor is getting loads of hype from the fantasy community but his over/under isn't even in the first round and the juice is trending towards the over. This suggests the betting market believes there is a very small chance of him going in the first round. His line is probably set correctly as a selection at any point in the early-to-mid second round wouldn't be surprising.
Swift is the back who could tilt this bet either way. He has a late first-round over/under of 26.5 but the juice has been bet all the way up to -167. At the current pace, it's unlikely Swift's O/U will remain at 26.5 and will likely close near the end of the first round.
Going through the exercise of breaking down all the teams picking towards Swift's projected draft range is enlightening and leads to another bet.
---
Want in on the action? Get a sign-up bonus up to $1,000 with DraftKings!
---
Team Running Back Needs
Pick No. 17 (Dallas): The Cowboys locked up Ezekiel Elliott this offseason and likely won't be looking to address the running back position in this draft with capable backup Tony Pollard behind him.
Pick No. 18 (Miami): The Dolphins have multiple first-round picks which in theory could be used on a running back. The Raiders did it last year with Josh Jacobs as their final first-round selection. I really don't think the Dolphins pull the trigger though. They just signed Jordan Howard and have massive, more important needs to fill including half their entire offensive line, edge rusher and safety.
Pick No. 19 (Las Vegas): Jon Gruden and Mike Mayock have made some questionable decision but even they wouldn't be bold enough to take a running back in the first round in back-to-back years.
Pick No. 20 (Jacksonville): They still have former first-round pick Leonard Fournette. Even though the Jaguars likely won't want to pick up his fifth-year option in 2021, they have at least another year to figure out the position without sinking a first-round pick into the position. It's much more likely they add another back later in the draft.
Pick No. 21 (Philadelphia): Miles Sanders played well last season and is expected to play a much bigger role this year. The former second-rounder is a budding star.
Pick No. 22 (Minnesota): Dalvin Cook was their workhorse last season and that's expected to remain the same in 2020.
Pick No. 23 (New England): They still have former first-round pick Sony Michel and competent role players in James White, Rex Burkhead, and Damien Harris.
Pick No. 24 (New Orleans): With Alvin Kamara and Latavius Murray in tow there's no reason to pick a running back this high.
Pick No. 25: (Minnesota): See No. 22
Pick No. 26 (Miami): See No. 18. This pick is why Swift's line is set at 26.5 and the only remotely logical spot for the under to hit. Repeat after me: Just because a team has multiple first-round picks doesn't mean they have to use one on a running back.
Pick No. 27 (Seattle): Chris Carson, Rashaad Penny and Travis Homer should provide enough backfield firepower to satisfy the ravenous thirst Pete Carroll has to run the ball. If they take a running back here, Russell Wilson should also be on the trade block.
Pick No. 28 (Baltimore): Mark Ingram is still under contract for another year and should be locked in for 40-50 percent of the team's carries. They might draft a supplemental runner in the later rounds if they are unhappy with Gus Edwards or Justice Hill but they have a much bigger need at ILB or edge rusher.
Pick No. 29 (Tennessee): It would be downright foolish to spend meaningful draft capital on a player who would take away carries from the king himself, Derrick Henry.
Pick No. 30 (Green Bay): I don't think it's unrealistic for the Packers to draft a running back this year but with Aaron Jones and Jamaal Williams returning, it's unlikely to be in the first round.
Pick No. 31 (San Francisco): The 49ers are orchestrated by John Lynch and Kyle Shanahan, the latter who's Dad ( Mike Shanahan) practically invented the concept of running back replaceability. They still have Tevin Coleman, Raheem Mostert, Matt Breida, and just restructured Jerick Mckinnon's contract. I would say their odds of selecting a running back in the first round is very close to zero.
Pick No. 32 (Kansas City): This is a popular landing spot for D'Andre Swift in early mock drafts and would excite many fantasy enthusiasts but is somewhat unlikely. GM Brett Veach has only been the general manager for two seasons but was with the Chiefs since 2013 in player personnel roles relating to both college and the NFL. Since 2013 the Chiefs have taken just four running backs:
They haven't shown much of a tendency to spend anything beyond third-round draft capital since Veach has been on board. The Chiefs also just signed Patrick Mahomes' former teammate at Texas Tech in DeAndre Washington to a one-year contract. They now have Damien Williams, DeAndre Washington, and Darwin Thompson on the roster.
Pick Summary
After going through each team I'm confident that both under 0.5 running backs in the first round and D'Andre Swift Over 26.5 are good bets. The juice on Swift is a lot but I'm confident he not only won't be selected there but will also slide out of the first round. This line will also likely move so I would bet on this as soon as possible. I would bet his O/U at even money up until pick No. 30 and I personally think that's about where it closes. Once that happens, the line on under 0.5 RB's in the first round will also move dramatically. In my mind, the only way we lose "Under 0.5 running back in the first round" is if one of these teams in the last couple of picks trades out of the first round. It's certainly possible that happens but at +235 the odds are well worth that risk.
| Prop | Pick | Odds | Suggested Units | Limit Bet Down To | |
| --- | --- | --- | --- | --- | --- |
| Total Running Backs Drafted in the First Round | Under 0.5 | +235 | 1.0 | +150 | Bet Now! |
| D'Andre Swift Draft Position | Over 26.5 | -167 | 1.0 | Over pick 30 -110 | Bet Now! |
Note: All advice in this article is based on odds available on the date of publishing.