Kareem Hunt: The Most Valuable Handcuff Running Back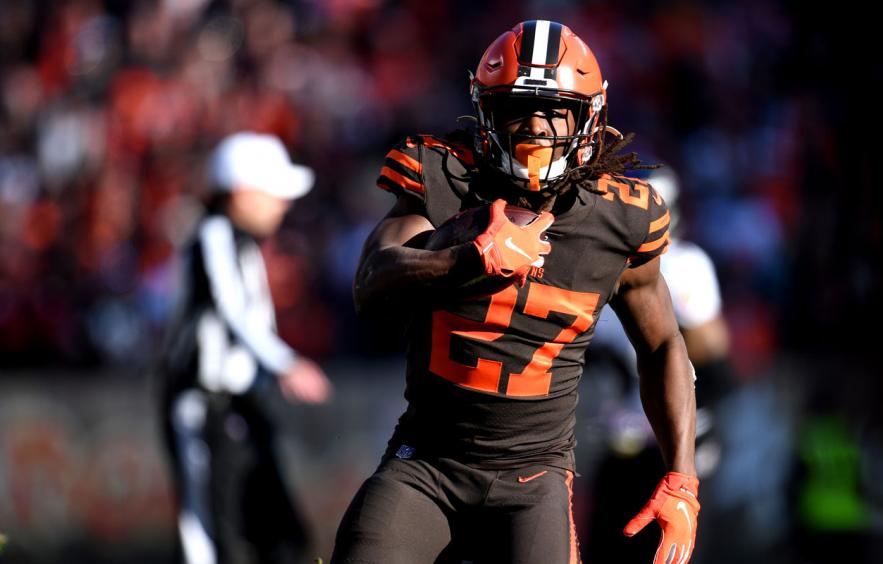 Jason Miller/Getty Images
We can't call Kareem Hunt the RB2 of the Browns offense. We can all agree on that, right? He's more like an RB1.25—maybe not as top-heavy with rushing attempts, but easily conceivable upside and an already-proven ceiling.
Create or join a 2020 Yahoo Fantasy Football League for free today
Let's take a trip back in time. The year is 2017, and the Kansas City Chiefs have just drafted Hunt out of Toledo with their third-round pick. It was a simpler time, when a pre-season knee injury to Spencer Ware set the stage for Hunt's monster-workload and a fantasy football performance for the ages.
Though his team and role have changed, Hunt poses a great value in 2020 as not only one of the greatest running back insurance policies in fantasy football but also, perhaps, the most valuable "RB2" on any NFL roster.
Kareem Hunt

: The Legend

It feels like long ago since we've seen Hunt take on a substantial role in an offensive scheme, but it's really just been one season. In 2018, Hunt was cut from the Chiefs following Week 11 in response to a domestic violence incident caught on camera that sent shock waves through the NFL community. At this point in the season, he had already racked up 1,000 yards from scrimmage and 14 total touchdowns.

What he was able to accomplish in just 11 games was astounding. He finished as the RB11 in half-PPR formats despite missing five games. Among running backs, he tied fellow back James White with seven receiving touchdowns, ranked first in yards per target (11.45) and second in yards after the catch per reception (13.31). He finished those 11 games with 43 avoided tackles, tied for the fifth-most among all backs on the season.
Kareem Hunt showing the defense what social distancing looks like 💨💨 pic.twitter.com/1CXE1U44SZ

— Everything Cleveland (@EverythingCLE_) August 15, 2020
The beauty of Kareem Hunt is his elusive running style paired with his skill as a receiver. His upside is obvious. It's displayed in both his statistical achievements and perineal value as an RB1... as long as he's on the field.
Projecting The
Browns

Backfield in 2020

New to the Browns in 2020 is head coach Kevin Stefanski, left to clean up the mess of 2019 and remotivate their quarterback after a disappointing season. Stefanski took over as the Minnesota Vikings' interim offensive coordinator in Week 15 of 2018 after a loss to the Seahawks and quickly gained the reputation of a man determined to run the football. His reputation certainly bodes well for a system with two running backs as talented Chubb and Hunt.

Nick Chubb started the 2019 season as the Browns clear-cut RB1, totaling 22 touches per game and on an ungodly 16-game pace of 357 touches for 1,929 scrimmage yards and 11 touchdowns. Eventually, after serving an eight-game suspension to kick off 2019, Kareem Hunt returned to the Browns active lineup in Week 10 of the season.

Hunt didn't take over as the Browns' RB1, by any stretch of the imagination. He was more of a Duke Johnson, receiving-type role, totaling 44 targets in just eight games, while Nick Chubb continued with a healthy average of 19 touches per game.

Among NFL teams in 2019, Minnesota ranked eighth in points scored, fourth in rush attempts, sixth in rushing yards, sixth in rushing touchdowns... need I go on? The Kevin Stefanski-Vikings offense absolutely dominated the run game. It's as simple as that. Whether Dalvin Cook or Alexander Mattison (or even Ameer Abdullah) was taking the handoff, it seemed as though they were unstoppable.

We can probably expect much of the same run-heavy dynamic in Cleveland for the 2020 season. Let's say we project the Browns for 475 rushing attempts in the coming season. I'll assume approximately 30 of those attempts will come from Baker Mayfield; the rest are up for grabs.

Here are my individual projections for Hunt and Chubb for the 2020 NFL Season:
| | ruATTs | ruYDs | ruTDs | TGTS | REC | reYDs | reTDs |
| --- | --- | --- | --- | --- | --- | --- | --- |
| Nick Chubb | 245 | 1225 | 9 | 34 | 21 | 218 | 1 |
| Kareem Hunt | 198 | 911 | 5 | 80 | 68 | 646 | 5 |
Editor's note: See where John Paulsen stands on this backfield split here.
You'll notice that each of these running backs poses tremendous value. Considering the projected rushing volume, each of these backs can be fantasy relevant within the offense - perhaps akin to an Alvin Kamara/Mark Ingram 1-2 punch.
Hunt's 2020 Value
Kareem Hunt is currently being drafted as the RB28 in half-PPR formats despite his standalone value as a receiver. In addition to his carries upon returning from suspension, Kareem Hunt was on pace for an incredible 88 targets in his eight games with the Cleveland Browns in 2019. Some players who had fewer than 88 targets on the season?
I can keep going. His stand-alone value as a receiving running back is monumental. His value if he receives a greater chunk of the rushing attempts? It's off the charts. Though we hate to speculate injury (particularly for a player that has managed to stay quite healthy through a sizeable workload), it's hard not to imagine Hunt's potential with the backfield to himself, too. In an altered offseason program, with COVID-19 at the helm, illnesses and injuries need to be of concern.
This became even more evident than ever when Chubb was escorted from practice and entered the concussion protocol. Even while ranking as the second back on the field in a new system, Hunt averaged 10 touches per game. If Chubb isn't on the field for any reason, Hunt becomes an instant RB1, and you drafted him at a major discount.
The Bottom Line
Kareem Hunt has proven himself as a top-tier running back in fantasy football when on the field, finishing as the RB4 in 2017 and RB11 in 2018 (despite playing just 11 games) in half-PPR league scoring formats.
Browns Head Coach Kevin Stefanski's run-heavy offensive scheme will leave room for both Hunt and fellow back Nick Chubb to see workloads significant enough to make a fantasy impact.
Hunt's current ADP has him being drafted as the RB28 in half-PPR formats. That price may account for his stand-alone value, but does not capture his upside if he were to assume a workhorse role in the setting of illness or injury to Nick Chubb.