How Philip Rivers to the Colts Impacts Fantasy Football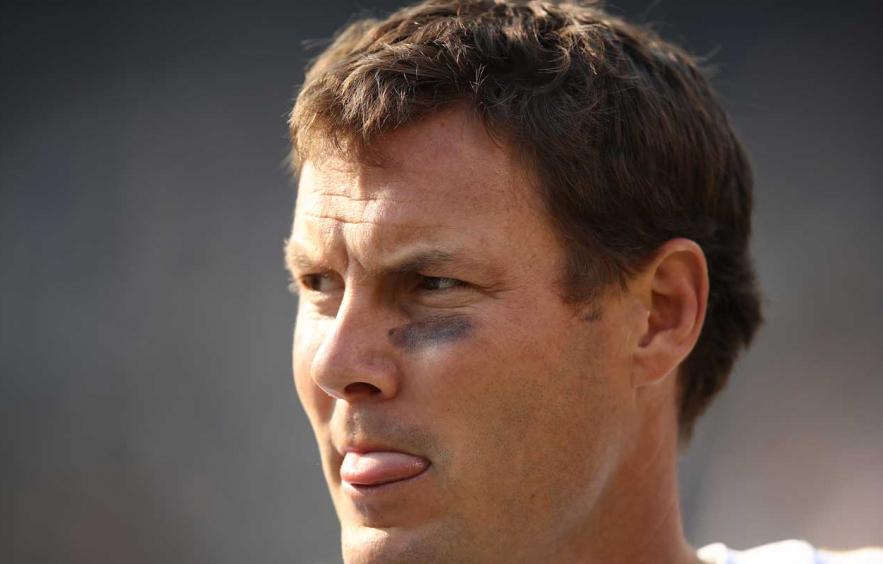 Ezra Shaw/Getty Images
On March 21st, the Indianapolis Colts signed free agent quarterback Philip Rivers to a one-year, $25 million dollar contract that will see him overtake the offense from Jacoby Brissett, who inherited it himself after a surprise retirement by Andrew Luck. The 2019 Colts finished 25th in total yardage gained and 30th in passing yards with Brissett at the helm. An upgrade to the passing attack will lend itself to an uptick in fantasy potential for the team as a whole.
Philip Rivers

versus

Jacoby Brissett

The fantasy scoring outputs from Rivers (20.4 fantasy points per game) and Brissett (17.2 FPts/G) aren't terribly far apart, but the underlying numbers of how they got there tell a story of two very different quarterbacks.
Rivers and Brissett 2019 Passing Stats

| Player | Team | Games | Completions | Attempts | Yards | TD | INT | Rush Att | Rush Yards | Rush TD | Fantasy Points |
| --- | --- | --- | --- | --- | --- | --- | --- | --- | --- | --- | --- |
| Philip Rivers | LAC | 16 | 390 | 591 | 4,615 | 23 | 20 | 12 | 29 | 0 | 325.7 |
| Jacoby Brissett | IND | 15 | 272 | 447 | 2,942 | 18 | 6 | 56 | 228 | 4 | 265.9 |
Despite Rivers throwing for nearly 1,700 more yards, Brissett was able to close the cap on the statuesque quarterback by using his moderate mobility to gain 200 more yards on the ground and tack on four rushing touchdowns. The former Chargers QB attempted almost 150 more passes than his Indianapolis counterpart, with an exorbitant amount of those going to the running back position. In fact, nobody in the NFL threw to the RB more than Rivers, which goes to explain how Austin Ekeler (sixth) and Melvin Gordon (14th) finished in the top-15 of half-PPR scoring in points per game.
Positional Usage in the Passing Game 2019

| Team | RB Tgt % (Rank) | WR Tgt % (Rank) | TE Tgt % (Rank) |
| --- | --- | --- | --- |
| Chargers | 31.7% (1) | 51.0% (26) | 17.0% (23) |
| Colts | 18.7% (21) | 52.5% (24) | 28.5% (4) |
Brissett's guilty pleasure was, in turn, the tight end position, where Jack Doyle led the team with 72 targets, and Eric Ebron received 52 targets in his 11 games.
While it may be difficult to completely remove a player's preference from the offensive scheme when we investigate what position they like to throw the ball to, looking into how often they're willing to uncork the ball down the field is a good representation of how comfortable they are pushing the limits of the defense. Even with some dwindling arm strength and mechanics that look like he's shot putting the football, Rivers is still not afraid to test the defense deep when he's not laying it off for his running backs in open space.
Rivers and Brissett Deep-Ball Passing 2019

| Player | Total Att | Deep Att | Deep Rate (Rank) | Deep Comp % (Rank) |
| --- | --- | --- | --- | --- |
| Philip Rivers | 591 | 127 | 21.5% (6) | 44.1% (14) |
| Jacoby Brissett | 447 | 77 | 17.2% (29) | 41.6% (23) |
After a year in which Andrew Luck finished fifth in deep-ball passing attempts, Brissett attempted a throw of 15+ yards on only 17.2% of his passes, ranking him 29th and severely limiting the explosive aspect of Indianapolis in general. All in all, the dependence on "running the damn ball" and a lack of downfield looks resulted in a 7-9 finish for the Colts, a far cry from a repeat Divisional Round playoff performance.
How
Philip Rivers

Impacts the

Colts

The signing reunites head coach Frank Reich with his former San Diego Chargers quarterback of the 2013 (quarterbacks coach), 2014 and 2015 seasons (offensive coordinator). In those 2014-2015 seasons, the offense simply ran through Rivers—he attempted 1,231 passes for 9,078 yards and 60 touchdowns while ranking 13th and sixth in pass play percentage, respectively. That is quite divergent from the 28th place finish for the Colts in 2019. Both Reich and Rivers are five years older, so I don't expect an exact replication of their former usage but some injection of risk and reward with the pass game should hamper the "run the damn ball" mantra in 2020.

No Colts skill position player has blown the roof off of a fantasy season since back in 2016 when T.Y. Hilton (WR5) and Frank Gore (RB12) gave us some fantastic production. Last year was no exception and was a good look into how limited this team is from a fantasy perspective with Jacoby Brissett calling the shots.

Hilton's average depth of target (aDOT) dropping an entire yard from 2018 to 2019 was eye-popping, but the biggest shock was Nyheim Hines's plummet from a promising rookie to a complete offensive afterthought. Though he doesn't possess the exceptional open-field elusiveness, route running or hands of an Ekeler, it's easy to connect the dots from Los Angeles' running back usage and see a scenario where Hines is the second--biggest beneficiary (with a healT.Y. Hilton being the biggest) to the Rivers signing.

With glaring needs at other positions (say, wide receiver), it's difficult to see a scenario where Indianapolis takes a running back at any point in the NFL Draft. If he can usurp Jordan Wilkins and take reins back over as the number two running back, Hines could earn the gratification of being a Rivers ball hog behind this beastly offensive line.

It's hard to pinpoint what Rivers's signing means to the wide receiver group behind Hilton, whose propensity to get behind a defense should meld well with Rivers' gun-slinging attitude. Zach Pascal could easily fall to the number three or four wide receiver while Campbell was likely already slated as the fifth option in the passing game.
The Bottom Line
The only one-for-one comparison we can make between the Chargers and Colts is a Keenan Allen/Hilton usage comparison. Hilton is in line to be peppered with targets all over the field, but especially deep targets when lined-up out wide, unlike what Brissett was willing to throw. Parris Campbell can make up some of the slot snaps that will be left behind, and that is where the comparisons stop. There is no Mike Williams in Indianapolis, and hopefully, that is something that will be addressed at the draft, possibly with multiple picks.
Jack Doyle is no Hunter Henry, but with Eric Ebron leaving town and Mo Alie-Cox operating mostly as a run blocker, Doyle has a clear path to 75+ targets and plenty of goal-line work. Rivers has historically supported a TE1, and Doyle is going around the TE18 in early best ball drafts, creating a window to buy while others are looking the other way.
Tight end finishes with Philip Rivers since 2013 (Half PPR):



2019 - Hunter Henry, TE9 (12 games)

2018 - Antonio Gates, TE29 (37 years old)

2017 - Henry, TE14 (12 games), Gates TE29

2016 - Gates, TE11 (14 games)

2015 - Gates, TE12 (11 games)

2014 - Gates, TE3

2013 - Gates, TE9

— Justin Edwards (@Justin_Redwards) March 19, 2020
As for Rivers himself, I don't see it as an overwhelmingly positive or negative. The move is a clear downgrade in skill positions, but the Colts have to understand that as they head into the draft. It's also a move to a colder climate and that would be a concern for the 38-year old, but the Colts play at home in a dome. It's a new team with a new coach, but it's someone he's worked with for a three-year stretch already. Add in a huge upgrade in offensive line play, and you have so many pros and cons that they even out.
As with Jack Doyle, uncertainty creates a buyer's market for Rivers as well. In current best-ball ADP, the quarterback is going at 16.11 as the QB23, barely ahead of Drew Lock and the currently team-less Jameis Winston and Cam Newton.