Fantasy Debate: Devin Singletary vs. Mark Ingram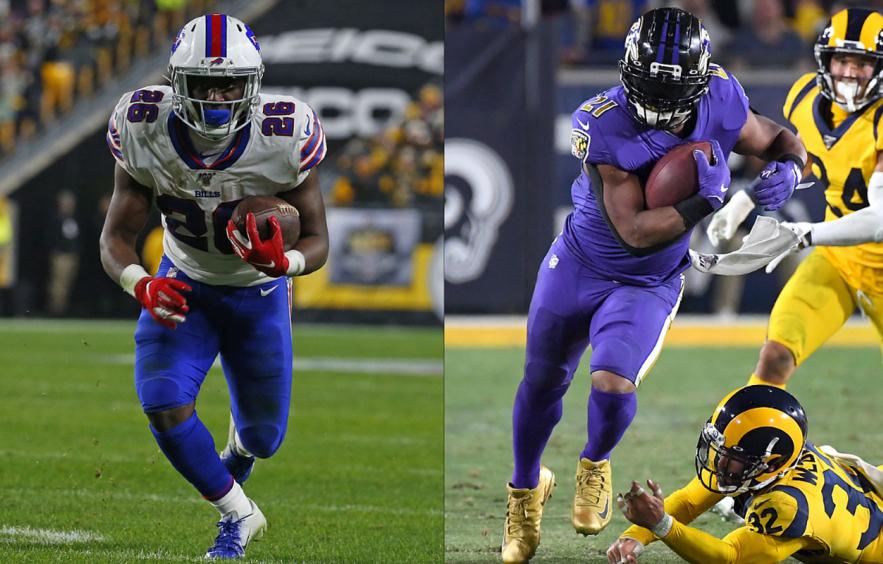 Justin K. Aller/ Jayne Kamin-Oncea/Getty Images
Devin Singletary and Mark Ingram are going off draft boards within six picks of each other as the RB21 and RB22, respectively, across all sites. In this debate, Eric Moody will argue for the Bills running back while Justin Edwards explains why he likes the veteran in Baltimore.
The Case for
Devin Singletary
Eric: Singletary had a very productive rookie season. He averaged 16.1 opportunities and 80.8 total yards per game finishing as an RB2 in 59% of them. Singletary split opportunities with Frank Gore the early part of last season before transitioning into a workhorse. He averaged 20 opportunities per game (also played 75% of the offensive snaps) from Weeks 9–16 which ranked 10th among running backs during that time frame. Let's analyze what Singletary's rookie season looked like from an advanced metrics perspective according to Player Profiler.
My favorite Devin Singletary run of the day:



*insert Chris Berman WHOOP*



s/o to @DDawkins66 for the pancake 🥞#GoBills pic.twitter.com/H0YtnMuDUP

— Dan Fetes (@danfetes) November 4, 2019
Singletary had a very good balance between rushing attempts from under center (56%) and the shotgun (44%). He averaged six yards per rushing attempt under center and four from the shotgun. The Bills finished last season ranked sixth with 29 rushing attempts per game last season. This trend is likely to continue in 2020 considering the success Buffalo had offensively in 2019 with quarterback Josh Allen under center and the coaching staff remaining intact. The Bills offensive reawakening also had a positive impact on the fronts Singletary faced last season. Did you know that 55.6% of his rushing attempts came against light defensive fronts?
Singletary was also very effective with the volume he was given last season. He averaged 0.77 fantasy points per opportunity and ranked third in Juke Rate. This advanced metric isolates a running back's on-field elusiveness and tackle-breaking power by dividing the total number of evaded tackles by the total number of touches. Singletary also had 11 rushing attempts of 15 or more yards in 2019 which tied for the eighth-most among running backs. This was impressive when you consider the high number of rushing attempts of those backs ranked ahead of him.
Singletary also ranked 12th in yards created per game. This advanced metric created by Graham Barfield tracks all yards above and beyond what was blocked. Yards created are generated by the runner after the first evaded tackle. Ezekiel Elliott ranked 11th and Christian McCaffrey ranked 13th in yards created per game. Singletary is well-positioned to replicate these feats in 2020 because the Bills return all five starters along the offensive line. Buffalo will continue to be a run-first team and the addition of Stefon Diggs should make it even easier for the team to run the football.
With the 86th pick, the #Bills select Zack Moss.



Moss' physicality and balance as a runner will let him see the field early, but his limited play speed and open-field athleticism could have him spelled situationally. pic.twitter.com/GIJQvQ7kQG

— Sports Info Solutions (@SportsInfo_SIS) April 25, 2020
You must be wondering how the Bills' selection of Zack Moss in the third round of this year's NFL affects Singletary's fantasy outlook. With Gore out of the picture, he and the rookie will form a formidable running back by committee. Singletary should see enough opportunities per game to quench the thirst of fantasy players this season. Moss actually compliments him very well. Singletary is 5'7" and weighs 200 pounds and you would agree based on what was mentioned in the previous paragraph very elusive.
Moss, on the other hand, is 5'9" and weighs 223 pounds. He is a yards after contact juggernaut with very good lateral agility. Moss uses his thick compact frame to run over defenders like Spike in the 1994 classic family film Little Giants. He ranked eighth in yards after contact and second in missed tackles forced according to Pro Football Focus last season. Many are enamored by Moss' prospects at the NFL level, but you ask yourself one question. Can he hold up at the NFL level trying to impose his will on NFL linebackers? Moss dealt with ankle, knee and shoulder injuries during his last two college seasons.
Another statistical observation involving Gore from last season is the percentage of rushing attempts (36%) he had against stacked boxes. This was the fourth-highest percentage among running backs in 2019 which leads me to my next point.
Josh Allen believes he threw the ball better than ever before in Florida when working out with the #Bills offense.



It sounds like Devin Singletary agrees.



"I mean, he's locked in. He's definitely been in the lab. You can tell."https://t.co/n3rstL7TV0 #BillsMafia

— Ryan Talbot (@RyanTalbotBills) June 13, 2020
Joe Buscaglia, a writer for the Athletic, believes the Bills will get Singletary more involved as a receiver out of the backfield this season. He averaged 3.4 targets per game last season finishing with 29 receptions, 194 receiving yards, and two touchdowns. As Allen continues to develop as an NFL quarterback this element of his game could be on display, even more, this season. The Bills have a very bad schedule for running backs according to our signature strength of schedule metric, schedule-adjusted fantasy points allowed (aFPA). Additional touches especially in space are a great thing for Singletary.
Mark Ingram had a phenomenal 2019 season. The 30-year old running back finished as an RB2 in 66% of his games in half-point PPR averaging a respectable 15.4 opportunities per game. The Ravens will continue to lean heavily on the run this season. In 2019 Baltimore broke the NFL's all-time single-season rushing mark with 3,296 yards. The Ravens drafted J.K. Dobbins in the second round of this year's draft.
Ingram will be part of a crowded backfield that also includes Justice Hil and Gus Edwards. Baltimore's quarterback Lamar Jackson is also known for his rushing ability. Ingram will see a similar number of opportunities per game, but could his number of touchdowns may regress in 2020. There are few running backs over the last decade who have scored 190 or more fantasy points during their age-30 or age-31 seasons not named Adrian Peterson.
Singletary will see a larger workload in 2020 than he did in 2019. He could see upwards of 250 opportunities. Singletary is a running back you should be comfortable targeting at his current average draft position over Ingram.
The Case for
Mark Ingram
Justin: The 2019 Baltimore Ravens were a crushing presence on both sides of the ball, and nowhere was their dominance more apparent than when they were running the rock. Led by an MVP performance by Lamar Jackson, the team accumulated more yardage on the ground than through the air (3,296 yards to 3,225 yards); a feat becoming rarer and rarer the more we see teams conforming to a league-wide acceptance of a West Coast-style offense.
The biggest beneficiary to the unpredictable nature of defending against Lamar Jackson was Mark Ingram, who crossed the 1,000-yard rushing threshold for the third time in his career, this time in his age 30 season. Due to the Ravens' reliance on the run game and Ingram's proficiency when on the field, he is becoming a great value pick and should be prioritized over Devin Singletary. I'll break down why below.
Mark Ingram

Averages 2015–2019

| | Rush Att. | Yards | Y/A | Rush TD | Targets | Receptions | Rec Yards | Rec. TD | Avg Half PPR Finish |
| --- | --- | --- | --- | --- | --- | --- | --- | --- | --- |
| Season Average | 188 | 920 | 4.9 | 8 | 49 | 40 | 311 | 2 | RB13 |
| 16-Game Pace | 212 | 1036 | -- | 9 | 55 | 45 | 351 | 2 | -- |
Mark Ingram's 2019 performance (RB8) brings his five-year average as finishing as the overall RB13. He settled in quickly to a new team, a new offense, and a new team philosophy. No one would consider Ingram's former team —the New Orleans Saints—as an offense who were actively trying not to run the ball, but the odds that Ravens offensive coordinator Greg Roman would allow his quarterback to attempt 600-plus passes in a season are slim to nil. Ingram adapted quickly to a new style of signal-caller and a backfield that featured a lot more mouths to feed than his days with Alvin Kamara as the one-two punch of the Saints.
Ingram was so efficient on his touches that he was able to shine in a three-headed, and sometimes four-headed backfield, making do with an offense that rarely targeted its running backs. Baltimore's 54 running back targets were easily the least in the NFL in 2019 and helps us to understand why their running back touch percentage (49.5% - 28th) was so low despite being such a run-heavy team.
After two seasons in the NFL, Lamar Jackson's 176 rushes and 147 rushes are the two highest totals ever for a quarterback in a season. If you expect any regression at all on those 323 rushing attempts, then that extra usage would transfer directly into the hands of the backfield. With any regression to the mean in running back targets, or if Jackson simply doesn't attempt the most rushes in the history of the NFL, we have a prime opportunity to feed upwards of 50 more touches to the Ravens RB room ahead of the 2020 season.
Speaking of that running back room, we do have a recent addition that is likely to cap Mark Ingram's ceiling. As 4for4's Joe Paeno mentioned in his post-draft write-up of J.K. Dobbins, the rookie is going to bring a lot of talent to the team and even has experience with an RPO-heavy offense after playing with Ohio State quarterback Justin Fields. I agree with Paeno that Dobbins's future is bright, but I also agree that this is still "Big Truss"'s backfield. At least for one more season.
Maybe it sounds like hyperbole to call Ingram a locker room leader and claim this is his backfield because of it, but we can consult the numbers as well, and they say that Mark Ingram is anything but dusted. According to PFF's elusive rating, Ingram finished 20th last year, ahead of guys like Aaron Jones, Ezekiel Elliott, and Phillip Lindsay—players one would think are more athletic and are much younger. We can call upon Sports Info Solutions' database and see if they agree; Ingram's broken tackle% of 20.3 ranked him 11th among running backs with 100-plus attempts. That 20.3% is better than Saquon Barkley, Dalvin Cook, and Christian McCaffrey. These wheels still have tread.
It would be unfair to write off second-round pick Dobbins and say that he won't dethrone Ingram just to turn around and say that third-round pick Zack Moss imposes a huge threat to Devin Singletary's workload. But, you know what, life isn't fair, and while I believe Dobbins is going to have to wait a year for his three-down role, Moss is going to get a lot of run right out of the gate.
The fact is, Singletary couldn't become anything more than a 1A to 36-year-old Frank Gore's 1B in his rookie season. 4for4's Chris Allen looked into the year-one potential of Zack Moss and found that when Gore was active, he maintained a 48.5% touch share. So now, instead of Devin Singletary having to deal with The Inconvenient Truth, he has to deal with a much more athletic, explosive, pass-catching version.
Conveniently, you don't need to face that truth if you simply select Mark Ingram.