J.K. Dobbins Breakout is Coming, Just Not This Year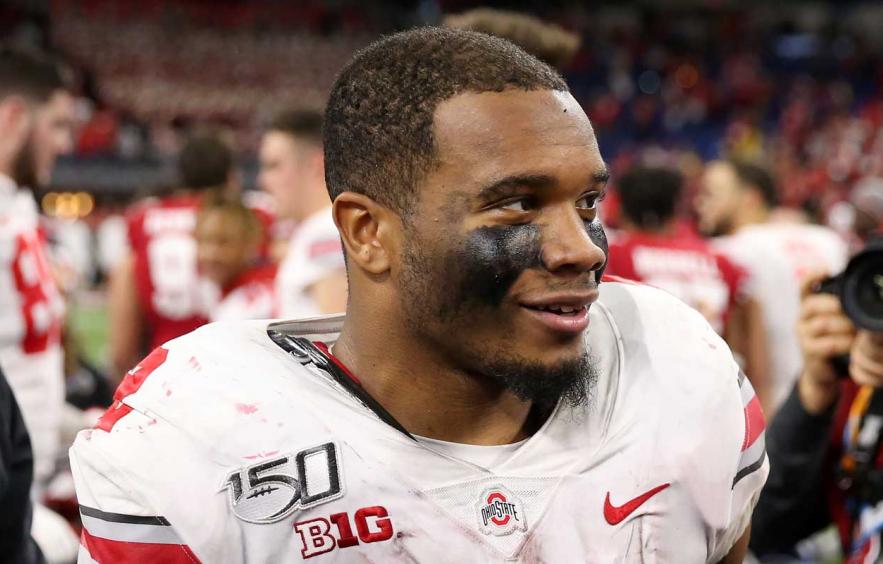 Justin Casterline/Getty Images
Someone forgot to tell the Ravens that the NFL is a passing league. After leading the league in scoring with the league's best rushing attack, they doubled-down by drafting J.K. Dobbins with the 55th pick in the second round of the NFL Draft. While Dobbins has a bright future in Baltimore, don't expect a true breakout until 2021.
J.K. Dobbins

College Career

Dobbins was a highly productive running back for the Ohio State Buckeyes, accumulating over 5,000 total yards and 43 touchdowns in his three-year career. In his final season, he showed he could handle a bellcow workload, touching the ball 324 times and rushing for 2,003 yards, tied with Jonathan Taylor for third-most in the NCAA.

Dobbins isn't a big power back but his squatty 5'9" 209-pound rocked-up physique resembles that of former Ravens RB, Ray Rice. I'm sure there will be plenty of comparisons from Baltimore media, especially since Rice was the last RB the Ravens drafted an RB—55th overall one pick before Dobbins's draft slot this year. Like Rice, Dobbins uses his strong, thick base and low center of gravity to his advantage making him difficult to tackle.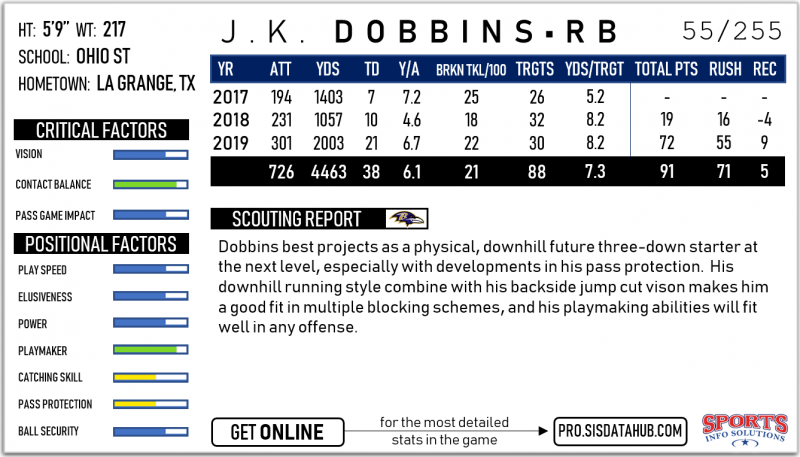 While Dobbins isn't as fast or as elusive as Rice, he is a down-hill runner which was a perfect match with Buckeyes QB Justin Fields and their zone-read heavy offense. The Ravens clearly envisioned him doing the exact same thing with Lamar Jackson.
J.K. Dobbins

Fit with the

Ravens

Adding Dobbins, one of the top RB's in the NFL Draft, to a rushing attack that yielded the highest-scoring offense in the NFL seems unfair. Their offense was nearly unstoppable in 2019, ranked first in points, rush attempts and rushing yards. Dobbins will benefit from playing with Jackson who forces opponents to have to defend every blade of grass on the field. If UDFA Gus Edwards can rumble for 5.3 yards per carry Dobbins should be able to run for 15.3 without breaking a sweat.

The thought of a Jackson-Dobbins led backfield in 2020 is exciting but Ravens GM, Eric DeCosta, quickly killed that dream. In an interview after the Draft that he shared he envisioned a four-headed monster at running back with Mark Ingram, Justice Hill, Edwards and their new prized rookie, Dobbins. "Big Truss" is one of Jackson's most trusted friends and a leader in the locker room. After making the Pro Bowl last season it would be hard to envision him giving up the alpha role to the rookie Dobbins—however, in 2021 the Ravens have an out in his contract if they choose to move on.

One other issue facing Dobbins is that the Ravens don't pass to their RBs often. We know targets are much more valuable than carries in fantasy and the Ravens only targeted their running backs 52 times—Ingram had the most with a measly 30 while Edwards and Hill accounted for 22 targets combined. While receptions are usually crucial for fantasy RBs success, Ingram managed to finish as the PPR RB9 in just 15 games, racking up 15 TDs on only 228 touches. While Ingram proved that a hyper-efficient rushing attack can occasionally overcome, it doesn't bode well for Dobbins's fantasy opportunity, at least in year one.
J.K. Dobbins

Rookie Season Range of Outcomes

As long as he's healthy, Mark Ingram should continue to be the Ravens' ball carrier in 2020, leaving J.K. Dobbins to battle with former fourth-round pick, Justice Hill, and Gus Edwards for opportunities. Dobbins wasn't drafted in the second round to ride the pine but he might have to wait until 2021 to really breakout.
Bottom Line
J.K. Dobbins is an upper-echelon RB prospect and is capable of being a three-down back.
The run-heavy Ravens' offense is an ideal landing spot for his downhill skillset.
Dobbins should thrive with Lamar Jackson—the transition should be seamless with his experience playing in an RPO-heavy offense led by an athletic dual-threat QB like Justin Fields.
Dobbins will enter his rookie season as part of a four-headed committee with Mark Ingram serving as the alpha, delaying a potential breakout season until 2021.
Dobbins's dynasty outlook is exciting but his current ADP of 46 (FFPC) is far too pricey for redraft.
*Update* Dobbins' ADP has snapped back to reality since May — sliding at least one and a half rounds (64). Ideally, he's an upside RB4 who could potentially become a league winner if Ingram were to get hurt. However, it's hard to imagine Dobbins truly making a fantasy impact outside of an Ingram injury.