Fantasy Debate: Deshaun Watson vs Dak Prescott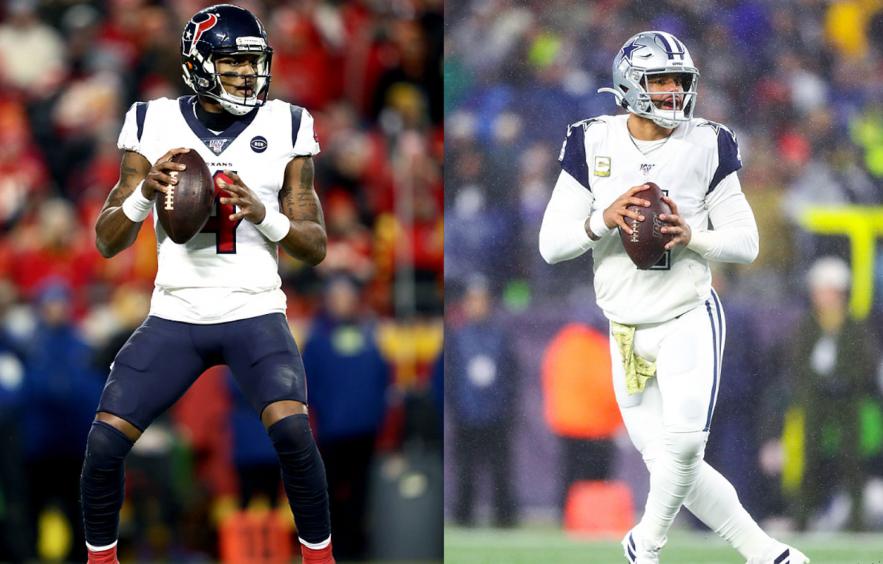 Jamie Squire/Adam Glanzman/Getty Images
Deshaun Watson and Dak Prescott currently have ADPs of 41 and 43 overall, respectively, both going off the board as top-four quarterbacks. In this debate, Alex Gelhar will explain why he prefers the Texans signal-caller while Eric Moody takes the side of the star in Dallas.
The Case for
Deshaun Watson
Alex: I understand the appeal of Dak Prescott in fantasy this year. In fact, I hope to land him on some fantasy squads this summer. His upside is tantalizing. Dak played great last season in Kellen Moore's offense, setting career-highs in yards (4,902) and passing touchdowns (30). There's a chance he'll continue his ascent in 2020 with the shackles of Jason Garrett's conservative game management finally removed. New head coach Mike McCarthy isn't the wildest or most aggressive coach in NFL history, but he'll bring a more offensive-focused approach than Garrett which could benefit Dak in fantasy. But when it comes to drafting Dak or Watson in the early-to-mid rounds, here's why I'm siding with Watson.
In just about 2.5 years (his first season was cut short with a torn ACL), Watson has proven himself to be a model of consistent fantasy excellence. In that span, Watson is the only quarterback to average 20-plus fantasy points per game in each year. Only Watson, Patrick Mahomes, and Drew Brees have hit that mark over the last two years. Watson and Mahomes are the only two players to score 300-plus fantasy points in each of the last two years. And Watson has done all of this without a truly magical statistical season.
Watson has yet to throw for more than 26 touchdowns in a season. He's never finished in the top 10 in passing yards or passing touchdowns in a season. And yet, he's outscored almost every other quarterback in fantasy in the last two years. His fantasy proficiency is thanks in large part to his rushing ability, and in small part, because he isn't prone to making frequent mistakes. Watson's interception rate over the last two seasons is 2.1%, ranking in the middle of the pack among passers with at least 500 attempts in that span, and he's only lost six fumbles combined the last two seasons. For comparison, eight quarterbacks lost five or more fumbles in 2019 alone. These numbers are nice, but the real difference-maker for Watson is his ability on the ground.
Watson is not only a capable runner, but a smart one too, avoiding big hits and injuries (thus far) while carrying the football. Over the last two years, he's averaged just shy of 500 yards on the ground per season, and six touchdowns as well. Only Lamar Jackson and Josh Allen have posted better numbers in that same span.
Before putting this all together, let's look at the 2020 Texans. Watson is another year deeper into his mastery of Bill O'Brien's system, a system that has made Watson a top-five fantasy quarterback in each of the last two years. While Nuk Hopkins and Carlos Hyde are gone, the team added David Johnson, Brandin Cooks, and Randall Cobb to pick up the slack. Cooks and Cobb aren't likely to add up to Nuk, but they're both capable playmakers who can occupy many of the same routes and roles that Nuk played as a chain-moving threat. Cooks can add to the deep game too, which is where the real question mark lies: Will Fuller. If Fuller can stay healthy (a big IF), he's a massive boon to Watson's outlook.
Heading into last season, Watson averaged 7.2 more fantasy points per game with Fuller on the field than when Fuller was out. Those numbers dipped a bit over their career together (4.73 more PPG with Fuller than without from 2017–2019), but that's because Fuller was deployed as a decoy when clearly not healthy in 2019. Nevertheless, the fact remains the Texans offense and Deshaun Watson are better with Fuller on the field.
So, to wrap things up, Watson not only has elite levels of consistency in his favor, but he's operating with a full tool chest of weapons in an offense he's mastered, all while maintaining relatively low turnover numbers. Everything is set for Watson to once again average 20-plus points a game, post 300-plus points on the season and finish as a top-five fantasy quarterback.
But … what if he does better? What if this is the year things break right for Watson and he tosses 30-plus touchdowns instead of 26? What if Will Fuller plays even 14 fully healthy games instead of the roughly 10 he's averaged in his career? What if Watson rushes for 700 yards instead of 500? These are all very well within the realm of possibilities for a player of Watson's caliber. What I mean to say, is by drafting Watson you not only get a safe bet for a top-flight fantasy finish, but you get a good chance at having THE top quarterback season in 2020. That combination for me is why I'd draft Watson over Dak.
The Case for
Dak Prescott
Eric: Last season, Prescott had an exceptional fantasy season finishing as the QB2. He set a career-high in passing yards (4,901), passing touchdowns (30), and fantasy points (390.7). Prescott ranked second in air yards thrown (5,428). He also has the athletic ability to create fantasy points as a runner. The only other quarterbacks with more rushing yards than Prescott (1,221) since his rookie season in 2016 are Deshaun Watson (1,233), Russell Wilson (1,563), Cam Newton (1,599) and Lamar Jackson (1,908). It was surprising to see Cowboys owner and general manager Jerry Jones not reward him with a contract extension.
Dallas' front office instead placed the franchise tag on Prescott worth around $28.7 million after he reportedly turned down a five-year, $175 million offer this spring. This upcoming season will be Prescott's most important season of his young career whether he's trying to guarantee a career-defining payday or validating that he deserves to the highest-paid quarterback in the NFL. Prescott has a legitimate opportunity to finish as the fantasy QB1 even though Jackson, Patrick Mahomes, Wilson, Watson, and Kyler Murray are drafted ahead of him. He's a great value when you consider what Jones has built around him heading into 2020.
Dak Prescott handing off to Ezekiel Elliott and throwing to Amari Cooper, Michael Gallup and CeeDee Lamb.



Mike McCarthy's about to have some fun.

— Tom Pelissero (@TomPelissero) April 24, 2020
Prescott and the Cowboys have a new head coach this season in Mike McCarthy. The former Packers coach has a reputation as an offensive guru. Many believe that he plans to install his West Coast offense from Green Bay and scrape everything that offensive coordinator Kellen Moore did last season. According to Cowboys insider Mike Fisher, that's not true. He mentioned that McCarthy and the Cowboys coaching staff will assemble a "best-of" blueprint.
This blueprint will combine elements of McCarthy's West Coast offense and the existing Dallas terminology. One change that Moore incorporated last season with the Cowboys that was very refreshing was his use of pre-snap motion. Dallas jumped from 13th in 2018 to sixth in 2019 in regards to the percentage of plays using pre-snap motion according to Pro Football Focus. This was an important change to a Cowboys (431.5) offense that led the NFL in total yards per game.
The Cowboys offensive line should still be one of the NFL's best in 2020 even with losing Travis Frederick to early retirement. Dallas has been very proactive in free agency and the draft to give themselves numerous options for the offensive line this season. The Cowboy offensive line has ranked in the top-10 in the Football Outsiders metric adjusted line yards over the last four seasons. The Cowboys line also ranked fifth overall in PFF's pass-blocking efficiency rating. It measures pressure allowed on a per-snap basis with weighting toward sacks allowed. McCarthy has hired one of his long time assistants, Joe Philbin, to coach Dallas' offensive line. He's one of four new assistants with head coaching experience. Philbin coached the offensive line with the Colts and Packers. All signs point to the Cowboys line being a high performing unit in 2020. This bodes well for Prescott and the Cowboys running game.
Dallas has two tremendous running backs in Ezekiel Elliott and Tony Pollard. Both can thrive as receivers out of the backfield. The Cowboys running backs have averaged of 7.1 targets, 5.3 receptions, and 43 receiving yards per game since 2016. Dallas' running backs have averaged 0.5 fantasy points per game more than expected as receivers. McCarthy's usage of his running backs during his time as the Packers head coach from 2006–2018 is very similar. It will be interesting to watch how he leverages the wide receivers at his disposal in Dallas.
Prescott will enter this season with Amari Cooper, Michael Gallup, and CeeDee Lamb as his top three wide receivers. His transcendent 2019 season can be credited to the arrival of Cooper. Prescott's statistical production and quality of play improved dramatically upon his arrival back in the middle of the 2018 season. He averaged 21.5 fantasy points per game in 11 with Cooper and 17.4 per game without him. Prescott also saw an increase in pass attempts, completions, passing yards, and passing touchdowns with Cooper as the No. 1 receiver. Last season Gallup was a welcome addition. He and Cooper both exceeded 1,000 receiving yards in 2019.
With the 17th pick, the #Cowboys select CeeDee Lamb



Lamb is a well-rounded, physically gifted receiver with great hands and playmaking ability who can win in all phases of the game, but needs to improve his overall route savvy to really take his game to the next level. pic.twitter.com/VhqFY4uW5v

— Sports Info Solutions (@SportsInfo_SIS) April 24, 2020
Now Prescott will have explosive rookie Lamb as his No. 3 receiver. Were you aware that he accumulated 52 receptions, 1,085 receiving yards, and 12 touchdowns from the slot? This is important because the Packers ran 11 personnel on 76% of their offensive snaps back in 2018, which was McCarthy's final season in Green Bay. With these receiving weapons, it shouldn't come as a surprise to see the Cowboys offense put the football in Prescott's hand, even more, this season.
Hope is not a winning fantasy football strategy. Many are enamored by what Watson has accomplished up to this point in his career and rightly so, but it's important to understand what DeAndre Hopkins brought to the table. Watson and Hopkins averaged 87.8 yards per game. The duo also accounted for 25 passing touchdowns. Watson has only averaged 255.7 passing yards per game in 38 active games. Now that Hopkins is a member of the Arizona Cardinals he'll be without him in 2020. The Texans' top-three wide receivers will be Will Fuller, Brandin Cooks, and Randall Cobb.
It will be challenging for this trio to replace what Hopkins brought to the table to the Texans offense on a weekly basis. Fuller's unfortunately only been active in 42 games since 2016. Fuller's miss extended time with injuries to his hamstrings, a torn ACL, and a broken collarbone. Cooks has now suffered five known concussions in his six-year career. There is a good chance that Watson will be without one or more of his top-three receivers at a certain point during the 2020 season. If you are still not convinced then bring it all together and evaluate Prescott and Watson's expected points and passing fantasy points over expectation from last season.
Prescott (19.2) and Watson (19.1) had an eerily similar number of expected points per game in 2019. Prescott (4.9) outperformed Watson (2.9) when you analyze their passing fantasy points over expectation. Expected points essentially transform opportunities into fantasy points. Fantasy points over expectation is an efficiency metric that accounts for both yards and touchdowns in a single number. If you are on the clock in a fantasy draft this summer you've just read a compelling case on why you should prioritize Prescott over Watson.