4 Free Tight Ends That Could Help You Win $500k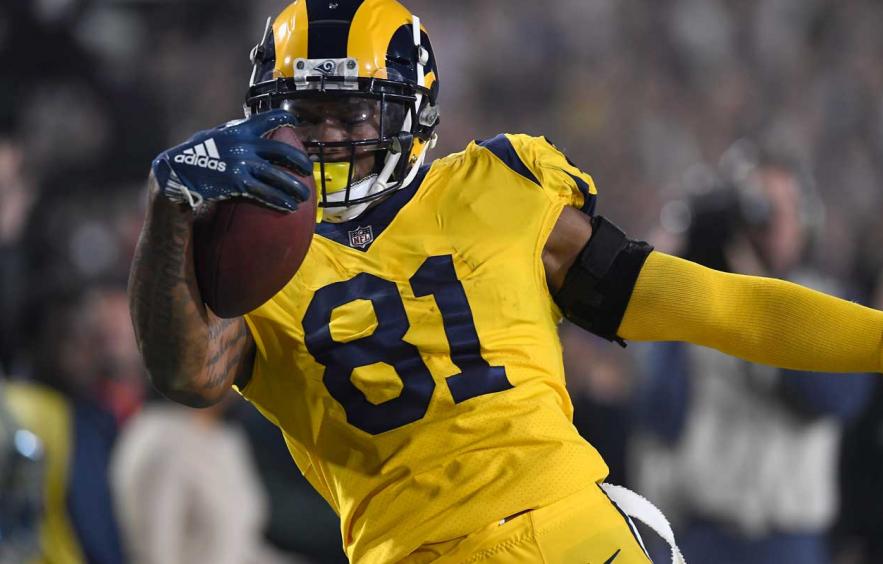 Kevork Djansezian/Getty Images
For too long football fans have celebrated and idolized prima donna WRs while TEs are the real unsung heroes. Not in the FFPC, the land of TE-premium scoring, where the league's best TEs are rightfully idolized and celebrated.
If you're like me, you're jumping in at least one of FFPC's mid-stakes tournament leagues. It features a $350 buy-in that pays out a hefty $500k to first place. Since FFPC utilizes TE-premium scoring, the top four TEs (Kelce, Kittle, Andrews, Ertz) become exponentially more valuable. With two flex spots available, drafting multiple mid-to-late-round TEs can provide considerable leverage. My high stakes partner-in-crime, Connor Allen, did some research on that subject here.
While there are plenty of intriguing options outside the top-four TEs, I chose to focus my attention on the mid-to-late rounds (Rounds 8+) because of the high-upside TEs available with little consensus in how they should be ranked.
It's not easy to find TEs who have a major role in their passing offense as well as the talent to be efficient fantasy scorers. However, there are several TEs in the eighth round or later that could smash their ADPs and help you win your league and give you a shot at the $500k top prize.
So far, I've covered Rounds 8-10 and 11-14—here are some of my favorite mid-range TEs in Rounds 15-20.
Gerald Everett

,

Rams

(ADP: 17.6; TE30)

If you're looking for a post-hype, late-round tight end that could break out Everett should be at the top of your list.

While Tyler Higbee broke out and emerged as the Rams TE1, he is now being drafted in Round 6–7 where the opportunity cost is significantly higher. While the Higbee hype seems to be warranted—especially, after racking up an absurd 43 passes for 522 yards and 2 TDs in the month of December—it's important to note his expanded role was after Everett went down with a knee injury in Week 11.

People have quickly seemed to forget that it was Everett who was in the midst of a breakout season in 2019. Through nine games, he had career highs with 34 receptions and 365 yards. Everett also had a higher target rate per snap (13.3% - seventh among NFL TEs) compared to Higbee's (12.5%). Only Mark Andrews, Eric Ebron, Delanie Walker, Evan Engram, Zach Ertz, and Travis Kelce had a higher target rate per snap than Gerald Everett. In 2018, Everett ranked also ranked seventh, so that wasn't a fluke. His top-seven target per snap rate is a good indicator of his talent, he just needs to be on the field more to truly breakout.

While Everett is thought of as a part-time player, he actually out-snapped Higbee 436–354 and out-targeted him 59–33 during Weeks 1-11. During that span, Everett hauled in 43 catches, 522 yards, and 2 TDs—good enough to be the TE12—until he suffered a knee injury, which obviously opened the floodgates for Higbee's Gronk-ian usage at the end of the season.

Another thing working in Everett's favor is that the Rams began transitioning more from 11 personnel (3WR) to 12 personnel last season. In 2018, the Rams used 11 personnel 90% of the time. In 2019, that trend dipped to just over 70%. However, if you isolate the last third of the season, they used 11 personnel on 61% of the snaps.
Rams

Personnel Groupings, 2019

| Grouping | Weeks 1–10 | Weeks 11–17 |
| --- | --- | --- |
| 11 Personnel | 81.0% | 61.3% |
| 12 Personnel | 10.9% | 35.6% |
Sean McVay mentioned that trend could continue and admitted his offense needs to be less predictable. Additionally, he traded Brandin Cooks to the Houston Texans despite taking a massive cap hit. Further indication that McVay is serious about moving to more 12 personnel usage. He also specifically mentioned wanting to get Everett on the field more in 2020.
"Really, really excited about what Gerald Everett's going to do," McVay said. "I think Tyler Higbee did a phenomenal job, but I think Gerald Everett's a guy that I've got to do a better job of utilizing his skill set because he's a difference-maker. But he's got to get the opportunities and I think that starts with some of the things I know I can do a better job of."
While I believe it is likely that Higbee's role in the offense will grow, Everett is too talented to be ignored and will see the field more in 2020. If Higbee were to ever miss time, Everett offers league-winning, $500k upside. I prefer Everett at cost (ADP is currently 17.6) and want him in every draft as a TE3 or TE4.
O.J. Howard

,

Buccaneers

(ADP:15.2; TE27)

If you read my second TE article (Rounds 11-14), my thought process on O.J. Howard will somewhat mirror that of Eric Ebron. Howard is also an enigma who was drafted in the first round of the NFL draft who is built like the NFL prototype for TEs and boasts a 98th size-adjusted speed score. Howard has the talent and athleticism to be an elite TE in the NFL and has teased us with flashes of brilliance but has never fully broken out—yet.

As a rookie, Howard looked like a star who would quickly ascend to the elite tier of NFL TEs. In 2017, PFF charted him with the sixth-highest yards per route run (1.80) and he scored six times on just 36 targets. The following year, Howard managed the second-highest yards per route mark (2.30) from the slot and scored four times, adding the highest yards per reception (16..6) among tight ends.

Instead of continuing to ascend in 2019, Howard's career trajectory plateaued and optimism started to fade as quickly as it began, reminiscent of another highly-touted, athletic TE drafted in the first round—Eric Ebron. Reporters have speculated that Howard's lack of playing time and production was due to immaturity, mental lapses, and or bad practice habits. No one truly knows but Howard just couldn't get out of Arians's dog house.

However, that was before Tom Brady became the leader of the Bucs offense and their on-field coach. Bruce Arians is on record saying that he is catering his offense to suit Brady, including utilizing Rob Gronkowski and Howard in 12 personnel more often. According to Peter King and other beat reporters, Howard has quickly developed a strong repour with Brady. He also speculated that Howard would be on the field more than any TE on the roster including Gronk as he expects the Bucs will opt to play Gronk less early in the season, trying to ease him back into football shape.

This could create the opportunity for Howard to emerge if he can start off hot. The steady drumbeat (h/t Sigmund Bloom) of Howard's praise has continued all offseason. One beat reporter went as far as to say, "Howard has been the offensive star in training camp for the Bucs. He looks focused and ready to have the breakout year everyone has been waiting for. Howard, who will start alongside Gronkowski in 12 personnel groupings, has really emerged as a red zone threat for Brady and has really come a long way in terms of separating from defenders and catching the ball consistently."

It's possible that Howard is being over-hyped in training camp—that happens every season. However, the cost to acquire him in the 15th round is minimal and the potential reward could be substantial depending on how the season plays out. Clearly, the Bucs have two dominant WRs in Mike Evans and Chris Godwin, but after that, it's Gronk and Howard battling with Scottie Miller and Justin Watson as third in the pecking order. As I mentioned before, Gronk's snaps might be limited early on so Howard could take advantage, especially in the red zone.

Howard is supremely gifted but that talent hasn't translated to the breakout season we've all been waiting for. Brady's affinity for TEs and leadership might be just the fresh start that Howard needs to bring out his full potential. If that happens, Howard is not only a steal in the 15th round, he could be a potential flex-starter at the cost of a TE3. If Gronk struggles or suffers an injury, Howard could quickly vault you up the leaderboards as he would gain considerable TD equity.
Tyler Eifert

,

Jaguars

(ADP: 17.7; TE32)

Quietly, Eifert was able to shake the injury-prone label and played in all 16 games for the Bengals last season. While he didn't come close to his 13 TD total of 2015, he did have a respectable stat line catching 43 balls for 436 yards and three TDs. Now that he's proven he can stay healthy for a full season; he enters the year as the Jaguars clear-cut TE1 (RIP Josh Oliver) in a Jay Gruden TE-friendly offense.

The Jaguars' front office is heading into "tank for Trevor" mode, completely gutting the team's once star-studded defense and recently cutting former top-five pick Leonard Fournette. While cutting Fournette and gutting the defense may not be great for their overall record, the Jaguars pass catchers will certainly see a big usage bump as they are likely to be forced to air it out in order to keep games competitive or just play catch-up.

Another factor working in Eifert's favor is the Jaguars aren't exactly brimming with playmakers on offense. Outside of D.J. Chark and promising rookie, Leviska Shenault, they don't offer much else. Dede Westbrook, Keelan Cole, and Chris Conley are not bad options but they are basically just role players at this point. At 6'6" 255 pounds, Eifert offers a distinct size advantage in the middle of the field—and especially in the red zone—that the Jaguars have lacked for years.

If Eifert can stay healthy again this season, he is an easy pick to crush his ADP. He is essentially free, going in the mid-17th round, and sometimes he isn't drafted at all. While he has an attractive floor, his true upside remains to be seen since it is likely tethered to volume over efficiency. If Minshew can play well enough to keep the Jaguars scoring (not necessarily winning, just scoring), Eifert should be able to offer significant upside at his bottom-of-the-barrel cost.
Jordan Reed

(Undrafted)

In a season-long league that features TE-premium scoring, Reed is worth considering in the last round of your FFPC drafts. I have always been a Jordan Reed truther but once the concussions started to pile up, I hoped he would retire. He's playing and I respect his decision. He's still just as talented as ever and he's basically going undrafted everywhere on a 49ers' offense which should have plenty of scoring opportunities and offers a wide-open depth chart.

The 49ers receiving corps are literally limping into Week 1. Injuries to Deebo Samuel, Brandon Aiyuk, Jalen Hurd (IR), Travis Benjamin (opted out), and Richie James legitimately give Reed a chance at an early-season role. Even George Kittle, Kyle Juszczyk, and back-up TE Ross Dwelley have been dinged up and unable to practice, so Reed has been getting all of the reps on offense and quickly building a rapport with Jimmy G. In their first week of warmups, Reed was his top target, catching five passes and his preferred option on their best drive. With Samuel and Aiyuk hobbled early in the season, Reed has a path to as high as second in the passing pecking order until they get healthy.

Another reason for optimism is Kyle Shannahan. After all, Shannahan—along with his father—called plays for Reed in Washington. If anyone is going to put Reed in a position to succeed it's Shannahan. I wouldn't be surprised if Shannahan featured Reed early in the season and frequently put Reed and Kittle on the field together in multi-TE sets. It should mesh well with their run-first tendency and using Kittle and Reed together will help hide their lack of playmaking WRs, especially, until Samuel and Aiyuk get healthy.

Reunited with offensive-mastermind, Kyle Shannahan, on a team desperate for playmakers early in the season, Reed is an all upside pick in the 20th round. Even if Reed is only usable for a few weeks you can easily claim another TE off the waiver wire for basically no cost. However, as long as he is on the field in a Kyle Shannahan offense, Reed offers plenty of upside in TE-premium scoring.