3 More Tight Ends That Could Help You Win $500K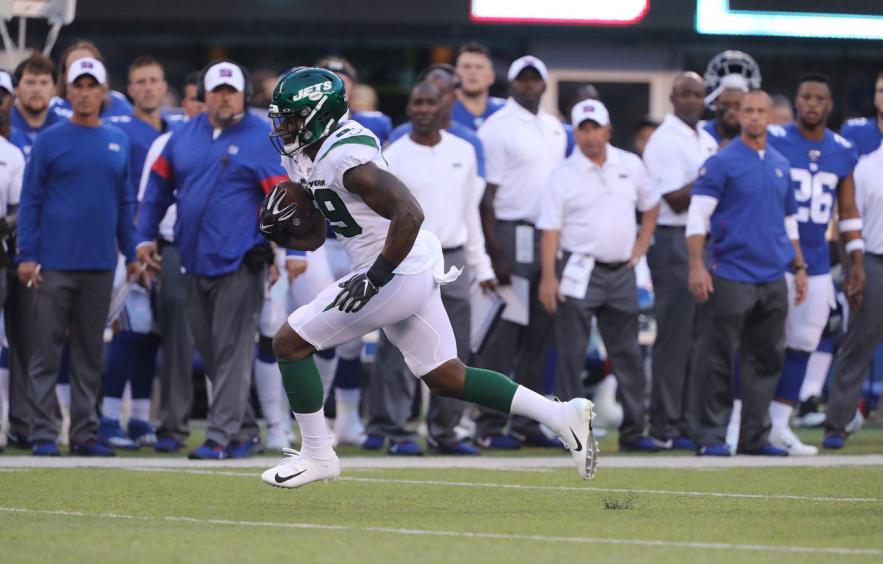 Al Pereira/Getty Images
For too long football fans have celebrated and idolized prima donna WRs while TEs are the real unsung heroes. Not in the FFPC, the land of TE-premium scoring, where the league's best TEs are rightfully idolized and celebrated.
If you're like me, you're jumping in at least one of FFPC's mid-stakes tournament leagues. It features a $350 buy-in that pays out a hefty $500k to first place. Since FFPC utilizes TE-premium scoring, the top four TEs (Kelce, Kittle, Andrews, Ertz) become exponentially more valuable. With two flex spots available, drafting multiple mid-to-late-round TEs can provide considerable leverage. My high stakes partner-in-crime, Connor Allen, did some research on that subject here.
While there are plenty of intriguing options outside the top-four TEs, I chose to focus my attention on the mid-to-late rounds (Rounds 8+) because of the high-upside TEs available with little consensus in how they should be ranked.
It's not easy to find TEs who have a major role in their passing offense as well as the talent to be efficient fantasy scorers. However, there are several TEs in the eighth round or later that could smash their ADPs and help you win your league and give you a shot at the $500k top prize. I'll cover Rounds 8-10, 11-14, and 14+ in separate articles.
Here are some of my favorite mid-range TEs in Rounds 11–14.
Chris Herndon

,

Jets

(ADP: 11.9, TE21)

Reminiscent of Darren Waller in 2019, Chris Herndon faces the perfect storm of talent and late-round opportunity cost and is poised to be a target hog on a below-average team devoid of receiving talent. Herndon is a post-hype sleeper being drafted as the TE21, which is far too cheap for TE-premium scoring. It was not long ago that Herndon had a mini breakout as a rookie in 2018 that sent his truthers into a frenzy, perpetually retweeting circus highlight plays like these:
Friends don't let friends forget Chris Herndon is a ballerpic.twitter.com/HBnEJBOpJI

— Ian Hartitz (@Ihartitz) July 1, 2020
Rookie TEs don't often make much impact but Herndon managed to contribute right away.
39 receptions, 502 yards, 4 TDs
Only dropped one pass
25 first downs (second on team)
Nominated to All-Rookie Team by Pro Football Writers Association
He also proved to be especially dangerous from the slot—hopefully, the Jets plan to utilize him in the slot and split out wide more in 2020.
1.93 yards per route run from the slot (sixth)
287 receiving yards from the slot (ninth) despite ranking19th in snaps
Following a promising rookie season, Herndon truthers awaited his full breakout in 2019. Like clockwork, every beat reporter was tweeting out Herndon highlight clips during the offseason. Unfortunately, the breakout was delayed due to Herndon being suspended for the first four weeks and when he returned, he suffered a season-ending injury.
If you listen closely, the steady drumbeat is getting louder and loud (h/t Sigmund Bloom). Jets' beat writers are reminding us how much Adam Gase loves Chris Herndon or how Darnold thinks the Jets offense will be unstoppable with Herndon back. Jamison Crowder even added fuel to the Herndon hype train by comparing him to his former teammate, Jordan Reed.
The hype is warranted, not just because Herndon is legitimately good, but the Jets are legitimately bad and Darnold will likely be forced to throw quite a bit. The Jets need Herndon to live up to his potential because outside of Jamison Crowder they don't have much else. Rookie Denzel Mims is already hurt and is in danger of missing valuable playing time and Breshard Perriman is brand new to the offense while also dealing with a camp injury.
Herndon's efficiency takes a hit due to being on a lackluster Jets' offense but he should be able to make up for it with volume and a strong market share in a passing game that is begging for an alpha to step up. Herndon is far too talented with too much opportunity to slide in drafts this late which is exactly why you should grab him as your TE2 or TE3 as quickly as you can. Herndon has the opportunity for another shot at the breakout season we all were waiting for last year.
Irv Smith Jr.

,

Vikings

(ADP: 12.5, TE23)

Irv Smith Jr. is going to break out—it's just a matter of time. As a prospect, Smith checked off multiple boxes coming out of Alabama including his age-adjusted production and extreme athleticism, leading him to be drafted by the Vikings in the second round of the 2019 NFL Draft.

TEs typically take at least a year to get acclimated to the NFL. However, Smith put up respectable numbers, especially considering his age and him starting off as a part-time player. His role grew as the season progressed, starting the year by playing 40% of the snaps and ending the season playing 70%+. By the end of the season, he had matched Kyle Rudolph in targets and nearly every other category except for TDs. Herndon was running a route on 53% of his snaps when he was on the field versus Rudolph who ran a route on 45% of his snaps.

While Smith's and Rudolph's career arcs are headed in opposite directions you can expect both to remain on the field at the same time for at least one more season.

The Vikings love TEs. In 2019, they played with 2TE sets at the second-highest rate in the NFL (55%). Only the Eagles dynamic duo of Zach Ertz and Dallas Goedert were on the field together a higher percentage. Given the lack of WR depth—especially after losing Stefon Diggs—it's hard to envision Kubiak straying from multiple TE sets often. In fact, it's likely that the Vikings target TEs even more in the passing game. In 21 seasons as an offensive coordinator or head coach, Kubiak called passing plays in which a tight end was targeted 23% of the time. Also working in Smith's favor is the fact that Kubiak is a huge fan of Irv Smith and is excited to put him in a position to showcase his talent.

The elephant in the room for the Vikings is who is going to step up after losing Diggs. Smith's talent will command a good chunk of the 100 targets Diggs left behind. The Vikings desperately need another pass-catcher to step up and be a playmaker to take the pressure off of Dalvin Cook and Adam Thielen. Mike Zimmer has acknowledged this and has talked up Smith as a solution utilizing him as a moveable chess piece to create mismatches.
"Irv has done a really nice job. He has a skill set that we need to be able to utilize with the offense. You can get linebackers in space, and safeties in space, and actually sometimes corners."
According to Vikings beat reporters, Zimmer and Kubiak have already started implementing Smith's usage by lining him up in different spots all over the field, including out wide. This is not only optimal for Smith's skillset it is a solution to the Vikings' conundrum with having an abundance of WR's who excel in the slot, yet lacking outside playmaking WRs. Justin Jefferson was drafted to replace Diggs, but his skillset overlaps with Adam Thielen's strengths as they are much more productive as a big slot. While Jefferson might improve on the outside in time, it's hard enough for a rookie to get acclimated to the NFL game, especially during a pandemic-shortened offseason.
Also, Thielen's durability is a concern. While he should be a target vacuum if he can stay healthy, he is soon to be 30-years-old and coming off an injury-plagued season. If Thielen were to miss time Smith's ceiling is all the more tantalizing.
Kubiak taking over play-calling could also shift to more passing plays overall which could greatly benefit Smith as well as other Vikings' pass catchers. The Vikings ran the ball at the fourth-highest rate in the NFL (55%) in 2019. Minnesota's designed-run percentage in the regular season was the second-highest in the NFL (47%). The Vikings ranked first in the number of designed run plays when leading (58%), and called run plays 55% of the time on first and second downs with Stefanski as offensive coordinator. The last time Kubiak called plays, as the head coach of the Denver Broncos in 2015-16, his team ran pass plays 54% of the time on first and second downs.
While there is plenty of reason for optimism, it's possible we are a year early of the true breakout year because in 2021 Kyle Rudolph's contract becomes expendable. The good news is you don't have to draft Smith as your TE1—and probably not even your TE2—so he's not likely to hurt you. Smith should easily beat his ADP as the TE23 coming off draft boards but you're not drafting Smith for his floor.
The table is set for Smith to take advantage and make the second-year leap with the hope that he becomes Kirk Cousins's second receiving option or possibly more if Thielen were to miss time. In that scenario, he could end up vaulting your team up the rankings in the FBG tourney and hopefully a shot at $500k.
Eric Ebron

,

Steelers

(ADP: 13.2, TE23)

An enigma is defined as a person or thing that is mysterious, puzzling, or difficult to understand. It also is a perfect description for Eric Ebron's football career.

Ebron is the definition of a boom-bust player. Due to recency bias, our brain will quickly remind us of Ebron's floor. In 2019 he disappointed with a dismal 31 receptions, 374 yards, and only three TDs. However, in a tournament that features TE-premium scoring and pays out $500K, we're drafting Ebron for his league-winning ceiling, not his floor.

The fantasy community seems to have quickly forgotten that the 27-year-old former top-10 draft pick who boasts a 90th percentile size-adjusted speed score is only one year removed from a top-four TE fantasy finish. Recency bias be damned.

In 2018, the enigmatic Ebron finally lived up to his potential in his first season with the Colts, where he quickly became on of Andrew Luck's favorite weapons. He finished with 66 receptions, 750 receptions, and an eye-popping 13 TDs, which translated to 255 fantasy points.

So, how do we know which version of Ebron we will get in 2020? The stud who finished as the TE4 in 2018? Or the dud who in the very next season, was disgruntled, disenchanted, and out of shape?

The Steelers are hoping a change of scenery will mentally invigorate Ebron, just like when he left the Lions and started fresh with the Colts. They seem to realize Ebron's talent and potential is tethered to his enigmatic personality. They have made a conscious effort to make him feel welcome which sounds to have rejuvenated Ebron. Ebron even stayed at the Roethlisberger's over the summer. So far that chemistry has carried over from Roethlisberger's back yard to the Steelers' practice field. Reporters have said Ebron has been virtually uncoverable in practice and routinely making contested catches look easy, even against coverage maven and First-Team All-Pro, Minkah Fitzpatrick.

Ebron isn't the only one rejuvenated. Now fully healthy, Big Ben is drawing rave reviews out of Steelers' camp. Like Ebron, he's only one year removed from being a fantasy stud. In 2018, he led the NFL with 675 passing attempts, in passing yards with 5,129 yards and finished fifth in TDs with 34. He finished the season as the QB3, albeit with Antonio Brown still on the roster and playing at an All-Pro level.

Heading into 2020, the Steelers have a talented, young WR corps with JuJu Smith-Schuster, Diontae Johnson, James Washington and Chase Claypool. Fellow TE Vance McDonald also should be in on twin-TE sets. It's possible that Ebron is a net positive for the Steelers offense but not a consistent fantasy asset due to the number of mouths to feed. However, with Roethlisberger missing nearly all of 2019, the pecking order has yet to be cemented. Despite such a deep group, Ebron might be the x-factor they've been missing.

The biggest impact Ebron can make is in the end zone. The Steelers converted an abysmal 35% of their red-zone possession to TDs, which was dead last. The year before the Steelers were first, scoring TDs on 73.5% of their red zone drives. There's little doubt Mike Tomlin and the Steelers front office prioritized scoring TDs. It makes sense that they prioritized signing Ebron, who tied for the third-most TDs (13) of any TE in a single season just two seasons ago. Only Gronk and Jimmy Graham have more in a single season.

The Steelers offense should bounce back in a major way in 2020 and Ebron is expected to play a major role. While the range-of-outcomes is wide, there are few TEs that can put up fantasy points like Ebron, especially in Round 13 or later. In your next mid-to-high-stakes draft, be like the Steelers—shake off the recency bias and focus on Ebron's ceiling and not his floor. If the Roethlisberger-Ebron connection works out it could pay off dividends for the Steelers' championship chances—and hopefully your chances at a major payday.