3 Players to Bet on to Win 2019 Offensive Rookie of the Year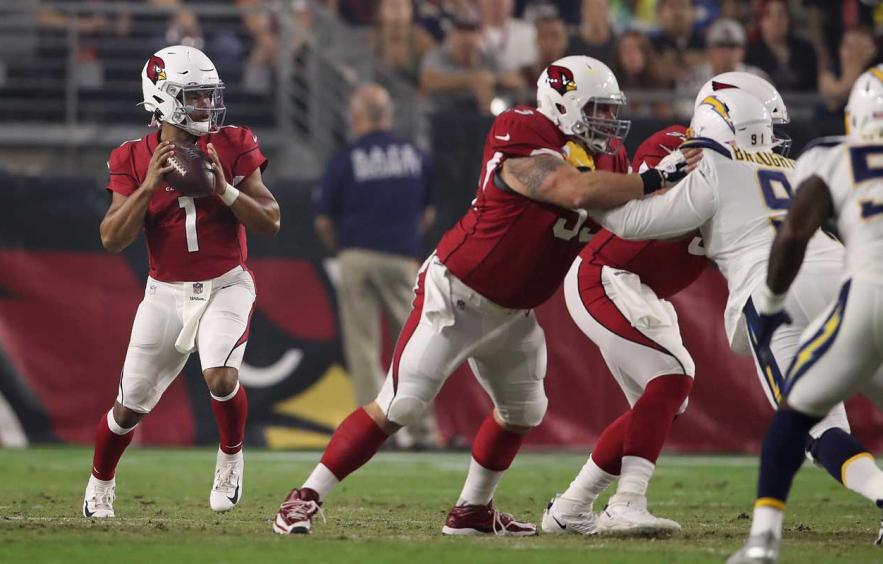 Christian Petersen/Getty Images
There were 254 players selected in the 2019 NFL Draft, 120 of which play offense. That's 120 players that could win the NFL Offensive Rookie of the Year and that doesn't even account for the hundreds of undrafted athletes that could take home the hardware as well.
How can bettors come up with a reaonsable play if they're looking at the NFL Offensive Rookie of the Year (OROY) future odds? Before we get to the three options that I like to win the award, let's take a look back first.
Why include the above information? Two reasons: to pare down our list of legitimate candidates and to (hopefully) increase our probabilities of choosing the right player.
With that in mind, let's key on quarterbacks and running backs since there have only been four wide receivers to win the award since 1998. Let's also focus on players that were selected in the first three rounds of this year's draft since our odds of finding an OROY winner the deeper we go.
Here are the remaining players given our parameters:
Now that we've pared our list of contenders down, which ones offer bettors the best odds to cash in by the end of the season? Here are the three that I like most.
Kyler Murray

, QB,

Cardinals

(6/5)

You're going with the favorite? Glad I read this far. Thanks, Stalter. Anyone could have thrown Murray into a list of contenders.

Yes, I'm going with the favorite. Does Murray give us "value?" No, but we're trying to win the wager, not get the best bang for our buck. That's not how this works. Whether we get the best odds or not, a loss is still a loss. It doesn't matter if you got a great price on a TV if the set is going to break immediately after the warranty expires.

Unlike the other quarterbacks that were taken in the first round, we know that Murray will start as a rookie. We also know that coach Kliff Kingsbury will bring Air Raid concepts to the NFL, which helps ease Murray's transition from Oklahoma (where he also played in a version of the Air Raid).

Meanwhile, Haskins is trying to learn Jay Gruden's West Coast Offense as a rookie. That's not an easy system to master, let alone feel comfortable in as a first-year quarterback. Lock played one year in a pro-style offense at Missouri, but is battling with incumbent Joe Flacco in Denver. Jones is doing the same in New York as he tries to unseat Eli Manning.

The path to success is clearer and less convoluted for Murray in Arizona than it is for any other rookie signal-caller. Kingsbury's offense will also theoretically put Murray in space and allow him an opportunity to either find open receivers or rack up rushing yards (making Murray the best bet of the rookie QBs to also succeed from a fantasy standpoint).

The Cardinals offensive line is bad, but the Redskins' O-line might be even worse. Unlike Haskins, who is a statue in the pocket, Murray can avoid trouble by using his legs. Plus, Haskins doesn't have the best complement of skill players around him and the same applies to Jones, if he winds up starting in New York. Murray, on the other hand, will have Larry Fitzgerald and David Johnson, as well as a system that, again, theoretical highlight his strengths.

If you're betting on a quarterback to win OROY this year, Murray is your best bet.
---
DraftKings Sportsbook Deposit Bonus: Available to Currrent & New Users! Create an account, deposit and DraftKings will match 50% of the deposit amount up to $500. Additionally, new users will get their first bet matched with up to a $200 risk-free bet.
---
Josh Jacobs

, RB,

Raiders

(8/1)

YOU'RE GOING WITH THE TOP RUNNING BACK, TOO?! AND THEY LET YOU DRIVE AN AUTOMOBILE?!

Again, the objective is to pick a player that could actually win OROY. Plus, unlike Murray, Jacobs does offer bettors some value at 8/1. (If you wager $100.00 on Jacobs and he wins OROY, then you'd net $800.00.) Jacobs also offers bettors two other reasons to wager on his OROY odds: Talent and opportunity.

The only reason Jacobs didn't receive more carries at Alabama is because he was on the same depth chart that included Damien Harris and Najee Harris. That's the No. 1 running back from the 2015 recruiting class and the No. 1 running back from the 2017 recruiting class. As a sophomore, Jacobs also suffered an ankle injury that required surgery, thus limiting him to a total of only 299 career carries in Tuscaloosa.

Nevertheless, the former Crimson Tide is difficult to bring down because he runs so low to the ground, but also displays plenty of athleticism to make defenders miss. He doesn't have great top-end speed, but he certainly posses enough acceleration to break off long runs.

Jon Gruden prefers a power running game that features a fullback and multiple tight ends. Assuming he eventually reports to the team, Antonio Brown will get his looks in Gruden's West Coast Offense. Still, I doubt Gruden will get too far away from his roots, which is to pound the ball on the ground. While Doug Martin could carve into Jacobs' workload, I'm banking on the rookie seeing plenty of opportunities to post big numbers this season.
Miles Sanders

, RB,

Eagles

(12/1)

The Eagles acquired Jordan Howard from the Bears this offseason but only parted with a 2020 sixth-round pick as compensation. Howard is a two-down thumper that has already impressed with his pass-blocking abilities, but he does nothing for the team from a pass-catching standpoint.

Enter Sanders. At 211 pounds, the former Nittany Lion is explosive (4.49 speed) and reminds some of current Falcon Devonta Freeman. Fumbles were an issue at Penn State, but Sanders wasn't knocked for his pass-blocking skills, which will help get him on the field sooner rather than later.

Why Sanders over David Montgomery? For starters, Sanders only must deal with Howard as far as gaining opportunities in Doug Pederson's offense. Montgomery, meanwhile, must share touches with both Tarik Cohen and Mike Davis. Sanders is also the more explosive back of the two and should get plenty of looks in the passing game.

If I'm taking a flier on a player with odds that exceed 10/1, Sanders is my choice.