Is Patrick Mahomes the Answer to the Quarterback Conundrum?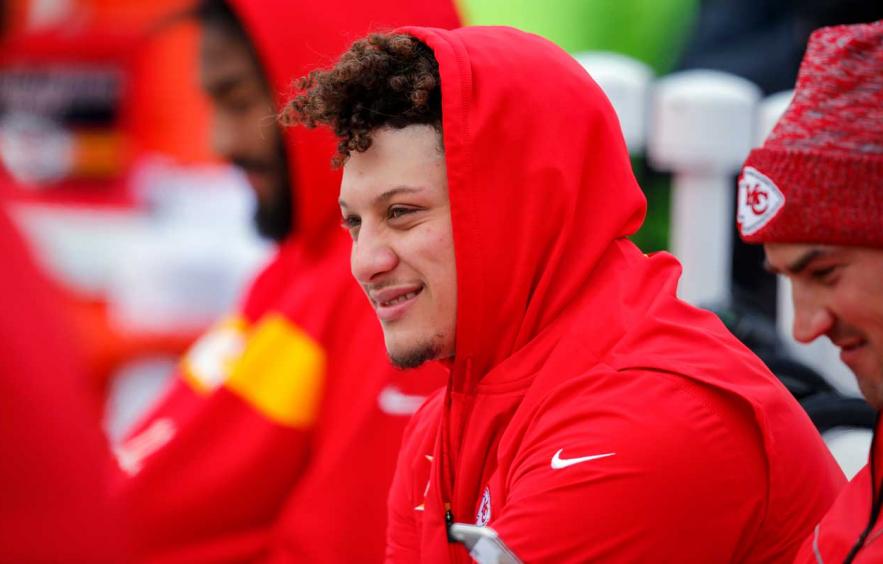 As I formulate my draft plan each year, I typically settle on two to three late-round quarterback targets and then move on to other positions, building different strategies around those quarterbacks based on where they're going in early drafts. Sometimes it's as simple as, "I want one of these three quarterbacks in the 11th round." However, if my targets are going in vastly different rounds, then I'll have to make a plan for each player.
Rounds 8-11 look like they're bursting with quarterback talent this year: Matthew Stafford, Jared Goff, Jimmy Garoppolo, Ben Roethlisberger, Philip Rivers, Jameis Winston, and Matt Ryan are all solid fantasy starters going in that range.
Editor's Note: Find all our 2018 Player Profiles here.
But today I want to discuss Patrick Mahomes, who takes over for the departed Alex Smith as the starting quarterback in Kansas City. What do we know about Mahomes?
Mahomes the Player
In his final 25 games at Texas Tech, Mahomes amassed 9,705 passing yards and 77 touchdowns, while adding 741 rushing yards and 22 touchdowns on the ground.
He's very athletic. Over at Player Profiler, his agility score is in the 95th percentile, and he has pretty good wheels (4.80 40-yard dash). His SPARQ-x score is in the 78th percentile at his position.
He has a big arm (60 MPH, per Player Profiler) and has shown quite a bit of promise in a handful of NFL appearances—including a 7.57 YPA, 63.0 percent completion rate, and a 4:1 touchdown-to-interception ratio in the 2017 preseason and one regular season appearance. That was enough to convince the Chiefs to trade away Smith, who had a career-year. This move by the Chiefs underlines just how much confidence they have in Mahomes.
"The 40-second process in between is so much smoother," is how one Chiefs coach explained Mahomes' progress to Albert Breer. "Hearing the play, calling it, motions, shifts, Mike (linebacker) IDs, coverage recognition, all of that is much easier for him. Throwing the football has always been the easy part, the fun part for him. He keeps growing with the protections and understanding the why's—it's a puzzle for him. And he's got a lot of pieces left, but he's way ahead of schedule."
Here's what his season stats might look like if we apply his limited in-game numbers to Alex Smith's 2017 average of 33.7 pass attempts per game:
Patrick Mahomes Projections Based on Preseason and Regular Season Appearances

| Player | Comp | Att | Cmp% | Yds | YPA | TD | INT | Rush | Yds | FP |
| --- | --- | --- | --- | --- | --- | --- | --- | --- | --- | --- |
| Patrick Mahomes | 339 | 539 | 62.9% | 4083 | 7.57 | 24.2 | 6.1 | 90.9 | 327 | 281 |
The 281 fantasy points equate to top-10 numbers. These are rough estimations based on the limited sample size we have of Mahomes' preseason and regular season play. Things are easier in the preseason, so Mahomes may have trouble hitting a 63.0 percent completion rate or 7.57 yards per attempt. He's very likely to throw more than 6.1 interceptions—he tossed 25 picks in his final two seasons at Texas Tech—but passing and rushing yardage look reasonable. The 24.2 touchdowns are a bit of a stretch based on Smith's production in this offense but are still within reach. Mahomes will also likely run for a few touchdowns as well, and that's not represented in these rough projections.
Playing Quarterback for Andy Reid
Over at FF Statistics, they are able to filter fantasy rankings based on the head coach/offensive coordinator. Since taking over the Eagles in 2000, Andy Reid's quarterbacks have finished with an average ranking of 11.3. Looking at the last 10 seasons, this is what the average Reid quarterback produces over the course of a 16-game season:
Average Andy Reid Quarterback

| Player | Comp | Att | Cmp% | Yds | YPA | TD | INT | Rush | Yds | TD | FP |
| --- | --- | --- | --- | --- | --- | --- | --- | --- | --- | --- | --- |
| Average Andy Reid QB | 343 | 548 | 62.5% | 3972 | 7.24 | 22.4 | 11.6 | 75.5 | 391 | 2.9 | 282 |
Some of these numbers are eerily similar to the rough projections from Mahomes in the last section—especially the projected fantasy points.
The Weapons in Kansas City
With the signing of Sammy Watkins, the Chiefs have one of the better receiving corps in the league. As talented as he is, Watkins may end up being the third option behind tight end Travis Kelce and the speedy and productive Tyreek Hill. Kareem Hunt is a talented running back and is a very capable receiver out of the backfield.
On the whole, Mahomes has a great set of receivers to throw to.
Bottom Line
At press time, I have Mahomes projected for 4,122 yards, 22.6 touchdowns, and 16.4 interceptions to go along with 86 rushes for 277 yards and 3.3 rushing touchdowns. This puts him at No. 13 at his position. His talent, coaching staff, and supporting cast make him an excellent value in the 10th or 11th round.
Photo by David Eulitt/Getty Images.
---
Related Articles