AFC South: Key Free Agents, Draft Picks & Needs, and Available Cap Space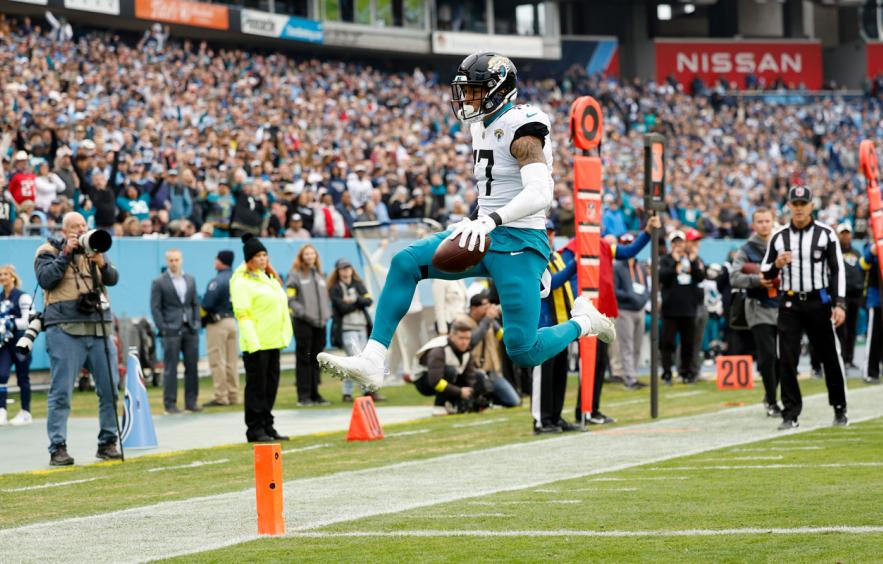 Wesley Hitt/Getty Images
The NFL offseason is a time for teams and fanbases to reset expectations for the upcoming year. While we haven't officially gotten to the offseason yet, 30 of 32 teams have already had their focus shift to the next season. However, some teams are in a better position than others to equip their team for future success - whether immediate or down the road.
In this series of articles, I will be going division-by-division and highlighting what each team has to work with this offseason in terms of resources in the form of draft capital and available cap space. I'll also offer some predictions of how teams might attack the offseason based on the capital they have available and how it could impact their team.
---
More Resource Dashboards: NFC North | NFC East | NFC West | NFC South | AFC East | AFC West | AFC North
---
As a reminder, here is a breakdown of key offseason dates that may impact this information:
March 7: deadline for teams to use the franchise tag
March 13: legal tampering period opens
March 15: NFL free agency begins and the new league year starts
April 21: deadline for restricted free agents to sign offer sheets
April 27-29: NFL draft
May 1: deadline for teams to exercise 5th-year options on 2020 first-round draft picks
July 15: deadline for franchise tag players to sign an extension
As of February 8, 2023
Houston
Texans
Current draft picks (round number): 2 (1), 12 (1), 33 (2), 65 (3), 73 (3), 104 (4), 138 (5), 179 (6), 188 (6), 201 (6), 203 (6), 239 (7)
Cap space (effective cap space): $37.6M ($25.6M)
Thanks to Lovie Smith's heroic efforts, the Houston Texans sit with the number two overall pick in this upcoming draft. I can say with near-100% certainty that their first pick will be a quarterback as Bryce Young and CJ Stroud sit in a tier of their own for this class among the quarterbacks. They also have the luxury of the 12th pick, which they can use on the best player available since they have so many holes to fill. Based on how last season ended, it seems like Brandin Cooks wants little part in returning to the Texans for next season. Now that they have defensive-minded head coach DeMeco Ryans in place, I would love to see Houston target players like Jamel Dean or James Bradberry to play opposite Derek Stingley (their first-round pick from last year). Still, Houston has a ton of flexibility this offseason and finally has a chance to truly determine the future of its franchise.
Indianapolis
Colts
Current draft picks (round number): 4 (1), 35 (2), 79 (3), 106 (4), 140 (5), 205 (6), 223 (7), 238 (7)
Cap space (effective cap space): $12.6M ($5M)
Indianapolis fired Frank Reich on November 7th and their season officially ended on January 8th, yet they still remain without a head coach. I don't know where they're going with this, but I already know I don't like it. In any case, Indianapolis is one of the two teams (Carolina being the other) that has been most linked to trading up to the No. 1 overall pick for a quarterback. If they don't make this trade and go the route of signing a veteran quarterback for the fifth-straight year, offensive line needs to be their top priority, especially with Jonathan Taylor as one of their premier offensive talents. Last year, the Colts ranked 24th in PFF's pass blocking efficiency rating and 22nd in Football Outsider's adjusted line yards. This is a far departure from where they were several years ago when their offensive line was one of the best in the league and Quenton Nelson was an elite guard.

Tennessee
Titans
Current draft picks (round number): 11 (1), 41 (2), 72 (3), 149 (5), 186 (6), 230 (7)
Cap space (effective cap space): -$23.7M (-$28.1M)
In the middle of the 2022 season, Tennessee fired general manager Jon Robinson, signaling that they could be in for some big changes soon. Ryan Tannehill and Derrick Henry - two staples of the Tennesse offense the past couple of seasons - could be moved this offseason either through a trade or as cut candidates. Regardless of whether that happens, offense needs to be a priority for Tennessee as they have finished outside the top 20 in Football Outsiders' DVOA for the second-straight year after finishing in the top six the previous two seasons. As much as I like Treylon Burks, he needs more than just a 30-year-old Robert Woods next to him to make this offense efficient.
Jacksonville
Jaguars
Current draft picks (round number): 24 (1), 56 (2), 88 (3), 121 (4), 127 (4), 145 (5), 202 (6), 208 (6), 228 (7)
Cap space (effective cap space): -$22.4M (-$25.5M)
There hasn't been this much hope in Jacksonville since Myles Jack recovered a Dion Lewis fumble in the 2017 AFC Championship Game (before the touchdown return was overturned, that is). I should remind you that the Jaguars traded for Calvin Ridley prior to the trade deadline, but Evan Engram will be a free agent. Though it wouldn't shock me to see him return to Jacksonville next year, I hope they don't overpay Engram after his best career year. And, even though they improved down the stretch, defense should continue to be a focus for them. Losing Arden Key to free agency is a big hit and they will need last year's No. 1 overall pick Travon Walker to step up in his absence. The Jaguars also only had one cornerback (Tyson Campbell) rank in the top 60 of his position in PFF grade (out of 119 cornerbacks), so secondary will also be a major concentration given they'll continue to compete with the likes of Patrick Mahomes, Josh Allen, and Joe Burrow in the AFC playoffs for years to come.