Fantasy Football Week 11 Recap: 14 Things You Need To Know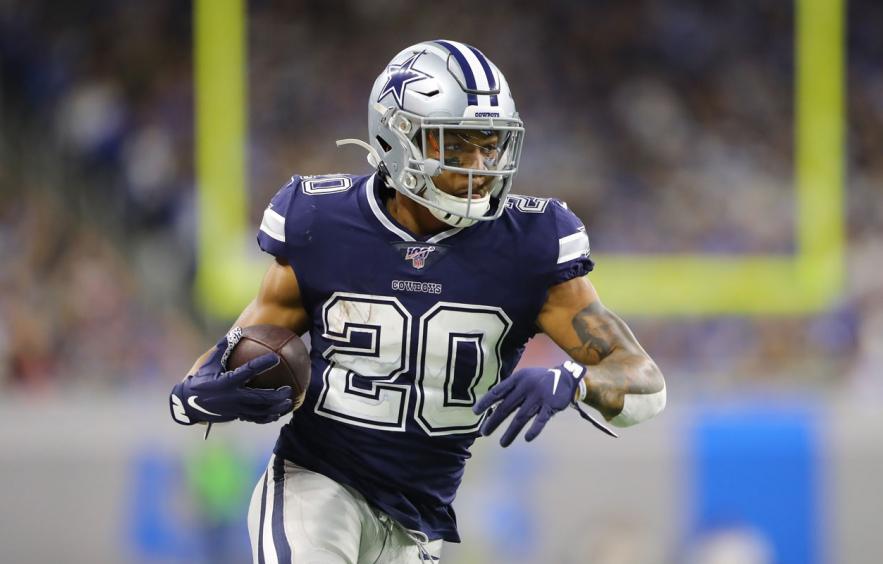 Rey Del Rio/Getty Images
Week 11 was a bit of a lackluster week. Six different teams entered the fourth quarter of their respective games having scored only three points. Touchdowns certainly did seem at a premium all Sunday long. Thankfully, for fantasy enthusiasts, there was a stellar performance or two to be found. Here are the week's notable takeaways.
Bright Stars
Amari Cooper put on a brilliant show against Buffalo. Targeted 12 times by quarterback, Jacoby Brissett, Copper pulled down eight passes for 113 yards. He also scored a pair of touchdowns on the day. Cooper has totaled seven touchdowns so far this season.
Tony Pollard was everything fantasy managers hoped he would be. In a convincing Cowboy victory, Pollard ran for 80 yards on 15 carries. He did his greatest damage through the air catching six passes for 109 yards and a pair of receiving scores. He could have done more had it not been for Ezekiel Elliott getting the heavier workload near the goal line. Elliott had two rushing touchdowns on Sunday.
Davante Adams continued his hot streak in Denver. There was no sad Derek Carr following this one. Adams grabbed seven passes for 141 yards. He found the end zone twice, including the winning touchdown in a Raiders' overtime victory. Over his last three games, Adams has seen an outrageous 44 targets. He has 413 receiving yards and five touchdowns over that span.
Joe Burrow had his revenge on the Pittsburgh Steelers. After a Week 1 defeat, the Bengals' signal caller had a victory in mind. He eviscerated the Pittsburgh defense throwing for 355 yards on the day. Burrow tossed four touchdown passes as Cincinnati went on the road and brought home a win.
Travis Kelce put an emphatic cap on the day. In a wild back-and-forth with the Chargers, Kelce led the Chiefs to a late victory. Already far ahead of his competitors at the fantasy tight end position, Kelce stretched his lead. He hauled in six of 10 targets for 115 yards. He had three touchdowns on the evening, including the game-winner. Kelce has 11 touchdowns in 10 games this year.
Travis Kelce's 11 touchdowns tie his career-high (2020). The Chiefs have seven games left.

— Pete Sweeney (@pgsween) November 21, 2022
Dim Stars
Nick Chubb had a long day in Detroit. Facing the Buffalo Bills in a re-located game due to extreme weather, the Browns' offense was limited for much of the day. Chubb had his lowest rushing output of the season with 19 yards on 14 carries. He did manage to catch three passes for 48 yards to salvage a few needed PPR points.
Dalvin Cook was quiet against the Dallas Cowboys. While he did collect 72 yards by the end of the game, Cook and the Vikings never had much success. No Viking found the end zone and Cook was not targeted in the passing game, making for a very pedestrian fantasy performance.
Justin Jefferson matched a season-low in receptions. Catching just three passes in the game, Jefferson was far from his typical fantasy superstar form. He compiled 33 yards receiving and did not score.
Rising Stars?
DeMarcus Robinson had his biggest fantasy performance of the season. He was able to bring down all of his nine targets on the afternoon. He converted the nine receptions into 128 receiving yards. Robinson may continue to have fantasy value with Rashod Bateman on injured reserve.
Samaje Perine had a breakout game in Pittsburgh. While the running back carried 11 times for just 30 yards, he was a major factor in the passing game. Perine caught four passes and took them for 52 yards. Most significantly, he crossed the goal line three times. Should Mixon miss time due to concussion symptoms, Perine could be used in fantasy lineups.
Joshua Palmer had his biggest game to date. With Keenan Allen and Mike Williams active for the game, Palmer might have become an afterthought. However, following Williams' departure in the first series, Palmer became a focal point of the air attack. He totaled 106 yards on eight grabs with a pair of receiving scores. If Williams is unable to suit up in Week 12, Palmer should maintain a role in the offense.

Injury Concerns
Wan'Dale Robinson injured his knee after making a catch early in the fourth quarter. Robinson had made considerable contributions to the Giants' offense, catching nine passes for 100 yards. Chased out of bounds, Robinson's knee buckled as he was slowing himself. He was immediately seen clutching his knee. Robinson reportedly left the stadium on crutches. The team fears the injury is serious.
#Giants rookie WR Wan'Dale Robinson suffered a knee injury and is done for the day. He needed to be helped to the locker room.

— Ari Meirov (@MySportsUpdate) November 20, 2022
Joe Mixon left the game with the Pittsburgh Steelers. He was later ruled out with a concussion. Following the game, Mixon posted a video on Instagram of himself dancing with teammates celebrating the win.
Mike Williams exited early from the contest against Kansas City. In a game where he was returning from an ankle injury, Williams seems to have aggravated the ankle Sunday night. The re-injury occurred on his first target of the game.