Fantasy Football Debate: Darren Waller vs. George Kittle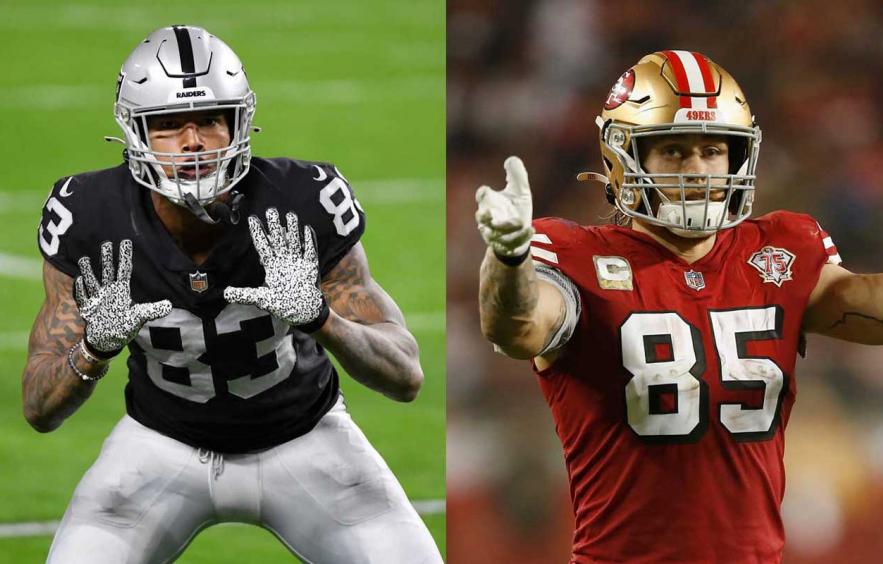 Kittle: Lachlan Cunningham/Waller: Ethan Miller/Getty Images
Elite tight ends Darren Waller and George Kittle are being drafted as TE4 and TE5, respectively on Underdog Fantasy. In this debate, Jennifer Eakins argues for Darren Waller while Brandon Niles fights for George Kittle.
---
Click here for more 2022 Player Profiles!
---
The Case for
Darren Waller
Jennifer: I could just write about how insanely hard George Kittle goes on every single play so that the fear of season-ending injury is a constant, nagging issue, but I guess I'll lay out some other reasons why I'm taking Waller above Kittle in 2022.
Last year was certainly a down one for Waller and the entire Raiders passing attack, as he missed six contests due to injury and they lost their WR1 Henry Ruggs due to off-field issues which didn't help their overall offensive situation. Despite a much-talked-about let-down of a season, the Las Vegas TE still finished as TE8 in half-PPR points per contest, and is now healthy with a more offensive-minded coach in Josh McDaniels at the helm.
The main knock I continue to see on Waller in 2022 is the addition of Davante Adams and how the TE won't be the No. 1 weapon for Derek Carr. Waller has averaged 8.8 targets per game over the past two seasons as the only game in town, but now we can key in on the quality of targets with Adams in the mix. Carr threw 22 passes Waller's way last year that were deemed uncatchable (23.4%) which was the fifth-highest among 26 TEs with at least 50 targets. That number should come down with opposing defenses focusing on Adams on the outside and 2021 darling Hunter Renfrow in the slot. If Waller's efficiency improves this season, taking a small hit in volume shouldn't matter too much.
Speaking of the addition of Adams, his presence should also help Waller in the red zone too, an area that he struggled to produce in last season. Having an elite WR in the fold should mean more scoring opportunities for this entire offense in 2022, and the big-bodied Waller, although maybe not Carr's first read, is due for some positive touchdown regression after only finding the end zone twice in 2021.
While Carr is not the sexiest of fantasy QBs, Kittle's situation under center is reason to pump the brakes on his current fourth-round ADP. It appears that the 49ers could be ready to move forward with Trey Lance, who wasn't exactly a show stopper when on the field in 2021, but pesky Jimmy G is still hanging around. Neither one emotes the utmost confidence or excitement, plus Deebo Samuel will most likely see an expanded role in 2022, and the run game always on the forefront of a Kyle Shanahan offense.
It's not that I'm completely anti-Kittle and may sprinkle him in some drafts this summer, but for their current fourth-round Underdog ADP, give me Waller's top TE potential in an improved Raiders offense.

The Case for
George Kittle
Brandon: I'm sure my friend Jen Eakins means well, but George Kittle is a far better option than Darren Waller in fantasy football this year.
Kittle was better last year. He finished as the TE4 in both total fantasy points and fantasy points per game (FPPG), while Waller finished 19th and eighth, respectively. But that's just the beginning of why Kittle is the better option.
These two players are remarkably similar. Both are elite talents coming off injuries with a history of struggling to find the end zone. Waller had nine touchdowns in 2020, but three in his breakout 2019 season, and two last year. So, I'm calling the nine an outlier. Kittle has never scored more than the six touchdowns he had in 2021. Waller is about a year older than Kittle, despite his breakout season coming later in his career. Both were drafted high in fantasy leagues last year, and burned a lot of managers who invested heavily in them with disappointing and inconsistent seasons. However, only Kittle is in a position to fully rebound in 2022.
The benefit of Waller has always been that he's a massive target hog. He had 145 targets in 2020, helping him to 1,196 yards on 107 receptions. Even through injuries and inconsistency, he still averaged 8.5 targets per game last year. However, the Raiders added Davante Adams into the mix this offseason. Adams was second only to Cooper Kupp with 169 targets last season and hasn't had less than 117 targets since his second year in the league. It's hard to imagine Waller continuing to see such a high percentage of looks with an elite receiver like Adams now on the outside. Not to mention Hunter Renfrow is still eating up targets underneath.
Additionally, Adams has scored double-digit touchdowns in five of his past six seasons, and per Sports Info Solutions he was third in the league in red zone targets last year. Expecting an increase in touchdowns for Waller is a tall order with the addition of Adams on the roster. And it's not like the Raiders are going to throw significantly more. Derek Carr was already fifth in the league in pass attempts in 2021, and that target distribution heading Adams' way has to come from somewhere.
Meanwhile, Kittle maintains the same role he had last year, when he averaged 6.7 targets per game (6.9 over the course of his career). Also, Kittle's disappointment was a little exaggerated. Sure, he didn't show up in the fantasy playoffs – single-handedly losing me my staff dynasty league championship title with a mere one catch for 29 yards in Week 16 – but he was still fourth among tight ends in fantasy points, despite missing three games with injury.
Now, there's definitely quarterback concerns for Kittle, who put up that championship game stinker in the one game he started with Trey Lance at the helm. However, the 49ers were reluctant to hand the keys over to Lance last season and nearly made the Super Bowl. They're not going to bench Jimmy Garoppolo just for the sake of benching him. If they turn the team over to Lance, it's going to be because they believe he can run this offense. Kittle is a big part of that.
For my money, I'll take Kittle. He's been productive for longer, should maintain a larger role in the offense, and is available at a discount (late-fourth round) compared to his late-second round ADP from last year.