Fantasy Football Debate: A.J. Brown vs. Tee Higgins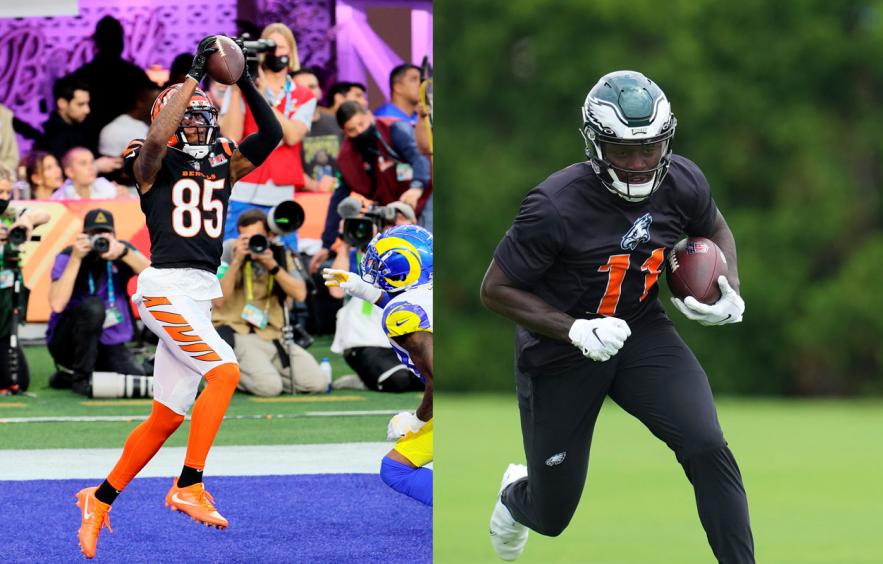 Mitchell Leff and Andy Lyons/Getty Images
Wide receivers Tee Higgins and A.J. Brown are currently being selected 24th and 25th on Underdog. In this debate, 4for4's Chris Allen will explain why he prefers the Bengals wide receiver while TJ Hernandez takes a stand for Brown.
---
Click here for more 2022 Player Profiles!
---
The Case for
A.J. Brown
TJ: A.J. Brown and Tee Higgins have almost identical Underdog ADPs and their season-long half-PPR projection separates them by less than one point per game. They are both in offenses with other talented pass-catchers but Brown is the player you want in 2022.
The case against Brown is obvious—he's going to a team that was one of the most run-heavy in the league in 2021 with an unproven quarterback and Brown will be playing alongside a second-year receiver that just displayed one of the most elite rookie profiles in recent history. Rather than docking Brown points for this, I'd argue that these factors play into his favor.
What many fantasy football managers and fans forget is that Nick Sirianni wanted this to be a pass-first offense before Jalen Hurts' struggles last season. Through the first seven weeks of 2021, Philadelphia ranked 10th in neutral passing rate. With a full season as a starter under his belt, the trade for Brown indicates that Siriannia and Co. are focused on improving Hurts' supporting cast—they now have arguably the best route-running duo in the league—and giving him another shot at leading a more pass-heavy offense.
Rather than look at the 2021 run-heavy season and the 2022 target competition as a knock against Brown, I look at the offseason and see the 2019 Ravens or 2020 Bills as the high-end outcome for the 2022 Eagles. I want to draft players in those types of offenses, especially when they should be the primary target.
The issue of target competition is precisely why I want Brown over Higgins. When active over the last two seasons, Brown's full-season target share pace has been 25% and 27%, elite rates that are rarely repeated by any receiver that isn't elite. When you look at Higgins' 7.9 targets per game last year compared to Brown's 8.1 targets per—which came in a similarly run-heavy Tennessee offense to Philadelphia's—understand that if one grows, it's likely to be Brown.
Brown could see a drop in his recent target share numbers but he could also work with DeVonta Smith to form one of the most concentrated passing attacks in football. Given the elite profiles of Brown and Smith, it's likely that Dallas Goedert and ancillary pass-catchers see a dip in volume rather than either receiver. For Higgins, we know his role is the clear number two behind Ja'Marr Chase. A 25%-plus target share is certainly outside Higgins' range of outcomes without an injury to Chase but it is the expectation for Brown with room for growth.
We have seen Brown's upside when he finished as the WR5 in half-PPR points per game in 2020 and now he has a chance to display his elite efficiency in an offense on the upswing.
In a battle of two extremely talented receivers in somewhat similar situations, I want the player with the potential for elite volume and overall WR1 upside and that player is A.J. Brown.

The Case for
Tee Higgins
Chris: I will not use the typical debate tactic of putting down the opposing player. It's too difficult. There's no logical downside to wanting a wide receiver worth a first and third-round pick to another NFL franchise at age 24. As a Bengals fan, I watched in horror as A.J. Brown nearly ended Cincinnati's playoff run. However, I have some issues with his cost for the 2022 season.
It's not about his schematic fit with the offense. He's exactly what they need. Brown has also commanded a WR1-level target share the past two seasons. Jalen Hurts will look for him without a doubt. But think of what else has to go right for Brown to meet his WR11 ADP on Underdog.
Brown will need to maintain his red-zone prowess. Battling with Dallas Goedert and DeVonta Smith for targets is somewhat different than Anthony Firkser and Nick Westbrook-Ikhine. Brown must also be healthy for an entire season to stay in synch with his new quarterback. A feat he hasn't replicated since his rookie year. And, speaking of his quarterback, Hurts needs to take a significant step forward. Hurts was 20th in completion percentage over expected (CPOE), 27th in completion percentage under pressure, and dead last in red-zone pass rate over expectation (PROE). It's an impossible list but lengthy.
Regardless, each of these things has to happen. Or, some combination of the above and other random events must occur for Brown to hit expectation. In contrast, Tee Higgins needs none of those things.
Tee Higgins really launched two different Minnesota corners into orbit in the same drive with the same route lmao pic.twitter.com/UActKkJqEN

— JetPack Galileo (@JetPackGalileo) September 15, 2021
You don't need to be a Cincinnati fan to enjoy talented route-running skills. Higgins moves like the forebearer of his jersey with the skills to work outside against press coverage while dicing up interior defenders from the slot. Higgins was just behind Cooper Kupp in yards after the catch per target when lined up close to the formation (6.6 to 6.4). It should be no surprise his average target depth dropped between his rookie and sophomore year (12.9 to 12.2) to emphasize his footwork at 6'4"-215 lbs. Matt Harmon's charting backs up the spreadsheets.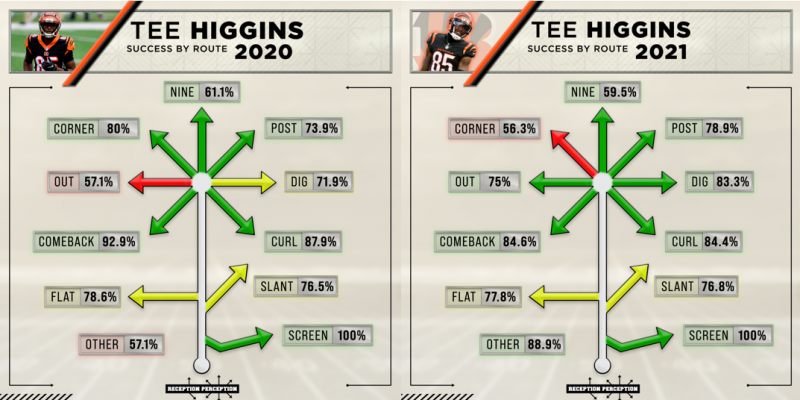 Again, no surprises here. Higgins was able to be an alpha receiver with just Tyler Boyd at his side in 2020. With Ja'Marr Chase, Cincinnati has more flexibility to put Higgins in better matchups. We saw examples of this throughout last season. After their Week 10 bye, Higgins earned more targets, accrued more air yards, and was more efficient than Chase. Higgins bypassing Chase isn't a knock on the owner of the most receiving yards in a rookie season. But it does speak to the efficiency and productive nature of the Bengals' passing game. And most importantly, it speaks to the untapped potential for Higgins.
A familiar knock against Higgins is his cost relative to Chase. Higgins gets the 'WR2' label amongst other WR1s like Brown. But both designations have some statistical ranges, like target shares or efficiency. So, I compared Higgins to the Top 10 from 2021 to see how well he stacks up to the competition.

Cooper Kupp and Deebo Samuel skew a few metrics, but the median values favor Higgins overall. He's an outright winner in three categories with a negligible difference in targets per route run. Regardless, he matches up well with other top-12 wide receivers from 2021, bringing us to the 2022 season.
After a maddeningly slow start, Cincinnati ended the season 13th in neutral passing but 30th in pace of play. I'm not expecting the Bengals to be the Buccaneers, but any tempo boost works in Higgins' favor. He also has one of the best passers in the league under center. Joe Burrow was first in CPOE and seventh in EPA per dropback. Plus, with the offseason changes along the offensive line, we can expect more plays within structure to keep the offense on schedule.
Again, Brown vs. Higgins isn't a debate on talent. It's a debate on what has to go right. At ADPs of 23.9 and 25.3 on Underdog, I know each player on the board is elite. But I'll take the player with fewer questions every time. And, for 2022, Higgins is the correct answer every time.