The Fantasy Impact of A.J. Brown to the Eagles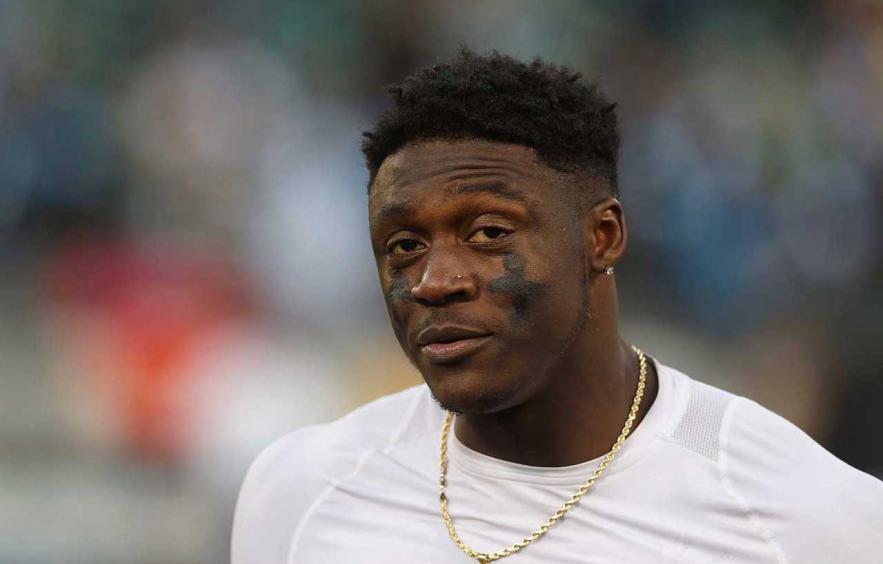 The 2022 NFL Draft saw six wide receivers go in the first round, with another 11 drafted on Day 2, but arguably, the biggest move at that position was the trade of A.J. Brown to the Philadelphia Eagles. I have already proclaimed Jalen Hurts the biggest winner of the offseason. The questions remain how Brown will fare with the most target competition of his career and how he will impact the fantasy outlook of Philadelphia's other pass-catchers.
---
Click here for more 2022 Player Profiles!
---
A.J. Brown

's Career

Since coming into the league in 2019, A.J. Brown has been the model of efficiency. Among all wide receivers with at least 200 total targets over the last three seasons, Brown is one of just three players (Mike Evans, Tyler Lockett) to rank in the top 10 in both yards per target and touchdown rate. However, those numbers could easily be explained by quarterback efficiency just as well as wide receiver skill—as Ryan Tannehill's efficiency dipped in 2021, so too did Brown's efficiency metrics, finishing 15th in yards per target and 17th in touchdown rate.

Where Brown has routinely shown dominance, regardless of quarterback play, has been in his yards per route run. He's ranked in the top six (minimum 75 targets) every year of his career, including fourth in 2021, according to SportsInfoSolutions. Brown's consistency, ability to run a full route tree, and win at every level have made him a magnet for the football. After seeing 19% of targets in his rookie year, Brown has handled a 21% target share in each of the last two seasons, but those numbers are skewed by missed time. When active, Brown paced for a 25% and 27% target share in 2020 and 2021.

Unfortunately for Brown's fantasy managers, his high target share has come in one of the most run-heavy offenses in the league. He showed upside in 2020 with the sixth most half-PPR points per game among wide receivers but has ranked no higher than 23rd on a per-game basis in his other two seasons.

In Philadelphia, Brown will be a part of the best pass-catching corps of his career. His fantasy value will be dependent on whether or not Nick Sirianni and the Eagles staff will let Jalen Hurts ramp up the passing volume in 2022.
How
A.J. Brown

Fits into the

Eagles

' Offense

From an opportunity standpoint, Brown is seemingly trading one low-volume passing game for another—Philadelphia's 51.4% neutral passing rate ranked 31st last season compared to a Tennessee offense that ranked 30th. For the Eagles, splits were heavily influenced by Hurts' ability to run but were also a function of his early-season passing struggles. Over the first seven weeks of 2021, Philadelphia threw at a top-10 rate in neutral situations. That early-season game plan likely highlights Sirianni's intentions if Hurts can prove to be a capable passer. The desire to throw is only amplified with the acquisition of Brown.

By trading for one of the top all-around wide receivers in the league, the Eagles will trot out arguably the best route-running duo in the league with Brown and DeVonta Smith. After coming into the league with size concerns, Smith proved in his rookie year that he is a true technician. Per Matt Harmon's Reception Perception, this first-year Eagle finished above the 75th percentile against man, zone, and press coverage with an astounding 84th percentile finish against press, immediately alleviating any size concerns.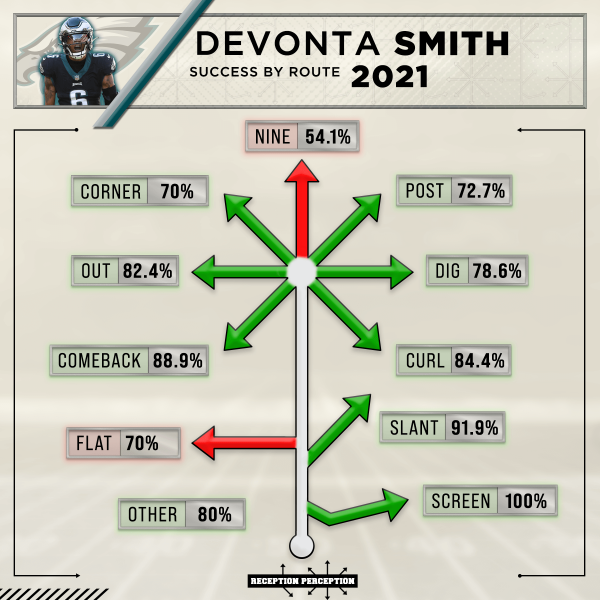 You don't have to squint too hard to see the Eagles trying to replicate what the Bills did two years ago when they added Stefon Diggs and John Brown going into Josh Allen's third year. When you consider tight end Dallas Goedert—who tied for the league lead in yards per route run among tight ends last season—it's virtually impossible to not project Philadelphia for a major uptick in passing volume if Hurts can be even average as a passer.

How to Project the
Eagles

Passing Game for Redraft Leagues

There's no doubt that Philadelphia's pass-catchers have some of the widest ranges of outcomes in football. While Jalen Hurts will be a viable fantasy asset with his legs alone, Brown, Smith, and Goedert could be anywhere between league-winners and unstartable depending on which Hurts shows up as a passer. Despite his struggles late last season, remember that Hurts threw for over 300 yards twice in the four games where he had at least 20 attempts as a rookie.

While Brown may not attract the 25%-plus target share that he commanded in Tennessee, he and Smith are such a sensational duo that both should easily surpass a 20% share, assuming health. When active last season, Goedert averaged about 19% of targets per game—it would be a fair assumption that the number is closer to 15% in 2022 if everyone stays healthy.

My sneak peek at John Paulsen's initial projections offers a rough estimate of each player's 2022 half-PPR ranking based on last year's end-of-season scores.

As of this writing, the only ADP that seems overly aggressive is Brown's. Even if Hurts doesn't make the skill leap that Josh Allen made in 2020, this pass-catching corps can propel Hurts to a once-in-a-career touchdown rate, as we saw from Lamar Jackson in 2019. There may not be another offense this season that has this kind of fantasy upside along with such palatable ADPs. If Brown's ADP holds steady, I will only be drafting him when he falls to the middle or late third-round while I aggressively draft the rest of this passing game.
The Bottom Line