Fantasy Fallout: Robert Woods to the Titans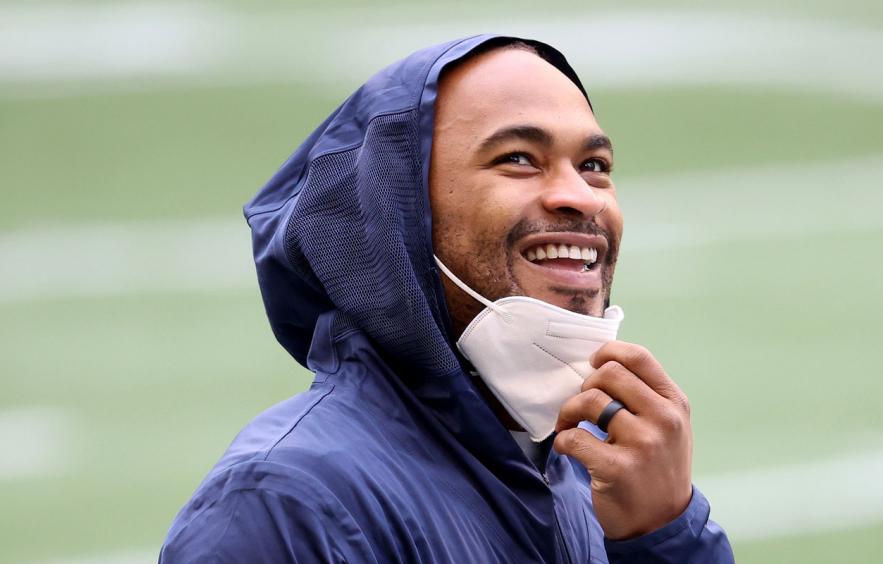 Abbie Parr/Getty Images
After the Rams inked Allen Robinson to a three-year, $46.5 million dollar contract last week, the writing was on the wall for a potential Robert Woods trade. This came true on March 19th, as the Tennessee Titans acquired Woods from the Rams for a 2023 sixth-round pick. Let's take a look at how the impact of the trade for fantasy purposes.
---
Click here for more 2022 Player Profiles!
---
An Overview of Woods' Career
If the word reliable was a wide receiver in the NFL, he would be Robert Woods. Since being traded to the Rams back in 2017, Woods has been nothing but dependable for your fantasy team when healthy. He finished as a top-20 fantasy receiver in 2018, 2019, and 2020, and was well on pace to do it again last year before tearing his ACL in Week 10. He is expected to make a full recovery from the injury for this season, and should get back to putting up good numbers for fantasy.
Robert Woods

Per Game Stats, 2017-2021

| Year | Targets | Receptions | Yards | Touchdowns | Fantasy Points |
| --- | --- | --- | --- | --- | --- |
| 2017 | 7.08 | 4.67 | 65.1 | 0.42 | 11.3 |
| 2018 | 8.13 | 5.38 | 76.2 | 0.38 | 11.3 |
| 2019 | 9.27 | 6 | 75.6 | 0.13 | 13.9 |
| 2020 | 8.06 | 5.63 | 58.5 | 0.375 | 12.5 |
| 2021 | 7.67 | 5 | 61.8 | 0.67 | 12.7 |
The fantasy community seems to overlook Woods despite the numbers he puts up every year. The fact of the matter is that he is top-15 in receiving yards, targets, and receptions since 2017, and is fourth amongst receivers in rushing yards for good measure. While it might not be Davante Adams' level stats, Woods has proven his worth as a solid, consistent fantasy receiver.
Now that we've shown that Woods has been a valuable fantasy asset in the past, let's examine his value in his new home...
How Will Woods Impact the
Titans

?

In trading for Woods, the Titans get an excellent replacement for their WR2 spot after letting go of Julio Jones earlier this month. Playing alongside superstar A.J. Brown, Woods should be able to maintain a level of production very similar to how he played pre-injury.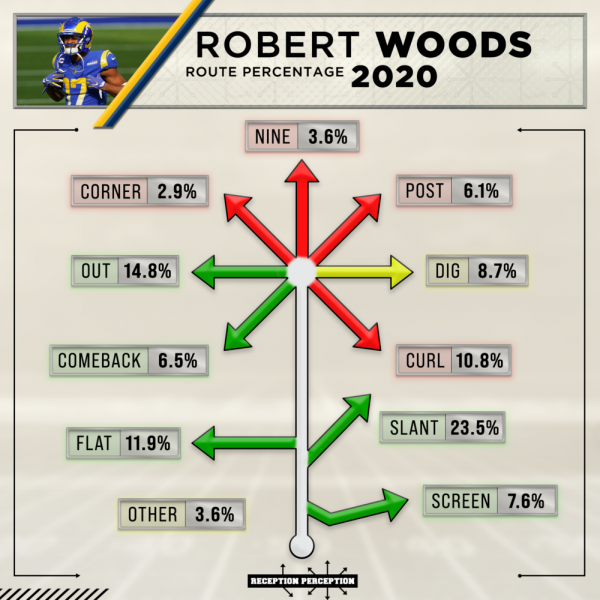 Here is a chart of Woods' route tree from 2020 (his last full season) from Matt Harmon's ReceptionPerception. We can see that his slot prowess should complement Brown's verticality well, making Woods a potential PPR machine.
One positive sign for Woods is quarterback Ryan Tannehill. While Tannehill isn't a world-beater, he has been excellent for the Titans since his arrival in 2019. In fact, Tannehill is third in the entire NFL in expected points added per play since joining the Titans behind just Patrick Mahomes and Aaron Rodgers (EPA per play is a metric that measures the number of points a quarterback adds on any given play). He is far better than Woods' longtime quarterback Jared Goff, and shouldn't be much of a step-down (if any) from Matthew Stafford.
Additionally, as we all know, volume is everything in fantasy football, and Woods should see a large number of targets in Tennessee. While the aforementioned Brown is sure to command a sizeable target share, there are very few other reputable receiving options on the Titans. This means that even if new tight end Austin Hooper gets his cut of the pie, Woods should comfortably see at least 90 targets once again this year barring injury. This should be more than enough for Woods to continue his usual production.
Fantasy managers should also not be too worried about the impact of the run game. While Derrick Henry is bound to see a large number of carries out of the backfield, Tannehill has proven that he can support two fantasy-relevant receivers even if Henry sees over 350 touches—In 2020, both AJ Brown and Corey Davis had over 950 receiving yards despite Derrick Henry leading the league in rushing and the Titans being 3rd in the NFL in neutral pace run rate.
One potential area of improvement for Woods is the touchdown department. He is yet to have a season with over six receiving touchdowns, and this could make the difference between him being a good and great option. If a new offense brings about more red-zone production for Woods, he could go from a WR2/3 to a legitimate top-15 option.

What Does His Departure Mean for LA?
The Rams should not have much trouble replacing Woods' production. His trade came at the heels of signing Allen Robinson, and the former Bears WR will likely be tasked with filling Woods' shoes. The trade bodes well for ARob's fantasy value, as he is now the clear WR2 in the high-powered Rams offense behind Cooper Kupp.
The Rams are yet to make a decision on whether or not they will be bringing back Odell Beckham, but his presence will likely hurt Robinson a little bit. However, if Odell moves onto a new team, Robinson should be treated as a top-30 option at the receiver position. Cooper Kupp also remains as arguably THE WR1 for fantasy following the Woods trade.
The Bottom Line
Robert Woods has been extremely consistent for fantasy so far in his career and should be able to bounce back from his ACL injury.
He fits in nicely as the Titans WR2 and compliments A.J. Brown well. Despite a little bit of competition for volume, Woods should see plenty of targets and be very valuable in PPR leagues. Treat him as a low-end WR2 for fantasy, with a chance to be even better if he produces in the red zone.
Over in Hollywood, Woods' departure means that Allen Robinson should assume the WR2 role in LA. If Odell Beckham re-signs, however, Robinson and OBJ could be competing for targets with one another, creating a more murky fantasy situation that hurts both players' value.