Dynasty Rookie Mock: 8-Team, Superflex, PPR, TE Premium Scoring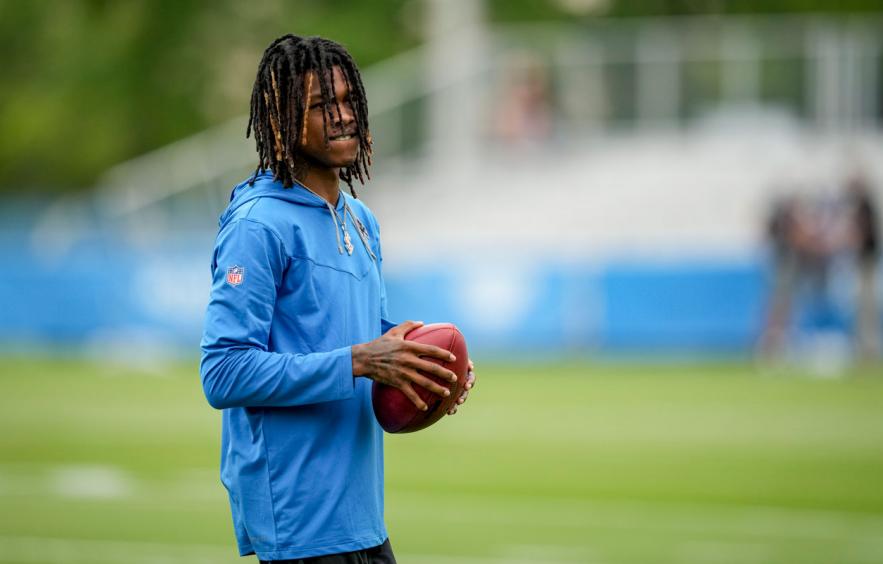 Nic Antaya/Getty Images
Over the last month or so, I've been conducting and writing about my experiences with rookie and start-up dynasty mock drafts here at 4for4. I've been using DLF's new mock draft simulator tool for the drafts to introduce people to the tool itself and to familiarize more traditional fantasy owners with dynasty leagues and their drafts and draft strategy. In this final rookie mock draft, I wanted to look at what might happen in smaller leagues.
If you're reading this, chances are good that you're mostly in 12-team leagues or possibly some bigger 14 or 16-teamers. Or maybe you're a real degenerate and are in a monster single-copy 32-teamer or even bigger multi-copy leagues. Regardless, many people still play in smaller, local home leagues with a handful of close friends and family. In that event, I mocked an eight-team league. As is the case in most small leagues, they include everything they can to pump up scoring and increase player value, and as such, this is set as a superflex, PPR league, with tight end premium scoring. Also, to drain the rookie player pool, it's a seven-round rookie draft too. Let's see how it turned out.
Round 1
In smaller leagues, you're typically not as desperate for playmakers as you are in larger leagues. In a smaller league, you can afford to swing for the fences because a miss doesn't hurt as much. For example, with two picks in the top 16 of a small league, compared to a single pick in the top 16 of a 16-team league, you can afford to miss. That being said, with the eighth pick in the draft, I pulled the trigger on the highest upside player on the board and selected the Lions' Jameson Williams.
Coulda, Woulda, Shoulda, Part 1
It's difficult to second guess anything in the first round or two of a shallow league. However, if you just follow popular ADP, you should be fine coming out of the first few rounds without risking much draft capital.

Round 2
I have been unreasonably high on George Pickens during the entire NFL off-season, and I completed this mock a week or two before the Steelers extended Diontae Johnson. I'm not as high on him as I was before that signing, as I fully expected Johnson to move on after this season. Nevertheless, I still like the player, although not the situation as much as I did.
Coulda, Woulda, Shoulda, Part 2
Even though I don't like Pickens as much today as I did at the time of the draft, he was still my highest rating player remaining and would have been my pick. Nobody remaining on the board has the upside he possesses, although I might have taken Isaiah Spiller to go WR-RB instead of WR-WR.

Round 3
With it being a superflex draft, I thought QB was the way to go in Round 3. It wasn't a surprise to see Kenny Pickett as the first signal-caller off the board, but it was odd to see Matt Corral and Sam Howell go in Round 2. Although many have Malik Willis as this class's No.2 fantasy QB, I still went with Atlanta's Desmond Ridder. I like his upside and potential and think he sees the field early this season. Ridder seems like the safest pick among all the non-first-round quarterbacks in this draft, even though Willis probably has the higher upside.
Coulda, Woulda, Shoulda, Part 3
I could've gone Willis over Ridder. Aside from that, the only player who sticks out is Jalen Tolbert. This draft was completed before James Washington was lost for the season, thrusting Tolbert into Dallas' starting lineup. As the only locked-in starter remaining at this point, Tolbert would've been a steal.

Round 4
With the 32nd pick, I again felt pretty lucky to get who I felt was the highest-upside player remaining. Tyrion Davis-Price seems to have found himself in a decent landing spot with the 49ers. The 49ers don't care about draft capital at the running back position, and the team has routinely given the ball to the back that looks the best in any given week. Currently listed as the team's RB4 behind Elijah Mitchell, Jeff Wilson, and Trey Sermon, TDP has an uphill climb. Still, he's one injury and an underperforming veteran from a 50-50 time-share in one of the league's most productive fantasy backfields.
Coulda, Woulda, Shoulda, Part 4
Nobody is remaining in the draft who has the potential to be a weekly matchup winner or a guy who has the potential to carry you through the fantasy playoffs except Davis-Price. As a result, I have no second guesses about this pick.
Round 5
As I mentioned, I didn't think many high-upside players were remaining, so at this point in the draft, scoring and settings begin to play a role in my decision-making. I often pass on rookie tight ends entirely and trade for established tight ends, but with the tight end premium scoring, I figured I could kick the tires on a tight end here with no one else being of much interest to me. The Broncos' Greg Dulcich was among the top tight ends throughout the draft process and landed with Russell Wilson in Denver. Early camp rumors even had Dulcich supplanting Albert Okwuegbunam for the starting role. So I'll roll the dice on one of the top options at the position with a ton of camp buzz to close out round five.
Coulda, Woulda, Shoulda, Part 5
Locking myself into the idea of selecting a tight end with this pick, a case could've been made for Jeremy Ruckert or Daniel Bellinger, who are both arguably in better long-term situations. But combining supporting casts, QBs, measurables, and draft capital, Dulcich was my preferred option. I had already completed this mock before all the recent Romeo Doubs hype, and I'm fully buying into it now. Had I conducted the draft more recently, I would've gone with Doubs.
Round 6
Even though this is an eight-team league, in the sixth round, getting Keaontay Ingram with pick 48 felt like a decent value. Looking at the most recent ADP data from DLF, Ingram has an ADP of 36, making Ingram a tremendous ADP steal, 12 spots lower than where he is going in most drafts. Always take value if it falls to you.
Coulda, Woulda, Shoulda, Part 6
I'm happy Ingram fell to me here, as I don't like many of the remaining players. I'm unsure what I would have done if Ingram was off the board when I was on the clock.

Round 7
I said I don't know what I would have done to close round six had Ingram not been there, but truthfully, I probably would've taken Isiah Pacheco. However, I'm glad I didn't have to since Pacheco remained for me in round seven to wrap up the draft. I love the upside of a running back in the Andy Reid system, especially with a series of underperformers ahead of him on the depth chart.
Coulda, Woulda, Shoulda, Part 7
There are few names of interest remaining, but Pacheco is heads and shoulders ahead of them all. Cade Otton has an ADP of 47, so he would've been another value pick with pick 56, especially with the TEP scoring.

Who's Left?
I already mentioned Otton, and the more I think about it, the more I am surprised he was never taken. Tyler Badie will probably see a little uptick in drafts with the news that Gus Edwards will not be ready for Week 1 and may begin the season on the PUP list. Aside from Otton, Isaiah Likely, Grant Calcaterra, and especially Chig Okonkwo are all tight end options I'm interested in. With the premium scoring, it's shocking they all fell out of the draft entirely.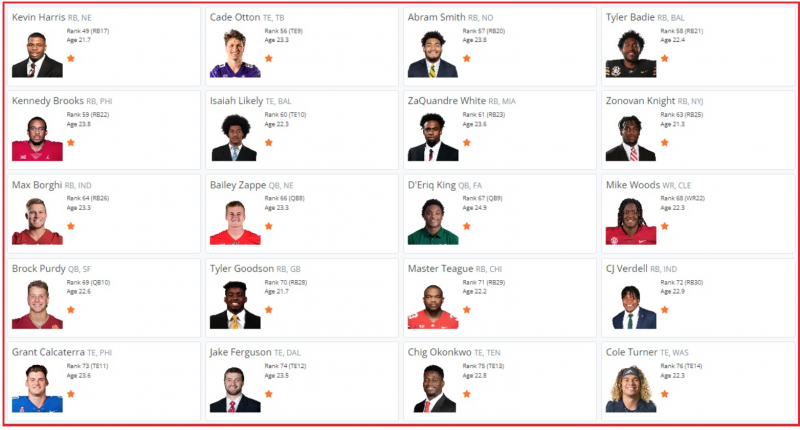 I hope you enjoyed this look at a mock draft in a less-conventional eight-team dynasty league. Even if you have never played in a league this small, this information is still usable as picks 1, 19, and 37 are still 1, 19, and 37 regardless of league size. I've attached the complete draft below so you can get a better "big picture" idea of how the draft went, and you can count the spots if you're curious about where exactly a player went to compare to a larger league's draft. This has been a fun series to write, and I hope you were able to take some things away that are useful for you in your upcoming drafts and spark some interest in dynasty leagues. Good luck this season!