Underdog Battle Royale Picks: Week 9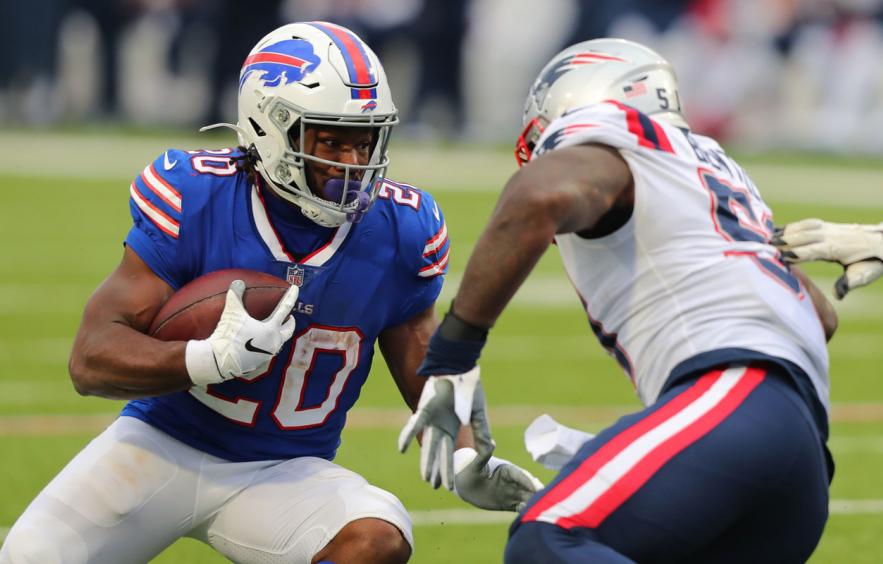 Timothy T Ludwig/Getty Images
Week 8 brought with it some weird games and unfortunate circumstances. The worst of it, of course, is that we now know that we lost Titans running back Derrick Henry for the season (or almost the full season). We also lost Jameis Winston for the season due to a torn ACL, but that could set the table for the return of Taysom Hill, who was one of the better fantasy quarterbacks in 2020 when he started four games when Drew Brees missed time with a bevy of injuries.
You also didn't need to have a big fantasy day in order to walk away with the championship in last week's Underdog Battle Royale tournament.
The winner of last week's contest needed just 135.26 points to ship the tournament last week, which is one of the lowest scores of the season to win it all.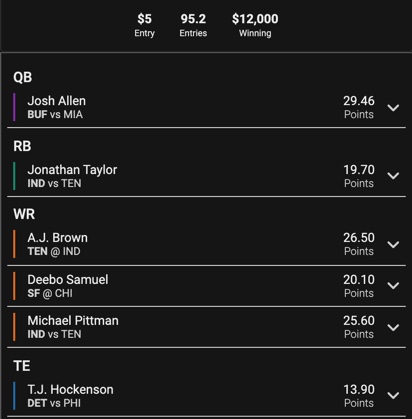 Week 9 features a slightly more difficult landscape to navigate. With the Lions, Buccaneers, Seahawks and Football team all on byes, and no Rams players on this slate due to their Sunday night matchup, we find ourselves down several elite players - particularly at receiver.
As we prepare to tackle this weekend's slate, here is a look at some players I'm targeting in drafts.
Week 9 Spread and Over/Under
Philadelphia (+1) vs. Los Angeles Chargers - O/U 50
Baltimore (-5.5) vs. Minnesota - 49.5
Dallas (-10) vs. Denver - O/U 49.5
Jacksonville (+14.5) vs. Buffalo - O/U 48.5
Kansas City (-7) vs. Green Bay - O/U 48
Cincinnati (-2.5) vs. Cleveland - O/U 47
New York Giants (+3) vs. Las Vegas - O/U 46.5
San Francisco (+2.5) vs. Arizona - O/U 46.5
Miami (-6.5) vs. Houston - O/U 45.5
New Orleans (-6) vs. Atlanta - O/U 42
Quarterback
Tyrod Taylor

, Houston

Texans

The selection of Tyrod Taylor is a pivot off of Taysom Hill, who was a pivot off of Aaron Rodgers after Rodgers was diagnosed with COVID-19, and Trevor Siemian was announced the starter over Hill against Atlanta.

In hopes of chasing creative upside at the quarterback position this week, Taylor could be in for a big week in his return vs. the Dolphins. In his only full start of the 2021 season, Taylor posted 23.6 fantasy points against the Jacksonville Jaguars, throwing for 291 yards and two touchdowns while rushing for another 40 yards. Having already seen Taylor benefit from one poor defensive matchup, who's to say he can't go two-for-two in Week 9 against Miami?

On the season, the Dolphins are allowing the third-most fantasy points to opposing quarterbacks while as a team they are surrendering 29.1 points per game and 406.9 yards per game.

Per our rankings, Tylor has the 11th easiest matchup for quarterbacks this week, as he is projected as the QB19 overall at 14.7 points. Taylor would likely need to exceed his 14.7 projected total, but that could happen in a game that features two of the worst defenses in the league. On the year, Taylor has thrown for 416 yards, three touchdowns and no interceptions in roughly six quarters of play.
Joe Burrow

, Cincinnati

Bengals

Joe Burrow gets the mention here after I had to delete Aaron Rodgers from the article due to his recent COVID-19 diagnosis that will now keep him out against the Kansas City Chiefs.

Burrow has been a solid fantasy quarterback all season, ranking as the overall QB13 in fantasy points per game with 19.6. On the year, Burrow has thrown two or more touchdown passes in every game this season, which included a line of 259/3/1 in last week's loss to the New York Jets.

The Bengals and Burrow get the Cleveland Browns this week in a divisional matchup as the Bengals look to continue their run toward an unprecedented division title.

As a team, the Browns have been one of the better quarterback-friendly teams for fantasy purposes. Over the last five weeks, they have allowed the fourth-most fantasy points per game to opposing quarterbacks, with Justin Herbert and Kyler Murray combining to throw for 627 yards and eight touchdowns against them.

Our rankings suggest that Burrow has the third-easiest matchup on the slate, and project him as the overall QB12 with 18.8 points.

Running Backs
Zack Moss

, Buffalo

Bills

It's a tough draw for running backs this weekend outside of your typical studs. One player who I think could present an interesting edge on the slate, however, could be Bills running back Zack Moss against the Jaguars.

It will take a couple of things to go right for Moss to be worth the pick, particularly in the touchdown department. On the season, Moss is averaging 11.3 fantasy points per game, and has dominated touchdowns in goal-to-go situations.

In those situations, Moss has seen 13 opportunities in goal-to-go situations compared to Devin Singletary's four. Moss has scored on four of those opportunities while Singletary has yet to find the end zone in those situations. Overall, Moss is averaging 13.83 opportunities per game and 62.5 yards per game.

Moss has turned in three top-24 performances on the season for the Bills, with his highest-scoring game coming in week three against Washington (16.6 points). Given the positive game script Moss and the Bills should see against the Jaguars, another top-24 week could be on the horizon for him in this one.

You could probably land Moss at the end of your drafts, as he is only projected for 10.8 points on Underdog. Our rankings project him as the overall RB17 with 12.8 points.
Myles Gaskin

, Miami

Dolphins

Pivoting off the top backs again for this pick, Myles Gaskin and the Dolphins draw a favorable home matchup against the Houston Texans.

Gaskin leads the Dolphins in rushing with 66 carries for 279 yards but has yet to find the end zone on the ground. He has also caught 31 of 40 targets for 165 yards and three touchdowns, averaging 9.7 fantasy points per game. Gaskin hasn't produced at the level we hoped he would when drafting him this offseason. He's fallen outside of the top-24 in scoring in all but two games this season, where he went for 26.9 and 15.7 points, respectively.

Houston is allowing the second-most rushing yards per game (148.1) and the second-most points per game (30.1).

As 6.5 point home favorites, Miami could reach a point in this game where they lean on the ground game to burn out the clock. Gaskin may even find the end zone on the ground in this one for his first rushing touchdown of the season.

If contrarian plays are your thing, Gaskin could be your guy. Our rankings project him as the RB16 on the week at 12.8 points. He has the ninth-easiest matchup amongst running backs this week.
Wide Receiver
Justin Jefferson

, Minnesota

Vikings

The Ravens have been a difficult pass defense to pick against. One week, they're getting torched by Carson Wentz and Michael Pittman, the next they're shutting down the likes of Justin Herbert, Keenan Allen and Mike Williams.

With that being said, Baltimore's defense has most certainly not been good, as they've allowed 296.1 passing yards per game and 23.4 points per game. For this reason, I like Minnesota Vikings wide receiver Justin Jefferson in a game that has the third-highest projected total on the slate (49.5).

Jefferson has been a top-24 receiver in five of his seven games this season, and is averaging 13.8 fantasy points per game (WR21). He is averaging nine targets per game to go with 6.1 receptions per game and 80.4 receiving yards per game. Minnesota has also thrown at a high rate thus far, passing on 61% of their plays in neutral game script, which ranks as the eighth highest in the league.

Our rankings project Jefferson for 14.5 fantasy points this weekend (WR9).
Marquise Brown

, Baltimore

Ravens

Ravens wide receiver Marquise Brown appears to have finally come into his own as a receiver in year three. The former first-round draft pick has posted four WR1 weeks on the season and has averaged 16.2 fantasy points per game in the process.

In the Ravens' Week 7 loss to the Bengals, Brown saw a season-high 14 targets, and finished with a receiving line of 5/80/1 and 16.5 points. On the season, Brown is averaging 8.4 targets per game, 5.3 receptions per game, and 80.9 receiving yards per game.

The Vikings have struggled against receivers this season, having allowed the 15th most fantasy points to opposing wide receivers over the last five weeks.

This week, our projections have Brown at 12.6 fantasy points (WR17), and as having the sixth-easiest matchup on the slate.
Tight End
Mike Gesicki

, Miami

Dolphins

Dolphins' tight end Mike Gesicki has turned in a nice season for the Dolphins this far. He's averaging 10.2 fantasy points per game and has been a top-12 TE in five of his seven games this season.

On the year, he has caught 40 passes for 475 yards and two touchdowns on 53 targets, as he now gets a very generous matchup against the Texans. Our rankings suggest that Gesicki has the easiest matchup on the slate for tight ends this weekend, which makes sense given that the Texans have allowed one touchdown per game to opposing tight ends over the past five weeks.

Gesicki looks like a strong pivot off of the elite group of tight ends we often target, as he continues on his way to a career year.
Tyler Conklin

, Minnesota

Vikings

Vikings' tight end Tyler Conklin has filled in admirably for injured tight end Irv Smith this season, posting a receiving line of 27 receptions for 297 yards and one touchdown. He's averaging 5.3 targets per game on the year and has two top-12 finishes to his name.

Last week against the Cowboys, Conklin saw seven targets on the year, which falls just one target below his season-high of eight targets that he saw in Week 3 against the Seahawks.

As is the case with Justin Jefferson, the Ravens have also struggled against tight ends this year. Baltimore is allowing the fifth-most fantasy points per game to opposing tight ends over the last five weeks, as our rankings suggest that Conklin has the second-easiest matchup on the slate. He is projected for 7.6 fantasy points this week and as the TE13 overall.