Underdog Battle Royale Picks: Week 2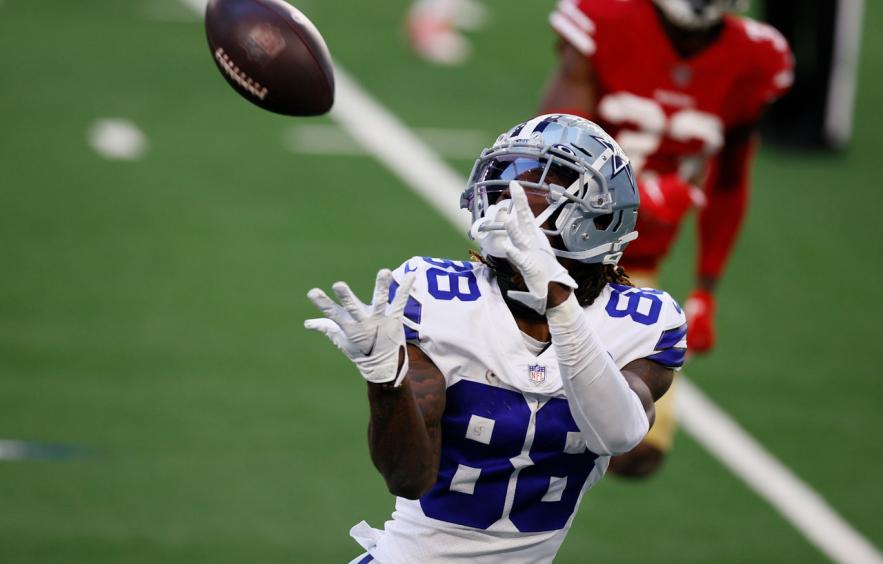 Tom Pennington/Getty Images
Week 1 of the NFL season and the Underdog Fantasy Battle Royale tournament is officially behind us. If you fired off a few shots into the Battle Royale tournament, it is my sincere hope that your rosters had a more inspirational showing than mine did.
The good news is, if you followed my advice, which I may need to do more closely going forward, then you likely did alright in Week 1.
Week 1 Recap
In last week's article, I mentioned that we should be focusing on drafting players who are playing in games with high projected totals. Those games, if you don't recall, were:
Week 1
Kansas City (-6) vs. Cleveland - O/U 54.5
Tennessee (-3) vs. Arizona - O/U 52
Indianapolis (-2.5) vs. Seattle - O/U 50
New Orleans (+2.5) vs. Green Bay - O/U 50
Buffalo (-6.5) vs. Pittsburgh - O/U 48.5
Cincinnati (+3) vs. Minnesota - O/U 48
Atlanta (-3.5) vs. Philadelphia - O/U 48
Los Angeles Rams (-7.5) vs. Chicago - O/U 47.5
Interestingly, if we look at the team that took down Week 1's Battle Royale contest, we see that a lot of players on this roster showed up in one of these eight games.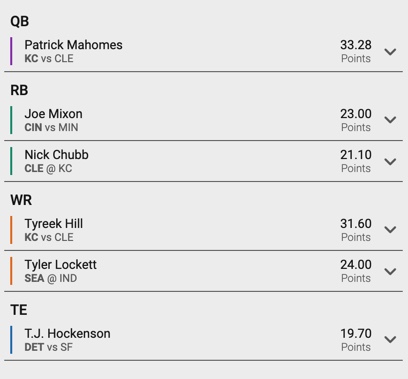 Of the six players that landed in this lineup, which tied for first with 152.68 points, five of them appeared in last week's highest projected games. And four of them were in the three highest projected games. Tight end T.J. Hockenson ended up being the only player in the winning lineup who wasn't in a game with a high projected total, with the over/under for that game coming in at 46 before kickoff.
Hockenson landing in the winning lineup is one of the least surprising things that came out of Week 1 after he spent all season being drafted as a top-5 tight end who was thought to have a chance at leading his team in targets. Hockenson finished his week with a receiving line of 8/97/1 on 10 targets. His 10 targets led all Lions receivers and tight ends.
Trusting that the process is correct in regards to what kind of games we want to be targeting players in, here are the eight highest projected games for Week 2 per the DraftKings Sportsbook.
Spread and Over/Under
Los Angeles Chargers (-3) vs. Dallas - O/U 55.5
Baltimore (+2.5) vs. Kansas City - O/U 55.5
Seattle (-6) vs. Tennessee - O/U 53.5
Tampa Bay (-12) vs. Atlanta - O/U 52
Arizona (-4.5) vs. Minnesota - O/U 51
Philadelphia (+3) vs. San Francisco - O/U 50
Miami (+3.5) vs. Buffalo - O/U 48
Cleveland (-11.5) vs. Houston - O/U 48
Pittsburgh (-5.5) vs. Las Vegas - O/U 48
Indianapolis (+4) vs. Los Angeles Rams - O/U 47
Quarterbacks
Justin Herbert

, Los Angeles Chargers

Picking the best quarterback on this slate is no easy task. The two highest projected games of the week feature some of the top quarterbacks in fantasy, and it's easy to envision a scenario in which both of these games shoot out and lead to big fantasy days for all quarterbacks.

With that being said, Justin Herbert is the quarterback I want most of this elite group.

Underdog projects Herbert for the eighth-highest point total amongst quarterbacks at 22.9 points, which means he may survive the draft a little longer than the other top-tier QBs. Last week against the Football Team, Herbert was solid. He completed 31-of-47 passes for 337 yards, one touchdown and one interception. He lost a questionable fumble as well, but all-in-all, it was a strong day for the 2020 Rookie of the Year. This week, Herbert gets a Dallas defense that allowed 379 passing yards and four passing touchdowns to Tom Brady in Week 1.

Our rankings at 4for4 have Herbert projected for 22.2 fantasy points, but as the sixth-highest scoring QB on the slate.
Matthew Stafford

, Los Angeles Rams

If you were looking to gain a little bit of leverage over the field, and even in your own six-team draft lobby, Rams quarterback Matthew Stafford could be a strong pivot.

Stafford and the Rams travel to Indianapolis to face the Colts on Sunday and looked like a much-improved offense with Stafford in and Jared Goff out.

In his Sunday night matchup against the Bears, Stafford posted 24.3 points (QB9), while completing 20-of-26 passes for 321 yards and three touchdowns. Last week, the Colts allowed 27.1 points to Russell Wilson (QB8) as Wilson threw for 254 yards and four touchdowns.

Our rankings give Stafford the eighth most difficult matchup of the week and project him for 18.2 points, but he could be worth a flier given his QB11 ranking on Underdog this week.
Running Back
Nick Chubb

, Cleveland Browns

Simply put, I want Nick Chubb this week.

Chubb was on the top Battle Royale team last week and could be there again this week. His 21.1 points ranked him as the RB3 overall as he rushed for 83 yards and two scores against Kansas City.

Assuming the Texans return to earth after their surprising Week 1 win over Jacksonville, game script could dictate a heavy workload for Chubb. We have Chubb projected for 19.6 points. Christian McCaffrey is projected as the RB1 with 20.3 points, but he draws the toughest defensive matchup of the week against the Saints.
Najee Harris

, Pittsburgh Steelers

Despite a ridiculous rushing load in which Najee Harris handled 16 running back carries for the Steelers in Week 1, Harris finished with only 45 rushing yards and 5.4 fantasy points.

In Week 2 against the Raiders, expect Harris to bounce back.

The Raiders allowed 25.7 points to Ravens running backs last week, including a 35-yard touchdown run to Ty'Son Williams. The folks at Underdog project Harris for 13.9 points in this one (RB11), while our rankings have Harris projected for 16.4 points (RB9). If Harris is being drafted closer to his Underdog projections, then according to our projections, he is a solid value.
Wide Receivers
Amari Cooper

/

CeeDee Lamb

, Dallas Cowboys

I'm probably cheating here by picking both receivers, but the reality is if I can't get one I would still like the other.

Both Cooper and Lamb were lights out in Week 1, with Cooper posting 25.9 points (WR2) and Lamb posting 16.4.

Cooper led all receivers last week with 16 targets, while Lamb was immediately behind him with 15. Drafting either of these Dallas receivers could make for some nicely correlated lineups if you're able to land Justin Herbert (or other Chargers players for that matter).

The same could also be had if you happened to draft Dak Prescott, and correlated him with Chargers position players. We have Cooper projected for 14.5 fantasy points this week (WR10) and Lamb for 13.6 (WR13).
Cooper Kupp

, Los Angeles Rams

Rams wide receiver Cooper Kupp had himself a day in the Rams debut of Matthew Stafford.

Kupp was peppered for a team-high 10 targets and turned them into a receiving line of 7/108/1 and 20.3 fantasy points (WR11). Kupp now gets a matchup with the Colts in Week two, who allowed 24 fantasy points to Tyler Lockett (WR6) and 14 points to DK Metcalf (WR28). Both receivers found the end zone last week, with Lockett scoring twice on receptions of 23 and 69-yards, respectively.

The Rams and Colts are on the lower end of our top game totals this weekend, but it's hard to fade the Rams offense after what they did to the Bears in Week 1. Underdog fantasy projects Kupp as the WR11 this week with 13.6 points. We have Kupp ranked as the WR14, but his points are near identical to Underdog's projections at 13.4.

Tight Ends
Rob Gronkowski

, Tampa Bay Buccaneers

I simply don't see how you could consciously leave a draft without one of the elite tight ends - in this case, Travis Kelce and Darren Waller.

However, assuming that you do, then the next best thing we can do is find somebody who we hope comes close to their production.

If Week 1 against the Cowboys was any indicator, Rob Gronkowski could be a good player to bank on doing this. After all, Gronk was the overall TE1 in Week 1 when he posted 25.0 points by converting all eight of his targets for 90 yards and two touchdowns.

Gronk draws another generous matchup in Week 2 against the Falcons, who are fresh off allowing 12.2 points to Dallas Goedert (TE6) of the Eagles. While I don't expect consistent 20+ point performances from Gronk, his connection with Brady looked as strong as ever last week.
George Kittle

, San Francisco 49ers

Okay, I may have forgotten to include George Kittle in that list of elite tight ends earlier. But make no mistake, is just below the tier of Kelce and Waller. Once in a while, Kittle can even trick you into believing that he's in the same tier as Kelce and Waller.

Regardless of how you view him, make no mistake that Kittle's status as an elite fantasy producer remains elite.

Last week against the Lions, Kittle turned five targets into four receptions and 78 yards - good for a whopping 19.5 yards per reception.

Kittle gets the Eagles in Week 2, a team he absolutely eviscerated in Week 4 of last season to the tune of 15/183/1 on 15 targets. He finished that week with 32.6 fantasy points and was the TE1 overall for the week.

Our projections have Kittle as the overall TE2 on the week with 14.1 points. He is the sixth-easiest matchup amongst TEs on the slate.