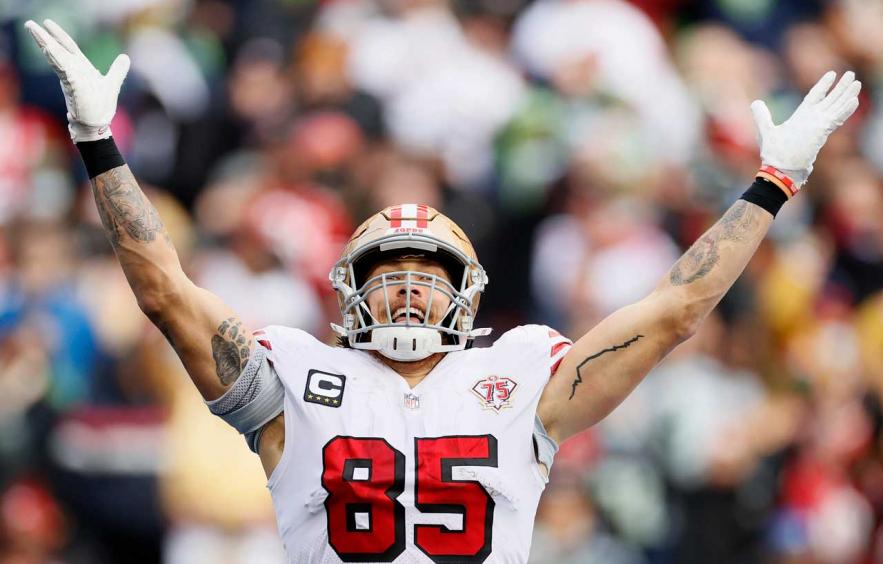 Steph Chambers/Getty Images
Each week during the NFL season I scour through the PrizePicks Over/Under projections and compare them to 4for4's projections to highlight a few value plays. If you're not familiar with PrizePicks, they offer pick'em situations involving player stats and fantasy points. To complete an entry, select two or more options for your chance to win money up to triple your entry cost. More information on rules can be found here.
Do not forget to check out the 4for4 PrizePicks tool! See what I see and make picks beyond what I list each week.
Week 13 Record: 4-3
Season Record: 56-39
Another tough week was mired by missed opportunities and injuries. Sad to see Kenyan Drake out for the season, while Kenny Golladay, Ja'Marr Chase, and Laviska Shenault struggle to get theirs.
Week 14 Picks
Brevin Jordan

Over 4.5 Fantasy Points

The rookie is getting incorporated in the Houston Texans offense, which is the best we can say for that situation. Davis Mills has been named the Texans' starter for the remainder of the season, which is neither good nor bad, considering how the Texans' offense has functioned. In his past two games, Brevin Jordan has seen seven targets on 56 snaps played, a mark that would be ideal with Mills. Jordan has played at least 42% of snaps the past two weeks, a noticeable jump from the sub-30% he was playing Weeks 8-11. I also like this because Jordan is facing a Seattle Seahawks defense that just lost Jamal Adams and is 30th in schedule-adjusted fantasy points allowed (aFPA) to tight ends.

Justin Herbert

Under 290.5 Passing Yards

Do I want to see Justin Herbert throw for all the yards every week? Absolutely, but Week 14 may be the week where he doesn't have to. Keenan Allen will miss the game and Mike Williams's status is uncertain because of COVID-19. Trusting Josh Palmer and/or Jalen Guyton when neither are focal points on offense when everyone is healthy could lead to timing and chemistry issues. The New York Giants defense is also a run funnel, meaning it is easier to run on them than pass. The Chargers have one of the best running backs in football with backups that can do the dirty work in short-yardage situations. Cornerback Adoree' Jackson would be the only Giants defender out Sunday, so the bumps and bruises for the Giants remain on offense, including at QB. If Jake Fromm is starting for the Giants, 17 points may be enough to top New York, making it easier for Herbert to stick to safer passes.
Cam Newton

Over 179.5 Passing Yards

Cam Newton's arm may be cooked, but for at least one week we can hope it isn't. The Atlanta Falcons defense has allowed all but one QB faced this season to top 179 passing yards (way to go Sam Darnold). Newton topped this prop in his first start with the Panthers this season before completely whiffing in Week 12. Losing Christian McCaffrey as a pass-catcher hurts, but it would be surprising to see Ameer Abdullah, not Chuba Hubbard, succeed as a pass-catching back this week. The Falcons allow an average of 49.17 receiving yards per game to opposing backs. The Panthers have had issues blocking in front of Newton and chunk pass plays out of the backfield will help keep defenses honest, hopefully leading to more success on passes downfield.
Leonard Fournette

Over 50.5 Rushing Yards

Even though New England's offensive scheme was purposefully run-heavy in poor weather conditions, it was a blueprint for beating the Buffalo Bills with a capable backfield. Leonard Fournette has been more than capable all season and is the clear lead back for the Buccaneers. Buffalo has not faced a lot of good/healthy running backs this season, but when they have, they have been crushed (Damien Harris, Jonathan Taylor, Derrick Henry). Buffalo allowed dusty Carlos Hyde to rush for 67 yards in Week 9.
Gerald Everett

Over 6.5 Fantasy Points

Much to the chagrin of 4for4's Jen Eakins, Gerald Everett deserves another go-round against whatever Houston has left on defense. The Texans allow the eigth-most schedule-adjusted fantasy points to opposing tight ends. Everett has surpassed 6.5 fantasy points in three of his last four games while averaging five targets per game since Seattle's Week 9 bye.
Jerry Jeudy

Under 59.5 Receiving Yards

Since returning from injury Week 8, Jerry Jeudy has hit 60 yards receiving twice in five games—once in a negative game script, and once in a blowout win. Teddy Bridgewater has been every bit of mediocre as he could possibly be, and it has hurt the receiving game. Melvin Gordon is also expected back for Week 14's game against the Detroit Lions. Detroit has only allowed more receivers (six) to reach 100 yards in a game than running backs (five). One other stat to note with teammate Courtland Sutton capable of out-producing Jeudy: the Lions have allowed two wideouts to top 60 yards receiving as the team's second-leading wideout.
George Kittle

Over 56.5 Receiving Yards

I expect San Francisco and Cincinnati to put up points, which means a steady diet of targets for George Kittle. He reached season-highs in targets, catches and yards in Week 13. While he may not flirt with 200 receiving yards this week (181 last week), I believe the venerable John Paulsen projected Kittle a little conservatively. The Bengals allow an average of 11.03 yards per catch to opposing tight ends and were torched by Darren Waller (7-116), a strong comp to what Kittle does as a tight end.