DeVonta Smith: Philly's WR1 but is it Enough for Fantasy?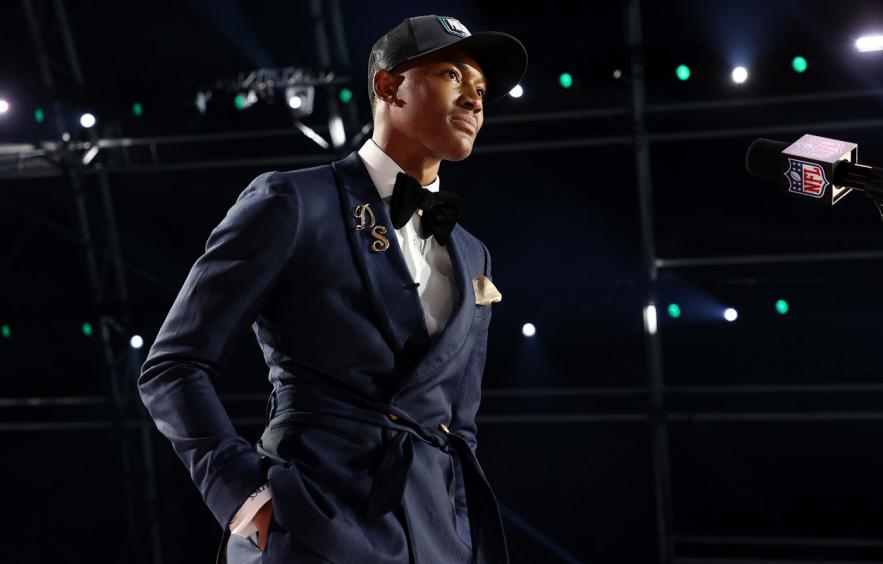 Gregory Shamus/Getty Images
DeVonta Smith's new home is arguably the best one among the top rookie wideouts in this year's class. The former Alabama star joins the Eagles as the first receiver to win the Heisman trophy since Desmond Howard in 1991 and was also the recipient of the Biletnikoff Award for the nation's top WR in 2020.
---
Editor's Note: Read more player profiles from the rest of the 4for4 staff!
---
Smith is reunited with former Crimson Tide QB Jalen Hurts in Philadelphia and joins a receiving corps mourning the loss of established talent. Below is a breakdown of what we can expect from the 22-year old rookie this season fantasy-wise, and when to target Smith in various formats.
Let's Get Smith's Size Concerns Out of the Way
It's so secret that at 6-foot-1, 172 pounds, Smith's frame is not the NFL norm. It would be one thing if he was short and fast with a bit more meat like Tyreek Hill (5-foot-10, 185), Steve Smith (5-foot-9, 185) or T.Y. Hilton (5-foot-10, 183), who have all thrived in the league.
However, Smith's longer and leaner body isn't something we see a lot of in an NFL wideout. There are players in similar size categories who have found success in the league such as Marvin Harrison and Issac Bruce who are both 6 feet tall with about 10 more pounds than Smith. Like fashion and everything else that's coming back into style, maybe Smith can usher in a revival of the '90s receiver - a true, technical route runner without added bulk.
It can also be argued that we didn't see too many QBs of shorter stature a decade ago and now there are a dozen projected starting QBs measuring 6-foot-2 or smaller, so things can change in the NFL and pure talent does shine through.
DeVonta Smith

's Highway to Volume

The Eagles' offense as a whole was not very effective in 2020, but their passing offense was especially brutal. Take a look at their rankings in various passing categories from last season according to Pro Football Reference.
Eagles

Passing Offense, 2020

| Category | Output | Rank |
| --- | --- | --- |
| Passes Completed | 334 | 25th |
| Pass Attempts | 598 | 10th |
| Passing Yards | 3,327 | 28th |
| Completion Percentage | 55.90% | 32nd |
| Yards Per Attempt | 6.20% | 32nd |
| Yards Gained Per Game Played | 207.9 | 28th |
| Passing Touchdowns | 22 | 24th |
One thing that sticks out besides the fact that the Eagles as a unit were in the bottom quarter of the league in most passing categories, is that they were 10th in attempts but 25th in passes completed. The blame can be distributed between Carson Wentz during his 11.5 games, Jalen Hurts for his contributions, and his receiving corps, who as shown below, were amongst the lowest scoring fantasy receivers in the NFL.
Some good news is the Eagles have a totally different look this season, with Carson Wentz out and former Indianapolis offensive coordinator Nick Sirianni in as head coach and the offense's play-caller.
Philadelphia's WR room is also now without Alshon Jeffery and DeSean Jackson, with Smith joining last year's rookie Jalen Reagor and a slew of other middling receivers. After looking at those passing offense rankings above, it should come as no surprise that not one Eagles' receiver cracked starting fantasy numbers, with DeSean Jackson's 7.6 half-PPR points per game their highest production as a fantasy WR5, and that was only for five contests.
Looking at workload from 2020, the departures of Jeffery and Jackson free up around 7.2 targets per contest, and then of course there's the question of whether Zach Ertz will be in Philly for the 2021 season at all. Ertz's potential departure frees up 72 targets and an offense-leading 18.2% target share.
Smith possesses the on-field skills of a productive NFL receiver and will most likely step into a role as the predominant WR option in this offense. All that may not be enough to make him a solid fantasy option, however.

Will
DeVonta Smith

's Upside Suffice?

Potential WR1 on an offense, check. Talent, check. Efficient, high-scoring offense? Not so much. The Eagles pass rate fell from 64% with Wentz at the helm to 56% in Hurts' four starts. The 2021 version of this unit still projects as a run-first offense with a rushing QB under center, which does not bode well for Smith to break out in his first season in the league.

We can't forget that the target leader from last season, Greg Ward, saw 79 balls in 2020, which put him as WR55 in total targets and WR73 in targets per game. There is certainly upside for the rookie in this offense that we're still not sure how will play out, and Smith's current Underdog ADP of 77.1 is affordable, but I wouldn't bank on him being a consistent provider of fantasy points in 2021.

Smith projects as a WR3 which is where he's being drafted right now as WR34. In best ball formats it makes sense since you're banking on a few big games from the former Alabama duo of Hurts and Smith, but if the rookie's ADP climbs any higher as the summer presses on, he's a pass for me. His teammate Reagor is being selected four rounds later at 130.9, which provides a more easily digestible part of the Philly offense.

In redraft leagues, it may be tough to count on Smith as one of your weekly starters, but he's being drafted right now as WR31 at 80.78 in MyFantasyLeague seasonal formats. He comes with upside, but I'd temper expectations of him producing as anything more than a borderline WR3.
Bottom Line
DeVonta Smith steps into arguably the best situation for a rookie WR in 2021 in terms of potential as the team's target leader.
Size may matter, or it may not, but Smith's talent and route-running ability at all receiver positions are something that could put him on the fantasy radar in 2020.
His floor could be limited, however, as part of a run-first offense where the top ball getter last year was WR55 in total targets.
Projected as a WR3, DeVonta Smith's ADP (Underdog 77.1) is where it should be currently, but guys drafted around him like Tyler Boyd or Curtis Samuel may be a safer choice in redraft leagues. If Smith climbs any higher, he prices out for me.