Chris Carson is a Forgotten Fantasy Football Gem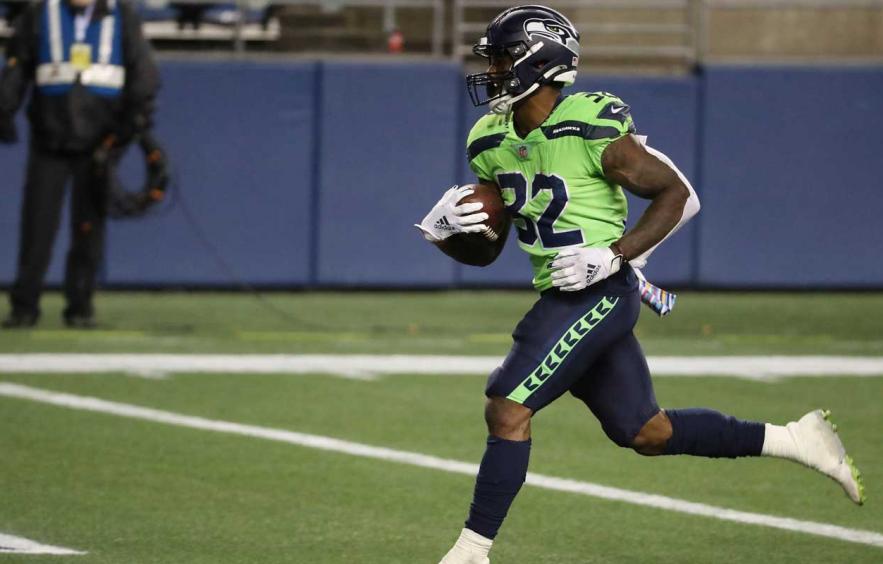 Abbie Parr/Getty Images
Another season has finished with Chris Carson unable to play in all 16 games. When he's healthy and on the field, he regularly produces for fantasy managers, but after three seasons of succumbing to different injuries, fantasy managers have dubbed him as injury-prone. Partly due to his yearly health concerns, his ADP has dropped and this year he's being drafted as the No. 19 running back. However, at such a price fantasy managers should be enamored with his potential.
There are only two running backs who have finished in the top-13 in points per game (PPG) in half-PPR scoring while playing in at least eight games the last three seasons. One of them is Alvin Kamara. The other is Carson.
---
Editor's Note: Read more player profiles from the 4for4 staff!
---
Chris Carson

Delivers the Goods

While the injury concerns are legit to some extent, fantasy managers simply cannot ignore the kind of fantasy production Carson provides. He was the RB15 (t-13th in PPG) in 2018, RB11 (RB13 in PPG) in 2019 and RB17 (RB12 in PPG) in 2020.

Over the last three seasons, the former seventh-rounder has finished as an RB1 15 times out of 41 total games. Aaron Jones has finished as an RB1 in 16 games out of 42. Both running backs have 15 RB2 finishes and 11 finishes where they were an RB3 or worse. Despite such similar production (and games played), Jones is being drafted as the No. 10 running back, while Carson is all the way down at No. 19.
Running backs with the most fantasy points per attempt in 2020 (Min. 100 att):



Alvin Kamara 2.02

D'Andre Swift 1.66

Austin Ekeler 1.42

Chris Carson 1.33

Aaron Jones 1.28

Giovani Bernard 1.28

Mike Davis 1.25

JK Dobbins 1.23

David Johnson 1.22

Tony Pollard 1.2#FantasyFootball pic.twitter.com/c8277a09Kz

— FantasyData (@FantasyDataNFL) April 20, 2021
Since the 2018 season, Carson is fifth in total rushing yards in the NFL. He leads players like Joe Mixon, Aaron Jones, Christian McCaffrey, Alvin Kamara and Saquon Barkley. He is not generally thought of as one of the best pure runners in the league, but the statistics tell us a different story.
Debunking "the" Myth
Evaluating Carson cannot fully be done without addressing the elephant in the room, which is his injury history. While it is true that Carson has never completed a 16-game season in full, he has not played significantly fewer games than any other running back since the 2018 campaign, his first season as the primary starter.
In the past three seasons, Carson has played in 41 total games. That is the same number as Derrick Henry and it's more than Dalvin Cook, Joe Mixon, Christian McCaffrey and Saquon Barkley.
Despite Carson's games played being similar to his 2018 draftees, he is the one that is annually tagged with injury concerns. Fantasy managers will need to weigh the risks of the injuries Carson has suffered, most notably his broken leg in 2017 and fractured hip in 2019 against his consistent on-field production. However, his depressed ADP does present fantasy managers the opportunity to recoup substantial value.
Follow the Volume
If you've been playing fantasy football for any length of time, you have heard the phrase, "volume is king". When it comes to fantasy football there is arguably nothing more important than volume. Over the last three seasons, Carson has averaged 18.53 touches per game. Over a 16-game season, this would equate to 296 overall touches. There are only so many running backs in the NFL who are destined to have such a heavy workload. He has been the undisputed No. 1 running back in Seattle and nothing about the current situation figures to change that.
Chris Carson averages in games with a 50+% snap rate over the last 3 seasons:



18.9 carries

86.1 rushing yards

.62 rushing TDs

3.2 targets

2.6 catches

18.6 receiving yards

.14 TDs

— Jared Smola (@SmolaDS) June 9, 2021
The No. 2 running back on the depth chart entering the 2021 season is Rashaad Penny, the same guy Carson has been outplaying for the past three years. Penny had offseason surgery on the same knee he tore his ACL during the 2019 season, which should only help to cement Carson's role and place in this backfield.
Penny played in only three games last year, running for 34 yards on just 11 carries. The former first-rounder will have effectively gone almost two years since he last played football on a regular basis. Since being drafted in 2018, he has never played more than 17% of the offensive snaps in any given year. This is just another indicator of the kind of hold Carson has on this backfield.
The man behind Penny is second-year pro, DeeJay Dallas. He struggled as a rookie, running for only 3.3 yards per carry. Neither Penny nor Dallas figures to mount much of a challenge to Carson.
Evolving Pass-Catching Role
The biggest on-field knock of Carson is his lack of involvement in the passing game. This has been the one thing that has generally held him back. Much to the delight of fantasy managers targeting Carson in 2021, we've seen him improve his receiving skills every year since 2018.
When he was first handed the starting job in 2018 he received only 1.7 targets per game equaling a 5.3% target share. He had only 20 catches and 163 yards. In 2019 however, we saw those numbers increase to 3.1 targets per game, a 6.3% target share, 266 yards and 2 touchdowns. Carson set career highs in every receiving category in 2020 despite playing only 12 games. He had 3.8 targets per game, which amounted to an 11.4% target share. He racked up 287 receiving yards and scored four times.
His receiving role in 2021 could be even bigger. The Seahawks lost David Moore and Jacob Hollister to free agency, while Greg Olsen retired. These three players received 124 targets last year. The Seahawks did bring in Gerald Everett at tight end and drafted a third-round wide receiver, but Russell Wilson has the most history and connection with Carson out of the three. Fantasy managers should not be surprised if Carson is even more involved in the passing game this season than he was in 2020.
Seattle's Offensive Philosophy
As much as fantasy managers may want Pete Carroll to let Wilson cook, this just is not how Carroll wants his offense to operate. Throughout the offseason, fantasy managers have heard about how the Seahawks want to run the ball more and be more efficient.
Pete Carroll said the primary focus going into 2021 will be to run the football more often and more effectively. (via @710ESPNSeattle)

— Joe Fann (@Joe_Fann) January 11, 2021
In 2018, the Seahawks had 534 rush attempts, which was second to only the Baltimore Ravens with 547. Seattle had 481 carries in 2019, which was the fourth-most in the NFL. Things changed in 2020 as their defense struggled and the offense was forced to air the ball out more than they would have liked to stay in games.
However, as long as the defense is able to play marginally better than it did in 2020, fantasy managers should expect to see a renewed approach in Seattle as it refocuses on their running game. This will pay dividends to any fantasy managers willing to invest in Carson.

The Bottom Line
Chris Carson been a top-13 running back in terms of PPG the past three seasons and he is currently being drafted as the RB19.
While the injury past is a concern, he has never missed more than four games in any of the last three campaigns.
Carson is staring at a Seattle backfield with the least amount of competition in any season where he has been the starter. Fantasy managers should be expecting 300-touch upside.
Seattle's offense is loaded with talent and should provide ample scoring opportunities. Carson can easily produce 10 or more touchdowns this season.
Carson's receiving work has improved every season since 2018.