Bestball10s Win Rates: Quarterbacks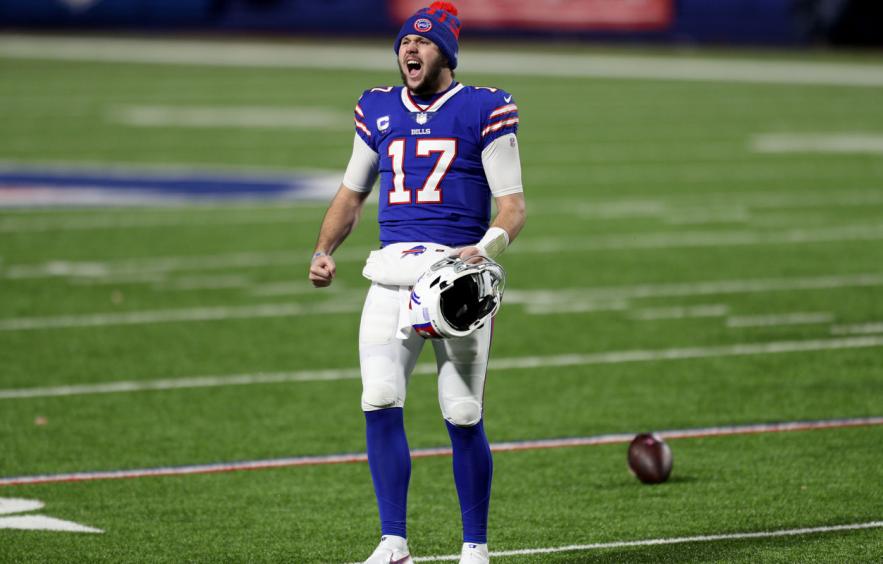 Bryan Bennett/Getty Images)
Best ball lobbies are up and running on most sites, and fantasy football lovers can scratch that itch even before rosters are even remotely solidified around the NFL.
Taking a look at last year's win rates by position can give us a glimpse of what worked, what didn't and what could have been. This piece will delve into quarterbacks on Bestball10s from 2020, exploring who the big winners were and if their performances are repeatable heading into the 2021 NFL season, along with those players who found late-round success and the possible reasons why.
I reviewed roster construction specific to Bestball10s earlier, noting the risk associated with drafting early-round QBs, as well as the advantages to getting an elite dual-threat signal-caller. With that in mind, let's take a look back at 2020 with an eye on what's to come this season.
Highest QB Win Rates
Mid-round selections (Rounds 7–14) proved the most fruitful in 2020, as Josh Allen led the pack with a 16.7% win rate in Bestball10s, followed by nine of the next 11 winningest QBs from that same section of the draft. Only Patrick Mahomes, whose 9.7% win rate ranked ninth as a third-rounder, and Teddy Bridgewater, a 15th-rounder with an 8.4% win rate, fell outside the middle rounds of the draft.
After Lamar Jackson's cheat-code season in 2019, drafters chased that high once again last year, focusing on rushing quarterbacks in the front half of the draft. Jackson did lead the league in rushing yards again with his second 1,000+ season, but struggled elsewhere and did not show up among the highest win rates for QBs in 2020.
The advantage of a QB being able to add production on the ground is something undeniable for fantasy purposes. Of the 12 QBs with the most rushing yards in 2020, half of them showed up on Bestball10s teams with the highest win rates, and Ryan Tannehill came in at 13 which was pretty darn close.
Of the remaining five passers with the highest win rates, getting production through the air with multiple pass catchers, along with elevated touchdown numbers was the key to success in 2020. Aaron Rodgers, Tom Brady, Kirk Cousins and Ben Roethlisberger respectively ended the season as QB1, QB2, QB6 and QB7 in total touchdown passes last season.
A bevy of archetypes are used when assessing the QB position, but ADP and opportunity cost is an important variable that can't be swept under the rug. Here's a look at each phase of best ball drafts from 2020 and the QBs drafted in a bit more detail.
Early Rounds
Highest QB Win Rates, Rounds 1-6

| Rank | Player | Win Rate % | ADP |
| --- | --- | --- | --- |
| 9 | Patrick Mahomes | 9.70% | 3.09 |
In the early rounds, stocking up on core players is imperative, as you must start three WRs and two RBs weekly in Bestball10s format. Missing out on the top producers in these categories in favor of a signal-caller could be a detriment to your roster in the long run, as you'll be chasing points from those core positions all season.
Patrick Mahomes is the lone QB on the 12-highest win rate percentage list, and even then, he came in ninth on just 9.7% of winning Bestball10s teams. The Chiefs' signal-caller was QB4 in total fantasy points with 373.8 and was outperformed by three QBs taken several rounds later last season.
If you're going to draft a QB this early, be sure they offer you that dual-threat ability and the surrounding weapons to justify missing out on a top-level producer at a core position.
Favorite Early-Round QBs for 2021: Josh Allen (ADP 52.9), Kyler Murray (ADP 61.9)
Middle Rounds
This is where the bulk of Bestball10s top QB performers were drafted in 2020, with 10 of the 12 QBs with the highest win rates boasting an ADP from Rounds 7–14. This is also when the big QB frenzy happens in drafts, with managers starting runs on the position, plus those at the turn tend to double up on signal-callers as insurance.
As I mentioned above, five of the 10 from this group are rushing QBs, and six feature at least one WR in the Top 12 in PPR points. Both Russell Wilson and Kirk Cousins managed to get two wideouts each among the 12 at the position with the most PPR points last season.
When looking for fantasy production out of quarterbacks, pass rate is a great indicator, specifically neutral pass rate, because the higher that number, the greater likelihood of that team to continue to pass in the red zone. It's no surprise to see the five QBs with the highest neutral passing rate were among those on winning teams last season. Ben Roethlisberger led all QBs with a neutral pass rate of 65%, followed by Deshaun Watson (63%), Tom Brady (62%), Josh Allen (62%) and Matt Ryan (61%). Patrick Mahomes' 60% was sixth, and Russell Wilson, also from this ADP tier boasted the eighth-highest neutral pass rate at 59%.
Finding fantasy gold at QB in these middle rounds can allow drafters to invest in their core players early and provide a prosperous path to the winner's circle in best-ball formats.
Favorite Mid-Round QBs for 2021: Deshaun Watson (ADP 73.8), Russell Wilson (ADP 80.0), Matthew Stafford (ADP 99.2), Ryan Tannehill (ADP 104.0)
Late Rounds
Highest QB Win Rates, Rounds 15-20

| Rank | Player | Win Rate % | ADP |
| --- | --- | --- | --- |
| 11 | Teddy Bridgewater | 8.3% | 15.06 |
This is your dart throw, handcuff and defensive section of the draft. In 2020, only five of the top-12 winning builds featured a third QB, with single-digit percentages of winning teams taking a QB in Rounds 17-20.
At this point in the draft, any QB you're looking at should have fantasy QB1 potential either as a bye week fill-in or in combination with another mid-level signal-caller. Teddy Bridgewater was the lone QB amongst the top in win rate from last season and after looking at his numbers, it comes back to that coveted rushing ability once again. The Panther QB only cracked the Top 12 five times in fantasy points last season, but ended 2020 with the 11th most rushing yards at his position.
Settling for a player who's usually a QB2 here just to have an NFL starter isn't super helpful in these final rounds—you need to either swing for the fences on a hopeful QB1 that skyrockets in value, or make all your QB selections a few rounds earlier. Grabbing a guy who can run if he's there this late is also advisable.
Favorite Late-round QBs for 2021: Cam Newton (ADP 237.3), Teddy Bridgewater (ADP 238.2)
Bottom Line
Rushing production from QBs is highly advantageous for fantasy purposes. We saw seven of the QBs out of the 13 with the most rushing yards in 2021 finish among the 12 with the highest win rate in Bestball10s.
Mid-round QB selections were the most profitable in 2020, with 10 of the 12 QBs with the highest win rates boasting an ADP from Rounds 7-14. Most teams should fill out their QB roster in these rounds.
Looking at neutral pass rate can also be useful in determining best ball QBs, as the five signal-callers with the highest neutral pass rate percentages in 2020, also appeared among those QBs with the highest win rates.
With the majority of winning builds from 2020 featuring only two signal callers and only one QB on the top win-rate list coming from the later rounds, taking a low-level starting QB in Rounds 15-20 may not be optimal. The outlier here is an upside player with QB1 potential who has fallen, or perhaps a backup with a decent chance at starting potential somewhere in-season.