2021 NFL Win Totals Bet: Lions Under 5 Wins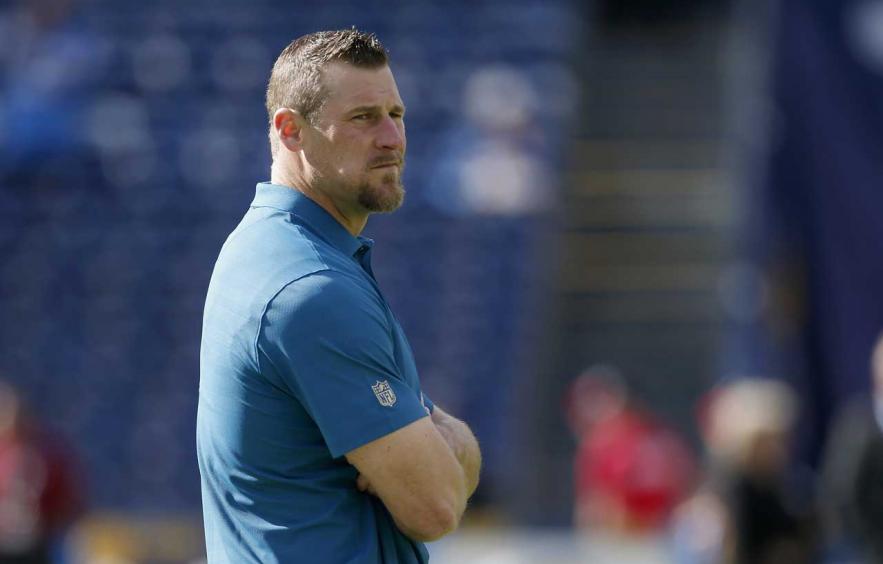 Todd Warshaw/Getty Images
The 2021 NFL season is five months away, but the NFL Draft is right around the corner—and sportsbooks have started to drop season-long win totals. That means there's an edge to be had and easy money to be made. I understand the hesitance behind tying your money up for nine months, the wait is worth it when there's a significant edge. Last season, for example, I wrote up the Giants' win total under 6.5 wins in late March. They ended up exceeding my expectations but still fell under their win total of 6.5, thus cashing our bet.
I'll be pumping out more betting recommendations the entire offseason as a part of our new all-inclusive betting package, which gives you access to NBA bets, NFL Draft bets, as well as all of our in-season NFL content and tools. Alright, onto a win total bet that's one of my favorites of the offseason so far...
---
View All Betting Content & Picks →
---
Lions

Under 5 Wins (-115 at PointsBet)
Offseason Moves
I'm not fully convinced new Lions GM Brad Holmes doesn't have a guarantee from the owners that he'll be able to survive for his entire five-year contract, no matter the results of his first few years at the helm. This team is so perfectly set up to tank this season it's unbelievable. Let's rehash their offseason moves. They cleaned house in the coaching staff department, appointing former Saints tight end coach Dan Campbell as their new head coach. Campbell is a "leader of men" type of coach who has already made quite an impact with the media. This was his response when someone asked him what type of team he is going to coach:
This team is going to be built on, uh, we're going to kick you in the teeth. All right? And when you punch us back, we're going to smile at you. And when you knock us down, we're going to get up. And on the way up, we're going to bite a kneecap off. All right?
There's a lot to unpack there but regardless of his comments, he has minimal coaching experience as a coordinator or head coach. He did have a stint as the Miami Dolphins' interim head coach in 2015, going 5-7. This wouldn't be a negative if it weren't for the fact that now-known laughing stock Adam Gase took a very similar team to the playoffs the following season on the back of a 10-6 record.
In addition to Campbell, the Lions hired former Chargers head coach Anthony Lynn as their new offensive coordinator. Where to start with Lynn? Whoever made the final decision to hire him probably looked at Justin Herbert's rookie success and his total stats on paper, ignoring the consistent blunders of clock management and other decisions during his tenure. Here's a fun example of Lynn's incompetence:
I've never seen a team worse when it comes to clock management than this Chargers team under Anthony Lynn. This is inexcusable and happens every week. pic.twitter.com/P8B1060dvc

— Arash Markazi (@ArashMarkazi) December 13, 2020
Lynn has just one year of official play-calling experience—with the Bills in 2016. He was extremely run-heavy that season, ranking second in rushing attempts, first in rushing yards and dead last in pass attempts. With the addition of former Packers running back Jamaal Williams, I expect a heavy dose of both him and D'Andre Swift this season.
The Lions' new defensive coordinator is former Saints DB coach Aaron Glenn. This is his first gig as a defensive coordinator after spending time as a position coach with the Saints and Browns. He could be a solid hire but is largely an unknown.
Overall, I wouldn't say the coaching staff is a downgrade from their previous regime but it certainly is an odd blend of talents.
Their roster is a much, much bigger concern, however. They traded away underrated quarterback Matthew Stafford for former Rams signal-caller Jared Goff and two first-round picks. (Brandon Niles broke down the fantasy impact of the Stafford-Goff trade.) The move makes sense in the long term but Goff's play is dangerous to the team's success in the short term. He has largely been masked by play-calling wunderkind Sean McVay, and Goff was much more successful when utilizing play-action than without. McVay called play action at the highest rate in the league over the past three years, whereas, Anthony Lynn's Chargers called play action at the 24th-highest rate. Goff's splits with and without play-action are pretty insightful:
Jared Goff

's 2020 Splits (with and without Play Action)

| Metric | Play Action | Regular | Difference |
| --- | --- | --- | --- |
| Completion Rate | 68.40% | 66.30% | 2.10% |
| Yards Per Attempt | 7.8 | 6.8 | 1.00 |
| EPA | 6 | -3.3 | 9.30 |
Beyond a downgrade in quarterback play, the Lions also lost their top two weapons in receivers Kenny Golladay and Marvin Jones. Those two were replaced with a combination of Tyrell Williams, Breshad Perriman and Kalif Raymond. That's like trading a legendary LeBron James Top Shot moment for a Fred Van Vleet common. No disrespect to the Van Vleet truthers, but it's a pretty embarrassing downgrade. Prior to the draft, the Lions might have the worst receiving corps in the NFL. Their offensive line has potential but they ranked just 21st in adjusted sack rate and 14th in pressure rate allowed. That's not terrible but certainly not enough to overcome their other deficiencies. It's tough for me to imagine a scenario where Jared Goff is successful when paired with questionable coaching, league-worst weaponry, and a middling offensive line.
Their defense ranked 32nd in passing EPA and 30th in running EPA last season. They haven't really made any additions outside of 31-year-old defensive end Michael Brockers. Will former first-round cornerback Jeff Okudah improve? Probably. Will that be enough to turn around their basement-dwelling defense? Probably not. They have massive holes all over their roster and an unproven coaching staff.
The Lions hold the No. 7 overall pick in the 2021 NFL Draft, and are in a good position to add a stud offensive player like tight end Kyle Pitts, wide receiver Ja'Marr Chase, or potentially the top offensive tackle in Penei Sewell.
---
Editor's Note: See who our NFL Mock Draft expert Anthony Staggs has the Lions drafting at seven overall.
---
It hasn't been talked about much in the national media but if Mac Jones, Trey Lance or Justin Fields are still around when they're on the clock, the Lions could very easily address the quarterback position. However, it makes a lot more sense for the Lions to try and add talent at other positions before looking for their quarterback of the future. No matter who they draft, it won't be enough to move the needle too much. When looking at their schedule, things only get worse from there.
Schedule
I'm not sure if the Lions will be favored in a single game next season. They have the lowest win total among all the teams they play and are projected to be by far the worst team in the NFC North. They have 28/1 odds to win the division, while the Bears are +550, the Vikings +400 and the Packers are favored to win it at -250. With 17 games next season, they play nine away games and eight at home. Their nine road opponents are the Falcons, Bears, Browns Packers, Rams, Vikings, Steelers, Seahawks and Broncos. Their eight home games are against the Bears, Packers, Vikings, Cardinals, 49ers, Ravens, Bengals and Eagles. There are maybe a handful of winnable games, but in order for them to go over their win total, they need to win almost all of them. The worst teams they play in terms of sportsbooks win totals are the Bengals (6.5), Eagles (6.5), Falcons (7), Bears twice (7) and the Broncos (7.5). They draw the Eagles, Bengals and Bears at home, while the other three games are on the road. Home games against the Eagles and Bengals are hypothetically the Lions' best shot at winning, but both teams are popular candidates to take a step forward with young, promising quarterbacks at the helm.
Bottom Line
Winning six games would be at the absolute top end of Detroit's range of outcomes for next season, and they would likely need a massive amount of positive variance to get there. I think more often than not, the Lions win 3-4 games and wind up with a top-three draft pick next season.
Risk: 1.15 units on Lions Under 5 Total Wins on PointsBet to win 1 unit.
Note: All advice in this article is based on odds available on the date of publishing.
---
This article is intended for entertainment purposes and adult users only. Call 1-800-GAMBLER if you have a gambling problem.