One Season-Long NFL Win Total to Bet Now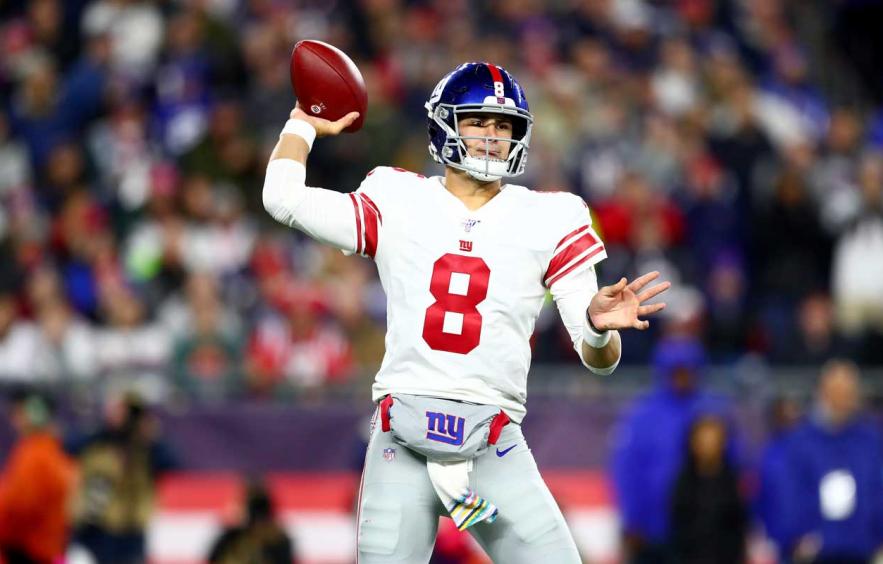 Adam Glanzman/Getty Images
For those who missed the announcement, I'm stoked to join the team here at 4for4! I'll be writing up a number of bets during the offseason ranging from win totals, MVP bets, season-long player props and more. Once the season kicks off I'll be writing my weekly player prop betting article as well as producing a weekly betting podcast (Move the Line) with Ryan Noonan (@RyNoonan) where we break down the week's games from a betting standpoint along with some of the best guests around the industry.
Once reputable sources start loosening their lips on different targets for each team, I'll have a few bets for the NFL Draft. For now, you'll have to settle with a season-long win total bet I really like. With free agency behind us, we can start to get a good feel for the team's rosters and what we can expect from them in 2020.
---
---
New York
Giants

; Under 6.5 Wins (-121 @ Pointsbet)

Looking at the market for win totals, Fanduel and Draftkings both opened up the Giants at 6.5 wins prior to moving them down to 6. Pointsbet is a little behind and is still floating a 6.5, albeit with a little juice. I'll be writing up a few betting primers prior to the season but it's worth noting that shopping for the best line is really important and can make the difference in trying to grind out a positive long-term expectation as a sports bettor.

One of the reasons I like this bet so much is that sportsbooks are already offering lookahead spreads for a number of teams and the Giants are one of them. Right now they are favored in just 2-of-16 games, at home against an ascending Arizona team (-1.5) and at home against the Washington Redskins (-3.5). It wouldn't surprise me if they close as an underdog or as a pick against the Cardinals by the time their game against the Cardinals rolls around. Five of their 16 games have a spread that falls within three points either way and just 11 of their games are at a spread of less than a touchdown (9-of-11 they are underdogs in). Diving deeper, I went ahead and translated each spread to an implied win percentage and then calculated how many games they would win if they played each game 1000 times. Using this method and look ahead lines, their expected win total is 5.992.
Giants

Expected 2020 Wins Wins Using Lookahead Lines

| Opponent | Spread | Moneyline | Implied Win Probability | Wins Over 1,000 Games Played |
| --- | --- | --- | --- | --- |
| At Dallas | 8.5 | 351 | 22.17% | 221.7 |
| At Philadelphia | 7.5 | 312 | 24.27% | 242.7 |
| At Washington | 1.5 | 100 | 50.00% | 500.0 |
| At Baltimore | 11.5 | 605 | 14.18% | 141.8 |
| At Chicago | 4.5 | 185 | 35.09% | 350.9 |
| At Cincinnati | 1.5 | 100 | 50.00% | 500.0 |
| At LA Rams | 7.0 | 268 | 27.17% | 271.7 |
| At Seattle | 7.5 | 312 | 24.27% | 242.7 |
| Cleveland | 2.5 | 109 | 47.85% | 478.5 |
| Dallas | 4.5 | 185 | 35.09% | 350.9 |
| Philadelphia | 4.0 | 173 | 36.63% | 366.3 |
| Pittsburgh | 3.0 | 133 | 42.92% | 429.2 |
| San Francisco | 6.5 | 234 | 29.94% | 299.4 |
| Tampa Bay | 3.5 | 163 | 38.02% | 380.2 |
| Arizona | -1.5 | -122 | 54.95% | 549.5 |
| Washington | -3.5 | -200 | 66.67% | 666.7 |
| | | | Total games won | 5992.2 |
| | | | Possible games | 16000 |
| | | | Win % | 37% |
| | | | Expected Wins | 5.992 |
Even if you don't like my methodology from breaking down the expected value, they have to play Dallas and Philly two times, at Baltimore, at LA Rams, at Seattle, and they draw the 49ers, Bucs, and Steelers at home. Those are 10 extremely tough games no matter how you look at it. Given the information we have from oddsmakers themselves, a win total of 6.5 is off. I understand a few of the lookahead lines will move as injuries occur and the draft falls into place but as a starting point, six wins makes a lot more sense. That's what it will likely close around at every book.
Focusing closer on the team, the Giants offense will rely on second-year quarterback Daniel Jones. In games that Jones started last season, the Giants ranked 28th in passing success rate and 20th in rushing success rate, adding up to 27th in overall offensive success rate. To make matters worse, the Giants lackluster passing offense came against the seventh-easiest schedule of opposing pass defenses. Beyond their lack of offensive efficiency, one of the biggest issues was Jones's turnovers. He either fumbled or threw an interception in 12-of-13 games last season, racking up 23 total turnovers. Turnover margin is one of the single most important factors in winning a football game and while it's sometimes random, certain players are more prone than others. The only bright side for Jones is that the Giants will have WR Darius Slayton returning along with Sterling Shepherd, Golden Tate, and TE Evan Engram. The weapons are there but the offensive line only added OT Cameron Fleming.
Star RB Saquon Barkley was banged up last season and with him healthy I expect their rushing attack to improve. There is no denying he's an electric playmaker but the issue is that passing success is much more correlated with winning than rushing success and it takes a truly monstrous season from a running back in order to make a sizeable difference. I'm not saying running backs don't matter, but it's very difficult for them to and there is a lot of great research supporting this point.
The defense added a few notable pieces in LB Blake Martinez and CB James Bradberry but I'm not sure how much either piece moves the needle from the 28th ranked passing defense in terms of passing success rate allowed and 29th in explosive pass rate allowed.
The team also made changes to their entire coaching staff and wound up with a ragtag group of uninspiring play-callers. Former Patriots special teams coordinator Joe Judge was hired to be the new head coach while former Cowboys HC Jason Garrett was brought in as the offensive coordinator. They also added former Dolphins defensive coordinator Patrick Graham in the same role. Yes, the same coordinator who just led the Dolphins defense to a last-place finish in passing touchdowns allowed (39) and net yards per pass attempt while ranking 31st in passing success rate allowed and 26th in rushing success rate allowed. Garrett has plenty of experience as a coach but hasn't called plays since 2012. Judge has zero head coaching experience and has never even been a defensive or offensive coordinator. I'm not entirely sure what the thought process behind hiring this collective group of people but I can't say I'm a fan.
The Bottom Line
With betting the under on long-term bets like this there are a lot of different outs. For example, if Jones suffers an injury midway through the season, there's no shot the Giants would win seven games which provides an "out" for those who bet the under even if it wasn't exactly how we planned. Between the offseason coaching changes, difficult schedule and below-average roster talent, the Giants season has an extremely low floor with a capped ceiling due to their brutal schedule. It would be a truly impressive feat for this team to win seven or more games in 2020 and I'm projecting them to wind up with five.
Note: All advice in this article is based on odds available on the date of publishing.