A Look Back at Offensive Lines in 2019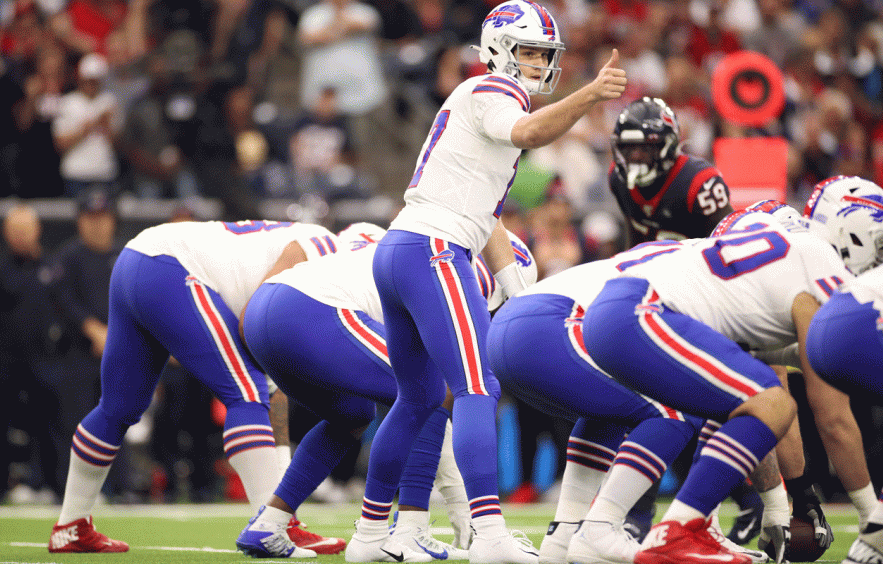 Christian Peterson/Getty Images
Here at 4for4, we're always looking for ways to give you an edge over your competition. From the best tools, rankings and written content you can find, to podcasts and lineup generators, we've got you covered in all facets of the game. My job here is to keep an eye on offensive lines and put a finger on how these units can move the needle one way or the other for our fantasy assets.
After keeping track of the goings-on in my weekly articles, I decided it would be a good idea to take a look back at preseason rankings and try to discover how or why offensive lines either improved or fell off the map. We will be highlighting teams with the biggest gaps between preseason rankings and end-of-year rankings, with one accompanying stat that I believe tells the story of the team's season in one number.
End of Year Top-10
2019's Top-10 Offensive Lines

| Team | End of Year Rank | Preseason Rank | Change |
| --- | --- | --- | --- |
| Baltimore Ravens | 1 | 11 | (+10) |
| San Francisco 49ers | 2 | 17 | (+15) |
| Indianapolis Colts | 3 | 3 | 0 |
| Green Bay Packers | 4 | 7 | (+3) |
| Pittsburgh Steelers | 5 | 1 | (-4) |
| Dallas Cowboys | 6 | 9 | (+3) |
| Buffalo Bills | 7 | 28 | (+21) |
| Carolina Panthers | 8 | 10 | (+2) |
| New Orleans Saints | 9 | 2 | (-7) |
| New England Patriots | 10 | 4 | (-6) |
Buffalo
Bills

- 21 Slot Elevation

Most Telling Metric - Number of Starters, 6

After a full overhaul to the offensive line in the preseason, Buffalo amazingly put together one of the best starting fives in the league, jumping from 30th place in Adjusted Line Yards in 2018 (3.89) to 16th in 2019 (4.32). Free agents Mitch Morse (center), Quinton Spain (left guard) and Jon Feliciano (right guard) contributed mightily, with Morse and Spain combining to allow one single sack over 2,000+ snaps. The lone mainstay across the line from 2018 —left tackle Dion Dawkins— had the best year of his three year career, ranking 14th out of 38 qualifying tackles in Sports Info Solutions Blown Block Percentage.
The Bills OL are on the shortlist for the most physical and nastiest units in the NFL this season. That includes TE Lee Smith, who is the best 'finisher' at his position in the league. Tone-setting group that is FUN to watch ? pic.twitter.com/WX1Rb7E5OE

— Brandon Thorn (@BrandonThornNFL) November 9, 2019
Thanks to this physical offensive line and the playmaking ability of quarterback Josh Allen, John Brown had a resurgent effort that saw him finish the year with a 72-1,060-6 line. Running back Devin Singletary had a handful of very useful games in the second half of the season after the team parted with LeSean McCoy and lessened Frank Gore's workload.
San Francisco
49ers

- 15 Slot Elevation

Most Telling Metric - Blown Block Percentage of 1.94, fourth-lowest in the NFL

The preseason depth chart had some big questions for the 49ers, whose average 2018 offensive line was seen as an impetus for their 4-12 finish. Mike Person was slated as the starting right guard despite finishing 2018 with the third-worst Blown Block% in pass protection according to Sports Info Solutions. Weston Richburg would start the first 14 games of 2019 at the center position before going down with a torn patellar tendon, and the team's swing tackle Shon Coleman went down in the preseason, presenting the team with a depth issue. None of that would end up mattering. In fact, the depth would be tested much further than the Niners could have imagined.

By the middle of the season, San Francisco would be playing without either of their starting tackles, LT Joe Staley and RT Mike McGlinchey. In their steed would be former Alliance of American Football linemen Daniel Brunskill and a sixth-round rookie, Justin Skule. The two of them were forced into action and in 10 combined starts, they allowed a total of five sacks. So much for that lack of depth.
.@49ers @JSkule_58 has started 6 straight games and it's not easy to fill the pro-bowl shoes of @jstaley74 but I saw him on the ground #TNF 1X in 38 pass attempts and gave up 1 sack to a great tandem of pass rushers . #49ers have a found a player! #BaldysBreakdowns pic.twitter.com/Z7dTD0Dy12

— Brian Baldinger (@BaldyNFL) November 3, 2019
San Francisco ended up finishing the season top-10 in nearly every single metric I track throughout the season, and got help from some very unlikely names along the way. There was a perfect meld between Kyle Shanahan's scheme and the team's run blocking through the end of the regular season and it nearly took them to the franchise's sixth Super Bowl victory. Though it was difficult to tell who would be the biggest beneficiary week-in and week-out, when you found the right running back it would certainly be a shot in the arm of any fantasy team. Raheem Mostert, Tevin Coleman and Matt Breida combined for 1,939 rushing yards, 480 receiving yards and 19 total scores. That, and running back Chimera would have outscored Aaron Jones —the overall RB2 in Half PPR scoring— by 88 points.
Baltimore
Ravens

- 10 Slot Elevation

Most Telling Metric - 4.73 Adjusted Line Yards, third-highest in the NFL

From the first play of the 2019 season —this 49-yard Mark Ingram run on the way to a 59-10 opening week victory — you got the impression that this was going to be a special season for the Baltimore Ravens and their fantasy pieces. What we ended up with was the overall QB1 (Lamar Jackson), the overall RB8 (Mark Ingram) and the overall TE4 (Mark Andrews). Baltimore finished the season as the highest-scoring offense, converting 52.1% of their offensive drives into points on the back of a league-leading 206 rushing yards per game. And it all came thanks to some impressive blocking.
.@Ravens have the #1 Offense in football with a bonafide MVP candidate in @Lj_era8. But he is getting a great deal of help from @megatronnie @BSBoze @Matt_Skura62 #MarshalYanda and @ZEUS__78 . They make few mistakes and no Offensive Line in the @NFL is better #BaldysBreakdowns pic.twitter.com/Ff2IyuX0KJ

— Brian Baldinger (@BaldyNFL) November 19, 2019
Because of a line that hardly ever allowed penetration into the backfield on run plays, backs were very rarely stopped for zero or negative yardage. In fact, the Ravens joined the 2019 Dallas Cowboys and the 2016 Indianapolis Colts as the only team in the last six seasons to allow as low as a 13% Stuffed Rate, which is a Football Outsiders metric measuring how often a running back is tackled at or behind the line of scrimmage.
Baltimore's O-Line didn't just beat up pushovers like the Dolphins in Week 1, they kept it up against competition of all levels, including the eventual NFC Champion 49ers.
Not a single sack or QB hit allowed against the No. 1 defense in the league. ?‍♂️



The @Ravens offensive line was UNSTOPPABLE in Week 13. (by @CourtyardHotels) pic.twitter.com/i4N06N1Ob3

— NFL (@NFL) December 3, 2019
End of Year Bottom-10
2019's Bottom-10 Offensive Lines

| Team | End of Year Rank | Preseason Rank | Change |
| --- | --- | --- | --- |
| Atlanta Falcons | 23 | 12 | (-12) |
| Tennessee Titans | 24 | 13 | (-11) |
| Los Angeles Chargers | 25 | 24 | (-1) |
| Houston Texans | 26 | 25 | (-1) |
| Arizona Cardinals | 27 | 27 | 0 |
| Cleveland Browns | 28 | 23 | (-5) |
| Washington Redskins | 29 | 26 | (-3) |
| New York Jets | 30 | 19 | (-11) |
| Cincinnati Bengals | 31 | 31 | 0 |
| Miami Dolphins | 32 | 32 | 0 |
Atlanta
Falcons

- 12 Slot Drop

Most Telling Metric - 135 QB Hits Allowed, second-most in NFL

A promising group of players that looked like one of the more improved units in the league didn't pan out the way fans of the team and owners of Falcons fantasy shares had hoped. Julio Jones did Julio Jones-like things and finished with 1,300+ yards for the sixth-straight season but outside of his always-overlooked prowess on the field, it was downright ugly. Matt Ryan nearly doubled his interception percentage (1.2% - 2.3%) from the previous season, had his lowest yards per attempt average since 2013 (7.3) and was sacked a career-high 48 times. The running game averaged 3.8 yards per carry (26th) behind a line that ranked 24th in Adjusted Line Yards (3.97). The improvement from 2018 to 2019 was minimal, if at all.

I was looking forward to the draft capital Atlanta put towards the line and said as much in my final preseason rankings in September.
"...the 14th and 31st overall picks were used on guard Chris Lindstrom and tackle Kaleb McGary, respectively. Adding an influx of young talent to the established veteran presence would see a team ranked higher in most cases, but the fact that 60% of the line has never played a snap together caps their immediate output a bit."
With Lindstrom missing a major chunk of the season, the rookie spotlight was all on McGary and unfortunately, it wasn't too bright the majority of the time. The rookie from the University of Washington had a difficult time in pass protection, particularly against speed rushers, who often forced him to throw his hands with poor timing while the defender scooted around him when Kaleb was forced to lunge.
Cameron Jordan really is one of the NFL's most underrated players.



He beat rookie Kaleb McGary like a drum on the Falcons' final drive and finished the game with 10 total pressures, per @PFF. pic.twitter.com/8fTAzezQMI

— Austin Gayle (@PFF_AustinGayle) November 29, 2019
McGary was more consistent in the run game where he used his size and athletic ability to clear holes in zone blocking. With a little bit of injury luck, Atlanta can be closer to that number 12 ranking I settled on before 2019.
New York
Jets

- 11 Slot Drop

Most Telling Metric - 9.2% Adjusted Sack Rate, 30th in NFL

The Jet's two attempts to add a veteran presence to the line in front of Sam Darnold both ended disastrously. Declining left guard Kelechi Osemele had season-ending surgery to repair a torn labrum after three games, and Ryan Kalil —who unretired to play with New York in 2019— lasted eight predictably replacement-level weeks before succumbing to a knee injury himself. The result was a Jets team that rolled out 11 different starters across the line, dooming any chance of chemistry or a cohesive offense. For once, a team's ruined chemistry may not have been Adam Gase's fault. The jury is still out.

LeVeon Bell set career lows in rushing yards (789), rushing touchdowns (3) and yards per carry (3.2) and, aided by an offensive line that couldn't buy him any time, Sam Darnold missed out on a Sophomore breakout. Instead, Darnold had very similar counting stats to his rookie season and was on-target on 71.4% of his throws, tied for 33rd out of 38 qualifying quarterbacks according to SIS.

It will be interesting to see how the New York Jets go about upgrading this unit, and initial mocks have them attacking the tackle position early in the NFL Draft. Jets fans should be on the look-out for two names during the following weeks; Louisville's Mekhi Becton, who earned first-team All-ACC honors at right tackle in his Junior year and/or Iowa's Tristan Wirfs, who could upgrade pass protection as early as 2020.
Mekhi Becton, OT, #Louisville:



• Bulldozer in the running game (++)

• Athletic for his height/weight combo

• Herculean levels of power (+)

• Dislodges defenders with ease

• Set depth needs minor tweaking

• Always scanning for workpic.twitter.com/g0yU5y47mi

— Jordan Reid (@JReidNFL) February 14, 2020
Washington Redskins - Three Spot Drop
Most Telling Metric - 52 Offensive Line Penalties, fourth-highest
The biggest story coming out of Washington last Summer was left tackle Trent Williams' holdout, and exactly how long it was going to last. Williams never did get traded, but he also never played a snap, chalking it up as a lose-lose for each side. Instead, 36-year old Donald Penn —coming off an injury-laden career-worst 2018 for the Raiders— stepped into his place and the results can't be what the team was hoping for. Penn struggled against the great defensive lines that most tackles had trouble with; Chicago, Buffalo, Carolina, but didn't bring it back with outstanding performances against mediocre talent. He blew a block on 4.4% of his pass protection snaps which ranked him 144th out of 160 qualifying offensive linemen (minimum 500 snaps) according to SIS.
R.I.P. Vic Beasley.... Brandon Scherff sends his regards. pic.twitter.com/LYZxbZcHjD

— Samuel Gold (@SamuelRGold) August 23, 2019
Right guard Brandon Scherff, in contrast, had another fantastic season cut short by injury; landing him on the injured reserve for the second straight season. Wes Martin, a fourth-round pick out of Indiana got the nod for the final three games of the season and showed why Scherff is so valuable to the team. Now the Redskins will be in the same quandary as they were at the end of 2018; without a back-up at the same caliber as their star lineman, will they pay the incumbent or will they allow him to holdout for an entire season? For the sake of Derrius Guice and Terry McLaurin's 2020 season, let's hope they wrap Scherff's contract up a little quicker.
The Middle of the Pack
For fantasy purposes, we really want to be fixated on the best and worst offensive lines, as they are the groups that will affect statistical output in the most meaningful way. With that said, if you clicked on this article but didn't see your favorite team listed yet, here are the remaining teams and how far they have risen or fallen.
2019's 11-22 Offensive Lines

| Team | End of Year Rank | Preseason Rank | Change |
| --- | --- | --- | --- |
| New York Giants | 11 | 18 | (+7) |
| Minnesota Vikings | 12 | 20 | (+8) |
| Philadelphia Eagles | 13 | 6 | (-7) |
| Oakland Raiders | 14 | 29 | (+15) |
| Detroit Lions | 15 | 15 | (0 |
| Jacksonville Jaguars | 16 | 21 | (+5) |
| Denver Broncos | 17 | 14 | (-3) |
| Chicago Bears | 18 | 5 | (-13) |
| Tampa Bay Buccaneers | 19 | 30 | (+11) |
| Kansas City Chiefs | 20 | 16 | (-4) |
| Seattle Seahawks | 21 | 22 | (+1) |
| Los Angeles Rams | 22 | 8 | (-14) |
What This Means Moving Forward
In short, good offensive lines are going to bolster fantasy production while bad offensive lines will hinder statistical output. As for exactly which metrics mean the most, have a look at How Offensive-Line Play Impacts Fantasy Football. Expanding on the ideas presented within, I'll be getting into the nitty-gritty of r-squared values and direct correlation between the men in the trenches and the numbers on our fantasy score sheet. In the end, that's what we're here for.