Fanball Best-Ball Win Rates: Running Backs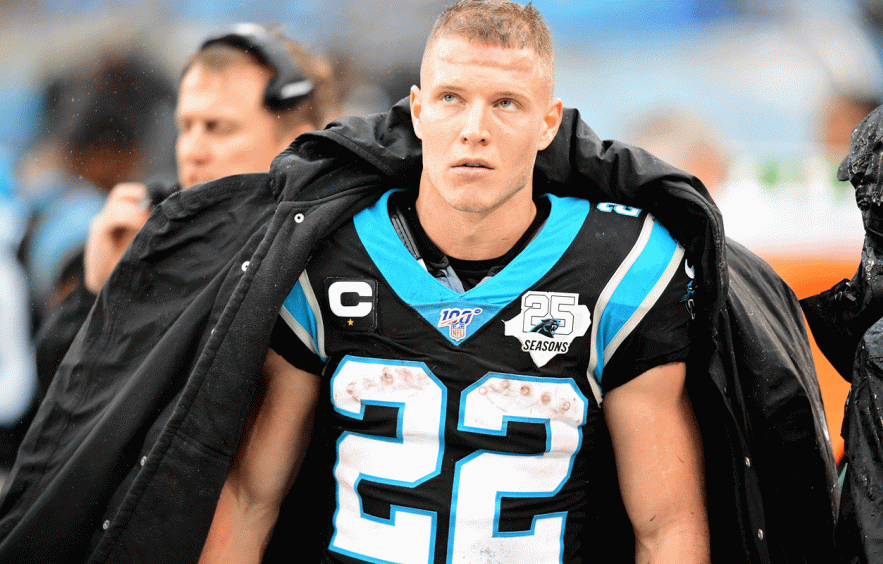 Jacob Kupferman/Getty Images
While we're all homebound for the foreseeable future, best-ball drafts are fortunately up and running, and now is the perfect time to get drafting.
Taking a look at last year's win rates by position can give us a glimpse of what worked, what didn't and what could have been. This piece will delve into the running backs on Fanball from 2019, exploring who the big winners were and if their performances are repeatable heading into the 2020 NFL season, along with those players who found late-round success and the possible reasons why.
Highest RB Win Rates
It's no surprise at all to find Christian McCaffrey leading the pack here with a whopping 36.7% win rate. He cost managers the first or second overall pick, but was glaringly worth it. Six of the top 12 were taken within the first three rounds of the draft, with just Jamaal Williams cracking this list as a late double-digit selection. More on that in a bit.
One link prevalent in this data is the correlation between pass-catching backs and successful best-ball teams from 2019. The six rushers with the highest win rate percentage were also among the top 13 in target volume for running backs. McCaffrey and Ekeler were RB1 and RB2 with 143 and 108 total targets, respectively, followed by Leonard Fournette (100), Aaron Jones (69), Dalvin Cook (63) and Miles Sanders (63).
Early-Round Review
The following section will examine the running backs drafted within the first six rounds who ended up on the highest percentage of winning teams in 2019 on Fanball.
Within the first six rounds of Fanball best-ball drafts in 2019, 31 running backs were selected with 16 coming in Rounds 1-3 and 15 taken in Rounds 4-6. If we dig deeper, we see that among winning teams, 50% of them took their third running back by the sixth round, with just 25% of winning teams grabbing a third back by the fifth round. Hoarding backs early seemed to be a trend last season which appears to have carried into 2020 in early drafts, and it may not necessarily be the only way to find success.
Eight backs among the 12 with the highest win rate were drafted in the first six rounds. Christian McCaffrey was the only first-round rusher to make this list, with Saquon Barkley, Alvin Kamara, Ezekiel Elliott, David Johnson and LeVeon Bell all with much lower win rate percentages last season.
McCaffrey was the RB1 in fantasy football by a mile last season, accumulating over 150 more PPR points than the next best back. He saw three-plus touches per game more than the guy behind him (Elliott), and nearly 40 extra targets on the season than Austin Ekeler, who was second. The Panther back has been the clear 1.01 in early drafts this season and for good reason.
Round two produced Dalvin Cook and Nick Chubb. Cook experienced a massive jump in production in 2019, thanks to remaining healthy and on the field for the majority of the season. The 24-year old posted 250-1,135-13 rushing and 53-519-0 receiving lines as the focal point of the league's eighth-ranked scoring offense. The absence of Stefon Diggs could lead to even more work for Cook in 2020.
Chubb overcame an awful offensive line to end with an impressive 1,494 rushing yards and 16 touchdowns, with a 5.01 YPC in 2019. He put up 16.0 PPR points per contest and outperformed players drafted before him like Todd Gurley, Joe Mixon, Melvin Gordon and James Conner. Chubb's ADP has risen to the first round for 2020 but the question remains his involvement in the passing game. If Kareem Hunt is not suspended for an off-field incident he could see more throws, leaving Chubb's pass-game volume to fewer than two targets per tilt. He's still an RB1 due to his hearty run consistency, but you may want to consider more pass volume guys that early for best-ball purposes.
Aaron Jones, Leonard Fournette and Derrick Henry were all third-rounders last season and were among the top seven in highest win rates.
Jones crushed his ADP, finishing right behind McCaffery in total PPR points on the season. His 19 regular-season touchdowns tied a franchise record for second in Green Bay history, and his 285 total touches were 126 more than he saw in 2018. This season may go a bit differently with Jamaal Williams healthy and his baffling usage, along with coach Matt LaFleur indicating he could add a third back at some point. Jones' ceiling could be limited and his current first-round ADP may prove too steep.
Fournette always comes with risk, both due to injury and his lack of end zone prowess over the past two seasons. The Jags should lean run-first in 2020 which puts him in the RB1 conversation again and his fourth-place finish in total targets among backs is certainly appealing heading into this season.
Henry's 11.2%-win rate was the seventh-highest among rushers last season on Fanball. He was the 19th runner drafted and overshot that by 14 spots in PPR formats. Henry is a strong back in an offense with the ninth-most run plays last season, but his volatility lies in his lack of air involvement. If Tennessee doesn't find a viable replacement for Dion Lewis, Henry could see an uptick in targets, making his 1.09 ADP palatable.
Round four brought us Mark Ingram and Chris Carson, who were both popular among the Zero RB crowd. If you waited on the position and grabbed one or both of these backs, you were rewarded, as they finished 11th and 12th in total PPR points, respectively. Ingram outproduced 14 running backs taken before him and Carson beat out 12. The Ravens and Seahawks were first and third in running plays attempted in 2019 and each offense should lean that way again this year. Both guys are currently sitting in similar ADP spots as late-third/early-fourth rounders, and could play spoiler again to the running back hierarchy.
Favorite Early-Round Picks: Austin Ekeler (2.04), Dalvin Cook (1.05), Kenyan Drake (2.12)
Mid-Round Review
This portion will take a look at the backs who left draft boards in the seventh through 14th rounds in 2019, and found themselves with the highest win rates among Fanball drafted teams.
Two backs who made this list came out of the seventh round in 2019: Miles Sanders and Latavius Murray.
As a rookie in an offense with a cloudy backfield, drafters weren't sure what to expect from Sanders and it showed. His 1,327 combined yards and six touchdowns landed him as RB15 in PPR points which bested a group of backs who left boards before him. With Jordan Howard in Miami, Sanders should be the lead back in Philly, but a committee is not out of the question based on the Eagles history. His pass-catching ability and fresh legs should place him as an RB1, but Philly's cluster of an offense makes him more of an RB2 heading into the season.
Murray's move to New Orleans prompted a rise in his ADP heading into 2019, as the heir apparent to Mark Ingram. His RB28 finish was a handful of spots better than his RB34 ADP, and Murray found himself on 10.5% of winning Fanball best-ball teams. In early drafts this season, the 30-year old had dropped down to a 10th-rounder which screams value. Drew Brees is battling father time which could spell more work for both Murray and Kamara, plus the former Viking presents league-winning upside if Kamara were to sustain an injury.
Last but certainly not least in this bracket is Austin Ekeler, who was an eighth-rounder, with 22.9%. of winning teams rostering the Los Angeles back. His ADP can't be trusted entirely, as part of the off-season was clouded with whether Melvin Gordon would hold out or not. Ekeler is a true all-purpose back, as he posted 557 yards on 132 carries with three touchdowns, along with an additional 993 receiving yards on 92 catches with eight more scores. At just 24-years old, Ekeler is a clear RB1 in 2020, especially in Fanball's PPR format and should be valued as such.
Favorite Mid-Round Picks: Latavius Murray (10.6), Alexander Mattison (11.9), Tarik Cohen (9.07), James White (7.12)
Late-Round Review
Although just one, below you'll find the highest win rate rusher from the latter part of drafts - Rounds 14-20.
Highest RB Win Rates, Rounds 14-20

| Player | Rank | Win Rate % | ADP |
| --- | --- | --- | --- |
| Jamaal Williams | 12 | 10.30% | 16.02 |
Jamaal Williams is the lone back to crack the top 12 in best-ball win rate percentage and was taken in the 16th round in 2019. The Packers seem to want to continue to make him a thing, despite having a superior back in Aaron Jones. The latter is more explosive on the ground and through the air, but Williams does provide a way to keep Jones fresh as a change-of-pace back.
His ADP is hovering in the late-13th round, which is about right for a true handcuff with no real lead-back potential.
Opportunity is usually a common thread among late rounders finding success, whether someone above them on the depth chart sustains an injury, or they shine when given the chance.
Last year we saw Raheem Mostert make the most of his work in a crowded backfield, becoming a favorite of Kyle Shanahan's. His ADP was 231, yet he ended the season as RB26 in half-PPR points. Gus Edwards is another rusher who emerged out of a muddy situation to make his mark. He was drafted in the 18th round yet ended the season as RB45. Mostert and Edwards ranked one and two respectively in yards per attempt in 2019, elevating their output way above their perceived value during draft season.
Favorite Late-Round Picks: Rashaad Penny (16.04), Matt Breida (16.06), Gus Edwards (17.07), Malcolm Brown (18.11)