Dak Prescott: On the Rise and Stacked With Fantasy Assets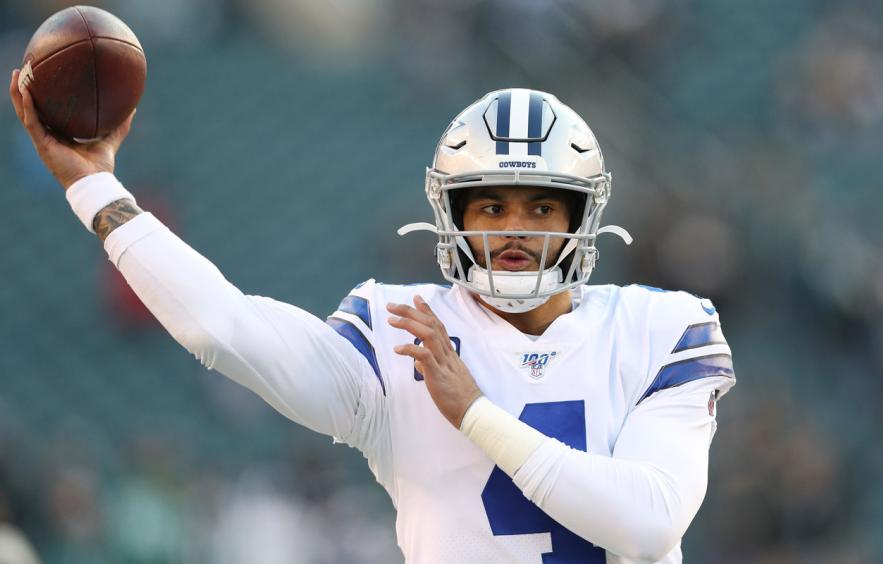 Patrick Smith/Getty Images
Dallas saw their opening to make a playoff push in 2019. With both New York and Washington looking at a changing of the guard at quarterback, the primary concern was Philadelphia and their formidable passing game, but Dallas had a plan. They made additions to the defense and traded for offensive talent. The Cowboys had the second-best odds to win the division and the eleventh-best odds to win the Super Bowl.
But the Cowboys couldn't even make it out of the regular season.
An 8-8 finish plus a loss to the Eagles in Week 16 (down Alshon Jeffery and featuring former practice squad receiver Greg Ward) to effectively end it all. The disappointment was palpable. Who was to blame? Jerry Jones was, and will always be an easy target. The merits of extending Ezekiel Elliot were revisited. With the 2020 season being the focus, contract discussions around their pending free agents landed on the docket of the court of public opinion. At the center was Dak Prescott.
Noted among fans as another reason for the Dallas demise, is that Prescott has continuously had to prove his ability to wear that star on his helmet.
"He can't replace Tony Romo." third-highest AY/A and ninth-highest touchdown rate his rookie season.
"He can't mount a fourth-quarter comeback." 4.85 Win Probability Added (WPA) in the fourth quarter. Jared Goff: 1.83. Carson Wentz: 1.35.
"He can't get it done in the red zone." Cowboys 21st and 23rd in red-zone passing rate under Jason Garrett in 2017 and 2018.
Dak finished 2019 third in total points (319.2) and fifth in PPG (21.3). He vastly outproduced his QB16 ADP, but the hype comes at a cost for both fantasy and real life. His on-going contract negotiations and hype surrounding the offense put him in that gray area for fantasy consideration. Our excitement to evaluate his fantasy potential quickly turns into a discussion of his worth at the position. I looked back at last year and attempted to break down what I saw and what we can expect for the Dallas signal-caller in 2020.
Dak Prescott

's 2019 Overall Performance

We know how he finished the season, but let's review how Prescott performed during it.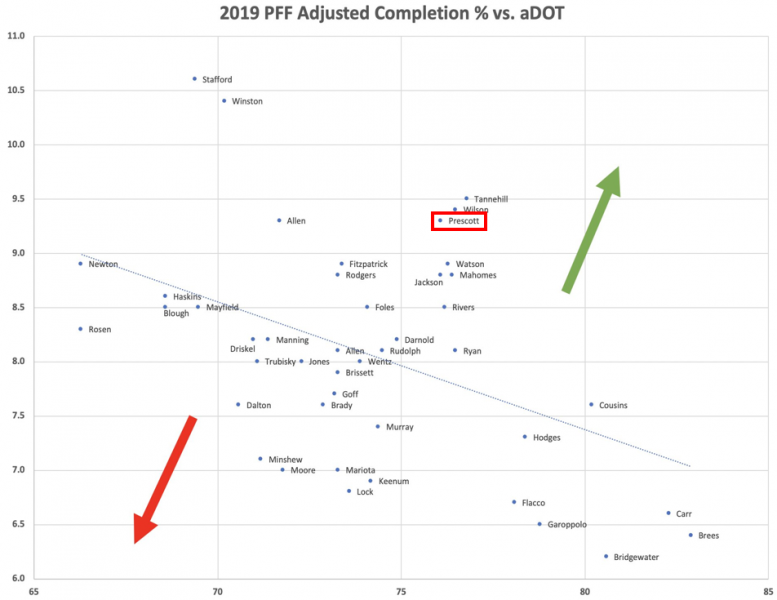 I'll admit. It's a lot to digest.
Dak Prescott was fifth in aDOT and 13th in adjusted completion percentage. The comparison between the two stats gives us an idea of how a quarterback operates on the field. Conservative quarterbacks who throw short, low-risk passes (Drew Brees, Derek Carr) are in the bottom right. Gunslingers with a penchant for deeper passes are in the top left (Jameis Winston, Matthew Stafford). But we've seen how aggression can turn into 30 interceptions. How Hall of Fame accuracy is required to sustain fantasy assets with short passes. We'd expect most top passers to be above the regression line maintaining high passing efficiency without sacrificing completions. Prescott meets that expectation in spades.
If you don't believe in Prescott's numbers alone, look at who's around him. It's no coincidence that his numbers line up with the other top quarterbacks of the past season like Mahomes, Jackson, Watson and Wilson. That's not too shabby of a group to be around. His 8.4 AYA was eighth in the league while attempting the sixth-most passes in the league. His 4,902 weren't racked up on volume alone. His efficiency has improved over the past three years and he still adds value with his legs.
Prescott's rushing totals have never jumped off the page. We've been too enamored with the Cam Newton's and Russell Wilson's of the world, but we do like red zone attempts. And we definitely like rushing touchdowns. Prescott has been in the Top 10 for quarterback rushing attempts and touchdowns every year he's been in the league. They're not a significant portion of his fantasy production, but he fits the quarterback profile fantasy managers should draft in their leagues. But, unfortunately, he's not perfect.
Analytically, he compares well to the best in the league. But the Cowboys fell well short of that mark. I broke down some of his best and worst traits as seen from his games from the 2019 season.
Strengths and Weaknesses
Weaknesses
Prescott didn't fall into the back of the fourth round in 2016 for no reason. He left Mississippi State with flaws and his landing spot was supposed to give him time to develop. It's important to balance his rapid ascent with his mechanical deficiencies. But, even in 2019, we still see those traits exposed at some of the worst times.
Footwork
Prescott was notorious for attempting passes without resetting his feet after his drop back. His arm strength isn't the problem. Poor accuracy, which comes from footwork and hip movement, is and has been quickly punished by opposing teams.
Week 11 at NE (2nd Quarter, 14:23)
Bobbled snap. No immediate pressure. Throwing as his momentum carries him back to a hobbled receiver covered by the AP Defensive Player of the Year. It happens infrequently, but the cascade effect is evident as the team is forced to adjust.
Lack of Anticipatory Throws
Throwing lanes aren't always in the visual spectrum of the quarterback during the release. The greats anticipate the lane before it opens. Being able to process the route, the receiver, the pressure, and the defenders before it happens is a trademark of a polished quarterback. And afterward, placing the ball where only the receiver can get it. Dak, in his short time as a starter, struggles here.
Week 17 vs WAS (1st Quarter, 9:57)
Dak - Non Anticipate from Chris Allen on Vimeo.
During presnap, defenders on the left show man (hips and feet towards the receivers) while the right side shows zone (hips towards the ball). Prescott takes the high-percentage completion at the sticks to Jason Witten. But watch Amari Cooper on the Dig route. Prescott's tendency to check down causes the outsider corner and linebacker to fly towards the tight end. Meanwhile, Amari Cooper dusts his defender offering a safer completion 10 yards deeper. Reading the field in concert is the difference between a field goal and a touchdown in the red zone. Once the field gets condensed, the quarterback has to take over and become a larger part of the offense for the team to excel where it counts.
Reading Pressure
Athleticism can be a double-edged sword for quarterbacks. Scrambles, designed runs, whatever. Seeing a quarterback bolt up the field or get to the edge of the defense is exciting, but the urge to 'out athlete' a defender can be a detriment.
Week 5 vs GB (3rd Quarter, 6:43)
Prescott's sensitivity to pressure is another hindrance that stops his progressions. In this example, Za'Darius Smith immediately breaks through Dallas' line, Prescott tries to escape, and loses nine yards in the process. During the chase, he had three options: a dump-off to Ezekiel Elliot, a slant to Randall Cobb, or Witten working the seam. Smith short-circuits the entire play forcing Prescott to rely on his legs rather than his pass catchers. His success as a runner negates most of the criticism here, but when the pressure is on his tendency to drop his eyes becomes a liability.
Strengths
Mobility
We just covered his athleticism as a negative, so it makes sense to look at the flipside of the coin. Real or fantasy football, the #KonamiCode is a boost to any offense. Prescott averaged 63.0 rushing yards per game in college and the talent was expected to carry over into the NFL. He isn't Jackson or Wilson, but he gets the job done.
Week 17 vs WAS (3rd Quarter, 10:10)
Prescott is quick enough to get to the second level and big enough to require multiple tacklers to bring him down. He can use his 226-lb frame to get those extra yards. The drawback is we don't see this enough out of Dallas. Prescott was only asked to run on 26.9% of his attempts (5th just behind Josh Allen). Only six attempts in the red zone. While he's still got the juice, Dallas would be wise to force defenses to account for Prescott as not just a passer to keep the chains moving.
Staying Upright
The ability to extend a play is another key trait of an experienced passer. We saw at times that pressure can negatively impact Prescott's production. He'll lose sight of his progressions and try to run. However, he has demonstrated the ability to leverage his mobility to keep a play alive with his legs and execute as a passer.
2018, Week 5 vs HOU (4th Quarter, 8:31)
Avoiding multiple sacks is one thing. Throwing on the run is another. Bringing it all together on a 41-yard pass is something else. To boot, had Elliot caught the pass rather than Tavon Austin the play would have likely resulted in a touchdown. Regardless, for as often as he's criticized for running, he's still showcasing his developing talent as a passer to look downfield throughout the chaos. Fans around just hope this trait shows up more often.
Adjustments to Pressure
The benefits of being able to move and stay upright in the pocket are highlight worthy if a defender gets through the line. Reacting and overcoming is what draws our attention. But diagnosing the coverage presnap and using those talents against the defense is what turns a simple concept into a touchdown.
Week 15 vs LAR (2nd Quarter, 11:49)
Dak sees the linebacker showing blitz and checks the protection. Witten immediately turns inside and lets the defender run free. But watch Dak's eyes post-snap. While faking the counter, he's reading the defender the entire way. Here he can 'out athlete' his opponent using their momentum against them. Not knowing Brockers had beat his man, he doesn't fully reset his feet and lets his arm strength do the work. A gamble, but this is how smart offenses operate. Using a perceived strength against an opponent. With some improvements in playcalling, Prescott can continue to use his strengths against defenses and take that next step forward as a quarterback.
Amari Cooper

,

Michael Gallup

, and CeeDee Make Three

I'm not going to pretend I know how to run a franchise. Both pass-rusher and safety were high on their list of team needs. But if a player like CeeDee Lamb is available, you draft him. There's something to drafting a balanced team with strengths on both sides of the ball. But what about making your strengths stronger? If there were any concerns with Prescott as a passer, then boosting his receiving corps is the logical response. Jerry Jones, for all his faults, came through in the first round and helped his quarterback.

The departure of Randall Cobb and Jason Witten amounts to 166 vacated targets. We can't assign them all to Lamb, but we can make reasonable assumptions regarding team intent based on how they were used. Cobb and Witten had a 68.1% target rate from the slot. Of Cobb's 748 snaps, only 121 came from the outside. It seems clear they could use help inside. Again, we can't project volume, but let's focus on possible usage.

Lamb caught 30.1% of his 173 receptions and amassed 1,085 yards from the slot. His 11.2 YAC makes him an immediate danger if given the space to operate. Cobb, at 29 years of age, averaged 6.0 YAC. Witten? 2.6. If Lamb sees snaps from the inside, his youth alone brings a much-needed element to the squad. But his elite quickness and decisiveness as a runner with the ball in his hands will quickly put defenses on notice. But Lamb isn't limited to the slot and, noted wide-receiver guru, Matt Harmon offered his insight into how the Cowboys offense might look in 2020.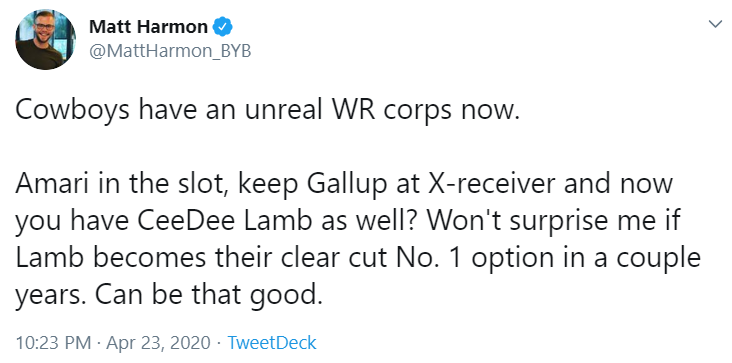 The 'CeeDee Lamb could be the next DeAndre Hopkins' comps have been made since January. His success rate against coverage, ability to separate, and contested catch rate all highlight the similarity in their respective talents. It's just as likely that Lamb plays outside allowing Cooper to move inside. Cooper entered the season with, what was reported at the time, as plantar fasciitis hampering his entire 2019 season. Prior to that, Cooper was third in the league for YAC (311 yards) after his trade to the Cowboys. While older than his rookie competition, Cooper is a far better option to hit across the middle offering up more options to Dak as the offense continues to evolve.
Conclusion
My opinion? Pay Prescott. His flaws can be fixed, and his strengths place him in the company of the best quarterbacks in the league. Andy Dalton being used as leverage or broad gestures at the mythical cap are just excuses. If they can reset the market for a running back who's replaceable in multiple key metrics, they can surely do it for a quarterback that has and will continue to add value to their team.
Regardless, Dallas is an offense with multiple assets capable of scoring. So, as a wise man once said, I'll take the syrup over the pancakes. Let's wrap this up:
Dallas' neutral passing rate in 2019 was 60.6% (above league average). That's up from 55.3% in 2018. Neutral passing is one of the closest indicators to red-zone passing rate and likely continues once teams are in scoring position.
Dak had the 11th-most total and ninth-most red zone rushing attempts of any quarterback in 2019. His attempts actually decreased compared to 2018, but his pass attempts were up by 13.3%.
The Cowboys spent a first-round pick on a wide receiver indicating their intent to continue with a pass-first offense.
Dallas spent 38.4% of their offensive plays in negative game scripts. Edge rusher is still a liability that may keep the Cowboys in passing situations regardless of game plan.
Dak moved from QB6 to QB5 in FFPC ADP after the NFL draft. With his rushing ability and being an efficient passer, he's appropriately priced and should be considered in the early rounds.