NFL Divisional Round Betting Picks & Predictions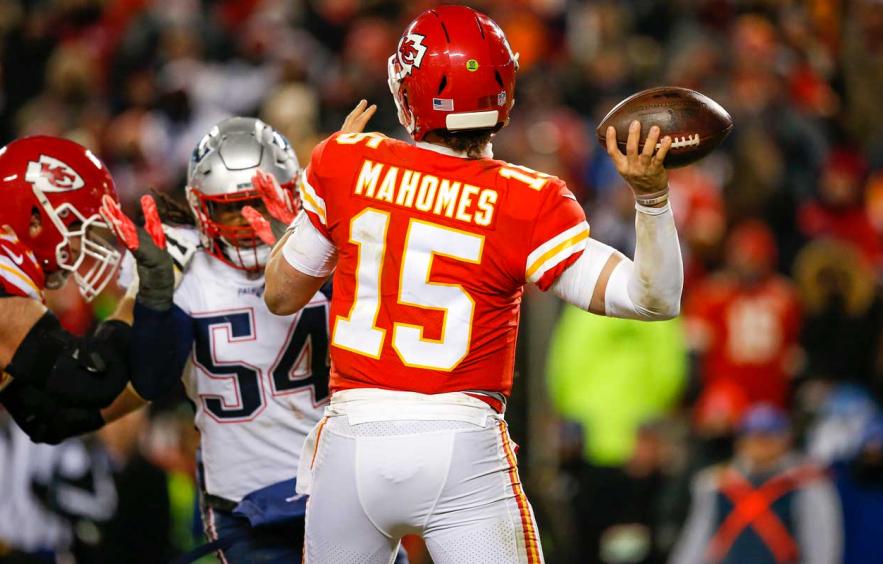 David Eulitt/Getty Images
Wild Card Weekend Recap: It was a solid opening weekend to the NFL playoffs, as I went 2-1 with my betting selections. I swept Saturday's slate, hitting the under 43.5 in the Bills-Texans matchup (although that got hairy in overtime) and cashing the Titans as a 5.5-point underdog. (I noted I wouldn't be shocked to see the Titans win outright but I didn't have the cajones to select Tennessee on the money line.) On Sunday, I went "Joe Public" with my selection of the Saints-Vikings over, which didn't come close to hitting. I stayed away from the Seahawks-Eagles game and in the end, I'm glad I did with Carson Wentz going down in the first quarter.
The 2-1 week runs my record on the year to 34-27-2 (57%). I would be thrilled to hit in the 60-percent range following the postseason but let's just take it one week at a time.
301 Minnesota Vikings at 302 San Francisco 49ers
Spread: 49ers -7
Total: 44.5
Time: 4:35 p.m. ET, Saturday, January 11
This total is set way too low. The 49ers finished fifth in Football Outsiders' DVOA metric, but Robert Saleh's defense isn't playing as well as it did for the first three-fourths of the season. Two weeks ago, the Niners allowed 21 points to Seattle and were a few blades of grass away from allowing six more. They surrendered 31 points at home to the Rams the week prior, 29 points to the Falcons in Santa Clara in Week 15 and despite winning an epic shootout versus the Saints, allowed a whopping 46 points in that one.
Kirk Cousins and Jimmy Garoppolo aren't all that different. Each quarterback shows flashes of big-play potential, as Cousins did last Sunday in New Orleans and Garoppolo has shown throughout the season. That said, both are reliant on the pieces around them. When George Kittle didn't play in the Niners' first meeting with the Seahawks back in November, then San Francisco lost Emmanuel Sanders and couldn't get the ground game moving, Garoppolo was forced to put the ball in the air 46 times and completed just 52.2% of his passes. Without Dalvin Cook, Cousins wasn't the same either. With a full complement of weapons at his disposal a week ago, Cousins wasn't the model of quarterbacking perfection but he outplayed Drew Brees and won the biggest game of his life.
Last Sunday in New Orleans was all about defense. I predict this Saturday in Santa Clara, it'll be about the offenses. While Brees and Sean Payton never adjusted to Mike Zimmer and the Vikings aligning defensive ends Everson Griffin and Danielle Hunter inside on obvious passing downs, that cat is out of the bag. Kyle Shanahan will certainly have a counter if Minnesota attempts to utilize a similar game plan, perhaps throwing to his backs in the flats if all of Minnesota's speed is going to be on the inside.
Injuries at cornerback is also something to watch for as these two teams rack up enough points to get us over the total. The Vikings will once again be without Mackensie Alexander, meaning Andrew Sendejo and Holton Hill will see plenty of Sanders in the slot. On the other side, the Niners have struggled recently to get production out of the cornerback spot opposite Richard Sherman, whether that's Ahkello Witherspoon or Emmanuel Moseley. San Francisco has done a great job limiting big plays this season, but the No. 2 corner is exploitable.
Finally, the over is 5-1 in the Vikings' last six road games and 5-1 in the 49ers' last six home contests. Again, this total is too low.
NFL DIVISIONAL ROUND BETTING SELECTION: Vikings/49ers OVER 44.5
---
DraftKings Sportsbook Deposit Bonus: Available to Current & New Users! Create an account, deposit and DraftKings will match 50% of the deposit amount up to $500. Additionally, new users will get their first bet matched with up to a $200 risk-free bet.
---
303 Tennessee Titans at 304 Baltimore Ravens
Spread: Ravens -10
O/U: 47
Time: 8:15 p.m. ET, Saturday, January 11
This is another matchup where the total is too low in my eyes, although not to the degree that the Minnesota-San Francisco number is low. I realize conventional wisdom suggests that when you get two teams that love to run the ball, the under is a smart play because possessions will be limited and the running clock won't be impeded by incomplete passes.
That said, did you see Baltimore play this season? Everyone in the stadium knows they're going to run the ball and they still scored at will. Hell, they scored 28 points against the Steelers in Week 17 when their backups started. In fact, in their last 10 games, there was only one time when the Ravens scored fewer than 24 points and that was against San Francisco's stout defense on the first day of December. Otherwise, the Ravens scored 31 points versus Cleveland, 42 points versus the Jets, 24 points versus the Bills, 45 points versus the Rams, 41 points versus the Texans, 49 points versus the Bengals, 37 points versus the Patriots and 30 points versus the Seahawks. For those scoring at home, four of those teams listed made the playoffs this year.
The Titans held the Patriots to only 13 points last week in Foxborough but as I noted in my writeup of that game, New England had struggled virtually all season offensively. Baltimore is a different beast, with or without a 100% Mark Ingram (ankle).
But what about Derrick Henry, you ask? I expect the Ravens to drag the Titans into a shootout. Once that happens, Henry won't have the same impact as he did a week ago at Gillette Stadium. And given Ryan Tannehill's penchant for throwing deep, I like my chances that the Titans will contribute enough on Saturday night to hit the over. In fact, the over is 9-2 in the Titans' last 11 games overall and 4-1 in their last five road games.
NFL DIVISIONAL ROUND BETTING SELECTION: Titans/Ravens OVER 47
---
Looking for more picks? Check out Sharp Angle Sports for access to Anthony's CFB selections and exclusive NFL selections from SuperContest Winner James Salinas, who is a documented 63% ATS over 320 NFL selections since 2015.
---
305 Houston Texans at 306 Kansas City Chiefs
Spread: Chiefs -10
Total: 51
Time: 3:05 p.m. ET, Sunday, January 12
Lost in Deshaun Watson's Harry Houdini move last Saturday is the fact that both Buffalo defenders were unblocked on that play.
TWO DEFENDERS WERE UNBLOCKED. How does this happen?
Yes, Watson made an unbelievable play, but it also goes to show you how much is put on his shoulders week in and week out. Patrick Mahomes has done some unbelievably athletic things on the field as well, but he also has a huge advantage in having Andy Reid as a play-designer and play-caller. Watson doesn't have that luxury with Bill O'Brien, who was booed as he walked into the locker room at halftime with his team being shut out in the first half for the second time in two years. Watson is incredible. O'Brien also rarely opens the game up for him in ways that coaches like Reid do for Mahomes, or Sean McVay does for Jared Goff, or Sean Payton does for Drew Brees, or...you get the point.
The Texans were able to come from behind last Saturday against the Bills, largely because of Watson's playmaking ability, but also because Josh Allen and Sean McDermott shrunk when the moment got too big. Allen made some crippling mistakes in the second half of that game and the moment proved to be too big for McDermott and his staff as well. I know Reid's playoff history has made him an easy target at this time of year, but the man has still won 12 postseason games as a head coach. He's not going to be overwhelmed.
I see this game being a route. The Texans went into Kansas City back in October and beat the Chiefs after falling behind 17-3 in the first quarter. But I expect Sunday to be different. The Chiefs held their last six opponents to 21 or fewer points. In three of those six games, Kansas City held its opponents to under 10 points. While not a strength, the Chiefs defense is no longer a determent.
J.J. Watt or no J.J. Watt, Houston's defense will not hold up over four quarters against Mahomes, Tyreek Hill and Travis Kelce. The Texans did a piss poor job of tackling last week in their win over the Bills and the unit finished 26th in DVOA during the regular season. Watt might make a play or two to kill a drive but he's not good enough to overcome the issues the Texans have on that side of the ball, mainly in the secondary.
The Chiefs are 5-0-1 against the spread in their last six games overall and in Reid's 21-year career as an NFL head coach, he's 17-3 coming out of the bye week. That's straight up and not against the spread, but it's still a great indication of how prepared he and his teams are after an off week.
NFL DIVISIONAL ROUND BETTING SELECTION: KANSAS CITY Chiefs -10
As for the Seahawks-Packers matchup on Sunday, I'm passing. I lean Seattle, but the line has jumped from 3.5 to 4.5, meaning there's sharp action on Green Bay. I thought both teams were overrated this season, so while it's tempting to grab the 4.5 points with Russell Wilson and the Seahawks, I could see this game going either way. I leaned Eagles a week ago and I would have lost. I'm going to stay disciplined here too and pass.
2019 NFL ATS Betting Record
Week 1: 1-2
Week 2: 1-2
Week 3: 3-1
Week 4: 3-1
Week 5: 2-1
Week 6: 1-2
Week 7: 2-1
Week 8: 1-3
Week 9: 1-3
Week 10: 2-2
Week 11: 1-2-1
Week 12: 3-1
Week 13: 2-1
Week 14: 3-0
Week 15: 1-3
Week 16: 1-1-1
Week 17: 4-0
Wildcard Weekend: 2-1
Season Total: 34-27-2 (57%)