O-Line Rankings and Matchups to Exploit: Week 13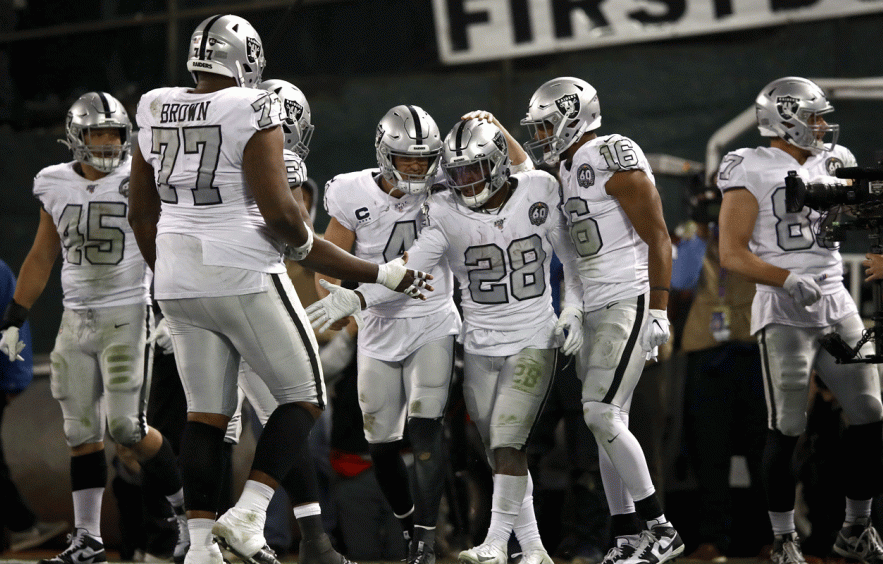 Ezra Shaw/Getty Images
Evaluating offensive line play regarding its effect on fantasy football output has been a stone unturned throughout the course of our game within a game. Here at 4for4, we're dedicated to looking at fantasy pieces from all angles, and that includes the positive and negative impact an offensive line has on that team's fantasy assets.
Below I'm going to be digging into specific weekly matchups between offensive lines and the opposing defense's aFPA —one of the many useful tools available to us here at 4for4. Many sites publish raw fantasy points allowed by position, but 4for4 goes a step further and adjusts those numbers for a defense's relative year-to-date schedule strength. Beginning this week and moving forward, aFPA will reflect the current season since we believe the three weeks of information begins to show reliable numbers and patterns.
Let's begin by diving into the passing game to see what o-line/defense matchups we can exploit.
Favorable Quarterback Matchups
Basically, what we're looking for here is a tall bar (a team ranked low in aFPA) towards the left of the graph (a team ranked high in offensive line play) for a positive correlation to offense and a small bar towards the right to a positive correlation for a defense. Here are the plays that stick out to me:
Packers

@

Giants

As the grueling NFL season trudges along, teams are much more likely to be playing with a backup, or at least a starter playing through injuries along their frontline. Things are no different with Green Bay, who will be without stud right tackle Bryan Bulaga for a week or two but avoided a long term diagnosis after he left the field Sunday night.
#Packers RT Bryan Bulaga is believed to have an MCL sprain, source said. He'll have an MRI to determine how long he's out, but it's nothing major. Most importantly, the ACL was spared.

— Ian Rapoport (@RapSheet) November 25, 2019
The best bet to get starter reps moving forward is second-year UDFA Alex Light, who has graded out as a replacement-level player in his minimal 68 snaps played in 2019. He had a rough go of it against the likes of Nick Bosa after Bulaga went down, but the Giants do not have a Nick Bosa. What's more, they hardly have a coverage team; allowing 8.1 yards per pass attempt, second-most to the 0-11 Cincinnati Bengals. New York has been susceptible to the long ball this season, allowing an Explosive Pass Play on 12% of its plays, ranking 29th according to SharpFootballStats.com.
Davante Adams has target totals of 11, 10 and 12 since returning from injury and another double-digit game should be all but guaranteed here in Week 13. For those in desperate need in a deep league, or someone wanting to roll the dice on a deep tournament dart throw; Geronimo Allison will line up from the slot where the Giants are a sieve. Allison racked up the second most wide receiver snaps against the 49ers.
Colts

vs.

Titans

Jacoby Brissett didn't have an inspiring performance last Thursday night (16-25 for 129 yards, rushing TD) and the Titans just beat up on the Jaguars (42-20). Tennessee still ranks in the bottom half of the league in aFPA to quarterbacks and Indianapolis has a very formidable offensive line to help create for their playmakers. Brissett will be another 10 days removed from his injury and T.Y. Hilton will be in for a full complement of snaps after playing on a snap count in Week 12.

This matchup opens itself up to Jack Doyle who has been barely usable as he comes into the game as the season-long TE18. The Titans rank 26th in aFPA to tight ends and Eric Ebron will be gone for the rest of the year after Indianapolis placed him on Injured Reserve this week. Excluding the Jaguars who really don't incorporate tight ends into their offense, the Titans' previous four opponents have averaged five catches and 61 yards on seven targets from the tight end position. While that's not going to blow anyone out of the water, it's easily a TE1 finish on any given week.

With Marlon Mack set to miss at least one more game and Ebron obviously out for the remainder of the season, Nyheim Hines continues to stay in the discussion for extra playing time. Last week Hines saw a season-high nine carries while maintaining his 12% target share, which is exactly the same as his season-long target share. It looks as though he'll get upwards of another 15ish touches this week which is enough to provide fantasy value with his explosiveness.
Saints

@

Falcons

(Thanksgiving game)

Terron Armstead is an (the?) integral part of this Saints offensive line and it's a big blow to a team that has floated around the top three in my rankings all season long. Even with that blow, New Orleans is still a top-ten unit in my opinion and though the Falcons pass rush had a magical Week 10 and 11, they fell right back to earth in Week 12 when they accumulated only a single QB hit on Jameis Winston, even though he had racked up 30 sacks taken on the year prior to the meeting.

As this game will be the most attackable on the Turkey Day slate (49.0 over/under, BUF/DAL is 45.0, CHI/DET is 38.5), it'll be interesting to see how we can exploit this matchup without clicking on Drew Brees, Michael Thomas, and moving on.

Ted Ginn is one idea, though he hasn't surpassed 50 yards since Week 1 when he racked up 7-101 on seven targets to set us up for a year of disappointment. Nonetheless, he has doubled up Tre'Quan Smith's targets and tripled up his Air Yards over the last three weeks, trailing only Michael Thomas (267 to 261) since the Saints' Week 9 bye. Ginn's 20.1 aDOT over that span makes him a fantastic dart throw.

You can play lineups in the Thanksgiving slate with both Michael Thomas and Alvin Kamara but you have to hold your nose a little bit (Bo Scarbrough, anyone?). I think you almost have to play either Kamara or Latavius Murray in 100% of your lineups with their touchdown upside but I'm hoping people overreact to Kamara's Week 12 dud and Latavius' 9.1 yards per carry.
Favorable Defensive Matchups
Eagles

@

Dolphins

Philadelphia is dangerously close to equating 2019 to a lost season. The only thing standing in their way of a winning record is the next three weeks of Miami, the Giants and Washington. Alright, maybe it's not a lost season after all, but they better start to take care of business. With the worst receiver group in the league and an underperforming Carson Wentz, the boost is not likely coming from the offense. This puts the onus on Jim Schwartz's defense and its invasive pass rush. The Eagles boast five different players who rank in the top-85 of Sports Info Solutions' Pressure% with edge rusher Vinny Curry ranking third among defensive ends by pressuring the quarterback on a whopping 17.65% of his snaps.

This fearsome defensive front will face off against a Dolphins team that ranks 29th in Adjusted Sack Rate and has allowed a league-high 96 QB Hits. This coincides with a quarterback in Ryan Fitzpatrick who has never seen an interception he didn't want to throw. Fitzpatrick has thrown multiple interceptions in three of his eight starts this season and has taken 22 sacks in his last five games. Fitzmagic is admittedly one of the most fun quarterbacks to watch in the league, but it's just as much fun to start a fantasy defense against him.
Steelers

vs.

Browns

It looks like we're just going to stick in the state of Pennsylvania for both defensive matchups this week. Pittsburgh has just about as devastating of a pass rush as the Eagles do, led by T.J. Watt who has been playing at a level reminiscent of some of his older brother's healthy seasons. While Vinny Curry has been a homewrecker for the Eagles, he has done so as a rotational player. Watt has a slightly lower Pressure% (14.87 - 15th among all pass rushers), but he's keeping that level of play up as a full-time player - something that only a handful of players in the league can claim. When teams slide to Watt's side or force him into a double team it only opens up lanes for the likes of Cameron Heyward, Stephon Tuitt and Javon Hargrave. Oh, and let us not forget about the guy who terrorizes from the other side - Bud Dupree, who happens to have a career-high seven sacks.

Cleveland had a standout performance at home against Pittsburgh last Thursday night and mostly muted this esteemed pass rush. I'm not going to get into everything that happened in that game but the Cleveland defense will be without Miles Garrett and Pittsburgh has made the switch from Mason Rudolph to Devlin Hodges. That's all to say that I believe the game script will be nothing like it was in Week 11, and that means the Steelers will have more opportunities to get after the quarterback instead of watching the Browns run the ball on 50% of their snaps (35/70).
Favorable Running Back Matchups
The above rushing aFPA graph will work exactly the same way as the QB aFPA graph worked; tall lines on the left are areas we want to attack and short lines on the right should make you second guess the fantasy pieces associated with those offenses.
Raiders

@

Chiefs

Josh Jacobs and the entire Oakland offense let down in a big way against the New York Jets during Week 12. Down 34-3 in the third quarter, Jon Gruden decided it was best to live to see another day and pulled both Jacobs and quarterback Derek Carr in anticipation for more important divisional games that will decide their playoff fate. One such divisional game comes on Sunday against the Kansas City Chiefs, who enter the match ranking third in rushing yards allowed (1,574), second in yards per attempt (5.1) and —most importantly— dead last in 4for4's aFPA to running backs.

Jacobs himself was seeing an increased role in the offense over the last month of the season prior to his lowest snap count of the year and a drop to his pre-bye week usage.
Josh Jacobs

2019 Usage Rates

| Usage Stats* | Weeks 1-5 | Weeks 7-11 | Week 12 |
| --- | --- | --- | --- |
| Target % | 5% | 10% | 3% |
| Snap % | 57% | 57% | 39% |
| Touch Rate (TCH/Snap) | 51.1% | 61.6% | 47.8% |
*All of these tools are available through 4for4
This week should see a return to his 60/40 share of the backfield, and with a target percentage up around 10% that makes him one of the most usable fantasy commodities available to us. This week checks all the boxes; a great run-blocking offensive line (4.74 Adjusted Line Yards - 5th best), a weak run defense, a return to his role of pass-catching back, in a game with the highest Vegas total of the week (51.5). There's also the possibility that Hunter Renfrow could miss this game, adding another target or two to the running back pool.
Before a middling matchup against the Titans in Week 14, Jacobs finishes out the fantasy playoffs against Jacksonville in Week 15 and the Chargers in Week 16. He has a great opportunity to finish out his rookie season strong.
Giants

vs.

Packers

On the other side of a great passing matchup from the Green Bay point of view, we have an equally appealing rushing matchup from the Giants' point of view. The Packers rank a respectable 19th in pass defense DVOA but rank down at 28th in rush defense DVOA, so it comes as no surprise they are allowing rushing yards, rushing touchdowns and yards per carry all within the bottom-five of the league. Saquon Barkley has fallen out of the good graces of the fantasy football cognoscenti, with his lack of passing game usage often cited by aggravated fantasy owners as the downfall of his season. While it's true that Daniel Jones is not quite the check-down machine that Eli Manning was, the whisperings that Jones is a downfield passer couldn't be further from the truth. Jones' 7.8 Intended Air Yards ranks him as the 27th most aggressive downfield quarterback according to Next Gen Stats, behind the likes of Dwayne Haskins, Mason Rudolph and Mitchell Trubisky.

Barkley is averaging six targets a game since Daniel Jones took over with two games of 8+ in the six games they have played together. The demise of Saquon Barkley is vastly exaggerated and coming off of two difficult games against the Jets and Bears rush defenses he is priced all the way down to $7,400 on Draftkings, after spending the first half of the season flirting with $9,000+ price tags. This game, in general, feels like a sneaky one to attack in DFS.
Running Backs with Bad Matchups
As opposed to breaking down every bad match-up through the rest of the slate, here are some running backs I'm looking to avoid because of their poor offensive line and the strong defensive fronts they will be facing:
That's all I've got for this week, everyone. If there's something you'd like me to dig into specifically with regards to offensive line vs. defensive lines please give me a shout! For further reading regarding our aFPA statistic and how to use it in your favor, give John Paulsen's Sneaky Starts series a read!