Week 2 Preseason NFL DFS: Monday Slate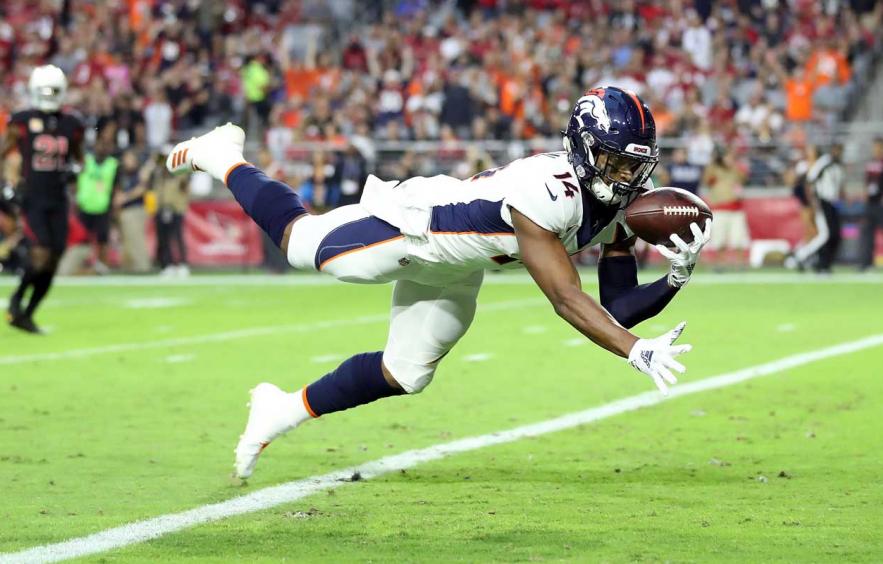 Christian Petersen/Getty Images
Been waiting all day for Monday night? That's good because we've got you covered for tonight's preseason matchup between the San Francisco 49ers and Denver Broncos. Before I get into the plays I just wanted to touch on some general tips for creating lineups for the Showdown slate.
Emphasize players at positions that lack depth. This will vary from team-to-team, but obviously both defenses on a showdown slate have amplified value because they are the only options that can accrue fantasy points for the entire game. Often times a team may have a few players injured at a given positon, say running back, and every carry will be handled by two players. Those are the situations you want to target. Additionally, some teams only carry one kicker, which means all the field goals and extra points will go to one player which is also something to keep an eye on. This is obviously provided that the team doesn't try unorthodox strategies because these games are glorified practice, like always going for two or having wide receivers attempt drop kick extra points.
Make sure the correlation makes sense. When you are building lineups, do your best to pair quarterbacks with their teammates that will be on the field at the same time. This is something you don't have to think about in the regular season. However, in preseason make sure you are NOT stacking the second-string quarterback with the fifth string wide receiver. It's more than likely that the third-string quarterback will be on the field with the roster bubble fifth-stringers.
Strike a balance between playing time and upside on your rosters. While it's smart to have a large share of defenses and to sprinkle in kickers in your player pool, rostering all four on one roster caps the upside of your lineup. A running back or wide receiver, even if they are only on the field for a quarter or two can rack up just as many, if not more points with one or two big plays.
Quarterbacks
Jimmy Garoppolo is expected to make his first start since tearing his ACL last season. He reportedly could see 2-3 drives. However with the 49ers offensive line being banged up and potentially record setting heat at kickoff, I'm expecting the team to play it safe with him. C.J. Beathard is listed as the number two quarterback and will follow Jimmy G because Nick Mullens got the start last week. The battle for the backup spot is reportedly "very close" and both players should see alot of action. That said I think I prefer Mullens, as he should be going up against the second and third string defenders.
Joe Flacco and the Broncos starters could see "about a quarter" of playing time. We've seen these type of reports backfire already this week but I think I'll have a some exposure to Flacco as the backup quarterback reps are up in the air. Drew Lock has been the most effective player and I think the team will want to showcase him after he took a big leap forward last week. The 49ers secondary was awful last season and while they've only played one game, they don't look to be much better this year.
Running Backs
Matt Breida is listed at the top of the depth chart but it's been reported that Tevin Coleman is the clear cut number one back. If true, it's possible Breida may get a few extra reps between the starters and the second team tonight. Similar to what the Chargers did last night with Justin Jackson. Due to his playmaking ability and usage in the passing game, Breida could rack up quality points in a hurry. After that the team will divide up the touches between Raheem Mostert, Austin Walter, Jeff Wilson and Brandon Wilds. That's a pretty messy situation but the team knows what Raheem Mostert gives them, so I'd be surprised if he got a lot of work. Austin Walter would be favorite out of the other three,I thought he showed some juice when he got touches last week.
A quarter from a committee situation isn't really ideal so I'm not too interested in Philip Lindsay or Royce Freeman. It may be worth having a "sprinkle" as Pat would say, though I'd lean Freeman on the chance he lands in the end zone. Khalfani Muhammad will likely be a popular play due to his production but it's worth mentioning that Devonte Jackson still leads the team in rushing attempts and David Williams only has one fewer reception than Muhammad. Both are solid pivots.
Update: Khalfani Muhammad appears to be out.
Wide Receivers
While Dante Pettis is listed a starter on the depth chart, word out of 49ers camp is rookies Deebo Samuel could get the start alongside Marquise Goodwin. If true, Pettis becomes really interesting as the team has kind of gone out of it's way to criticize him and may look to get him going in this one. Jalen Hurd is interesting because of his versatility, however he's on people's radar after scoring two touchdowns on only three receptions. Richie James is my favorite play of the group as he leads the team in targets and catches and adds kick return ability. Kendrick Bourne is a sleeper as he's battling with veteran Jordan Matthews for a roster spot. Bourne quietly led the team in receptions last season and is reportedly a Kyle Shanahan favorite.
Emmanuel Sanders is suiting up for this one and while I'm not interested in playing him, I wanted to mention him so we can all pray he stays healthy. In the team scrimmages the Broncos first team offense had a few splash plays by both Sanders and Courtland Sutton. As the offense looks to get out of the funk from the last two weeks, a few early shots to Sutton is definitely in the cards. It's a crowded group but pretty much all of the backup receivers are in play against the 49ers suspect secondary. Tim Patrick has the revenge game narrative going for him and he scored twice on his former team in practice. Steven Dunbar leads the team in targets but he hasn't done much with them at all. Kelvin McKnight and Trinity Benson are my favorite sleeper plays as they bring homerun play upside.
Tight Ends
Denver made it a point to get rookie Noah Fant looks and he's certainly back in play. Backup Austin Fort who has five targets, tore his ACL last week against Seattle. Jake Butt has returned from injury but it hasn't been confirmed if he's playing. If he doesn't go, Bug Howard would be the dark horse as he's a converted receiver and his athleticism gives him a massive ceiling.
With George Kittle likely sitting this one out, Ross Dwelley and Kaden Smith should split up most of the reps for San Francisco. They may not have the upside that the Broncos tight ends present but the isolated playing time is what we want to target.
Core Plays