How to Pinpoint Fantasy Football Sleepers and Avoid Traps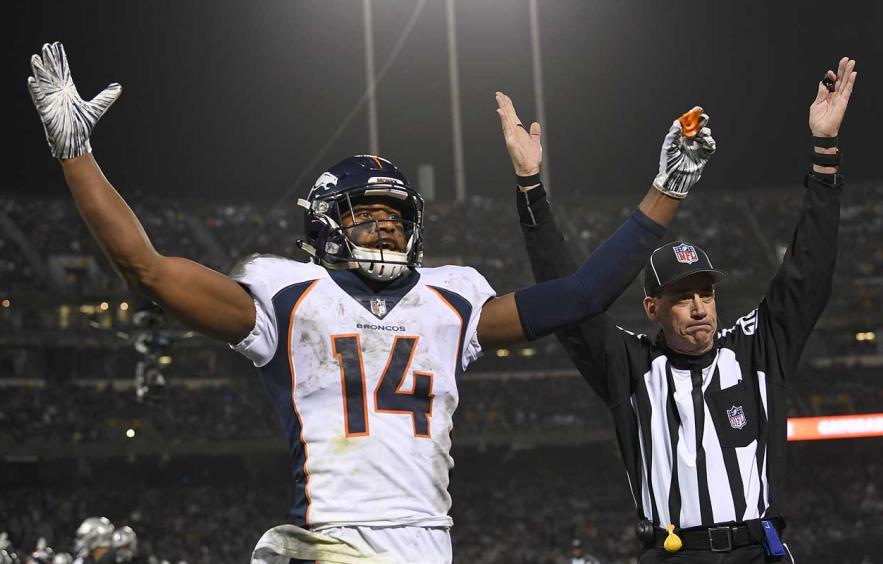 Thearon W. Henderson/Getty Images
When assessing the fantasy landscape, it is easy to fall in love with the early-round options who have a history of strong performance. However, the middle and later round options who emerge tend to propel teams to the playoffs, and ultimately, a fantasy championship. Players like Patrick Mahomes, Derrick Henry, Tarik Cohen, and others surfaced either as seasonal or playoff heroes in 2018. Rather than scour the entire NFL player database trying to find these outliers, there are some simple guidelines that can help uncover potential candidates for sleepers in 2019. Those guidelines will be listed below along with a pair of sleepers who fit the category and a potential trap option.
Vacant Touches and Targets
This is a relatively easy concept. Teams see turnover due to retirement, free agency, injury, and other player movement every season. Finding those potential opportunities can then narrow down some talented sleepers who can step up their contributions to an NFL offense. Whether they are new to the offense and team or are holdovers seeking a bigger role, this is usually a great source of sleeper potential, as we saw with James Conner after LeVeon Bell decided to hold out last year. Not all these instances are so clear cut, but there are several players who could see a big spike in volume and production.
Sleepers
James Washington

, WR, Pittsburgh

Steelers

With Antonio Brown moving on, there is a huge hole (168 targets) in the receiving game that needs re-allocation. Even with a 50% share of those vacant targets along with his volume from last year, Washington becomes a 120-target player whose efficiency and explosiveness could catapult him into the top 24 wide receivers. Even if newcomers Donte Moncrief and rookie Diontae Johnson integrate well, there are enough opportunities to keep Washington profitable at his current 11.01 ADP in 12-team leagues.
Mike Davis

, RB, Chicago

Bears

While it's easy to assume David Montgomery will step into the role vacated by Jordan Howard, Davis is being drafted 11 rounds later (16th vs 5th). Both were brought in this offseason and fit coach Matt Nagy's interest in a three-down option who can disguise their playcalling. Ultimately, we are looking for sleepers here and while Montgomery's ADP is reasonable given the uncertainty, Davis provides zero downside with a non-zero chance to take on a significant portion of Howard's 270 touches from 2018.
Trap
Golden Tate

, WR, New York

Giants

Seeing Odell Beckham get traded seems like an opportunity to jump at a potential replacement. However, the team's main addition, Tate, is not a similar player in any way to Beckham and is more redundant than complementary to the remaining group. He is still a threat after the catch and has sure hands, but this can be used to describe Sterling Shepard or Evan Engram. While this offense will feature quick passes, an early ninth-round pick is rich for a player who needs volume and is not playing on a dynamic offense.
Offensive Play-Calling Upgrades
No two offenses are created equal. For every imaginative play call by Sean McVay or Andy Reid, we have to sit through the painful decisions by Pat Shurmur or Doug Marrone. NFL teams are slowly becoming bold in an effort to unearth the next innovator on offense. Several teams this offseason focused on upgrading their offensive pioneer either through a new coordinator or a head coaching change. This has been effective in driving fantasy performance like McVay with the Rams or Frank Reich with the Colts. It is likely several of these moves will have some immediate beneficiaries.
Sleepers
Christian Kirk

, WR, Arizona

Cardinals

The introduction of Kliff Kingsbury to the desert brings a high pace and a reliance on spread offenses that feature multiple receiving options. David Johnson and Larry Fitzgerald will see their roles remain firmly in place, but there are openings for at least one more player to emerge. Despite the team drafting three receivers, Kirk remains the best talent at the position. His eighth-round ADP is reasonable for someone who has shown success in a spread offense and has the sure hands and explosiveness to succeed. New quarterback Kyler Murray is a big upgrade as well and should maximize Kirk's chances in their uptempo offense.
Peyton Barber

, RB, Tampa Bay

Buccaneers

When Bruce Arians had stability at quarterback in Arizona with Carson Palmer, the rushing offense was among the best in the NFL. Granted, that was with David Johnson. While the jury is still somewhat out on Jameis Winston, he is capable enough to be effective for Arians. Ronald Jones may get more of the offseason publicity, but Barber is the more well-rounded option and a steadier hand for an offense that needs stability. Right now, Barber is being drafted three rounds after Jones, a nice arbitrage opportunity for the savvy drafter.
Trap
Chris Herndon

, TE, New York

Jets

Adam Gase has built a reputation as an offensive guru after presiding over the Broncos offense during Peyton Manning's time in Denver. While Julius Thomas did have 65 receptions in that first year, no tight end has reached 50 receptions in any of the other five seasons Gase has led an offense. Herndon is currently a 10th-round pick and the 14th tight end selected, before players like Jimmy Graham, Kyle Rudolph, and both former Iowa Hawkeyes. There isn't enough upside here with a change in offensive philosophy to expect fringe starter-level numbers from Herndon.
Supporting Cast Upgrades
Much like an improvement in play calling, fantasy performance can be impacted by the environment around a player. Whether it is an offensive line or a skill position addition, they can have a ripple effect across that side of the ball. Matt Ryan saw this in 2018 with the emergence of rookie Calvin Ridley as a legitimate second option opposite Julio Jones after a down 2017. While one player may not be the sole reason, it can foreshadow a shift in offensive philosophy that can also help predict a fantasy breakout (or reemergence in Ryan's case).
Sleepers
DaeSean Hamilton

, WR, Denver

Broncos

There are a lot of signs that point to the Broncos fielding a more effective passing game. In 2018, they were eighth in pass attempts but just 19th in passing yards, a combination of a low completion rate and a lot of inefficient short passes. The additions of Joe Flacco, Drew Lock, Noah Fant, and Dalton Risner along with a full offseason without Demaryius Thomas and Emmanuel Sanders all speak positively to where this passing game is heading for those who are holdovers. They should stretch the field more and do it more efficiently with Hamilton likely operating underneath in a less trafficked area. At a 15th-round ADP, Hamilton is basically free and if Sanders struggles to get back on the field after an Achilles tear, expect some nice early returns.
Derek Carr

, QB, Oakland

Raiders

It's important to note that quarterbacks should not be drafted early. It is also important to note that Carr is not an elite quarterback. However, the Raiders went on a shopping spree this offseason for Carr by adding Antonio Brown, Tyrell Williams, J.J. Nelson, and Josh Jacobs among others. Compare that to half a season with Amari Cooper and a full season of Jared Cook and Marcell Ateman last year. Even if he fails to be a weekly starting option, Carr is the 23rd quarterback drafted so he will likely be a free waiver pickup in many leagues who has one of the best chances to surprise fantasy players.
Trap
Devonta Freeman

, RB, Atlanta

Falcons

A rough year for Freeman saw him manage just 14 carries in 2018 and the team shy away from the run, ranking just 30th in rushing attempts. The Falcons did draft two offensive linemen in the first round of the draft and said goodbye to Tevin Coleman, the yang to Freeman's yin. Even before the injury, Freeman was experiencing declines in carries, receptions, yards from scrimmage, and touchdowns that cannot be ignored. A third-round ADP price tag makes it clear that early drafters are valuing the offensive upgrades and his lack of competition more strongly than the trending decrease in volume and total production.
Strength of Schedule
Often understood, sometimes strength of schedule can be overlooked by seasonal players when drafting. Most prognosticators, including here at 4for4, leverage it as part of their projections but most drafters do not peel back the curtain to look at weekly numbers to gain an extra edge. While making the playoffs is nice, it is also important to set up a team to perform well enough in the playoffs to win a title. That's where some key sleepers can be stashed and later used down the stretch.
Sleepers
Kenyan Drake

, RB, Miami

Dolphins

Calling a late fifth-round player a sleeper may seem disingenuous but as the 26th running back off the board, there is a good amount of value here. The team failed to add anyone significant to the depth chart and their schedule lines up nicely, particularly during the fantasy playoffs. The easiest schedule overall for PPR backs has the second-easiest playoff schedule against the Jets, Giants, and Bengals. Drake will likely outplay that 26th ranked value all season and could even be a fringe RB1 by season's end.
Marcus Mariota

, QB, Tennessee

Titans

Mariota is likely going to "Rick Roll" me until he retires but there is reason to like him. In many leagues, he is not even being drafted and while he has largely underperformed, Mariota has multiple factors in his favor. Upgrades at wide receiver help in the forms of Adam Humphries and A.J. Brown. Add in one of the softest schedules with juicy fantasy playoff matchups against the Raiders, Texans, and Saints to give him massive upside as either a stash or streaming option.
Trap
Noah Fant

, TE, Denver

Broncos

Fant is a rare talent but it is hard to bet on a rookie tight end to be fantasy relevant, much less a weekly starter. His schedule is favorable and there are no roadblocks at the position but he will have competition for targets both underneath and vertically. While Fant could work out, there are a lot of options in the 14th round where he is being drafted and it's likely that there will be streaming options throughout the year as well.
Bounce-back Candidates
The bounce-back, be it due to injury or other circumstances, is one of the tougher situations to predict. In many cases, it is a signal to a general decline for a player or it can be a regression from a previous breakout that aligns more closely to their actual ability to create fantasy points. That said, it is difficult to know what players are dealing with as many are secretive about lingering injuries or personal issues and simply want to keep playing to help their NFL team win games. Others are recovering from injury, having missed time, or saw the misfortune of others in the offense impact their performance.
Sleepers
Curtis Samuel

, WR, Carolina

Panthers

While Samuel had some injury issues last year, a procedure to correct a heart problem and a hamstring injury, it was Cam Newton's shoulder injury that was more devastating to his development and production. Newton admitted that his arm strength was way down, affecting his ability to make certain key throws. With one of Samuel's strengths being his deep speed, this wasn't a positive for the soon to be third-year receiver. Newton has made progress since an offseason surgery and the team drafted Will Grier as an insurance policy. Samuel is a late 10th round pick in 12-team leagues and could return WR3 value. The bounce-back may be for Newton, but Samuel is a chief beneficiary.
Chris Thompson

, RB, Washington Redskins

Rib injuries are brutal, especially for an NFL running back. Already difficult to breathe, imagine getting hit by NFL defenders while trying to play through it. Missing six games in 2018, Thompson was already trying to bounce back from a leg injury that ended his 2017 season. This backfield is a mess but Thompson has a clear role. He is one of eight running backs who have amassed 80 receptions and averaged over four per game over the last two seasons. The others are Christian McCaffrey, Saquon Barkley, LeVeon Bell, Alvin Kamara, James White, Todd Gurley, and Ezekiel Elliott. Not bad company. Thompson is an 18th-round pick, undrafted in many leagues and someone who could be a nice bye week fill-in with upside.
Trap
Emmanuel Sanders

, WR, Denver

Broncos

Hamilton was mentioned earlier as a sleeper so Sanders feels like a trap. Achilles injuries require a lot of time to recover and many do not return the same as a player. Sanders is already in his 30s and will not have a chance to develop a rapport with Flacco before the season. The possibility of missing the first six games on the PUP list also exists. Even as an 11th-round pick, Sanders is more likely to take up a roster spot while fantasy teams are vying for the playoffs than be a meaningful contributor.