TJ's Take: Week 10 NFL DFS Recap
TJ Hernandez
Week 10's winning lineups from the biggest contests on FanDuel and DraftKings can be used to tease out lineup-building strategies and offer clues on how you could have landed on a similar team. Reviewing your hits and misses each week is imperative if you want to be a profitable DFS player but examining winning lineups is also a useful exercise in cultivating a winning approach.
This is a free offering in our weekly content contained in the 4for4 DFS subscription. To get access to all of our weekly DFS analysis, sign up here!
DraftKings Week 10 Millionaire Winning Lineup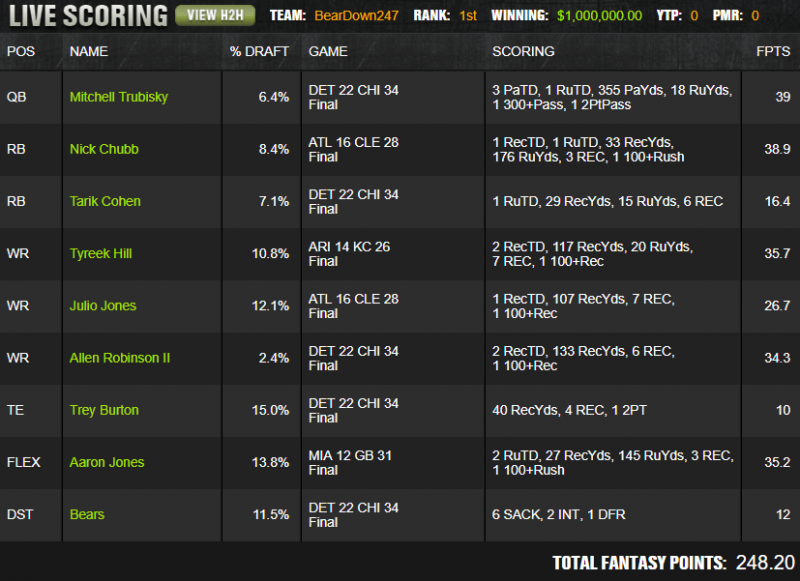 If the screen name is any indication, BearDown247 rode a homer team stack to Week 10's million dollar prize on DraftKings. This wasn't a team stack built with the heart though—there were many indicators that pointed to Trubisky and Co. as one of the top stacks to target this week. That evidence dominated 4for4 leading up to kickoff, as Trubisky was highlighted as a player to build a contrarian stack with and a player to be overweight on.
Probably the most notable attribute of this lineup was the fact that BearDown247 won with three running backs priced below $6,000, a stark contrast to what's been successful in tournaments up to this point. This isn't to say that every DFS owner should suddenly race to fade high-priced backs—instead, this lineup is a reminder on the many ways to be contrarian, one of those being lineup construction. While expensive running backs have dominated leaderboards, owners have been scrambling to jam in those studs, leading to many similar lineups. By taking a small percentage of your lineups in play and paying down where others are paying up, or vice versa, you can bring a unique approach to a game where gaining an information edge is become tougher every week.
What Were the Indicators for the Low-Owned Plays?
I already mentioned that we were high on the Bears' passing game at 4for4 this week but Pat James took it a step further in last week's Slate Breakdown, highlighting Tarik Cohen as one of his preferred players to pair with Trubisky. Anyone who was actively browsing twitter during the week might have caught this tidbit highlighting the correlation between Trubisky and Cohen's production.
While Allen Robinson hasn't been healthy, he's the primary target in this offense when he is on the field and anyone who was overweight on Trubisky should have had some exposure to ARob, even if he wasn't the preferred option. As it turned out, a player who maxed-entered the Millionaire would have been overweight on the field with Robinson in just four lineups.
As a six-point underdog, Nick Chubb flew under the radar, but targeting the Falcons with a running back has been a weekly move that has paid dividends, and Chubb had seen 20+ touches in consecutive games. Cheap volume is usually key to finding success in DFS, even if it means rostering a Cleveland Brown.
FanDuel Week 10 Sunday Million Winning Lineup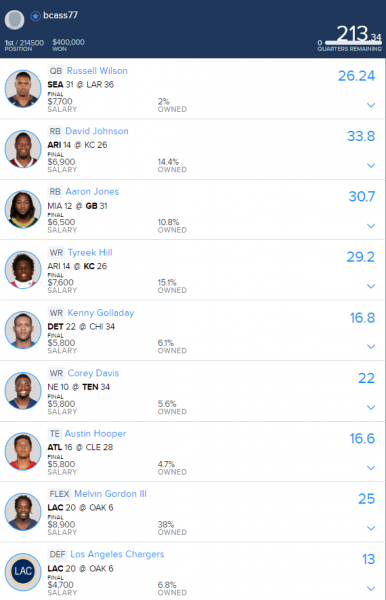 With just one player in more than 15 percent of lineups and five roster spots filled by players on fewer than 10 percent of teams, bcass77 won Week 10's Sunday Million with the least-chalky lineup we've seen atop the leaderboard all season. Maybe most unique was the fact that this lineup implemented the "naked" quarterback strategy, using Russell Wilson without stacking him with a teammate. This strategy is best suited for quarterbacks who spread the ball around liberally and have running upside. Going into the week, no Seahawk had seen more than 17 percent of the team's targets and while Wilson hasn't run much this season, his ability to scramble is always present.
What Were the Indicators for the Low-Owned Plays?
We value efficiency with quarterbacks because it means they can post massive fantasy numbers on relatively few attempts. In the six weeks prior to this, Wilson ranked second in fantasy points per pass attempt to only Mitch Trubisky, and Wilson remained economical in Week 10, tossing three scores on just 26 attempts.
After the Lions traded away Golden Tate, most assumed that Tate's targets would be spread relatively evenly among Kenny Golladay and Marvin Jones, and that wasn't the case in the first week without Tate, with Jones leading the way in Week 9. Apparently, those vacated targets will be spread evenly, although it may mean a different receiver dominating looks each week, rather than an even weekly split as Golladay out-targeted Jones 13–7 in Week 10. This wasn't a matchup that went unnoticed against a Bears defense ranked 23rd in schedule-adjusted fantasy points allowed to receivers, it was just that Jones was the preferred play.
Corey Davis's low ownership came as a bit of a surprise, as he was a relatively popular play on DraftKings. Though Davis wasn't quite as cheap on FanDuel, his massive target share—30.8 percent over the last month—should have raised more eyebrows.
Austin Hooper made sense from a simple game theory perspective. His production has been sporadic but he has shown double-digit target upside this season. Five of the seven tight ends with the highest ownership projections were priced between $5,500 and $6,300 and Hooper's salary was essentially at the midpoint. Rather than guessing which popular tight end hit, it makes sense to find a price pivot at the most volatile skill position in fantasy.
TJ's Final Take
Follow the volume. It's preached every week here at 4for4 and is the basis for one of our most popular and accurate weekly columns, but it's a lesson that was brought to the forefront this week, with players like Chubb and David Johnson showing up in winning lineups. These point explosions shouldn't catch us off guard but many DFS players get caught in the trap of focusing on season-long stats. Instead, it's best to look for recent trends in hopes of getting out in front of the hype.
Below is a table highlighting the players who have seen the most touches over the last month. Players who haven't popped in fantasy in recent weeks but are dominating their teams' workload are often good GPP targets, especially if their work has been game script independent. Take Kerryon Johnson for example—ranked eight in total touches over the last four weeks, Johnson is on a team that's run at the seventh-highest rate in neutral game script since Week 6 after passing at the fifth-highest rate in neutral situations over the first five weeks. Uncovering trends such as this one is how you eventually land on an eight percent owned Nick Chubb.
Photo by Abbie Parr/Getty Images.