DFS Air Yards Buy-Low Model: Week 10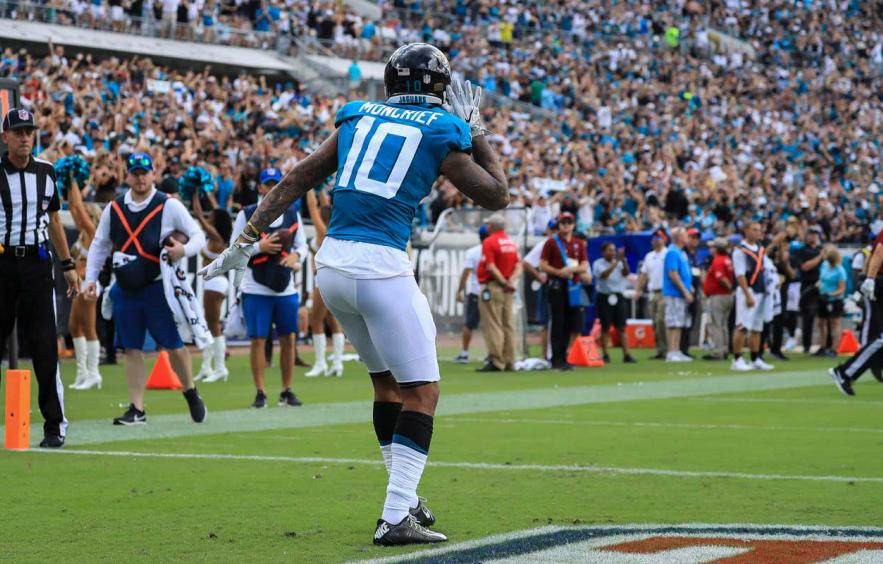 Josh Hermsmeyer
It's Week 10 of the Air Yards Buy-Low Model. Last week the model was accurate but less useful in spotting smash plays than usual. Many names return, and this week I'm hoping for more outsized performances relative to expectation.
For new readers, the Buy-Low Model looks at players who received opportunity in the form of targets and air yards in the previous three weeks and offers an expected fantasy points value based on those inputs. It then highlights which players underperformed relative to that expectation. The key insight behind the model is that opportunity is sticky and production in the form of catches, touchdowns and shot plays are not. You want to buy the signal and fade the noise. The list highlights players who are strong candidates to have a performance spike in the near future.
This week the model sports an out-of-sample r-squared of 0.60, lower than last week, but still an extremely solid number.
This is a free offering in our weekly content contained in the 4for4 DFS subscription. To get access to all of our weekly DFS analysis, sign up here!
In GPPs you need to look beyond the median projections and identify value plays that are low-owned that can set your team apart and put up crooked numbers. Here is a list of receivers and tight ends who have underperformed their volume for the past three weeks that the model thinks could be in store for a bounce-back week in the near future. Maybe even this week.
Key Takeaways
Donte Moncrief ($4,700 DK/$5,500 FD) is cheap and playing in a game with a low Vegas total, so he is likely to be low-owned. He's been on the list before and smashed, but he has again underperformed recently. Bet on volume as usual, because he is getting a ton—21 percent of the Jaguars' targets and 32 percent of their air yards are directed his way. The player with the second-most opportunity on the team is D.J. Chark and he has also been underperforming that volume. He made the list as well, but Moncrief is the play in my mind.
Golden Tate ($5,200 DK/$6,900 FD) has moved over to the Eagles and looks like he will be incorporated quickly into the offense. Tate is good at basically every depth, but in his tenure with the Lions, he was primarily a short-to-intermediate weapon. It's probably the case that Philadelphia will utilize him in this fashion, and if so, his buy-low status should be secure. There is even a nice narrative-based argument to be made that the Eagles will want to feed their new weapon against their division rival, Dallas, who are dealing with key injuries on defense.
Robby Anderson ($3,800 DK/$5,200 FD) returns to the top five for a second straight week after posting seven fantasy points in Week 9. He's very cheap on DK, probably due to the extremely low Vegas total of 37 for the matchup against Buffalo, but fade Vegas in this instance and again follow the volume. Anderson is receiving 36 percent of the Jets' air yards and 19 percent of the Jets' targets over the past three weeks. His average depth of target is over 20 and his catch rate is under 50 percent. Look for him to catch a shot play or two this week. Editor's note: With McCown last season, Anderson averaged a 4/65/.54 line on 7.1 targets per game—borderline WR2 numbers. He is averaging 2.6/43/.38 on 5.3 targets in 2018.
REDACTED Benjamin ($3.400 DK/$5,000 FD) is back on the list again, and I want to vomit. He sees 39 percent of the air yards in the Buffalo offense, but that's fairly meaningless since it is objectively one of the worst offenses ever trotted out on an NFL field. I can't recommend him, ever.
Photo by Sam Greenwood/Getty Images.