Tracking the 2018 Roster Cut Casualties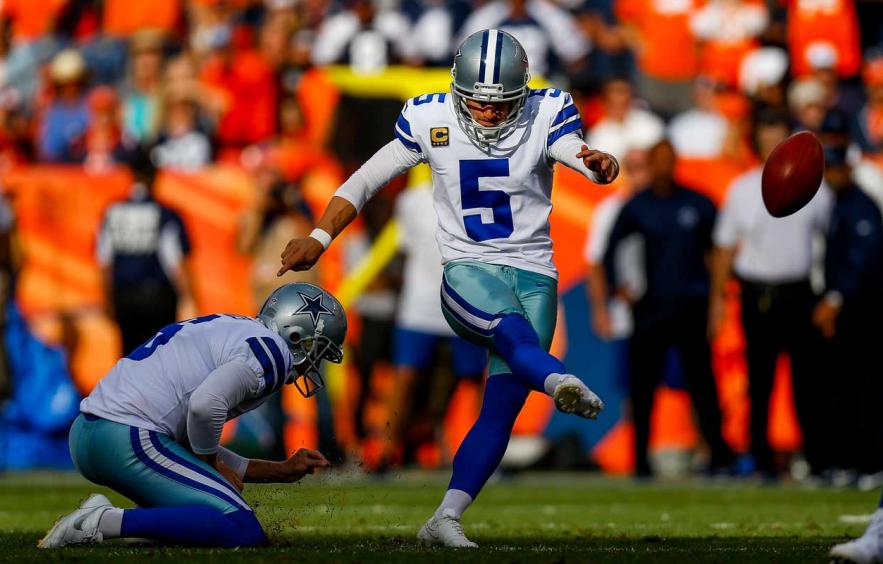 The sad day of final cuts is upon us once again, as NFL teams around the league trim their rosters to get down to the 53 players allowed for the regular season. Teams will need to make hard decisions that will ultimately decide whether a player lives out his dream or must start thinking about a life after football. For many, this may be the last chance at a career in the NFL. For a few, this day marks vindication for a lifetime of hard work and struggle to reach the pinnacle of athletic achievement.
For fantasy owners, final cuts tell a different story. As teams finalize rosters, fans and fantasy owners are treated to a flurry of activity that could make or break a fantasy team. Did you draft the right handcuff? Did your veteran quarterback win the job? Is your kicker still employed? Add the excitement of the impending regular season, and it's a good time to be a football fan.
To keep track of all these moves, 4for4 has you covered! This article will be updated throughout final cut weekend, including updates as players are scooped up off waivers, so check in before your fantasy drafts for any potentially impactful transactions. The below team-by-team brief analysis is not meant to be comprehensive but will highlight any fantasy relevant moves. Cuts will filter in over the next few days, with the final cut to 53 players due this Saturday, September 1st.
Additionally, players placed on the physically unable to perform (PUP) list or on injured reserve (IR) during final cuts will be noted. The IR designation typically means a player's season is done—although, in some cases, a team may bring one player back after six weeks. Meanwhile, landing on the PUP list makes a player ineligible to play for the first six weeks of the season. Likewise, the Non-Football Injury (NFI) list allows teams to reserve a player for a non-football injury for the first six weeks of the season.
Arizona
Cardinals

:

Brice Butler

, WR

Butler was thought to be a contender for the WR2 spot opposite Larry Fitzgerald, but his release means J.J. Nelson or rookie Christian Kirk should get more looks.
Atlanta
Falcons

:

Kurt Benkert

, QB//

Garrett Grayson

, QB//

Giorgio Tavecchio

, K//

David Marvin

, K

Benkert was thought to have an outside shot at the long-term backup job and he may be a candidate for the practice squad. Releasing him and Grayson, the Falcons will carry two quarterbacks going into the season, with Matt Schaub remaining the backup to Matt Ryan. Matt Bryant looks to keep his job as the primary kicker, to no surprise.
Baltimore
Ravens

:

Breshad Perriman

, WR

Perriman has struggled to stay healthy throughout his short career, but the former first-rounder should get some consideration on waivers. His release means Willie Snead is likely to be the team's primary deep threat and WR3.
Buffalo
Bills

:

Corey Coleman

, WR

Surprisingly, Coleman couldn't catch on with a team that needed a playmaking receiver. His release means Zay Jones is likely in play for the starting job opposite Kelvin Benjamin, but it's hard to get too excited about a secondary pass catcher for the Bills.
Carolina
Panthers

:

Garrett Gilbert

, QB

Gilbert and Taylor Heinicke were in a battle for the backup job behind Cam Newton. It looks like Heinicke won out.
Chicago
Bears

: None

No significant roster cuts currently.
Cincinnati
Bengals

:

Brian Hill

, RB//Jonathan Brown, K//

Matt Barkley

, QB (IR)

Randy Bullock wasn't really in danger of losing his job, but the release of Brown confirms he'll be the kicker heading into the season. Hill was vying with rookie Mark Walton for a backup role behind Joe Mixon. Walton will likely get two-down work if Mixon suffers an injury. Barkley's injury means Jeff Driskel will back up Andy Dalton.
Cleveland
Browns

:

Ross Martin

, K

With Martin off the roster, the Browns will lean on Zane Gonzalez for their kicking needs.
Dallas
Cowboys

:

Bo Scarbrough

, RB//

Dan Bailey

, K

With Scarbrough out of the picture, Rod Smith looks to have won the backup job at running back. Bailey's surprise release means Brett Maher has won the kicking job in Dallas.
Denver
Broncos

:

Paxton Lynch

, QB

Lynch lost out to Chad Kelly for the backup role behind Case Keenum.

Matt Cassel has won the backup job behind Matthew Stafford. Zenner's injury eliminates any concerns that LeGarrette Blount won't get short-yardage work.
Green Bay
Packers

: None

No significant roster cuts currently.
Houston
Texans

:

Braxton Miller

, WR//

Joe Webb

, QB//Donta Foreman, RB (PUP)

The Miller experiment as a receiver is over for the Texans, who drafted Keke Coutee this year and have used Bruce Ellington in the slot. With Webb out of the picture, Brandon Weeden will likely back Deshaun Watson. Foreman out for at least the first six weeks of the season means Lamar Miller will have very little competition for touches to start the year.
Indianapolis
Colts

: None

No significant roster cuts currently.
Jacksonville
Jaguars

:

Marqise Lee

, WR (IR)

Lee suffered a brutal knee injury in the third preseason game and he'll be sorely missed. Without Lee, Donte Moncrief and Keelan Cole are likely to be the starters, with Dede Westbrook getting plenty of snaps as well.
Kansas City
Chiefs

: None

No significant roster cuts currently.
Los Angeles
Chargers

:

Roberto Aguayo

, K

It's no surprise Aguayo lost the kicking job to Caleb Sturgis.

Signings: The Chargers have reached an agreement with Antonio Gates, making Virgil Green no longer worth drafting. Gates will have borderline TE1 value.
Los Angeles
Rams

: None

No significant roster cuts currently.
Miami
Dolphins

:

Greg Joseph

, K

It looks like Jason Sanders has won the kicking job in Miami. The Dolphins don't look like a great offense, so Sanders shouldn't be a priority for fantasy owners, but with four games against the Bills and Jets this year, it's possible he'll have streaming value.
Minnesota
Vikings

:

Kendall Wright

, WR

Wright's release means former first-rounder Laquon Treadwell has shown enough to be considered a viable WR3. Look for the Vikings to run a lot of sets with three receivers, with Adam Thielen lining up in the slot frequently.
New England
Patriots

:

Eric Decker

, WR (RETIRED)//

Braxton Berrios

, WR (IR)//

Mike Gillislee

, RB

The Patriots signed Decker with the intention of him starting, but his retirement and Berrios going to IR should leave room for someone like Cordarrelle Patterson or Phillip Dorsett to get additional looks while Julian Edelman serves his four-game suspension. Jeremy Hill is likely to get some short-yardage work with Gillislee no longer on the roster.
New Orleans
Saints

:

Michael Floyd

, WR//

Brandon Tate

, WR//

Jonathan Williams

, RB//

Tom Savage

, QB

There wasn't enough room on the roster for Floyd, and the release of Tate likely means Tommylee Lewis will continue to share return specialist duties with Ted Ginn. Rookie Boston Scott may see some usage during the first four weeks with Williams out of the picture. With the trade for Teddy Bridgewater, the release of Savage is no surprise. He has a chance to catch on somewhere else as a backup however.
New York
Giants

:

Roger Lewis

, WR//

Davis Webb

, QB

With Lewis out of the picture, Cody Latimer should get looks in three-receiver sets. With Webb out, rookie Kyle Lauletta is the likely backup to Eli Manning.
New York
Jets

:

Clive Walford

, TE

Walford was vying for snaps with Jordan Leggett and Chris Herndon, the latter of which stands to benefit the most from a less crowded depth chart in New York.
Oakland
Raiders

:

Griff Whalen

, WR//

Ryan Switzer

, WR (TRADE)//

Martavis Bryant

, WR//

E.J. Manuel

, QB

Switzer is included here because in conjunction with Whalen being placed on IR and subsequently released, these two moves indicate Dwayne Harris has likely won the primary return specialist job. Rumors are Bryant may be facing another suspension and was struggling to get along with the coaching staff. Jordy Nelson should be considered more valuable after Bryant's release. Manuel's release means newly acquired AJ McCarron will be the backup behind Derek Carr.
Philadelphia
Eagles

: None

No significant roster cuts currently.
Pittsburgh
Steelers

:

Landry Jones

, QB

Mason Rudolph may be in play here for the backup job, but Jones was let go because Joshua Dobbs looked too good to let go.

Addition: The Steelers traded for Ryan Switzer, who will vie for the slot job and work in the return game.
San Francisco
49ers

: None

No significant roster cuts currently.
Seattle
Seahawks

:

Austin Davis

, QB

Davis was expendable after the Seahawks trades for Brett Hundley.
Tampa Bay Bucs:
Charles Sims

, RB (Injury Settlement)

Sims was expected to be placed on IR, and if he clears waivers, that's likely where he's headed. Peyton Barber is supposed to be the lead back, but Sims' absence should mean rookie Ronald Jones or holdover Jacquizz Rodgers will get some third-down and change-of-pace work.
Tennesse
Titans

:

Michael Campanaro

, WR (IR)

Campanaro being placed on IR has more of an impact in the return game, where he was likely to share time as the punt returner with Adoree Jackson. He was vying for fourth on the depth chart at WR.
Washington Redskins: None
No significant roster cuts currently.
Photo by Justin Edmonds/Getty Images.