Pass on Nick Chubb in Your Fantasy Drafts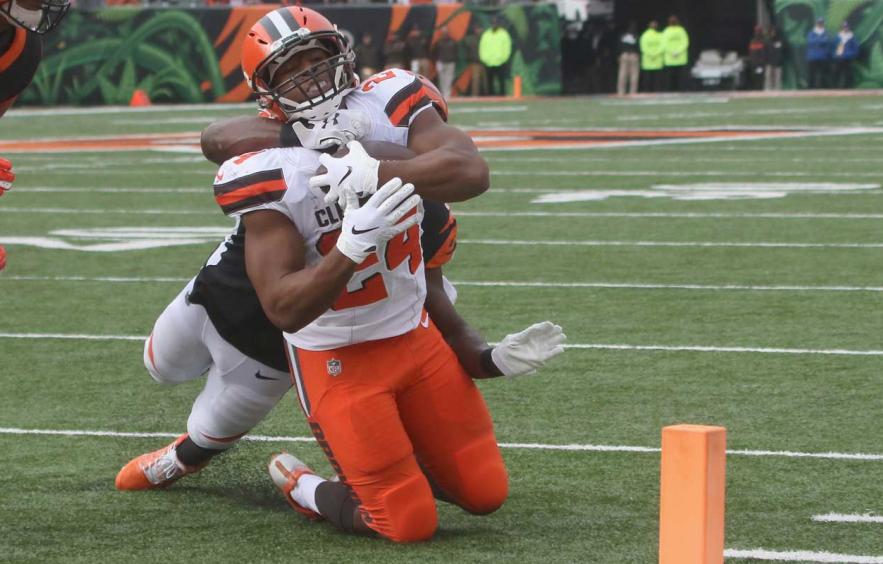 The Cleveland Browns used the 35th pick in the 2018 NFL Draft to select Georgia running back Nick Chubb. They added quarterback Baker Mayfield with the first overall pick, completing what will be their backfield of the future. Chubb is one heck of a football player, but his landing spot leaves a lot to be desired when it comes to fantasy football.
Editor's Note: Find all our 2018 Player Profiles here. If you're in a dynasty league or you're looking for more information on the incoming rookies class, you should definitely check out all the content from our friends at Dynasty League Football.
The Browns added free agent running back Carlos Hyde before the draft, but that didn't stop them from targeting one of the most athletic and talented runners in this class. In Chubb, the Browns get a 98th percentile SPARQ athlete who blazed a 4.52 40-yard dash, earning him an 89th percentile speed score. The 5-foot-11, 227 pound-Chubb showed off his strength at the NFL Combine by tying Saquon Barkley for most reps on the bench (29), and his explosive ability with his 89th percentile 38-and-a-half-inch vertical jump. The only athletic test Chubb didn't crush was the 3-cone drill, which is a test designed to show off lateral agility.
On the field, Chubb is as talented of a runner as there was in the class. We all know about the devastating knee injury he suffered his sophomore season, but Chubb was able to bounce back with back-to-back 1,000+ rushing-yard seasons to finish his career. He is a young Jonathan Stewart clone on the field, who waits for the hole to open and powers through defenders. There are plays where he runs over the defender so effortlessly it's like he isn't even there. Chubb is a grinder—always churning his legs and getting every yard possible. He runs with excellent vision and anticipation. He will wait for the hole to open, can hit the cutback lane, and is always aware of the defensive leverage. He is a constant threat to the defense—once he gets past the second level you won't catch him. When Chubb is on the field, a long touchdown run is always just a play away.
In the two seasons since returning from his knee injury, Chubb carried the ball 447 times for 2,475 yards and 23 rushing touchdowns. In that same period, he had just nine receptions. While Chubb is fully back to form in almost all areas since his injury, the one thing he never quite recovered was his lateral agility. As a result, he doesn't profile as a player who is going to run routes and win in space; plus he falls on a team with one of the best pass-catching backs (Duke Johnson) in all of football. He will likely be limited to two-down work his rookie year, and that work will be split with Carlos Hyde.
Crowded Backfield
Of the first eight running backs selected in the 2018 NFL Draft, Chubb finds himself in the most-crowded backfield. Yes, Isaiah Crowell is no longer around, but Chubb isn't going to take over Crowell's role after the Browns made Carlos Hyde the 10th-highest paid running back on a yearly basis. When you pay that kind of money to a player, you plan on using him.
2017

Browns

RB Snaps

| Player | Pos | Team | G | Snaps | Snap % | STD/Snp | PPR/Snp |
| --- | --- | --- | --- | --- | --- | --- | --- |
| Duke Johnson | RB | CLE | 16 | 565/1069 | 53% | 0.25 | 0.38 |
| Isaiah Crowell | RB | NYJ | 16 | 536/1069 | 50% | 0.21 | 0.26 |
| Dan Vitale | RB | CLE | 15 | 132/1004 | 13% | 0.01 | 0.04 |
| Matthew Dayes | RB | CLE | 16 | 42/1069 | 4% | 0.1 | 0.19 |
With Hyde and Chubb likely teaming up to take on the Crowell role, will either of them have much value? Last season, Crowell finished as the No. 32 scoring back in PPR leagues and his 8.8 fantasy points per game ranked 44th. If Crowell wasn't a player that you built winning teams around when he had the role all to himself, why would you want someone who is going to get half that role?
In addition, taking receiving work from Duke Johnson will be a tall task for Chubb. Johnson was the fifth-most efficient running back at catching passes in the league last season, averaging 9.4 yards per reception. That is more than new teammate Jarvis Landry, who averaged 8.8 yards per reception. While Landry may hurt the value of Johnson, he and Johnson should dominate the underneath receptions and leave very little leftover for Chubb. There are already question marks surrounding Chubbs' receiving-game skills, even before we factor in his competition.
Game Script Issue
One thing that helps a running back's volume is winning. When teams win games, they grind out the clock and give backs more touches. But winning is not something that comes to mind when thinking about the Cleveland Browns since they have just one win in their last 32 games. The lack of positive game script shows up in the numbers as well. Under Hue Jackson, the Browns only ran the ball 38.1 percent of the time in 2017, and 35.61 percent in 2016, ranking 28th and 29th, respectively. While the Browns should be better this year and have the talent to improve into a winning team in the future, their win total is just 5.5 in 2018, which is the lowest in all of football. In part, taking Chubb is a bet on the Browns' success—a bet I'm not eager to make.
Red Zone Offense
If Chubb struggles to see the kind of volume needed for sustained success, he needs to score touchdowns. A lot of touchdowns. Last season, the Browns had 16 total carries inside the 5-yard line, with DeShone Kizer accounting for eight of them. Kizer is gone, but he will be replaced either by Tyrod Taylor or Baker Mayfield. Both players can use their legs and are dangerous run-pass option (RPO) weapons in the red zone who will likely take touches away from Chubb. In 2017, Taylor had four carries inside the five, converting three for scores. He also recorded 10 rushing attempts inside the 10-yard line for four scores. Last season, Taylor scored as many touchdowns inside the 10-yard line with seven as LeSean McCoy and Mike Tolbert combined. A quarterback's ability to keep the football near the goal line hurts the touchdown upside of running backs.
2017

Browns

and

Tyrod Taylor

Rush Attempts Inside the 10

| Player | Tm | Att 10 | Yds 10 | TD 10 | %Rush 10 | Att 5 | Yds 5 | TD 5 | %Rush 5 |
| --- | --- | --- | --- | --- | --- | --- | --- | --- | --- |
| Isaiah Crowell | CLE | 14 | 23 | 1 | 48.30% | 5 | 3 | 0 | 31.30% |
| DeShone Kizer | CLE | 9 | 7 | 5 | 31.00% | 8 | 3 | 5 | 50.00% |
| Duke Johnson | CLE | 5 | 8 | 2 | 17.20% | 3 | 3 | 2 | 18.80% |
| Matthew Dayes | CLE | 1 | 2 | 0 | 3.40% | 0 | 0 | 0 | 0.00% |
| Kevin Hogan | CLE | 0 | 0 | 0 | 0.00% | 0 | 0 | 0 | 0.00% |
| Tyrod Taylor | BUF | 10 | 24 | 4 | 27.80% | 4 | 4 | 3 | 20.00% |
Bottom Line
Chubb is a very talented back, but don't reach on talent when the situation is a mess. He is currently the 30th running back off the board, according to FantasyPros' ADP. For Chubb to pay off that price tag an injury will likely need to occur. I'm not one to rely on injuries, especially when every other factor is working against him: Crowded backfield, unlikely to see much receiving work, unfavorable game script, and a running quarterback who thrives in the red zone. The math all points to Chubb being an easy fade in 2018 fantasy drafts.
Photo by John Grieshop/Getty Images.
---
Related Articles