Charles Clay Could Be Your Secret Weapon in 2018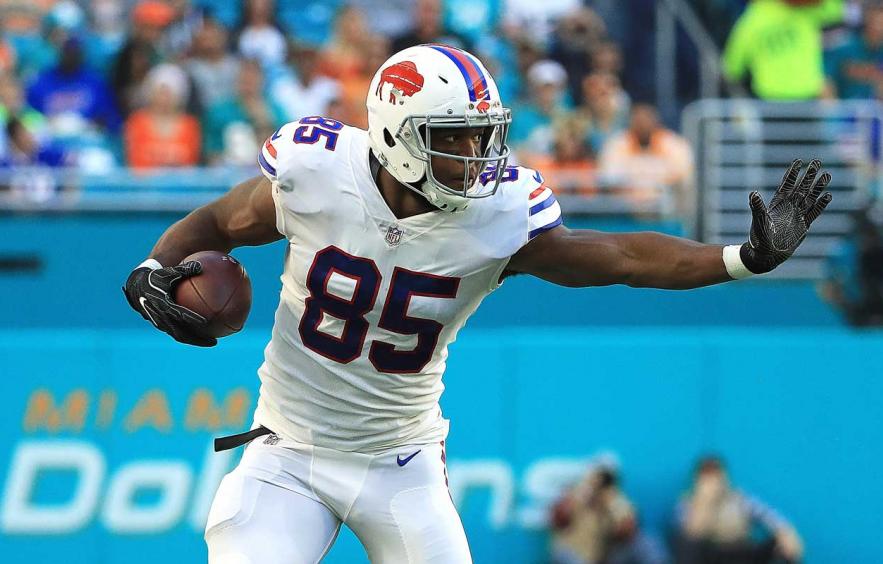 Although for some reason it feels like we should be celebrating his 47th birthday, Charles Clay is entering his eighth season in the NFL at just 29 years old. Despite being a staple on the injury list, the Bills tight end has not missed more than three games in any season, and has proven to be a perennial asset for fantasy owners over the course of his career. As a member of the fantasy wasteland that is the Buffalo offense since 2015, Clay has still managed to average 9.17 PPR points per game, and remains in the conversation as a starting fantasy tight end this season.
Editor's Note: Find all our 2018 Player Profiles here.
The Bills veteran certainly shouldn't be tossed aside in 2018 and instead, drafters ought to take advantage of Clay's 13th-round average draft position (ADP) as the 19th tight end taken off the board. He could be a difference maker on your roster this season and below you will see why.
Always Chase Targets
Clay has landed among the third-highest targeted players in Buffalo's offense in each of the past three seasons, second to only LeSean McCoy in 2017. Last year, his 5.7 targets a game were the most on the Bills roster, with an impressive 12.8 percent target rate per snap.
With Buffalo's WR corps set to be led by the underwhelming duo of Kelvin Benjamin and Zay Jones, expect Clay to be in for a monster workload this season as long as he can remain healthy. He is rumored to have changed his diet this offseason, aiming to eliminate body inflammation, keeping him healthful and on the field.
Where there are targets, there are fantasy points, especially in a PPR format.
Young QBs Love a TE
Speaking of targets, young and/or inexperienced QBs tend to lean a bit heavier on their tight ends when enormous linebackers are heading full-steam to smash them into the earth, as well as in the red zone. With the help of 4for4's data guru Josh Hermsmeyer, I examined the rookie QB to TE relationship from 2000 to 2016, in an effort to see just how much they favor the position.
What we found is an average target share of 18.8 percent—a rather high number which could easily be the top in any offense. To give you an idea of how that could translate, Clay's 2016 target share was 18.4 percent, the highest among Buffalo's receiving corps. Despite missing time due to injury, he finished the season in the top 15 in the NFL in PPR points, averaging 9.1 per contest.
Clay is looking at AJ McCarron and his career 86 regular season pass attempts as the intended starter for now, with the potential for rookie Josh Allen to win the starting job in training camp. That's some legit inexperience under center, which could mean even more work for the veteran Clay, equaling higher point totals for your roster.
TE Favorable Schedule
Buffalo gets the pleasure of playing in the AFC East, which can have its drawbacks, i.e. facing the perpetual post-season-berth-earning New England Patriots. However, when it comes to defending the tight end position, the Bills are in a pretty sweet spot this season. New England, Miami, and the Jets were ranked 18th, 31st, and 19th in TE aFPA (adjusted fantasy points allowed), respectively, last season, allowing an average of 13.2 PPR points to the position weekly.
Of Buffalo's 10 remaining opponents, five sat in the bottom third of the league against tight ends in 2017, with only three teams achieving single-digit status versus the position last season. The chart below shows where each team landed at the end of last year in TE aFPA. Be sure to check out Clay's potential to contribute to the fantasy playoffs in Weeks 14-16 as he faces the Jets, Lions, and Dolphins.
Buffalo's 2018 Opponents' aFPA vs TE

| Week | Team | Rank | PPR aFPA |
| --- | --- | --- | --- |
| 1 | BAL | 30th | 14.8 |
| 2 | LAC | 2nd | 8.9 |
| 3 | MIN | 8th | 10.2 |
| 4 | GBP | 7th | 10.2 |
| 5 | TEN | 26th | 13.3 |
| 6 | HOU | 28th | 13.8 |
| 7 | IND | 24th | 13.0 |
| 8 | NEP | 18th | 11.9 |
| 9 | CHI | 14th | 10.7 |
| 10 | NYJ | 19th | 12.0 |
| 12 | JAX | 11th | 10.5 |
| 13 | MIA | 31st | 15.7 |
| 14 | NYJ | 19th | 12.0 |
| 15 | DET | 21st | 12.5 |
| 16 | NEP | 18th | 11.9 |
| 17 | MIA | 31st | 15.7 |
Bottom Line
I know there are much sexier names at the tight end position this season, and Clay is sadly entrenched in fantasy purgatory in Buffalo. However, he could be a legit contender for TE1 status with his healthier outlook and changed physique. If you're looking for a way to get more value and depth on your roster, try skipping O.J. Howard or Tyler Eifert in the 10th round for more points from say, Sterling Shepard or Marqise Lee. Then grab Clay in the 13th or 14th round for his projected 122 PPR points compared to Eifert's 112 or Howard's 99. For a full list of rankings and projected points, check out John Paulsen's 2018 tight end rankings.
Photo by Mike Ehrmann/Getty Images.
---
Related Articles