2018 Free Agency Winners & Losers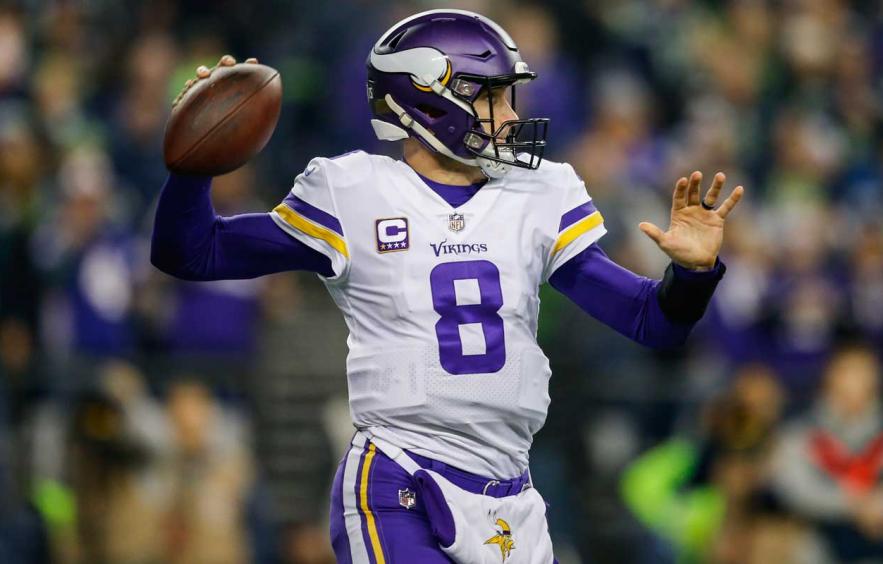 The mad rush of free agency is over and most of the big-name players have found new homes. Here are a few fantasy winners and losers after the first week-plus of free agency.
WINNERS
Jerick McKinnon
Kyle Shanahan and the 49ers preferred McKinnon to Carlos Hyde, who signed with the Browns for significantly less money. McKinnon is a ridiculous athlete whose best comparable at Player Profiler is LaDainian Tomlinson. In his first two seasons he averaged 4.90 yards per carry, but that average has dipped to a concerning 3.59 yards per carry over the last two seasons. The good news: he graded well in the running game at Pro Football Focus in 2017 and, more importantly, as Shanahan's hand-picked running back, he'll get every chance to succeed as the 49ers primary runner. NBC's Matt Maiocco believes that McKinnon "is expected to take [Devonta] Freeman's role" in the offense. In 24 games from 2015-16 (with Shanahan running the offense) with both Freeman and Tevin Coleman healthy and available, Freeman averaged 15.0 rushing attempts and 4.3 receptions per game. If McKinnon gets that sort of workload, he's a fantasy RB1.
This signing is in the vein of Michael Turner (to the Falcons), LaMont Jordan (to the Raiders), Chester Taylor (to the Vikings), or Darren Sproles (to the Saints) – quality backups who finally got their chance for a big role with a new team.
Kirk Cousins & The Vikings
Cousins has back-to-back top five finishes and three straight finishes in the top 10. On paper, this is a match made in heaven. The Vikings have two very good receivers in Stefon Diggs and Adam Thielen, and a very capable tight end in Kyle Rudolph. They are also Super Bowl-ready after falling in the NFC Championship with Case Keenum at quarterback. Cousins should definitely be drafted among the top 10 quarterbacks this summer. This is good news for all of the Minnesota skill position players as well.
Marqise Lee
The Jaguars are paying Lee nearly $10 million a year, which is starter money. In 29 games over the last two seasons, he has averaged 4.1 receptions for 54 yards and 0.21 touchdowns, which is a 66-857-3 pace. Those are WR3-type numbers in PPR formats. In the 22 games where he saw at least five targets, he averaged 5.1 receptions for 65 yards and 0.27 touchdowns, an 81-1040-4 pace. That would have been good enough for a No. 16 finish in 2017. (The recently departed Allen Robinson saw at least five targets in 29 of his last 33 games, which is why I used that as a benchmark.) Lee will have to compete with Dede Westbrook, Keelan Cole and the recently signed Donte Moncrief for snaps, but with Robinson out of the way, Lee should see a consistent role as the Jaguars' WR1 or WR1a.
Trey Burton & Mitch Trubisky
He signed a deal worth $32 million over four years, so the Bears obviously think highly of his skill set. He's definitely undersized for a tight end, but he's extremely fast and pretty agile for the position. In the four games that Zach Ertz missed over the last two years, Burton averaged 3.5 catches for 45 yards and 1.0 touchdowns on 5.8 targets per game. New HC Matt Nagy has experience working with "move" tight ends given his time in Kansas City with Travis Kelce, so he should have a plan to keep Burton involved in the passing game. Along with Allen Robinson, the Bears are adding pass-catchers for Trubisky, so his arrow is pointing up as well.
Jimmy Graham
Graham landed in a great spot with the league's most talented quarterback. It doesn't hurt that the Packers cut Jordy Nelson, who had accounted for 33 touchdowns over the last three years, 13 of which came inside the opponent's 10-yard line. The notion that Green Bay is where tight ends go to die is a fallacy. When healthy, Jared Cook had his moments in 2016. He caught 31 passes for 407 yards and two touchdowns in his last six games with the Packers, and that works out to an 83-1085-5.3 pace over a 16-game season. Aaron Rodgers likes to throw to his tight end when his tight end is good, and Graham is still good, so double-digit touchdowns are well within reach.
Davante Adams & Randall Cobb
Two other potential beneficiaries of Jordy Nelson's departure are Adams and Cobb. In 22 games with a healthy Aaron Rodgers, Nelson averaged 5.7 receptions (on 8.9 targets) for 72 yards and 0.91 touchdowns. Jimmy Graham figures to see the bulk of this usage, but Adams and Cobb could see an uptick as well since it's unlikely that the Packers are going to be able to find a third receiver of Nelson's quality. Geronimo Allison may go from part-time player to starter if the Packers don't add a good receiver in free agency or the draft.
John Brown
In his first two seasons, Brown racked up 113 catches for 1,699 yards and 12 touchdowns. It was the eighth-most yardage in that span in his draft class, more than Brandin Cooks and Davante Adams. Unfortunately, his career has taken a left turn mostly due to his sickle-cell trait. He has only 60 catches for 815 yards and five scores in his last two seasons, missing six 2017 games due to injury. On the bright side, he signed with one of the most receiver-needy teams in the league; the Ravens are likely to lose their three most targeted receivers – Mike Wallace, Benjamin Watson and Jeremy Maclin – and have signed Brown and Michael Crabtree to fill their shoes.
Rex Burkhead & Mike Gillislee
The Patriots let Dion Lewis walk and then re-signed Burkhead, who turned 64 carries and 30 receptions into 518 total yards and eight touchdowns in just 10 games. Lewis's departure opens up 212 touches, and while Mike Gillislee figures to get another chance to take over a sizable role in the backfield, Burkhead should be first in line for touches. From Week 10 to Week 14, he averaged 12.4 touches (including 3.4 receptions) for 62 yards and 1.2 touchdowns per game. Those are top seven numbers in PPR formats, and Burkhead averaged more receptions in that span than did James White (2.2 per game), which is a sign that he was eating into White's receiving role as well. Burkhead's touchdown rate probably isn't sustainable (even in the Patriots' potent offense), so if we cut it in half, he still averaged top 12 RB numbers in PPR leagues in that five-game span. New England running backs are always dicey, but Burkhead holds a ton of potential as a middle round pick. This is a backfield to monitor closely this summer.
A.J. McCarron
The former fifth round pick has seen his stock rise even though he hasn't played much in the regular season since 2015, when he played extensively in four games, completing 66.1% of his passes with a 6-to-2 touchdown-to-interception ratio. He has consistently performed well in the last three preseasons, completing 114 of 181 passes (63.0%) for 1,327 yards (7.33 yards per attempt) and a 4-to-2 touchdown-to interception ratio. The Bills are still likely to draft a quarterback early, though McCarron should have a legitimate opportunity to compete for a starting job for the first time in his career.
LOSERS
Jordy Nelson
Nelson's poor 2017 can be mostly attributed to Aaron Rodgers' broken collarbone, but his numbers with Rodgers weren't up to snuff either. In six-plus games with Rodgers, Nelson caught 23 of 35 targets for 268 yards and six scores. The touchdowns are great, but his 2017 catch percentage dipped slightly from his career efficiency with Rodgers, while his yards per catch (again, from Rodgers) dipped significantly to 11.65. What made the duo so dangerous was the Rodgers/Nelson mind meld on their patented back shoulder throw, which was impossible to cover at times. The production of receivers who change teams tends to decline unless the player is getting a promotion or an upgrade at quarterback. Nelson is likely to see a decrease in targets and will definitely experience a downgrade at quarterback.
Carlos Hyde
Last year, Hyde turned 299 touches into 1,288 total yards and eight touchdowns as the lead back for the up-and-coming 49ers. Now he heads to Cleveland to replace Isaiah Crowell, who only drew 234 touches in 2017. Moreover, Hyde's role in the passing game (59 catches in San Francisco) will likely be scaled back significantly given the presence of Duke Johnson, who has caught 188 passes in his three-year career.
O.J. Howard
Howard flashed as a rookie, gaining at least 50 yards and catching at least one touchdown in four of 14 games. But the Bucs' decision to re-sign Cameron Brate to a six-year deal makes it unlikely that Howard will serve as the featured tight end in Tampa anytime soon.
Jack Doyle
Doyle turned in a No. 7 season in PPR formats despite the loss of Andrew Luck for the entire year. What could he do with a healthy Luck in the fold? We may find out this year, but the Colts elected to sign Eric Ebron to a pretty hefty deal. Doyle should still turn in another top 10 season, but I'd feel a lot better about his floor if Ebron weren't siphoning targets.
Jarvis Landry
Landry has racked up 458 targets over the last three seasons, including 161 in 2017, which was tied for the third-most among all receivers. His role is going to change somewhat in Cleveland, where he'll be dealing with a new quarterback and poor weather conditions. He's still a relatively solid option in PPR formats, but after three consecutive finishes in the top 13, there's a real possibility that he's no longer a fantasy WR1 in PPR formats.
Tyreek Hill
The Sammy Watkins signing creates even more uncertainty for Hill, who was already going to have to deal with a new quarterback (Patrick Mahomes). Hill had a fantastic 2017, and he may go on to have another fantastic season, but his targets will be feeling the pinch after Watkins' arrival.
Derrick Henry
The Titans' decision to cut DeMarco Murray allowed Henry truthers to bask in the possibility of a full-time workload in 2018. Unfortunately for Henry, the team signed Dion Lewis, a very-good-if-not-better running back to share the workload. Henry's carries should increase with Murray out of the picture, but this may be a tough backfield to figure out on a weekly basis.
Photo by Otto Greule Jr./Getty Images.