Will Atlanta's QB Situation Continue to Clip Drake London's Fantasy Football Wings?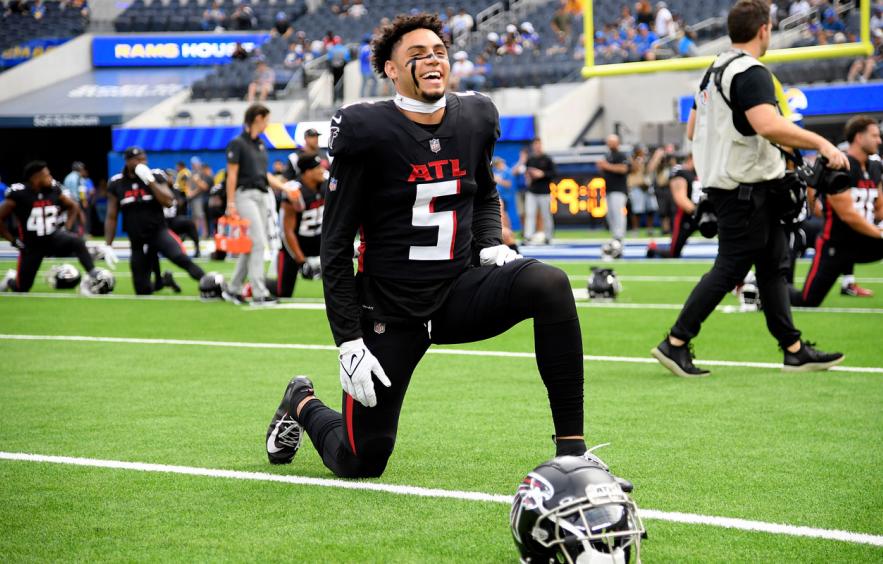 Kevork Djansezian/Getty Images
It's simple to look at Drake London's rookie season with a "What could have been" mentality because he performed so well in so many efficiency metrics. Unfortunately, for London and invested fantasy football managers, the quarterback situation in Atlanta last season was one of the worst in the entire league. Due to this, head coach Arthur Smith opted to implement an offense best suited for the 1980s or I suppose, the 2022 Atlanta Falcons. When the season finished, it seemed like the Falcons would certainly be addressing their quarterback position.
They entered this year's offseason with cash to spend if they wanted to go after someone like Derek Carr or Jimmy Garoppolo or dare I even say... Lamar Jackson. Of course, if they didn't want to spend money on a veteran, they had the eighth pick in the 2023 NFL Draft and were close enough to the top they could move up if they wanted to select a rookie quarterback. None of that transpired. Instead, the Falcons signed Taylor Heinicke and appear committed to giving 2022 third-round selection, Desmond Ridder, a real shot. Is London looking at a repeat performance in 2023? Will Ridder be good enough to elevate a stagnant offense in a way Marcus Mariota was unable to?
---
Click Here for more 2023 Player Profiles!
---
Box Scores Don't Do
Drake London

's Rookie Season Justice

We live in a "What have you done for me lately?" kind of world. That same attitude translates into how we play fantasy football. Looking at the rookie's box score to see that he finished with 117 targets, 72 receptions, 866 yards, and 4 touchdowns is mildly disappointing. Certainly, his fantasy football value waned in comparison to the investment fantasy managers made in him.

He finished with just 8.0 half-PPR points per game and was right around WR49, depending on your game's played cut-off. Either way, he wasn't anything more than a WR4/5 last year, significantly underplaying his preseason ADP and ranking. In this sense, London was a failure. Looking a bit deeper, however, fantasy managers can see just how special of a season he actually had.
before the season started there had only been FOUR Rookie Wide Receivers to put up a 2.00+ YPTPA and 23%+ Target Share 👇🏼



📍Justin Jefferson

📍Ja'Marr Chase

📍Odell Beckham Jr

📍Mike Evans



then Drake London joined the list 🤯



and yet, you're still TOO LOW 😉 pic.twitter.com/y0cVccnK5A

— DynastyIM (@dynasty_im) May 25, 2023
In some of the most predictive efficiency metrics, London was a superstar. The only thing that held him back from having a historic first season in the NFL was quarterback play and low passing volume, two variables he had absolutely zero control over that if we're being honest, could continue to hold him back this upcoming season, as well. Regardless, it's impossible not to be excited about his potential in the event there is positive regression for both.
As a rookie last season, London finished the season with a 29.5% target share. Only four receivers had target shares higher than the rookie. To show that kind of target-earning potential as a rookie is remarkable and it speaks to the kind of talent he is. His target per route run rate was fourth among receivers at 30%. London finished 33rd in targets per game despite Atlanta having 105 fewer pass attempts than the New York Giants, who finished 25th in pass attempts.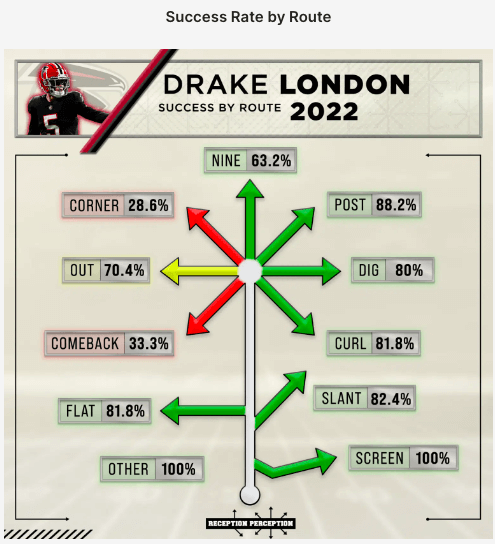 London displayed elite-level route-running skills as a rookie, evidenced by Reception Perception. In his 2022 rookie profile, Matt Harmon had this to say about the Atlanta star receiver,
"London cleared 72% success rate vs. man and press coverage as a rookie. Those are both crucial benchmarks we love to see for outside receivers. The fact that he also checked in with an 81.6% success rate vs. zone coverage just reinforces he has a star-caliber ceiling. Being able to hit both thresholds is a feat only accomplished by some of the top No. 1 caliber receivers in the league, especially when they do it so early in their career... Drake London has it all. He brings the size, fluidity, and ball tracking you want in a prototypical staring X-receiver. His technical prowess and overall ability to get open is what makes him extremely enticing. His rookie year success rates are similar to other future star-level big receivers like early career Mike Evans (70.3% success rate vs. man in 2016), Allen Robinson (71.7% in 2014), and Michael Thomas (72.1% in 2017). The last player was my pre-draft and is still my favorite comparison for London."
It's hard to find an efficiency metric that London did not shine in. He finished with a yard per route run average of 2.17. Among receivers who had at least 50 targets last season, this was the 16th-highest, scoring higher than other receivers such as Terry McLaurin, Tee Higgins, Amari Cooper, and D.K. Metcalf. According to PlayerProfiler, London averaged 2.09 yards per team pass attempt, adding another notch to his "I am Him" belt. This ranked 16th among receivers.
The
Desmond Ridder

Effect

In a lot of ways, London's 2023 fantasy value is tied to the play of Desmond Ridder. With Marcus Mariota under center last season, the Falcons' offense was afraid to pass the ball, resulting in one of the most run-heavy offenses we've seen in recent memory.

Mariota struggled mightily with his accuracy and ultimately, handicapped the entire offense. The hope is that Ridder doesn't cause some of those limitations. Given the four games Ridder started late last season, there is reason to be optimistic.
Drake London

Stats with

Marcus Mariota

and

Desmond Ridder

, 2022

| Quarterback | Target Share | Targets/G | Rec/G | RecYds/G | Yards/G | Yards Per Route Run | Half-PPR PPG |
| --- | --- | --- | --- | --- | --- | --- | --- |
| M, Mariota (Wks 1–14) | 28.2% | 6.3 | 3.6 | 41.0 | 63.2 | 1.82 | 7.8 |
| D, Ridder (Wks 15–18) | 33.0% | 9.0 | 6.2 | 83.2 | 97.5 | 3.14 | 10.5 |
Last season, London averaged roughly the same number of receptions with Ridder as he did targets with Mariota. London was incredibly more efficient with the rookie at quarterback, evidenced by his yard per route run and his catch rate that increased from 57.1% to 68.8%, which had massive implications for his receiving yards per game.
The Falcons' coaching staff seemed to trust Ridder a bit more than they did Mariota, which is a good sign for London. With Mariota at quarterback, the team averaged just 22.8 pass attempts per game. However, when they made the switch to Ridder, their pass attempts jumped to 28.5 per game.
Mariota's average would have resulted in the Falcons finishing 31st with just 0.6 more pass attempts per game than the lowly Chicago Bears, but Ridder's 28.5 attempts per game would have finished 29th. That may not sound like a lot, but the difference of 5.7 constitutes an additional 74 attempts over the 13 games Mariota started. Based on London's target share, that would have meant roughly 20–23 more targets last season.
Fantasy managers seem to be buying into London's 2023 potential, drafting him as the WR24 in Underdog drafts right now. He currently holds an ADP of 45.5, requiring fantasy managers to use a mid-fourth-round pick to get him on their square.
London is ranked as 4for4's WR28. Fantasy managers will need to weigh the rewards associated with London's elite talent profile vs the risks of Atlanta's run-heavy offense and questionable quarterback play. If the passing volume increases and Ridder is competent, London could be one of the better values this season. If the run-heavy offense continues with Bijan Robinson, or if Ridder is suspect, fantasy managers could once again be left disappointed.

Bottom Line
Drake London performed like an elite receiver in several efficiency metrics and could become a major fantasy football value if Atlanta's offense takes a step forward in 2023.
There are several red flags this year. The selection of Bijan Robinson at No. 8 overall, seems to indicate Atlanta does not plan on diverting from their run-heavy approach from last season. Another red flag is Desmond Ridder himself, who was just a third-round pick in last year's draft.
Ridder's ascension to starter status did coincide with a significant uptick in team passing volume and much better play from London across the board.
Fantasy managers should be valuing London right on the cusp of the WR2/3 line, but he's worth targeting as a WR2 due to his talent profile.