Kyle Pitts: ADP Analysis and 2023 Fantasy Outlook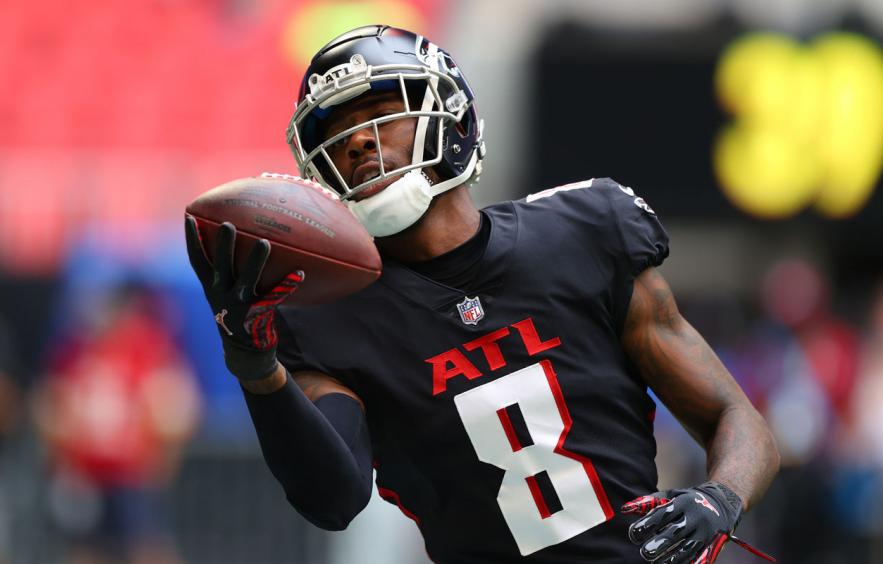 Todd Kirkland/Getty Images
We always want the new shiny thing with all of the attached hype that comes with it. It's human nature. Researchers at the University of York tested this phenomenon in 2015. Two groups were given the opportunity to try a new video game. One group was told they were playing a "random" level from a new game while the other was told that they were playing a map that an artificial intelligence system specifically chose for them. It's obvious which group enjoyed the game more.
---
Click here for more 2023 Player Profiles!
---
For better or worse, Kyle Pitts was labeled a generational talent when he left school for the NFL Draft. All that hype made him climb the ADP ranks and become a valuable asset in all formats before even taking a snap in the NFL. Besides only finding the end zone once in his rookie year, he looked exactly as advertised. Now we're willing to drop his ADP because of one freak injury in his sophomore campaign? The stud tight end ran into a little bad luck last year. Will he be a hyped-up disappointment that tricks us or will he deliver on the promises of his hype this year?
Kyle Pitts

' Current ADP on Underdog

A look at our Underdog ADP Tool reveals the following tight end outlook.

Currently, Pitts falls into the third tier of tight end ADP in my assessment. Travis Kelce is in a tier all by himself, then Mark Andrews and T.J. Hockenson make up the second tier. The next trio are tightly grouped with Pitts going in the same few rounds as George Kittle and Dallas Goedert.
The first decision point on drafting Pitts is whether you prefer him over those two or not. If you go by our tight end projections, you'd definitely be avoiding Pitts. However, we're not drafting him solely based on his median outcome. If you're taking a swing on him it's because of the potential upside.
The second decision point is whether or not you should be drafting tight ends in that range, at all. Luckily, we have a roster construction tool that can answer that very question for us. Drafting your first tight end in rounds 5-7 hasn't been particularly fruitful in Underdog tournaments over the past few years. We do have T.J. Hockenson's 2022 campaign as an example of how it can go very right, but that's about it.
If we go back to the Pre-Underdog Era, we were able to get solid seasons out of guys like Zach Ertz (2017), Austin Hooper (2019), and Delanie Walker (2017). Kyle Pitts' 2021 campaign was in line with most of those seasons. With good health, Pitts should be able to return at least to those levels, if not higher.
2023 Outlook for Atlanta
The outlook for Pitts starts with the Falcons' offense as a whole. According to most books, they have about a 45% chance of finishing with a winning record. That's a double-edged sword. Obviously, teams that play from behind are more likely to find themselves in passing situations. But, at the same time, they're also losing because…they aren't scoring as many points as their opponents. While it may seem obvious, this fact is often overlooked.
Desmond Ridder and Kyle Pitts didn't play together last year but the Falcons clearly wanted to pass more with Ridder under center. Over the first 13 weeks of the season with Marcus Mariota starting, they were averaging just over 23 pass attempts per game. Under Ridder, that number ballooned to nearly 29 passes per game. In addition to that, Arthur Smith has historically been a bit more pass-happy than his 43-57 pass-rush split for 2022 would suggest.
How Does Pitts Finish as a Top 3 TE?
If we start off with the assumption that Atlanta will be a bit below average in plays run and sit right at a 50-50 split, we can project about 510 pass attempts for this Ridder-led Falcons squad.
2023 Projection vs Career Highs for

Kyle Pitts

| | Career High | Altered Projection |
| --- | --- | --- |
| Targets/Game | 6.47 | 7.1 |
| Yards Per Reception | 15.1 | 14.5 |
| Catch Rate | 61.80% | 60% |
| Touchdown Rate | 7.4 (on 28 Receptions) | 5% |
These projections align with the progress and skill he has already demonstrated. In his rookie campaign, he had higher marks in yards per reception and catch rate. We regressed that back a bit and pulled back his touchdown rate to a sustainable number. The jump in passing volume could account for his bump in targets per game, as well.
Considering all these factors pushes us into TE3 territory compared to our current projections. He'd slot right in behind Travis Kelce and Mark Andrews. His stat line would be as follows.
Kyle Pitts

2023 Projection

| Targets | Receptions | Yards | Touchdowns | Half PPR Points |
| --- | --- | --- | --- | --- |
| 122 | 73 | 1058 | 4 | 166.3 |
Bottom Line
Kyle Pitts' ADP aligns with George Kittle and Dallas Goedert. Drafting tight ends in rounds 5-7 lacks consistency, but there are some historical examples that inspire hope.
He's already had a 1,000-yard season as a rookie and is cheaper in Year 3 because of an injury.
His ADP (66.1) is almost sure to rise in the coming months as drafts continue and the hype train gets back on the tracks.
With very limited tweaking to his projection, you can easily see the route to a top-3 season.